#956: Happy Happy Birthday by Wanda Jackson
Peak Month: December 1960
7 weeks on Vancouver's CFUN chart
Peak Position #6
Peak Position on Billboard Hot 100 ~ did not chart
CFUN Twin Pick ~ November 19, 1960
YouTube.com: "Happy Happy Birthday"
Lyrics: Happy Happy Birthday"
Original version by the Tune Weavers
Wanda Lavonne Jackson was born in 1937 in Maud, Oklahoma. According to Wolf Kurt in his essay, "You Can't Catch Me: Rockabilly Bursts Through The Door," Jackson's dad was a musician. In search of a better life, he relocated the family to Bakersfield, California, in the 1940's. While in Bakersfield, her dad purchased Wanda a guitar and taught her to play. Tom Jackson also took his daughter to live concerts by Spade Cooley, Tex Williams and Bob Wills, which opened her eyes and ears to the exciting world of country and western music. It was when she was eleven years old that her family returned to Oklahoma in the fall of 1948. In 1954, while she was still sixteen years old, Wanda Jackson started to sing professionally in Oklahoma City. While in high school, Jackson had been discovered by country music recording artist, Hank Thompson, who heard Wanda singing KLPR-AM in Oklahoma City. Thompson asked Wanda to sing with his band, the Brazos Valley Boys. This led to her recording several songs with Capitol Records. Among those was a duet with the Brazos Valley Boys bandleader, Billy Gray titled "You Can't Have My Love". The song climbed to #8 on the Billboard country chart. From her initial success, Wanda Jackson approached Capitol Records to give her a record contract. However, she was told by producer Ken Nelson that Capitol wasn't interested because "Girls don't sell records." Subsequently, Wanda Jackson got a record deal with Decca Records.
Once she was finished high school, Wanda Jackson went on tour with her dad, Tom Jackson, who was her manager and chaperon. On numbers of occasions, in 1955, she was on the same concert roster as Elvis Presley. It was Presley who persuaded her to switch her sound from country and western to rockabilly. Wanda dated Elvis for a short time while on tour. Meanwhile, Jackson was given a spot on the ABC-TV show Ozark Jubilee, broadcast from in Springfield, Missouri. She stayed with the show from 1955 to 1960. With these developments, Capitol Records reconsidered their decision to turn down Jackson's interest in a record deal. In 1956 she signed with Capitol. Among the recordings to come out of her studio sessions was "I Gotta Know", which climbed to #15 on the national country charts in America.
According to Wolf Kurt, the stage outfits Wanda Jackson wore in concert were mostly made and designed by her mother, Nellie Jackson. Instead of the peasant clothing worn by female country music singers of the time, she wore fringed dresses, high heels and long earrings. Wanda Jackson would later remark that she was the first woman to put "glamor into country music."
Wanda Jackson recorded more rockabilly singles into the late 50's with producer Ken Nelson. She wanted her sound to resemble Gene Vincent and the Blue Caps. Among the session musicians playing on her recordings was the then unknown Buck Owens. Owens went on to chart 21 songs to #1 on the Billboard Country chart and co-host a country music show beginning in 1969 called Hee-Haw. Among the singles Jackson released was "Fujiyama Mama", which became a #1 chart topper in Japan. In February and March 1959 she went on tour in Japan.
In 1960, Jackson had a crossover #37 rockabilly hit on the Billboard Hot 100 with "Let's Have A Party". In Vancouver, the song climbed to #1. This song had been recorded in December 1956 as part of what came to be known as the Million Dollar sessions where Elvis Presley, Carl Perkins, Johnny Cash and Jerry Lee Lewis jammed together. Elvis then recorded "Party" in early January 1957 as a track for the upcoming soundtrack for the film Loving You. In 1960 Wanda Jackson was a concert headliner traveling with her band the Party Timers. Among her bandmates was guitarist new to the scene named Roy Clark. Jackson's followup single release was titled "Happy Happy Birthday". This was a shortened song title from a hit three years earlier by an R&B doo-wop group from Woburn, Massachusetts, named The Tune Weavers.
"Happy, Happy Birthday Baby" was a tune written by Tune Weavers members Margo Sylvia and Gilbert Lopez. The inspiration for the song came from Margo's then-boyfriend, Donald Clements, who was a member of a group called the Sophomores. When Clements broke up with her, Margo Sylvia came up with the lyrics to express how she wanted to stay with him. Gilbert Lopez helped with the tune. "The words came so easily. It was real," Margo Sylvia told Wayne Jancik in an interview for his book, The Billboard Book of One-Hit Wonders. Margo and the rest of the Tune Weavers recorded "Happy, Happy Birthday Baby" and "Ol' Man River" in an 18-hour session on March 7, 1957, in Boston. At the time Margo was eight months pregnant. The Tune Weavers had a #4 R&B hit with the song in the fall of 1957 which soon crossed over to climb to #5 on the Billboard pop charts. In Vancouver The Tune Weavers charted to #19 on CKWX and in Toronto their song climbed to #1 in the fall of 1957. (The Tune Weavers were originally named the Tone Weavers until a DJ in Boston misnamed them and afterward the Tune Weavers stuck).
The tune, titled as "Happy Happy Birthday", leaving out "Baby" in the title, was recorded by Wanda Jackson in 1958. "Happy Happy Birthday" was included as one of the tracks on her debut album, Wanda Jackson, released in July 1958. The track found it's way onto a B-side of the rockabilly number, "Mean Mean Man". But aside from "Mean Mean Man" reaching the #12 position in Regina, Saskatchewan, and a Top 40 charting in the UK, the A-side failed to catch on. Other radio stations began to spin the B-side, including CFUN in Vancouver where "Happy Happy Birthday" caught on.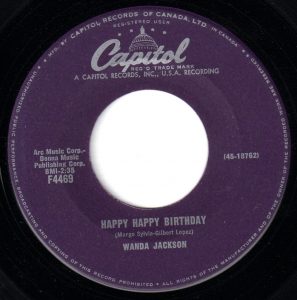 "Happy Happy Birthday" is one of countless songs where, after a breakup, one of the former partners regrets the breakup. Whatever the reason for the breakup, they now feel the lure to get back together. In the sea-saw of teen romance, the lure to go steady again was empathized with and teens scooped up the disc. "Happy Happy Birthday" climbed to #6 on the CFUN charts in Vancouver. Its next best showing was in Louisville, Kentucky, where it peaked at #7. It featured in the Top 20 in at #15 in El Paso, Texas, and #17 in Syracuse, New York.
In addition to Wanda Jackson, there were numbers of other recording artists who released "Happy, Happy Birthday Baby". These include Rosie And The Originals, Dolly Parton, Sandy Posey and Ronnie Milsap. The song also has inspired the melody for "I'm On The Outside Looking In" by Little Anthony & The Imperials and the chorus for "Wasted Days And Wasted Nights" by Freddy Fender.
To breathe more life into the post-break-up correspondence, Dodie Stevens recorded "Merry Merry Christmas Baby" to let the ex-boyfriend know that she was thinking of him not only on his birthday, but also at Christmas. Though the tune didn't chart in Vancouver, it made the Top 20 in Oklahoma City in December 1960. So far, no one has recorded a tune called "Happy, Happy New Year Baby", to extend the correspondence still further.
In 1961 Wanda Jackson got into the Top Ten on the Billboard Country charts with a #9 hit titled "Right or Wrong", followed by a #6 hit titled "In The Middle Of A Heartache". The latter tune stalled at #27 on the Billboard Hot 100, but climbed to #9 on CKWX in Vancouver. Jackson also had a Top 20 hit in 1961 with "Riot In Cell Block Number Nine", a cover of a song by the R&B group the Robbins who later became The Coasters. Between 1954 and 1974 Wanda Jackson had nearly 30 singles make the Billboard country chart in the USA. Most country and western fans are unaware of her earlier rockabilly roots and impact on rock 'n roll. In 2009 she released a tribute album titled I Remember Elvis.
In November 2017, Wanda Jackson's autobiography, Every Night Is Saturday Night: A Country Girl's Journey to the Rock and Roll Hall of Fame was published. In her eightieth year, in 2017, some of the cities Wanda Jackson has played in concert are Nashville, Chicago, Toronto, Long Beach, Los Angeles and Santa Ana, California.
November 15, 2017
Ray McGinnis
References:
Jackson, Wanda, with Bomar, Scott. Every Night Is Saturday Night: A Country Girl's Journey to the Rock and Roll Hall of Fame. BMG Books, Berlin, Germany, 2017.
Margo J. Sylvia, Variety Magazine, Los Angeles, CA, November 10, 1991.
Michael Jack Kirby, The Tune Weavers – Happy Happy Birthday Baby, Way Back Attack.com.
Jancik, Wayne. The Billboard Book of One-Hit Wonders. Watson-Guptill Publishing, New York, NY, 1998.
Dodie Stevens – Music, Dodie Stevens.com.
"C-FUN-Tastic 50," CFUN 1410 AM, Vancouver, BC, December 17, 1960.
For more song reviews visit the Countdown.