#1051: Harlem Nocturne by the Viscounts
Peak Month: December 1965
6 weeks on Vancouver's CFUN chart
Peak Position #5
Peak Position on Billboard Hot 100 ~ #39
YouTube.com: "Harlem Nocturne"
Joe Spievak was born in Edison, New Jersey, in 1936. He and his younger brother Bobby both learned to play guitar. They earned a reputation as child prodigies and were featured at numbers of local amateur shows. After high school, Joe Spievak went into the Naval Reserves. During boot camp, Joe Spievak met Clark Smith and found out he played drums. The pair became close friends and formed a rhythm section. Smith also knew a saxophonist named Harry Haller, who lived in Keyport, New Jersey, less than twenty miles away. Another person living and working in Keyport was Larry Vecchio. Born in 1935, Vecchio was a barber and had dreams of becoming a promoter. But instead of promoting The Viscount for a local concert, Larry Vecchio was asked to join the band and become their keyboard player.
In the winter of 1959-1960 the Viscounts charted "Harlem Nocturne" to #2 in Binghamton (NY), #5 in Los Angeles and San Bernardino (CA), #6 Minneapolis/St. Paul and Milwaukee, #7 in Chicago, St. Louis (MO) and Wilmington (DL), #9 in Syracuse (NY), and #32 in Vancouver (BC).
After the Viscounts 1959 chart performance of "Harlem Nocturne" they appeared on American Bandstand to perform "Wabash Blues". However, their Bandstand performance was pre-empted by a long-running college football game broadcast from Texas. Larry Vecchio recalls from his time with the Viscounts, "We played all the clubs along the Jersey shore, but the biggest venue was in San Antonio with B.B. King in front of 35,000 people."
In the summer of 1960 "Night Train" by the Viscounts made the Top 50 on CKWX's Sensational Sixty. On September 3, 1960, the Viscounts appeared on American Bandstand and performed "Night Train".
In the fall of 1965 "Harlem Nocturne" was re-issued and charted into the Top Ten in Vancouver (BC).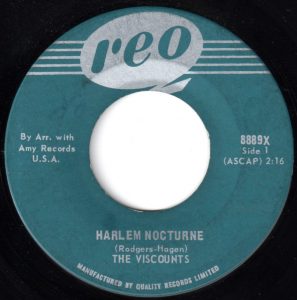 "Harlem Nocturne" was written in 1939 by Dick Rodgers and Earle Hagen. In 1919 Hagen was born in Chicago and after his family moved to Los Angeles while he was a child, he started to play the trombone. In the 1930s Hagen played trombone first with the Benny Goodman Orchestra, and later with Tommy Dorsey and Ray Noble. It was while he was with the Ray Noble Orchestra that he co-wrote "Harlem Nocturne". In 1941, Hagen became a staff musician for CBS, but in 1942 he joined U.S. Army. From 1945 to 1952 Hagen worked for 20th Century Fox in Hollywood. He wrote scores for Gentlemen Prefer Blondes, There's No Business Like Show Business and Call Me Madam. But in 1952 the study laid Hagen and many others off in a spat of downsizing.
For television, Earle Hagen composed original music for more than 3,000 episodes, pilots and TV movies, including theme songs for That Girl, The Dick Van Dyke Show, The Danny Thomas Show, I Spy, The Mod Squad, Eight Is Enough and Gomer Pyle, U.S.M.C.
In 2002 Hagen penned his autobiography titled Memoirs of a Famous Composer-Nobody Ever Heard Of. In his book Earle Hagen wrote anecdotes about the songs he composed. He recalled how in 1960 he struggled with what to write for the folksy character at the heart of the new Andy Griffith Show. "It finally occurred to me that [the theme] should be something simple, something you could whistle." Hagen wrote some music and whistled it. He got his 11-year-old son to snap his fingers while Hagen whistled. In that moment a classic piece of Americana was born. Hagen's music received three Emmy Award nominations for each of the three seasons of I Spy. Hagen finally won an Emmy for one of the TV show's episodes during its third season. And in 1981 Earle Hagen received another Emmy nomination for scoring the made-for-TV film Stand By Your Man,

Dick Rodgers was born in 1912 and was in the Ray Noble Orchestra and the Will Osborne Band. Rodgers wrote songs recorded by Bing Crosby, Teresa Brewer, Frankie Carle, the Mills Brothers, Fats Waller, Les Brown, Charlie Barnet, Phil Harris, David Rose, Tiny Bradshaw, Earle Bostic, Louis Prima and others.
In 1960 Hagen and Rogers were nominated for an Academy Award for best music scoring for the 1960 Marilyn Monroe movie Let's Make Love. In 1983, Hagen got a phone call asking him to score his old 1939 song, for the 1984 TV detective show Mickey Spilane's Mike Hammer. Hagen said yes, and the show, which ran from 1984 to 1987, introduced a new generation to "Harlem Nocturne".
In the winter of 1965 the Viscounts' version of "Harlem Nocturne" peaked at #1 in San Diego, #2 in Tucson, #4 in St. Louis, #5 in Vancouver (BC), Seattle, Boise (ID) and Detroit, #6 in Orlando (FL), #7 in San Francisco, and #10 in Anchorage (AK).
Larry Vecchio, who is now 68 and is working as an investment and insurance broker in Nebraska. Looking back at his time with The Viscounts, Bobby Spievak told a Pottstown (PA) newspaper in 2003 "The music business was a corrupt, dirty business. We made a lot of money for other people." In the years since the Viscounts Joe Spievak has played guitar in a country music combo in Colorado. He lived in Wyoming, where he worked as a welder.
November 30, 2019
Ray McGinnis
References:
Jack Doyle, "Harlem Nocturne, 1939-1980s," PopHistoryDig.com, June 27, 2010.
S. F. Lawrence, "Despite Exceptional Talent, the Viscounts Never Really Tookoff," The Mercury, Pottstown, PA, December 1, 2003.
Earle Hagen, Memoirs of a Famous Composer-Nobody Ever Heard Of, (Xlibris, 2002).
Jon Burlingame, "Composer Earle Hagen at 100: 'Andy Griffith' and 'Dick Van Dyke' Theme Writer's Legacy Endures,"
"'Andy Griffith' composer dies at 88," CNN, May 27, 2008.
"C-FUNTASTIC FIFTY," CFUN 1410 AM, Vancouver, BC, December 25, 1965.
For more song reviews visit the Countdown.