#303: He Ain't Heavy, He's My Brother by Neil Diamond
Peak Month: December 1970
8 weeks on Vancouver's CKVN chart
Peak Position #2
Peak Position on Billboard Hot 100 ~ #20
YouTube: "He Ain't Heavy, He's My Brother"
Lyrics: "He Ain't Heavy, He's My Brother"
Neil Leslie Diamond was born in Brooklyn in 1941. His parents were Russian and Polish immigrants and both Jewish. His dad was a dry-goods merchant. When he was in high school he met Barbra Streisand in a Freshman Chorus and Choral Club. Years later they would become friends. When he was sixteen Diamond was sent to a Jewish summer camp called Surprise Lake Camp in upstate New York. While there he heard folk singer, Pete Seeger, perform in concert. That year Diamond got a guitar and, influenced by Pete Seeger, began to write poems and song lyrics. While he was in his Senior year in high school, Sunbeam Music Publishing gave Neil Diamond an initial four month contract composing songs for $50 a week (US $413 in 2017 dollars). and he dropped out of college to accept it.
In 1962 Diamond teamed up with a high school friend, Jack Parker, and released a song called "You Are My Love At Last." The next year Neil Diamond released his first song under his name titled "At Night" on the Columbia label. The tune failed to get much attention and Columbia didn't renew their contract with Diamond. By 1966 Neil Diamond struck gold by charting his first singles onto the Billboard Hot 100 with "Solitary Man" peaking at #55 and "Cherry Cherry" climbing to #6. Later that year his song, "I'm A Believer," was recorded by The Monkees. The tune became the #5 hit of 1967.
In Vancouver, Neil Diamond generally had more successful chart runs here in Vancouver, Canada, compared to the Billboard Hot 100. "Solitary Man," stalled at #55 in the USA but climbed to #12 in Vancouver. "I Got The Feelin' (Oh No No)" stalled at #16 on the USA, but peaked at #4 in Vancouver. "You Got To Me" was also a #4 hit in Vancouver, but barely made the Top 20 on the Billboard charts, cresting at #18. "Thank The Lord For The Nightime" was #13 in the USA, but went up to #6 in Vancouver. Similarly, "Kentucky Woman" met with a better response in Vancouver as it climbed to #10, but stalled at #22 on the Billboard Hot 100. Five of seven charting songs Neil Diamond had on the Vancouver charts did significantly better than in his native America. His first single release in 1968, "Red Red Wine," followed this familiar pattern, climbing to #7 in contrast to Billboard's #62. "Brooklyn Roads" climbed to #13 in Vancouver, but stalled at #58 on the Hot 100.
Diamond began 1969 well with a #4 song in Vancouver titled "Brother Love's Travelling Salvation Show". He ended the year with two international Top Ten hits, "Sweet Caroline" and "Holly Holy". 1970 saw Diamond continue to chart into the Top 30 with "Shilo" and "Soolaimón".
In the fall of 1970, Neil Diamond released a cover of the Hollies "He Ain't Heavy, He's My Brother".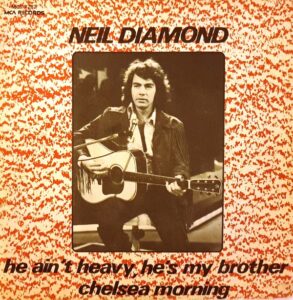 "He Ain't Heavy, He's My Brother" was cowritten by Bob Russell and Bobby Scott. Born Sidney Keith Rosenthal in Passaic, New Jersey in 1914, Bob Russell attended Washington University in St. Louis. After graduation, Russell worked for an advertising company as a copywriter. His early music career was spent writing special material for vaudeville acts and later for film studios. Russell was a composer of many pop standards. These include "Frenesí" (Artie Shaw – 1940), "María Elena" (Jimmy Dorsey – 1941), "Don't Get Around Much Anymore" (Duke Ellington, the Ink Spots – 1943), "Do Nothing 'Til You Hear From Me" (Woody Herman, Nat "King" Cole, Stan Kenton, Duke Ellington – 1944), "Ballerina" (Vaughan Monroe – 1947), "Crazy He Calls Me" (Billie Holiday – 1949), "No Other Love" (Jo Stafford – 1950), and "Would I Love You (Love You, Love You)" (Patti Page – 1951). Bob Russell died of leukemia in 1970 at the age of 55.
Cowriter of "He Ain't Heavy, He's My Brother", Bobby Scott, was born in Mount Pleasant, New York, in 1937. He became a pianist, vibraphonist, and singer. Scott also learned to play the accordion, cello, clarinet, and double bass. At the age of eight he studied at the La Follette School of Music, and was working professionally at 11. At the age of 15, in 1952, Scott began touring with Louis Prima. As well, he toured and performed with jazz drummer and bandleader Gene Krupa, jazz tenor saxophonist and clarinetist Lester Young, and jazz clarinetist Tony Scott in the 1950s. In February 1956 Bobby Scott had a #10 hit on the Cashbox Best Selling Singles chart with the song "Chain Gang". The lyrical refrain was "They put me on the chain gang, chain gang, chain gang. Working on the chain gang all day…" Different from the 1960 Sam Cooke song of the same name, the Negro-spiritualesque "Chain Gang" was written by Jewish composers Herbert Yakus and Sol Quasha.
Bobby Scott arranged recordings for Bobby Darin, Harry Belafonte, Quincy Jones, Sarah Vaughan, Timi Yuro, Chuck Jackson and others. His greatest success as a composer was with "A Taste Of Honey", recorded by Herb Alpert and the Tijuana Brass, Mr, Acker Bilk, Lenny Welch, Barbra Streisand, the Beatles and others. Bobby Scott died of lung cancer at the age of 53 in 1990.
James Wells, Moderator of the United Free Church of Scotland, tells the story of a little girl carrying a big baby boy in his 1884 book The Parables of Jesus. Seeing her struggling, someone asked if she wasn't tired. With surprise she replied: "No, he's not heavy; he's my brother."
In a 1918 publication by Ralph Waldo Trine titled The Higher Powers of Mind and Spirit, Trine relates the following anecdote: "Do you know that incident in connection with the little Scottish girl? She was trudging along, carrying as best she could a boy younger, but it seemed almost as big as she herself, when one remarked to her how heavy he must be for her to carry, when instantly came the reply: 'He's na heavy. He's mi brither.'"
The first editor of Kiwanis magazine, Roe Fulkerson, published a column in September 1924 carrying the title "He Ain't Heavy, He's My Brother", the first use of the phrase exactly as it is rendered in the song title by Bobby Scott and Bob Russell. The slogan "He Ain't Heavy, He's My Brother" was adapted in the 1940s by the Boys Town orphanage in Boys Town, Nebraska.
In the lyrics of' "He Ain't Heavy, He's My Brother", the the narrator who is carrying the brother asserts "his welfare is my concern." The image of someone carrying their "brother" was a metaphor for how individuals might care for one another across society. It reflected a liberal sentiment about helping each other, and carrying one another whenever anyone needs a hand, or needs to be lifted up so that they are not left behind. That sentiment is even present in the recent inaugural speech of United States President Joe Biden on January 20, 2021. Speaking about America's challenges over history, he said "Through the Civil War, the Great Depression, World War, 9/11, through struggle, sacrifice, and setbacks, our 'better angels' have always prevailed. In each of these moments, enough of us came together to carry all of us forward."
The carrying of one another does not need to be literal. We do not need to actually piggyback someone, or carry and cradle someone like an infant in our arms. The United Free Church of Scotland moderator who spoke about The Parables of Jesus in 1884, knew the Biblical verse from Matthew 25:40 "Inasmuch as you have done it to the least of these, my brethren, you have done it to me." The sermon takeaway was that whatever a follower of Christ did for people who needed a hand, who were less fortunate, they did it as if the person who needed to be carried was Christ himself. And the New Testament epistle from 1 Corinthians offered an image of everyone who was a follower as being part of the Body of Christ: "The eye cannot say to the hand, "I don't need you!" And the head cannot say to the feet, "I don't need you!" From this perspective, everyone who needed help and assistance needed to be carried, given a hand, aid. The view from the scriptures, as with the lyrics in "He Ain't Heavy, He's My Brother" is the opposite of the view reflected in the Robert Ringer's 1977 best selling book Looking Out for #1. where self-interest is valued above all else.
As well, in the Sixties "heavy" was slang for emotional weight, a sobering topic. In the Beatles song "She's So Heavy" it is a compliment that the woman the narrator wants "so bad" is "heavy." She can engage in matters of substance, even 'heavy' conversations. But in the case of "He Ain't Heavy, He's My Brother", "heavy" was about physical weight, not emotional weight, mental weight.
"He Ain't Heavy, He's My Brother" climbed to #1 in Rochester (NY) and Edmonton (AB), #2 in Vancouver (BC), Lincoln (NE) and Chilliwack (BC), #3 in Seattle, #4 in Hamilton (ON), Akron (OH), Tucson (AZ), Cedar Rapids (IA), and Toledo (OH), #5 in Columbus (OH), Reading (PA), Atlantic City (NJ), Louisville (KY), Eau Claire (WI), Allentown (PA), Bowling Green (KY), and Detroit, #6 in Battle Creek (MI), New Haven (CT), Knoxville (TN), Fargo (ND), and Indianapolis (IN), #7 in Windsor (ON), Birmingham (AL), Bellingham (WA), and Miami, #8 in Memphis, Spokane (WA), Honolulu, Regina (SK), Bangor (ME), and St. Louis, and #10 in Cincinnati (OH), Worcester (MA), Phoenix, Denver, and Hilo (HI).
On June 27, 1970, and again on July 31 1971, Neil Diamond performed in concert in Vancouver at the Queen Elizabeth Theatre.
In the early 70s "I Am I Said", "Cracklin' Rosie" and "Song Sung Blue" are among his other smash hits. The latter two were both number one hits on the Billboard Hot 100. Between 1966 and 1977 Neil Diamond charted 19 songs into the Top Ten in Vancouver and 8 songs into the Top Ten on the Billboard Hot 100. Some, like "Done Too Soon", had a much better chart run in Vancouver than in the USA. On July 21, 1972, and later on April 9, 1976, Neil Diamond appeared in concert – on both occasions at the Pacific Coliseum. Other hit singles for Diamond into the mid-70s were "Longfellow Serenade" and "Desiree".
His last #1 hit was a duet with Barbra Streisand titled "You Don't Bring Me Flowers Anymore" in December 1978. On February 23, 1979, Neil Diamond performed in concert in Vancouver at the Pacific Coliseum.
Diamond had several major hits on the pop charts into the early 1980s, including "America," a song with a very positive interpretation of the history of immigration to the United States. Diamond later told a Jon Bream in his book Neil Diamond Is Forever: The Man And His Music, "America" was the story of my grandparents. It's my gift to them, and it's very real for me … In a way, it speaks to the immigrant in all of us." The song became the theme song for the 1988 campaign of Democratic presidential candidate, Michael Dukakis. In the mid-to-late 80s Neil Diamond came to Vancouver on March 19th and 20th, 1985, at the Pacific Coliseum. He was back in Vancouver on September 12, 1986, for a concert at BC Place Stadium. And returned on April 4, 1989, to appeared in concert at the Pacific Coliseum.
In the 1990s Neil Diamond performed in concert in Vancouver at the Pacific Coliseum on October 23, 1992, and later on two occasions at General Motors Place on July 27, 1996, and August 15, 1999.
In the 2000s Neil Diamond gave concerts in Vancouver at General Motors Place on October 4, 2002, on September 22, 2005, and on September 20, 2008. About his personal life, in 2008, New Diamond stated: "Personal relationships? I have none. I have no friends, and it is just impossible to have relationships. My closest friend is a fellow I went to school with, and I haven't seen him in four years. I make this journey, for the most part, alone."
On July 21, 2012, and again on May 7, 2015, Neil Diamond performed in concert – both times at Rogers Arena in Vancouver. In 2016, Neil Diamond released his 34th studio album. In April, 2017, Neil Diamond began his 50 Year Anniversary World Tour. The tour was scheduled in three legs. The first included 35 concerts in the USA and two in Canada, including in Vancouver on July 24, 2017, at Rogers Arena. The second included 15 concerts in Europe and the third 11 dates in New Zealand and Australia, ending in April 2018.
However, Rolling Stone magazine reported on January 23, 2018, that Neil Diamond had Parkinson's disease. Diamond cancelled the third leg of his 50 Year Anniversary World Tour in January, on his doctors advise. He said in a press release, "It is with great reluctance and disappointment that I announce my retirement from concert touring, I have been so honored to bring my shows to the public for the past 50 years. My sincerest apologies to everyone who purchased tickets and were planning to come to the upcoming shows."
May 31, 2021
Ray McGinnis
References:
Laura Jackson, Neil Diamond: The Biography, (Portrait, London, UK, 2004).
William Langley, "Neil Diamond: the Loves of a Lifelong Mr Lonely," Telegraph, UK, September 10, 2011.
Lisa Respers, "Neil Diamond reveals story behind 'Sweet Caroline'," CNN, October 20, 2014.
Graeme Ross, "Neil Diamond: The top 10 songs from rock's King of Guilty Pleasures," Independent, UK, September 28, 2017.
Neil Diamond biography, Jewish Virtual Library.
Daniel Keeps, "Neil Diamond Retires From Touring After Parkinson's Disease Diagnosis," Rolling Stone, January 23, 2018.
"Bobby Scott, 53, Dies; Composer and Singer," New York Times, November 10, 1990.
"Bob Russell (Songwriter)," Wikipedia.org.
"Inaugural Speech of President Joe Biden," Whitehouse.gov, January 20, 2021.
Robert Ringer, Looking Out For #1, (Fawcett Crest, 1977)
"Neil Diamond – Canada concert dates," Setlist.fm.
"Your Average Rock & Roll Radio Survey," CKVN 1410 AM, Vancouver, BC, December 18, 1970.
For more song reviews visit the Countdown.