#1196: Hello Fool by Ralph Emery
Peak Month: September 1961
8 weeks on Vancouver's CKWX chart
Peak Position #6
Peak Position on Billboard Hot 100 ~ did not chart
YouTube.com: "Hello Fool"
"Hello Fool" lyrics
In 1933 Walter Ralph Emery was born in the town of McEwen, Tennessee. Based in Nashville, Emery became a country music deejay on WSM. His late-night show garnered a lot of ratings. This was due to the wide coverage of WSM at night where Emery was heard across much of the midwest and Eastern 'states. Many of Emery's fans were long-haul truck drivers enjoying Emery's company on the radio in the middle of the night. The country and western crowd of session musicians, recording artists and agents in the Nashville scene listened in to Emery's show. And many were personal friends of Emery. Among these was movie star and singer, Tex Ritter. For a spell, Ritter was Emery's co-host on the WSM show. Many well-known stars, most notably Marty Robbins, would just drop by and sing a song or share an anecdote.

From his radio show microphone, Emery gave often breakthrough exposure to numerous emerging performers in the country music scene. Many of these performers would later credit Emery as being a catalyst to launching their career. Among these was Emery's second wife, Grand Ole Opry star Skeeter Davis, who had the third biggest hit for the year of 1963 called "The End of the World".
From his position on Nashville's WSM radio, Emery recorded an answer song to Faron Young's hit, "Hello Walls", called "Hello Fool". In "Hello Walls", a man's wife has recently left him and he has nothing but the walls, window and ceiling to speak to. The song was the #1 single on the Billboard Country chart for nine weeks starting on May 8, 1961. So Ralph Emery made a good choice for his answer song since everyone who listened to country music in 1961 knew Faron Young's number one smash hit. In "Hello Fool" the narration in the song is from the viewpoint of the walls, the window and the ceiling. While the song became a Top Ten hit on the US Country charts, it did not appear on the Billboard Hot 100. In Vancouver it climbed to #6 on CKWX.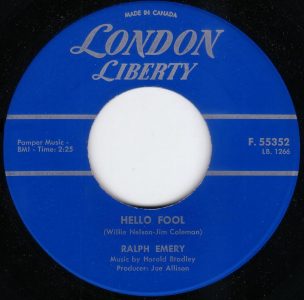 In Emery's answer song he filled in some of the blanks regarding why she would have left her man in the first place in Faron Young's song. In "Hello Walls" listeners learn that "she upped and walked away" and that she "planned" to leave. Her departure was not a rash or hasty decision. And the guy left to stare at the ceiling hunches she's going to be gone "a long, long time." In "Hello Fool" the guy gets an earful from the walls, the window and the ceiling. She took a lot of hurt from him and they "don't blame her one bit" for leaving. They could see this coming and think he must have been blind. Moreover, the window offers "I think it serves you right if you should lose your mind." From what the lyrics offer it seems the crux of the break-up had to do with the husband who "couldn't keep from foolin' around." I suggest "husband" as the culture of country and western music was very pro-marriage, certainly in the early 60s. It wasn't generally approved to have a couple "shacking up" and living in sin as an unwed couple. "Infidelity" was one of the top three reasons for divorce or separation from a marriage in the USA in the early 60s, along with addictions and violence/physical abuse.
Emery later wrote several best-selling books chronicling his memories of the many Nashville singers and musicians that appeared on his various radio and TV shows. Emery's nationally syndicated music program, Pop! Goes the Country, from 1974 to 1980, made him a household name. He stayed in the spotlight while he hosted Nashville Now, each night from 1983 to 1993. In 2017, Emery still hosts a weekly program focused on rural American culture, Ralph Emery Live, on satellite and cable channel RFD-TV.
February 2, 2017
Ray McGinnis
References:
Ralph Emery bio, Country Music Hall of Fame.org
Randy McDaniel, The Legenndary Faron Young Sits Down with Ralph Emery, KXRB, Sioux Falls, South Dakota, December 2, 2013
Jack Hurst, "Davis Stings Ex-husband Emery In Autobiography," Chicago Tribune, October 28, 1993.
"Fabulous Forty," CKWX 1130 AM, Vancouver, BC, September 30, 1961.
For more song reviews visit the Countdown.