#84: Here Comes The Night by Nick Gilder
Peak Month: December 1978
18 weeks on Vancouver's CFUN Survey
Peak Position #4
Peak Position on Billboard Hot 100 ~ #44
YouTube.com: "Here Comes The Night"
Lyrics: "Here Comes The Night"
In 1951 Nick Gilder was born in London, England. In his childhood he moved to Canada and grew up in Vancouver. In the summer of 1973, when he was 22 years old, vocalist Gilder and fellow former high school classmate and guitarist, Jim McCulloch, founded a band called Rasputin. John Booth on drums, Bud Marr on bass and Dan Gaudin on keyboards rounded our the band. Shortly afterward they took the name Sweeney Todd. Their name was inspired by the 1846-47 Victorian penny dreadful The String of Pearls: A Domestic Romance credited to James Malcolm Rymer and Thomas Peckett Prest. The main antagonist of the story is Sweeney Todd, "the Demon Barber of Fleet Street". Todd is a barber who murders his customers and turns their bodies over to Mrs. Lovett, his partner in crime, who bakes their flesh into meat pies and sells them at her pie shop. A Sweeney Todd stage play by Stephen Sondheim appeared on Broadway in 1979.
In 1975 Sweeney Todd got a contract with London Records. Their self-titled debut album was released that summer. It featured the release of "Rock and Roll Story" as the first single. They followed it up with "Sweeney Todd Folder" released while the band was in the middle of a cross-Canada tour. But it was the release of "Roxy Roller" that made Sweeney Todd instant household names. eventually topping the Canadian charts. The tune held the #1 spot in the Canadian RPM singles charts for three weeks in June-July 1976. "Roxy Roller" went on to win Sweeney Todd a Juno Award for "Best Selling Single" in 1977.
Meanwhile, Nick Gilder released a solo single in late summer 1976 titled "She's A Star (In Her Own Right)". Gilder next recorded a solo version of "Roxy Roller" which in February 1977 became a Top Ten hit in Melbourne, Australia, spending seven weeks in the Top Ten – including three at #4.
In the summer of 1978 Gilder's single "Hot Child In The City" began to climb up the charts on local AM-Top 40 stations. on CHUM-AM in Toronto, the single spent 23 weeks on the CHUM Top 30, including eleven weeks in the Top Ten and four weeks at #2. It was kept out of the top spot by Kenny Loggin's "Whenever I Call You Friend". "Hot Child In The City" also spent eleven weeks in the Top Ten on CKLW in Windsor (ON). It climbed to number-one in Harrisburg (PA), Easton (PA), Allentown (PA), Tucson (AZ), Bozeman (MT), Springfield (MA), Chicago, Honolulu, Houston, Buffalo (NY), Utica (NY), New York City, Burbank (CA), Los Angeles, San Diego, Tacoma (WA), Seattle, Minneapolis/St. Paul, La Cross (WI), Akron (OH), Youngstown (OH), Kansas City (MO), Denver, Oklahoma City (OK), Tampa (FL), Portland (OR), and Sarasota (FL). Gilder performed "Hot Child In The City" on American Bandstand on September 2, 1978, and on The Mike Douglas Show on August 29, 1978, and again on November 16, 1978. In Canada, "Hot Child In The City" became the #7 charted song of 1978.
At the Juno Awards, based on the recording of "Hot Child In The City", Nick Gilder won awards for both Song of the Year and Most Promising Male Vocalist of the Year. "Hot Child In The City" has been featured as part of the soundtrack for a number of films and TV sitcom episodes.
In November 1978 Gilder wrote a song titled "Here Comes The Night" for his City Nights album. (This wasn't a cover of the 1965 song with the same title by Them).
In Gilder's "Here Comes The Night", he is playing Valentino. While trying to "get a kiss from a trendy girl," one of them looks through him with her x-ray eyes. She begs "I want you to stay. Don't go away. Here comes the night." Though they go for a stroll in the park, he learns "she was a player in the lipstick game." She knows how to drink gin and tonic and turn guys on. She's not shy. Here comes the night.
When Gilder says he's "playing Valentino," this is in reference to silent screen heartthrob Rudolph Valentino.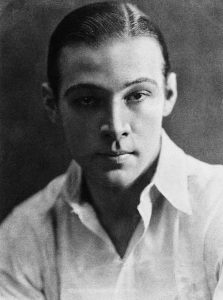 Rudolph Valentino (circa 1919)
Rodolfo Pietro Filiberto Raffaello Guglielmi di Valentina d'Antonguolla was born in 1895. He grew up in Castellaneta, at the top of the heel of the boot in southern Italy, in the province of Taranto. He sailed to America in 1913 at the age of 18 and was processed at Ellis Island. He retained his Italian citizenship. Valentino worked variously as a busboy and a taxi dancer at Maxim's Restaurant-Cabaret at 38th Street and Broadway. He headed west in 1917 and was in an operetta in Utah and later with All Jolson, in a traveling show of Robinson Crusoe, Jr. which ended in Los Angeles.
During his film career from 1914 to 1926, Rudolph Valentino played opposite numbers of leading starlets of the Silent Film era including Marguerite Namara, Katherine MacDonald, Alice Terry, Alice Lake, Agnes Ayres, Alla Nazimova, Dorothy Dalton, Gloria Swanson, Nita Naldi, Bebe Daniels, and Vilma Banky. He starred in 38 films. In 1921 when he starred in The Sheik, women fainted in the aisles of theaters. He played a matador (Blood and Sand, 1922), an adopted boy who learns his father is an Indian maharajah (The Young Rajah, 1922), a French Duke (Monsieur Beaucaire, 1924), an Italian noble (Cobra, 1925), and a Lieutenant serving in the Imperial Guard of the Russian army (The Eagle, 1925) among others. Rudolph Valentino died in
Valentino is referenced in numbers of pop songs. These include Bob Dylan's "Farewell Angelina" (1965), "Celluloid Heroes" by the Kinks (1972), "Right Before Your Eyes" by Ian Thomas and "Long Tall Glasses (I Can Dance)" by Leo Sayer (1974), and in "Manic Monday" by the Bangles (1986) they sing "I was kissing Valentino by a crystal-blue Italian stream".
On August 15, 1926, Valentino collapsed at the Hotel Ambassador on Park Avenue in Manhattan. He was diagnosed with appendicitis and gastric ulcers, and surgery was performed immediately. After surgery, Valentino developed peritonitis, an inflammation of the inner wall of the abdomen. Though doctors were optimistic, Valentino next was stricken with a severe relapse of pleurisy, which developed rapidly in his left lung. The doctors realized that Valentino was going to die, but as was common at the time, chose to withhold this information. Valentino reportedly believed that he would recover. He went into a coma and died on August 23, 1926, age of 31. Following Valentino's death, doctors who treated him later confirmed that the actor had contracted sepsis, an overwhelming response to infection. 100,000 people lined the streets of Manhattan to pay their respects at his funeral at a funeral home. Suicides of despondent fans were reported in the news. Windows were smashed as fans tried to get in and an all-day riot erupted on August 24. Over 100 mounted officers and NYPD's Police Reserve were used to restore order.
"Here Comes The Night" peaked at #4 in Vancouver (BC), #14 in Toronto and #15 in Ottawa (ON).
"Here Comes The Night" became another huge hit on the Canadian West Coast, spending 20 weeks on the CFUN record survey. However, it's chart action outside of British Columbia was limited to a number of radio markets in Ontario, Colorado, California, Texas, Washington and Wisconsin.
Late spring 1979, Nick Gilder had a minor hit in several radio markets in Canada and the USA titled "Rock Me". He returned to perform on American Bandstand in '79. And in 1981 Gilder managed a Top Ten hit in Saskatoon (SK) (and Top 20 in Regina) with "Catch 22". He switched labels to RCA and released one more album in 1985, appearing later that year on American Bandstand on November 23rd.
Between 1977 and 1999 Nick Gilder released eight studio albums. In addition to his own recordings, Nick Gilder has written songs recorded by Pat Benetar, Toni Basil, Bette Midler, Scandal, Patty Smyth, Joe Cocker and others. He lives in Vancouver.
On the weekend of August 18-20, 2017, Nick Gilder along with Sweeney Todd appeared in concert at Ambleside Park in West Vancouver, BC. Others on stage at the event included Randy Bachman, the Stampeders, Prism, Platinum Blonde, Honeymoon Suite, Glass Tiger and the Headpins.
December 12, 2022
Ray McGinnis
References:
Nick Gilder, "Nick Gilder bio," Canadian Bands.com
Nick Gilder, "Sweeney Todd bio," Canadian Bands.com
Steve Newton, "30 years ago: Nick Gilder on his new LP and his "ironic" replacement in Sweeney Todd," Georgia Straight, Vancouver, BC, October 16, 2015.
Daniele Anne, "How to Look and Feel Like the Hottest Chick in the Club," LovePanky.com.
"Nick Gilder Interview," American Bandstand, August 11, 1979.
Nick Gilder, "The Warrior", Wikipedia.org.
Brian Tarling, Vancouver's Charted Songs '56 to '78, Brian Tarling, 2012.
Harold D. Meeker, "Surgeon Explains Valentino's Death; Dr. Meeker Describes in Detail the Diagnosis, Operation and Treatment of Actor. Overwhelmed By Sepsis" Letter to Ullman Is Made Public by Dr. Wyman to "Aid Any Possible Investigation." New York Times, September 4, 1926.
Emily Leider, Dark Lover: The Life and Death of Rudolph Valentino, Farrar Straus & Giroux, 2003.
"C-FUN Top Thirty," CFUN 1410 AM, Vancouver, BC, December 23, 1978.
For more song reviews visit the Countdown.