#1402: He's An Indian Cowboy In The Rodeo by Buffy Sainte-Marie
Peak Month: September 1972
6 weeks on Vancouver's CKVN chart
Peak Position #14
Preview August 7/72
Peak Position on Billboard Hot 100 ~ #98
YouTube.com: "He's An Indian Cowboy In The Rodeo"
Lyrics: "He's An Indian Cowboy In The Rodeo"
In 1942 Beverly Sainte-Marie was born on the Piapot Cree Reserve in southwestern Saskatchewan. From her early childhood she was called Buffy. As a child she was orphaned. Her aunt and uncle in Maine of Mi'kmaq First Nation descent then adopted her. Growing up in Maine, Buffy taught herself how to play piano and guitar. After high school took Fine Arts courses at the University of Massachussetts in Amherst to study in the Fine Arts fields, continuing to write music in her spare time. She graduated in the Top Ten in her class but chose to devote her life to music. She began to appear at coffee houses in the folk music circuit in New England, barely making ends meet.

From New England she moved back to Canada and appeared in Toronto's Yorkville district, known at the time for hippies and the counterculture movement. She played on stage with other blossoming folk singers including Leonard Cohen, Joni Mitchell, and Neil Young. Spanning her career, she recorded songs written by those artists, and they each recorded some of her compositions.
From Toronto Sainte-Marie moved to New York's Greenwich Village. It was there she gained a reputation as a gifted songwriter and performer. The subject of many of her songs reflected her observations of modernity and social issues. In an effort to treat an infection of bronchial pneumonia, Buffy got addicted to codeine. She wrote about her dependence and eventual rehabilitation from the drug in her song "Cod'ine." The song was also recorded by a number of artists including Donovan, Quicksilver Messenger Service, and Gram Parsons. She also spent part of the mid '60s as part of a North American troupe of folk musicians playing on the street corners and in the coffee houses in the UK, West Germany, and France.
Buffy Sainte-Marie was the first Canadian First Nations pop singer to get a deal with a major record company. She signed with Vanguard Records who released her 1964 debut album, It's My Way! Some of her earliest songs displayed both a tenacious spirit and quiet wisdom. An Aboriginal lament would become a theme in her music featured on early works on this first album like "Now That The Buffalo's Gone", "Ananias" and "Mayoo Sto Hoon." Social awareness of the Aboriginal communites remained a fixture of her musical topics throughout the decades, including "My Country 'Tis of Thy People You're Dying", "The Seeds of Brotherhood" and the title track to her 1974 album, "Native North American Child". The latter was a satirical piece spotlighting how the lives and stories of indigenous people were absent from reportage in the mainstream media.
Nearly a hundred of her songs have also been covered by others. One of the songs on her debut album was the anti-Vietnam War anthem "Universal Soldier", covered by Donovan, Glen Campbell and others. The song went to #5 for Donovan in the UK and #53 in the USA. As a result Billboard Magazine named her Best New Artist in 1965. Inspired by her witnessing wounded Viet Nam veterans getting off the bus after returning home, political and anti-war songs would become a hallmark of her career. But unlike Donovan, her entire first album was original music, almost unheard of a new artist at the time. Sainte-Marie was gaining popularity, appearing on several TV programs including several appearances on The Tonight Show With Johnny Carson. Concurrently, her anti-Viet Nam War stance also alienated her from many audiences. In fact, she was reportedly blacklisted because her name appeared on a White House list of performers "who deserved to be suppressed."
Her song "Until It's Time For You To Go" has been covered by over 200 artists, including Neil Diamond, Barbara Streisand, Glen Campbell, and Elvis Presley, before and after she released it herself on her second album, Many a Mile, in 1965. Buffy Saint-Marie's music appealed not only across borders but to recording artists in a variety of musical genres. County singer Bobby Bare made Buffy Saint-Marie's song "Piney Wood Hills" a #1 country hit in 1967. She recorded her own version of that song less than a year later on I'm Gonna Be A Country Girl Again. The album, recorded in Nashville was hailed by music critics as among the best country albums of 1968. With side one dedicated to Chet Atkins, it also produced what she would call her "most satisfying work, and a dream come true," getting to work with Floyd Cramer.
In 1968, she had a role in the popular NBC western TV show, The Virginian. However, her conditions for appearing on the show was for all other Aboriginal roles to be cast by actual Aboriginal actors, a very rare occurrence for the time. The producers relented and agreed, paving the way for other Natives over the years to make their mark in television and film.
By 1966, at the age of 24, Buffy Saint-Marie had appeared on stages all over Europe, Canada, Australia and Asia. In 1969 she closed out the decade with uncharacteristic synthesizers and other experimentations with a psychadelic folk/rock hybrid album Illuminations.
In 1967 Buffy Saint-Marie released her fourth album, Fire, Fleet and Candlelight. The album was a departure from earlier folk albums with only acoustic guitar. Now she added a rock 'n roll band to perform backup on most of her songs. One of these was "Circle Game" written by fellow Canadian prairie folk singer, Joni Mitchell, born in neighboring Alberta in the town of Fort MacLeod. Buffy's version climbed to #14 on CKVN in Vancouver in October 1970.
In 1972 Buffy Sainte-Marie had her only Top 40 hit on the Billboard Hot 100, titled "Mister Can't You See". Her follow-up single, "He's An Indian Cowboy In The Rodeo", was her third and final song to crack the Billboard Hot 100.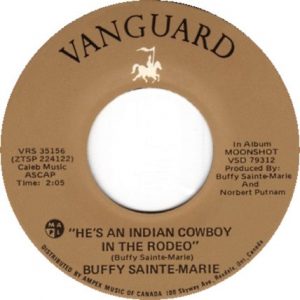 "He's An Indian Cowboy In The Rodeo" is a song about an indigenous person who is a professional rodeo star. He has adoring fans, especially females, and the singer tells us "I'm just another little girl who loves him so." The song reminds listeners that going to a rodeo can awaken sexual desire as well as a keen interest in horses, bulls and goats. In addition, this early 70s song is about an indigenous person being successful, a welcome change from prevailing stereotypes of "drunken Indians" at the time.
Rodeo is a competitive sport that grew from the skills required of the vaqueros (and later cowboys) involved in cattle herding in Spain, Mexico, and later Central America, South America, the United States, Canada, Australia and New Zealand. Currently, rodeo involves competitions that include events to determine the skill of competing cowboys and cowgirls. Professional rodeos often feature these events: bareback bronc riding, barrel racing, breakaway roping, bull riding, goat tying, pole bending, saddle bronc riding, steer wrestling, team roping and tie-down roping. Rodeo events include the categories of rough stock events and the timed events. In the United States, rodeo is the official sport in South Dakota, Texas and Wyoming. In Canada the sport is especially popular in Alberta, home of the Calgary Stampede, founded in 1886 as an agricultural fair. This is a ten-day event each July, which bills itself as "The Greatest Outdoor Show on Earth."
The Calgary Stampede has included First Nations participation from its beginnings. In 1912, Tom Three Persons, of the Blood (Kainai) tribe, emerged as one of the Stampede's first heroes, amazing spectators with a winning performance in the saddle bronc competition. He was the only Canadian champion of the first Stampede and became the first person to successfully ride Cyclone, a notorious horse that had thrown over 100 riders during its career. Cyclone refused to be ridden. But Tom Three Persons mounted Cyclone and, "a swirl of dust later, Three Persons dismounted victoriously, leaving Calgary's first ever Stampede as a cowboy hero – and $1,000 richer." However, Department of Indian Affairs passed a law in 1914 to exclude their participation. Simultaneously, World War I began and the fair was cancelled until 1919 when First Nations participated once again. The Calgary Stampede returned again in 1923 and has been an annual feature of Calgary's summer events ever since. Indian Affairs again sought to ban native participation in 1925 without success. While conflicts between the Stampede and Indian Affairs continued until 1932, the Indian Village remained a constant on the Stampede grounds. The tipi owners have been long-term participants – many are third or fourth generation – and the Stampede has helped preserve and display First Nations cultures to the public. In 2018 the name "Indian Village" was renamed the "Elbow River Camp" on the last day of the 2018 edition of the Calgary Stampede.
"He's An Indian Cowboy In The Rodeo" climbed to #6 in Reno (NV), and #14 in Toronto and Vancouver (BC).
Between 1964 and 1976 Sainte-Marie had released 13 studio albums. Buffy Sainte-Marie became a regular on Sesame Street for five years in the late 1970's, including one episode where she was breastfeeding her son Dakota "Cody" Starblanket Wolfchild. Coinciding with her regular appearances on Sesame Street, Buffy Sainte-Marie took a fourteen year break from recording.
In 1982 Buffy Sainte-Marie co-wrote "Up Where We Belong". The song was sung by Jennifer Warnes and Joe Cocker and featured in the film An Officer And A Gentleman during the closing credits. The song topped the Billboard Hot 100 for three weeks in November '82. The recording won Sainte-Marie both an Academy Award and a Golden Globe in the category of Best Original Song. "I'm the only native person ever to win an Oscar," she says.
In 1997 Buffy Sainte-Marie founded the Cradleboard Teaching Project. She developed a curriculum to help raise self-identity and self-esteem in present and future generations of First Nations/Native American children by introducing them to enriching, accurate information about Native peoples and cultures.
In a 2015 interview with the Guardian she said: "Actually, when I first got famous in the 60s, I got a little too famous and in order to escape showbusiness I moved to Hawaii. I've always had that attitude about my career: it's something that I do but it's not my whole life. I have a real life, a personal life: I've got a lot of chickens, I've got a horse, I've got a kitty-cat, I've got a lot of goats, I've got animals all over the place." She also said she had no idea she was on lists and under surveillance by the FBI and the CIA due to political views expressed in her lyrics. She told the Guardian writer, Tim Lewis, "I didn't know it… they don't tell you. I didn't find out until maybe 25 years later. Yeah, I had no idea there were FBI and CIA files on me."
In 2015, Buffy Sainte-Marie went on tour to the UK as an opening act for Morrissey. "Hello Cardiff, I'm Buffy Saint-Marie" are not words you get to hear every day, wrote Guardian reviewer, Ben Thompson. Buffy Sainte-Marie, now 74-years old, told the crowd in Cardiff, Wales, "I know you guys don't get to go to a lot of pow-wows – this is a song about having a good time on the reservation." She has been able to develop an international following, despite being blacklisted by agencies of the United States Government. And Buffy Sainte-Marie continues to advocate for indigenous musicians and calling out the obstacles put in the way of hearing their music for the broader market. In the fall of 2018 Buffy Sainte-Marie looks forward to the release of her autobiography.
September 21, 2019
Ray McGinnis
References:
Buffy Sainte-Marie bio, The Canadian Encyclopedia
Tim Lewis, "Buffy Sainte-Marie: 'My Music is Much More Diverse than Almost any Singer You Can Think of'," Guardian, August 2, 2015
"Buffy Sainte-Marie's unedited interview with Rosanna Deerchild," CBC, September 27, 2015
"'So Much More Than a Musician:' Buffy Sainte-Marie Biography Announced," CBC, March 30, 2017
Ben Thompson, "Morrissey review – in Shockingly Good Voice Throughout," Guardian, March 22, 2015
Jamin' With Neil ~ Joni Mitchell and Neil Young, Thrashers Wheat.com
Joni Mitchell, "The Circle Game," Ladies Of The Canyon, 1970
Joni Mitchell, "The Circle Game," Travelogue, 2002.
"Buffy Sainte-Marie's Authorized Biography Serves As A 'Map Of Hope'," NPR, September 29, 2018.
"Cradleboard Teaching Project," Cradleboard.org.
Wendy Dudley, "Guy's Stampede Dream," Calgary Herald, July 3, 1997.
Carolyn Kury de Castillo, "Name Change Coming for Calgary Stampede's Indian Village," Global News, July 12, 2018.
James H. Gray, A Brand of its Own: The 100 Year History of the Calgary Exhibition and Stampede, (Western Produce Prairie Books, 1985) 80.
"The Top 40 Hits," CKVN 1410 AM, Vancouver, BC, September 11, 1972.
For more song reviews visit the Countdown.