#542: Hey Big Brother by Rare Earth
Peak Month: January 1972
8 weeks on CKVN's Vancouver Charts
Peak Position ~ #2
Peak Position on Billboard Hot 100 ~ #19
YouTube.com: "Hey Big Brother"
Lyrics: "Hey Big Brother"
In Detroit in 1960, a group of high school buddies formed a band and called themselves The Sunliners. Two of the founding members who remained with the band when it morphed into Rare Earth were Gil Bridges on flute, saxophone, and vocals; And Peter Hoorelbeke (aka Peter Rivera) on lead vocals and drums. In 1962 John Parrish (aka John Persh) joined The Sunliners on bass guitar, trombone and vocals. In 1966 Rod Richards (born Rod Cox) joined The Sunliners on guitar and vocals; And Kenny James (born Ken Folcik) was added on keyboards. The group's recording style evolved over time.
Peter Rivera started playing drums at the age of eleven after he bought the drums from his savings from working on two paper routes. His dad was a factory worker. Rivera formed a band called The Sultans. One night when The Sultans were performing at a church social, members of The Sunliners heard Rivera playing the drums and they invited him to join The Sunliners. Rivera recalls the first gig they had was at someone's bar mitzvah, and then they got invited to be the band at a wedding.
One of their early single releases was the "Hully Gully Twist" in 1962. It was a standard rock effort that resembled much of what was on the pop charts at the time. Their next single, "So In Love" was a doo-wop influenced tune. In 1963 they released an instrumental titled "The Islander", which had a hint of Bossa nova. By 1965 the Sunliners were morphing into a teen garage band with clear R&B influences as expressed on their single "All Alone". By 1967 The Sunliners had begun to experiment with psychedelic rock when they released "Land Of Nod".
After playing for about seven years the group decided to change the name of the band. The Sunliners seemed to be a band name from another era now that groups were emerging with names like The Doors, The Jefferson Airplane, Big Brother & The Holding Company, Iron Butterfly, The Balloon Farm, Buffalo Springfield, Cream, Jimi Hendrix Experience and The Who. So the Sunliners changed their name to Rare Earth.
Rare Earth was known for their show-stopping performances and drawing packed crowds to the clubs they played in Detroit every night. Motown Records approached Rare Earth in the fall of 1968 to sign with their label. Initially, Rare Earth was hesitant to sign since the only recording artists with Motown that were successful were black. Rare Earth knew of other white recording artists like Chris Clark that Motown hadn't known how to market. An additional problem was that Motown's promotion and distribution department was only networked with black radio stations and concert venues. However, Motown told Rare Earth they wanted to launch a new division in the record label designed for white artists. The label didn't have a name for the new division. With a little boldness, Rare Earth offered that the name for the new record division be titled Rare Earth. Astonishingly, Motown concurred with the suggestion. Rare Earth soon became the only successful white band on the Motown roster.
In late 1969, Edward "Eddie" Guzman (born 1944) was added to the group on congas and percussion. Motown was keen for Rare Earth to release an album soon after they got a contract. In their live concerts Rare Earth played a lot of covers of R&B hits on Detroit's AM Top 40 radio stations. Consequently, many people who heard their records assumed Rare Earth was an African-American band. Rare Earth had been playing a cover of The Temptations 1966 hit "Get Ready" in clubs for several years prior to recording it. The song written by Smokey Robinson started out a 3 minute song until one member of Rare Earth took a solo and then everyone wanted a solo so over time the song became 21 minutes long. It became the closing song each night and people liked it so much they would stay just to hear it.
Rare Earth had their first hit in June 1970 with "Get Ready". Peaking at #4 on the Billboard Hot 1oo, it became Rare Earth's biggest hit. From their fourth album in 1971 they released "(I Know) I'm Losing You" which climbed to #7 on the Hot 100 in October 1970. A year later, with the release of their fifth album, One World, they returned to the Top Ten on the Billboard Hot 100 with "I Just Want To Celebrate". Gil Bridges remembers "I Just Want To Celebrate" was written by these two Greek white writers, Dino Fekaris and Nick Zesses, who worked for Motown. They had staff writers and writing rooms, with a piano in each room, and these guys were going all day long, every day. They were writing material for all of Motown's acts. And we happened to walk into the studio one night and they played …Celebrate for us. We were there to record something else, but we scrapped it right there and did …Celebrate instead. We recorded the whole song, vocals and everything, in one day."
The next single, "Born To Wander", came from their fourth album titled Ecology. The song peaked at #17 on the Billboard Hot 100 and #6 on CKVN in Vancouver (BC).
Gil Bridges recalls "When we first started playing, Motown Records had the radio locked up, especially here in Detroit. That's what we were listening to when we started out, that was our roots. That's where the R&B came from. People were astounded that a white group could play black music, but that's where we learned. That's what we loved, listened to and played. Later on we had to deal with that kind of stuff – "You guys sound too white on this record" – but we never even thought of that back then. We just loved the music."
In 1971 Rod Richards and Kenny James left the band and were replaced by Ray Monette (1971 to 2004) and Mark Olson (1971 to 1974, 1977 to 1986). Rare Earth's fifth and final appearance on the Top 20 on the Billboard Hot 100 was with "Hey Big Brother". It was their fourth Top Ten hit in Vancouver (BC).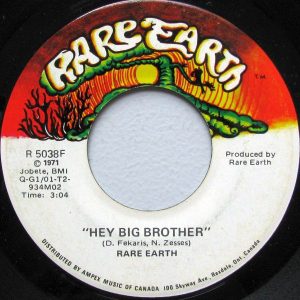 "Hey Big Brother" was co-written by Dino Fekaris and Nick Zesses. The duo wrote songs recorded by The Temptations, Diana Ross, The Supremes, The Four Tops, David Ruffin, Themla Houston, Edwin Starr, The Undisputed Truth, Gladys Knight & The Pips, The Righteous Brothers, The Commodores, Desmond Dekker, Martha Reeves & The Vandellas and Shades of Blue. Most of their songs were written for Motown. Fekaris and Zesses first major success was composing "I Just Want To Celebrate" for Rare Earth. In 1978 Fekaris co-wrote "I Will Survive", a number one hit for Gloria Gaynor. Dino Fekaris was born in 1945 in Pittsburgh (PA).
"Hey Big Brother" is a song referencing George Orwell's dystopian novel 1984 written in 1949. The story takes place in an imagined future, the year 1984, when much of the world has fallen victim to perpetual war, omnipresent government surveillance, historical negationism (a distortion of the historical record) and propaganda. Propaganda is information that is used primarily to influence an audience and further an agenda, which may not be objective and may be presenting facts selectively to encourage a particular synthesis or perception, or using loaded language to produce an emotional rather than a rational response to the information that is presented.
In 1984 Great Britain is known as Airstrip One, and has become a province of a superstate named Oceania. Oceania and Airstrip One are ruled by the Party who employ the Thought Police to persecute individuality and independent thinking of ideas not approved by the government. Big Brother, the leader of the Party, enjoys an intense cult of personality despite the fact that he may not even exist. The protagonist, Winston Smith, is a diligent and skillful rank-and-file worker and Party member who secretly hates the Party and dreams of rebellion. He enters a forbidden relationship with a co-worker, Julia.
After the books release in 1949, phrases from 1984 became part of the common language including Many terms used in the novel entered common usage, including Big Brother, doublethink (the act of accepting two contradictory beliefs), thoughtcrime, Newspeak, Room 101 (torture chamber in the Ministry of Love), telescreens (used to keep individuals under surveillance), 2+2=5 and memory hole. (A memory hole is any mechanism used by a government to achieve the alteration or disappearance of inconvenient or embarrassing documents, photographs, transcripts or other records, such as from a website or other archive, particularly as part of an attempt to give the impression that something never happened).
Another part of the plot in 1984 involved leaders of the state engaging in a daily televised program called the Two Minutes of Hate, where enemies of the state and categories of individuals not approved of were demonized and denounced.
In "Hey Big Brother" Big Brother is expected to arrive in a given city and invited to "get in touch with the people… and get them on your side." Of course, Big Brother has the means to communicate to the people through the media and watch what they are doing while they are under surveillance. But what if Big Brother had a chance to walk down the city streets and notice with compassion the fear in the eyes of the people he met? What if he noticed the filthy sky, the pollution in the air? Is Big Brother capable of compassion, of being moved by the plight of the people he has under surveillance? The lyrics warn that the people in the community have to "get our thing together," develop a plan for resistance. Otherwise, the only future they can look forward to is one where Big Brother will be watching them.
Since 1984 was released there have been many nations over the world who engage in mass surveillance of their citizens through illegal wiretapping, archiving of all phone calls, text messages, email and what websites individuals visit. East Germany, as one example, had its surveillance state depicted in the 2006 film The Lives of Others.
In 2013 ongoing news reports in the international media have revealed operational details about the United States National Security Agency (NSA) and its international partners' global surveillance of both foreign nationals and U.S. citizens. The reports mostly emanate from a cache of top secret documents leaked by ex-NSA contractor Edward Snowden, which he obtained whilst working for Booz Allen Hamilton, one of the largest contractors for defense and intelligence in the United States. In addition to a trove of U.S. federal documents, Snowden's cache reportedly contains thousands of Australian, British and Canadian intelligence files that he had accessed via the exclusive "Five Eyes" network. In June 2013, the first of Snowden's documents were published simultaneously by The Washington Post and The Guardian. At the time sales of George Orwell's 1984 increased seven-fold. This happened again in 2017 when President Donald Trump' advisor Kellyanne Conway explained the discrepancy between the White House's claim that Trump's inaugural crowd was the biggest in American history, and the aerial photos of the crowd. Those January 2017 photos were compared to the much larger crowds at the inaugurations for President Obama in 2009 and 2013. Conway explained that she had "alternative facts." The controversy again spiked sales of 1984. For many it seemed Big Brother was watching as ever, and engaging in propaganda.
In 1971-72 "Hey Big Brother" climbed to #1 in Miami, #2 in Vancouver (BC), #3 in Salt Lake City, #4 in Syracuse (NY) and Salinas (CA), #5 in Buffalo (NY), Honolulu and Columbus (OH), #6 in Sault Ste. Marie (ON), Denver, Fort Lauderdale (FL) and Indianapolis (IN), #7 in Spokane (WA) and Jacksonville (FL), Akron (OH) and Birmingham (AL), #8 in Toronto, San Antonio (TX) and Los Angeles. In 13 states across the USA "Hey Big Brother" got virtually no airplay. Consequently, although it was a hit in numbers of regional record markets, it only climbed to #19 on the Billboard Hot 100.
"Hey Big Brother" was the last AM-Top 40 single for Rare Earth. They released a cover of the Ray Charles hit from 1959 titled "What'd I Say", but the single got little response. They released another ten singles between 1972 and 1978.
Rare Earth have performed with Jimi Hendrix, Sly and the Family Stone, and Ike and Tina Turner. Some acts that opened a Rare Earth concert include Earth, Wind, and Fire, Steely Dan, and the Doobie Brothers. Rare Earth has appeared on the Ed Sullivan Show, The David Frost Show, Dick Clark's American Bandstand and Don Kirshner's Rock Concert. Rare Earth performed on the very first Midnight Special where they set the precedent in performing live instead of lip synchronization to a record.
Rare Earth continued to released albums for Motown until 1978 when their contract came to an end. By then the band had recorded twelve albums. Since that time Rare Earth has released three more studio albums, the most recent being A Brand New World in 2008.
Eddie Guzman died in 1993 of complications related to diabetes. He was 49. Peter Rivera left Rare Earth in 1974, returned in 1976, and left permanently in 1984 after a dispute with Gil Bridges.
"I Just Want To Celebrate" has been featured in TV commercials for AT&T, Ford and the nicotine replacement therapy company Nicoderm. In 2005, Rare Earth was voted into the Michigan Rock and Roll Legends Hall of Fame. In 2019 Rare Earth has performed at nine concerts. Gil Bridges remains the only founding member of Rare Earth and is joined by more recent musicians.
October 21, 2019
Ray McGinnis
References:
Ken McIntyre, "Cult Heroes: Rare Earth – Motown's Funkiest White Band," Louder, December 21, 2016.
"Rare Earth History," Rare-earth.com.
"Dino Fekaris Writing and Arrangement," Discogs.com.
"Peter Rivera Remembers the Beginnings of Rare Earth," Nostalgia Magazine, October 7, 2016.
"Peter Rivera Bio," peterrivera.com.
Rivera, Peter & Stephens, Larry, Born to Wander: An Autobiography of Peter Rivera and His Story of Rare Earth, (Peter Rivera, 2001).
Kimiko de Freitas-Tamura,"George Orwells '1984' is Suddenly a Best-Seller," New York Times, January 25, 2017.
Glenn Greenwald, Ewan MacAskill and Laura Poitras, "Edward Snowden: the Whistleblower Behind the NSA Surveillance Revelations," Guardian, June 11, 2013.
A. O. Scott, "A Fugue for Good German Men," New York Times, February 9, 2007.
George Orwell, 1984, (Harcourt Inc., 1949).
"West Coast Music Survey," CKVN 1410 AM, Vancouver, BC, January 21, 1972.
For more song reviews visit the Countdown.