#409: Hole In My Shoe by Traffic
Peak Month: October 1967
7 weeks on CKLG's Vancouver Chart
Peak Position ~ #2
1 week Hit bound
Peak Position on Billboard Hot 100 ~ did not chart
YouTube: "Hole In My Shoe"
Lyrics: "Hole In My Shoe"
Stephen Lawrence Winwood was born in 1948 in suburban Birmingham, UK. Winwood began playing piano from the age of four, being raised in a musical family. He joined a boys choir and added drums and guitar to his repertoire. At age 14 he joined The Spencer Davis Group in 1963, with his older brother Muff. In 1965 the band had a number-one hit in the UK with "Keep On Running". The single climbed into the Top Ten in Vancouver (BC) in 1966. A follow up single, "Somebody Help Me", also topped the UK Singles chart in 1966, and was covered by Vancouver band the Shockers in 1967. Spencer Davis Group had two more notable hits in both the UK, Ireland, New Zealand and Australia, finally making the Billboard Hot 100 Top Ten with "Gimme Some Lovin'" (#7) and "I'm A Man" (#10) in 1967. "Gimme Some Lovin'" climbed to #1 in Vancouver, while "I'm A Man" peaked at #12. In each case, Stevie Winwood was the lead vocalist.
James Capaldi was born in 1944 in Worcestershire. As a child he learned to play piano and studied voice, adding drums to his musicianship in his teens. In 1958 he formed a band called the Saphires and was the lead vocalist. In 1963 he formed the Helions who were a backing band for both recording artists Adam Faith and Dave Berry when they visited Worcester. One of the other bandmates was Dave Mason. Born in Worcester in 1946, David Thomas Mason joined the Helions in '63.
Christopher Gordon Blandford Wood was born in 1944 in suburban Birmingham, UK. He learned flute and saxophone on his own. By age 18, in 1962, Wood was part of the jazz/blues group the Steve Hadley Quartet. He got to know both Stevie Winwood and Jim Capaldi at a local late night club where bands hung out after their performances ended. Wood also played with a band called Locomotive. Winwood got to know Dave Mason separately at the after hours clubs.
In 1967, after the Spencer Davis Group had their fourth Top Ten hit single in the UK, Winwood left the band. He hooked up with his friend Jim Capaldi, and they got in contact with Chris Wood and Dave Mason and began to talk about a new musical project.
In April 1967 Traffic formed and released their debut single "Paper Sun". The single shot to #5 on the UK Singles chart in early June. Their next single release was "Hole In My Shoe".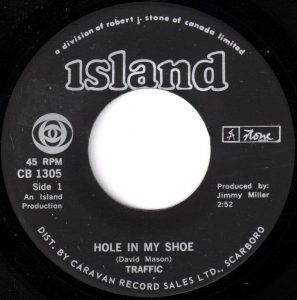 "Hole In My Shoe" was written by David Mason, who also gave the lead vocals. The opening verse sees the narrator looking at the sky and seeing "an elephants eye" looking back at him from a "bubblegum tree." For anyone who has looked at clouds and imagined resemblances to other things, there is a likely catalyst for the lyrics. But, in the age of psychedelic rock, the lyrics invite a fantastic montage of images. After all there are no such things as bubblegum trees, except in "Hole In My Shoe".
The second verse presents 100 tin soldiers in a field shooting at the narrators shoulder. Presumably, they are not good shots and the narrator walks through the field unscathed. The song may have been commenting on militarism and the perpetual recourse to wage war by politicians and rulers. In both the case of the elephant's eye and the hundred tin soldiers, he was preoccupied with the hole in his shoe that was letting in water.
The song featured a spoken-word bridge by Chris Blackwell's stepdaughter, Francine Heimann, who told a story about a giant albatross that flew through a crack in a cloud to a place where happiness reigned all year round. (Blackwell discovered Millie Small ["My Boy Lollipop"] and the Spencer Davis Group).
The song is written like a dream sequence. Next the narrator suddenly wakes up after lying on the grass and notices the dew stuck to his coat, and – of course – the hole in his shoe. "Hole In My Shoe" was an example of psychedelic rock with visual and auditory images that were "trippy." For some people who used recreational drugs that induced hallucinations, listening to psychedelic rock aided their experience.
"Hole In My Shoe" peaked at #2 in Vancouver (BC),#8 in Kingston (ON), and #12 in Toronto. Outside of New York, Connecticut and Michigan, "Hole In My Shoe" got virtually no airplay in the USA. Internationally, the single peaked at #6 in Brisbane (Australia), #8 in Nelson (New Zealand), #11 in Sydney (Australia), #13 in Hilversum (Netherlands), #14 in Melbourne (Australia) and #15 in Copenhagen (Denmark).
In 1967, Traffic recorded "Here We Go Round The Mulberry Bush" for the British comedy film Here We Go Round the Mulberry Bush. The single became the third and final Top Ten hit for Traffic, peaking at #8 on the UK Singles chart in December 1967. That month Traffic released their debut album, Mr. Fantasy. The album contained both "Paper Sun" and "Hole In My Shoe". Coinciding with the album's release, Traffic issued a single from the album titled "No Face, No Name And No Number". But this time they met with mixed reviews and the single stalled at #40 on the UK Singles chart.
After the first album Dave Mason quit Traffic for the first time. "I was 19 years old. 'Hole in My Shoe' was the first song I ever wrote. How did I cope with all of that happening so fast, so quick? I quit. It was too much for me. That's why I left Traffic after the first album." But he returned in 1968.
In October 1968 Traffic released a self-titled album which included the single written by Mason called "Feelin' Alright?". Though the single made the Top 20 in the Netherlands, it failed to crack the national pop charts in both the UK and the USA. A cover by Joe Cocker was a more popular hit. However, Traffic climbed to #9 on the UK Album chart, and the Top 20 on the Billboard 200 album chart and on the Canadian RPM album chart.
In 1967 and '68 Winwood, Wood and Mason were each featured as session musicians on the Jimi Hendrix Experience album Electric Ladyland. Mason sang backing vocals on "All Along The Watchtower". The album was released in October 1968. Mason also played shenai on the Rolling Stones "Street Fighting Man".
In February 1969, Stevie Winwood announced he was forming a new band with Eric Clapton and Ginger Baker called Blind Faith. This resulted in Traffic disbanding. However, their record label put together a mix of songs for a third studio album release, Last Exit. Blind Faith lasted less than a year and Winwood reformed Traffic in 1970. Meanwhile, Dave Mason played guitar on the album tracks of George Harrison's All Things Must Pass. He also played guitar for the Derek and the Dominoes 1970 album that featured "Layla".
Traffic did well commercially with their next four efforts. John Barleycorn Must Die, released in 1970, climbed to #11 in the UK, and #5 in both the Netherlands and USA, and #6 in Canada. Steve Winwood told a reporter in 2011 "Most of the Traffic stuff stands the test of time pretty well. All of those albums are like my children, so I really can't pick a favourite, but in many ways, John Barleycorn is the core of what Traffic is, and it could be the most definitive album we did."
Dave Mason left the group after the release of John Barleycorn Must Die to pursue a solo career. He released an album with the single "Only You Know And I Know", which was more successfully covered by Delaney & Bonnie in 1971.
In 1971 Traffic released The Low Spark of High Heeled Boys which went platinum in the USA. And in 1973 Shoot Out at the Fantasy Factory cracked the Top Ten album charts in both Canada and the USA. A seventh studio album in 1974, When the Eagle Flies, also made the Top Ten on the Billboard 200 album chart.
Traffic disbanded in the mid-70s. In 1977 Dave Mason released the single "We Just Disagree". It climbed to #12 on the Billboard Hot 100 and #16 in Vancouver (BC). Over the years he played as a session musician for Donovan, Stephen Stills, Phoebe Snow, Graham Nash, guitar on "Listen To What The Man Said" by Wings, Eric Clapton, and Fleetwood Mac, among others. Between 1970 and 2020 Dave Mason released 15 solo studio albums, including one with Cass Elliott.
In 1977 Stevie Winwood released his first solo album. In 1980 he released Arc of a Diver, which included his hit single "When You See A Chance". And in 1982 he released Talking Back to the Night, which included his minor hit "Still In The Game". In 1986 Winwood sang a duet with Chaka Khan titled "Higher Love", which topped the Billboard Hot 100, the Canadian RPM chart and made the Top Ten in Australia. A follow up single from his Back In The High Life album, "The Finer Things", also made the Top Ten in the USA. Winwood also enjoyed a re-issue of "Valerie" which also made the Top Ten on the Billboard Hot 100 in 1987.
In 1988 Steve Winwood returned to the number-one spot on the Billboard Hot 100 with "Roll With It". His followup singles from Roll With It, "Don't You Know What The Night Can Do?" and "Holding On", were Top Ten hits in the USA. Between 1977 and 2008 Steve Winwood released nine studio albums.
Chris Wood was set adrift with the collapse of Traffic in 1974. He had a few musical flourishes, but he suffered several personal losses, beginning with the death of Jimi Hendrix in 1970. While Steve Winwood, Dave Mason and James Capaldi carried on with productive solo careers, Wood preferred to stay in the shadows. He died of pneumonia in 1983.
In 1994 Steve Winwood and James Capaldi reunited to release an eighth and final studio album credited to Traffic titled Far From Home. Capaldi also had a solo career, releasing 13 solo albums until 2004. He died in 2005 and the age of 60 from stomach cancer.
In 2004, Traffic was inducted into the Rock and Roll Hall of Fame. Over the years Traffic shared the stage with Iron Butterfly, Canned Heat, the Doors, Cream, Black Sabbath, Grateful Dead, Free, Jose Feliciano, Mungo Jerry, Mott the Hoople, Alice Cooper, Bob Seger, Ten Years After, Mountain, Cat Stevens and others.
Steve Winwood thinks of the freedom musicians had when he was with the Spencer Davis Group and Traffic in the sixties and early 70s. "…the Sixties was a time when everyone wanted to experiment, and then everything became very formulated and corporate, so artists tended to get pushed into a kind of pattern." Without the freedom Traffic was given "Hole In My Shoe" might never have been conceived, or become a hit.
September 23, 2020
Ray McGinnis
References:
Jonathan Cott, "Traffic: The Rolling Stone Interview: British Band Talks Jams – then Breaks Up," Rolling Stone, May 3, 1969.
Jonathan Wingate, "Growing Up in Public: An Interview with Steve Winwood," Express, February 22, 2011.
Anthony Decurtis, "Steve Winwood: From Mr. Fantasy to Mr. Entertainment," Rolling Stone, December 1, 1988.
Michael Eck, "Dave Mason on Traffic and His Deep Musical History," Best Classic Bands, 2020.
Alex Mar, "Traffic's Jim Capaldi Dies," Rolling Stone, January 28, 2005.
Paul Rees, "Traffic's Chris Wood: Gifted, Troubled and Perpetually Overlooked," Louder, March 30, 2017.
"Boss 30," CKLG 730 AM, Vancouver, BC, November 4, 1967.
For more song reviews visit the Countdown.