#1431: Somebody Help Me by The Shockers
Peak Month: July 1967
11 weeks on Vancouver's CFUN ALL CANADIAN TOP TEN chart
Peak Position #5
Peak Position on Billboard Hot 100 ~ did not chart
YouTube.com link: "Somebody Help Me" at minute 5:24
Lyrics: "Somebody Help Me"
The Shockers were a local Vancouver band that started in 1965. They all attended Gladstone Secondary High School in Vancouver's east side. It was located north of Kingsway, east of Victoria Drive, south of Trout Lake Park and west of Nanaimo Street. Fellow Grade 11 students, David Jonsson recalls, "Only one of us (Mike Wilson) could actually play an instrument (guitar). Keith Foreman had a good voice and a sufficient strut of ego and so became the vocalist. I was deemed, "a good dancer" which meant I should become the drummer. Sounded like a great idea to me. Roy Kessler started on rhythm guitar and eventually switched to bass, at which he really excelled. Jean Laloge was our first bass player. He changed his name to Carter (his mom's maiden name) many years later and moved to England where he became Elton John's road manager for a number of years. Graham Kinnear was our original organist and was replaced by a real live Englishman who showed up at our school in Grade 12. Ed Coppard played both guitar and keys at first but eventually stuck with organ and piano. Most were born around 1948.
David Jonsson was born in Winnipeg. Edwin Coppard came to Vancouver from Kingston-Upon-Thames, England. Keith and Jean were born in Vancouver. Mike moved to Vancouver from Calgary during high school. Jonsson doesn't recall where Roy Kessler was born.
Jonsson recalls, "We started out as The Deacons, but quickly became the Shockers." Actually, there was a bridge between the name, The Deacons, and The Shockers. Jonsson explains "for a while we wore pink florescent wigs and were known as the Hollywood Shockers. Our manager, UBC undergrad Greg Helem, was responsible for the name and hairstyle. We played at a lot of wild frat parties."
David Jonsson also recalls how they got their manager. "Greg Helem had come to see us rehearse at the Kensington Community Centre in East Van. He said he was looking for a band to manage and we had no management at the time. At the end of our audition, he handed me a business card that had the MGM logo and his name and number on it. He left us standing there staring at the roaring lion on the card, kind of speechless. MGM? We were going to be with MGM records?? For the next few days we went around telling people we were going to hit the big time. After a while we found out that Greg had had a summer job with MGM, scouting locations in Vancouver or something of that nature and he had some cards left over. It was not exactly a hoax but it was a bit iffy. However, Greg did get us a lot of work for a while and did some funny and helpful promotion, mostly at UBC."
Jonsson decided to switch up his drumming skills and took lessons from Jim Blackley, who taught drum out of his studio on Victoria Drive. Blackley lived in Vancouver between 1957 and 1967 and taught many drummers like Duris Maxwell. (In 2001, Blackley published The Essence of Jazz Drumming. He died in Barrie, Ontario, at the age of 90 in 2017).
The Gladstone Sedondary buddies got acquainted with Jaguar Enterprises, Les Vogt and Douglas Miller's agency, where they got their bookings. The Shockers "were included on the Live From The Grooveyard album. David Jonsson recalls the album "was neither live nor from the Grooveyard. The recording was done at Robin Spurgeon's Vancouver Recording studio off an alley on West 4thAvenue and crowd noises (but no applause) were recorded at the Grooveyard and added later."
In 1965 The Shockers entered the Battle of the Bands at the Pacific National Exhibition (P.N.E.). They came in 4th. The band returned the next summer and placed first in the Battle of the Bands. David Jonsson describes the setting. "We had busted our butts rehearsing for the contest and it really paid off. Our set in the finals was just magical. We all felt it. It was as if something greater than the sum of our parts took over and took us to another level. When we were announced as winners, we took to the stage and I accepted the trophy for the band. One of those life moments I will never forget."
As a consequence of placing first at the P.N.E.'s Battle of the Bands, The Shockers joined the American Federation of Musicians and got a record contract with RCA. The record contract and studio time to record a record were part of the winning prize. Bandmate Mike Wilson recalls that in 1966 the Shockers were the opening act for the Everly Brothers when they appeared at The Cave super club at 626 Hornby Street in downtown Vancouver.
They recorded a cover of the Spencer Davis Group's "Somebody Help Me". The original was a #1 hit on the UK singles chart for the Spencer Davis Group on April 14, 1966. Stevie Winwood was the lead vocalist for the band from Birmingham, UK. However, by the time it made its way to Top 40 radio in the USA the single stalled at #47 on the Billboard Hot 100. Similarly, the Spencer Davis Group saw "Somebody Help Me" stall at #37 on the C-FUN-TASTIC FIFTY in July '67. The Shockers version of "Somebody Help Me" was played on C-FUN and featured on the C-FUN ALL CANADIAN TOP TEN for eleven weeks between July 1 and September 9, 1967.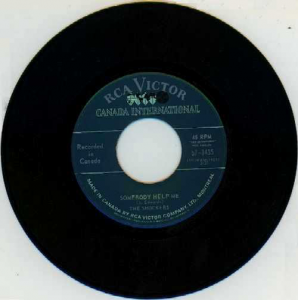 "Somebody Help Me" is an uptempo plea from a guy who's been dumped by his ex-girlfriend. At seventeen, the dating relationship wasn't reciprocal. She just wasn't into him the same way he was into her. He doesn't understand why it had to end and asks "won't somebody tell me what I've done wrong?" Now that he is single again, he finds he feels lonesome and in "need (of) a girl to hold me tight." The Shockers weren't the only ones singing about the urgent need to have somebody help them to fill the void. ? (Question Mark) and the Mysterians follow up hit to "96 Tears" was "I Need Somebody". The Turtles were wanting to take an acquaintance to the next stage in "Can I Get To Know You Better". And in "Sometimes Good Guys Don't Wear White" the Standells asserted that working class guys were just as good as white collar workers. The Standells lead singer tells the girlfriend "white pills and easy livin',
can't replace the love I've given." However, if she wants a "rich kid" with a "crewcut", she can "flake off." The Standells had another hit single titled "Why Pick On Me". In this case there is a gal aggressively flirting just to tease and then pull away. And Smokey Robinson and The Miracles lamented dating someone who led a guy on with "untrue kisses" and a "false embrace," in "The Love I Saw In You Was Just A Mirage". Knowing where one stood in a dating relationship, and discerning what was trustworthy was the subject of many songs.
"Somebody Help Me" was written by Jackie Edwards who was born in Jamaica in 1938. By 1952 he was performing on stage in Kingston. Edwards had for number one singles in Jamaica between 1960 and 1961. These include "Your Eyes Are Dreaming", "Tell Me Darling", and He moved to England in 1962 and recorded several duets with Millie Small (who had a hit called "My Boy Lollipop" in 1964). He wrote "Keep On Running", the Spencer Davis Group's first number one single. He died of a heart attack in 1992.
After "Somebody Help Me" was getting airplay on C-FUN, the Shockers were invited to appear on an episode of CBC's pop music variety show, Let's Go. David Jonsson recalls, "As a Who-style finale on the show, Keith smashed a cheap acoustic guitar and we set off smoke bombs, which completely filled the studio. As the news was coming on live next from that studio, it was necessary to open the big bay doors onto Georgia Street to clear the smoke. There it billowed out into downtown rush hour traffic. I'm pretty sure many motorists thought the CBC was burning down that day."
With a single getting airplay on C-FUN, a record deal and appearance on a nationally televised show on the CBC, what was next for the Shockers? David Jonsson details the twilight of the band's final year. "Things had gone well for about 4 years when we edged Keith out of the band (probably a mistake) thinking that Edwin could better handle all the lead vocals. Mike quit almost immediately after that. A number of good players came and went (including legendary Vancouver bassist George Chapelas, original Nocturnals' member Carl Erickson… with Edwin and me leading the band. We had some fun gigs including opening for the Everly Brothers at Isy's night club."
The Shockers split up by the spring of 1968. David Jonsson and Edwin Coppard formed "Penny Whistle," and added Gladstone rival musicians, George Greenwell and Lawrence Cable. Roy Kessler returned to join Penny Whistle, but the band folded by the end of the year. He went on to briefly join Kentish Steele's band. Kessler died in his twenties.
Jonsson went on to form Trilogy with Ed Coppard, Eddie Patterson (from the Good Shepherds) and Basil Watson. After they folded in 1970, Jonsson joined another local band named 5 Man Cargo and in 1971 was with Street Noise. In addition, David Jonsson was playing with Crosstown Bus. In the mid-'70's Jonsson played with Jet, a band that included bandmate Ab Bryant (who was simultaneously with Chilliwack). Jonsson was also with Hit And Run (1975-78) and Bowser Moon (1972-82) and Foxfire (1980-83).
David Jonsson writes that Ed Coppard "was eventually signed to 20th Century Records out of L.A. and released an album under the name C.B. Victoria. He had two minor hits, "Come and See My Man" and "I Don't Believe in Miracles". He has been a vocal coach for many years now, travelling all over the world. He was employed by Tony Robbins on many of his conferences."
Jean Laloge changed his name to Carter Blair Sloan and joined Motherhood (1969-72). After he moved to England, he was a road manager for Elton John for awhile. In 2007 he died of cancer. George Chapelas also played with the Night Train Revue and in the mid-'70's was a member of both the Pirannah Brothers and Shakedown.
Mike and Keith both quit the music business after the Shockers disbanded in '68. Mike Wilson went on to work for decades in the oil and gas industry. Keith Foreman went on to become a lumber broker.
July 6, 2019
Ray McGinnis
References:
David Jonsson, email to Ray McGinnis, April 11, 2019.
"The Shockers Vancouver, BC, 1964-1968," Pacific Northwest Bands.com.
"Jim Blackley" Canadian Encycolpedia, September 7, 2017.
"ALL CANADIAN TOP TEN," C-FUN 1410 AM, Vancouver, BC, July 22, 1967.
Jackie Edwards, "Tell Me Darling", 1960.
"Wilfred 'Jackie' Edwards, An Unsung Hero Of The 60s," Jamaica Gleaner, May 24, 2015.