#128: Honky Tonk Hardwood Floor by Johnny Horton
Peak Month: March 1958
12 weeks on Vancouver's CKWX Chart
Pick Hit ~ February 16, 1958
Peak Position ~ #1 ~ Red Robinson's Teen Canteen Survey
Peak Position on Billboard Hot 100 ~ did not chart
YouTube: "Honky Tonk Hardwood Floor"
Lyrics: "Honky Tonk Hardwood Floor"
John LeGale Horton was born on April 30, 1925, in Los Angeles, born to migrant fruit pickers. He spent most of his life growing up in East Texas when the family wasn't back in California picking fruit. A great athlete, twenty-six colleges offered him basketball scholarships after his graduation from high school. Horton chose to study geology for a while in Seattle. Then in 1948 he went north to Alaska to pan for gold. While there he began to write songs. Back in the lower forty-eight, Horton was a winner at a talent contest in Henderson, Texas. This prompted him to move back to California and seek a career in music. He was a guest on Cliffie Stone's Hometown Jamboree on KXLA-TV in Pasadena. This spawned The Singing Fisherman, Horton's own half-hour show. He got married to a girl he met in Hollywood named Donna Cook. In high demand to perform on the Louisiana Hayride, they relocated to Shreveport, Louisiana. Touring was hard on the newlyweds and Horton got divorced.
On New Year's Day 1953, Johnny Horton learned on the radio Hank Williams had died of a heart attack in the backseat of his Cadillac after playing a New Year's Eve gig at the Skyline Club in Austin. Nearly ten months later, Horton married Hank William's widow, Billie Jean, on September 26, 1953. Horton went on to become one of the era's most successful recording artists with hits on both the country and pop charts. He was recognized as a honky tonk singer with strong rockabilly tendencies.
Though he released a number of singles starting in 1953, it was his ninth single, "Honky-Tonk Man", that was his first to chart nationally. Recorded in January 1956, the single climbed to #9 on the Billboard Hot Country Songs chart. Later that year "I'm A One-Woman-Man" climbed to #7 on the Hot Country Songs chart. While in 1957, Horton was back in the Top Ten nationally on the Billboard Hot Country Songs chart with "The Woman I Need".
In 1958 Johnny Horton had a hit in Vancouver on CKWX with "Honky-Tonk Hardwood Floor".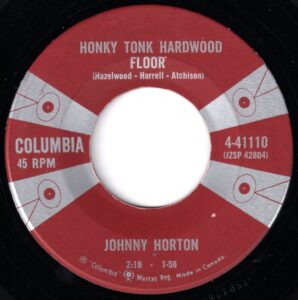 "Honky-Tonk Hardwood Floor" was a track from Horton's 1956 album, Honky Tonk Man. The single didn't chart nationally on the Hot Country Songs chart in the USA. The song was cowritten by Eddie Hazelwood, Scotty Harrell and Tex Atchison. Eddie Hazelwood was a country singer backed by his band the Carolina Woodchoppers. From 1947 into the early 50s, Hazelwood released a half a dozen singles. In addition to Johnny Horton, Hazelwood's songs were recorded by Porter Wagoner and Johnny Bond. Co-writer, Scotty Harrell was backed by his country band The Texans and recorded a few singles and wrote a few dozen songs. Of the three co-writers, Tex Atchison was the most successful as a musician. Born in Rosine, Kentucky, in 1912, Shelby David "Tex" Atchison was a fiddler with the Kentucky Ramblers. The country band was formed in 1932 and changed their name to the Prairie Ramblers when they moved to Chicago in 1933. They also recorded some risqué novelty songs under the pseudonym Sweet Violet Boys. Atchison left the band in 1938, pursuing his fiddling and vocal talents as a solo recording artist. Tex Atchison died in 1982 at the age of 70.
"Honky Tonk Hardwood Floor" is a song sung from the viewpoint of the players in the band on a Saturday night. The band is made up of a piano player, bass player, drummer and fiddler. They see a guy who keeps dancing on the 'Honky-tonk hardwood floor.' The guy drinks too much, though he flirts with a waitress who doesn't sell candy or soda pop. No matter. "Your payday's Saturday. You're broke on Sunday. Come Monday you're feelin' sour." A "fat bartender" keeps serving drink. After the weekend is over, the guy swears off drinking until he thinks again about all the fun he's having on the honky-tonk hardwood floor.
"Honky Tonk Hardwood Floor" peaked at #1 in Vancouver.
In 1959, Johnny Horton had his first number-one hit on the Billboard Hot Country Songs chart titled "When It's Springtime in Alaska (It's Forty Below)". The song about a prospector visiting Fairbanks, Alaska, after two years in the wilderness, appealed to folks in the lower forty-eight the year Alaska became the 49th state in the USA.
His biggest success was in 1959 with a recording of "Battle of New Orleans." The song went number one on both the pop and country charts in the USA. It climbed to #16 on the UK charts despite the BBC banning the song because of the lyrics "the bloody British." Pop chart researcher Brian Tarling notes that Johnny Horton then made a special version of "The Battle Of New Orleans" for British radio listeners, which was what they bought in record stores. In Vancouver the original US version spent nine weeks at #1 on CKWX and seven more weeks in the Top Ten during an 18 week chart run. Horton followed that success with a string of 'saga' songs like "North To Alaska" and "Sink The Bismark".
In 1953, on his fourth single release the B-side was a song Johnny Horton wrote called "The Mansion You Stole". It became a hit in Vancouver in the winter of 1960.
Johnny Horton believed he had psychic abilities and believed someday he'd be killed by a drunk driver. On November 5, 1960, he died in an automobile accident at the Little River bridge on Highway 79 in Milano, Texas. James Evan Davis was driving a pick-up truck that smashed head-on into Horton's car. Horton was alive when ambulances arrived on the scene but died en route to hospital. Davis, the uninjured driver of the truck, was charged with intoxication manslaughter as he was drunk at the time of the accident. Horton had played earlier that night at the Skyline Club in Austin, Texas. This was the same club that Hank Williams had played at the night before he died on route to a concert in Canton, Ohio. Horton was driving from Austin to Shreveport, Louisiana, when he died. His two back-up bandmates in the car suffered injuries but lived.
Horton was 35 when he died. Johnny Cash read from the Gospel of John, Chapter 20, at Johnny Horton's funeral. John 20 tells of the empty tomb of Jesus of Nazareth, and several Biblical accounts of his subsequent appearances.
In 1961 several singles recorded by Johnny Horton were posthumously released. These included "Sleepy-Eyed John" and "Ole Slew Foot".
August 15, 2022
References:
J. L. Hererra, Johnny Horton was a Pioneer in Both Country Music and Rockabilly, axs.com, June 17, 2015
Clay Coppridge, The Eerie Demise of Johnny Horton, Texas Escapes.com, May 26, 2015
The Johnny Horton Biography, Rockabilly Legends.com.
"Teen Canteen Survey," CKWX 1130 AM, Vancouver, BC, March 9, 1958.
For more song reviews visit the Countdown.