#25: Honky Tonk Man by Johnny Horton
Peak Month: April 1957 & March 1962
April 1957: 9 weeks on Vancouver's CKWX chart
Peak Position #3
March 1962: 9 weeks on Vancouver's CFUN chart
Peak Position #4
Peak Position on Billboard Hot 100 ~ #96
YouTube.com: "Honky Tonk Man"
Lyrics: "Honky Tonk Man"
John LeGale Horton was born on April 30, 1925, in Los Angeles, born to migrant fruit pickers. He spent most of his life growing up in East Texas when the family wasn't back in California picking fruit. A great athlete, twenty-six colleges offered him basketball scholarships after his graduation from high school. Horton chose to study geology for a while in Seattle. Then in 1948 he went north to Alaska to pan for gold. While there he began to write songs. Back in the lower forty-eight, Horton was a winner at a talent contest in Henderson, Texas. This prompted him to move back to California and seek a career in music. He was a guest on Cliffie Stone's Hometown Jamboree on KXLA-TV in Pasadena. This spawned The Singing Fisherman, Horton's own half-hour show. He got married to a girl he met in Hollywood named Donna Cook. In high demand to perform on the Louisiana Hayride, they relocated to Shreveport, Louisiana. Touring was hard on the newlyweds and Horton got divorced.
On New Year's Day 1953, Johnny Horton learned on the radio Hank Williams had died of a heart attack in the backseat of his Cadillac after playing a New Year's Eve gig at the Skyline Club in Austin. Nearly ten months later, Horton married Hank William's widow, Billie Jean, on September 26, 1953. Horton went on to become one of the era's most successful recording artists with hits on both the country and pop charts. He was recognized as a honky tonk singer with strong rockabilly tendencies.
Though he released a number of singles starting in 1953, it was his ninth single, "Honky-Tonk Man", that was his first to chart nationally.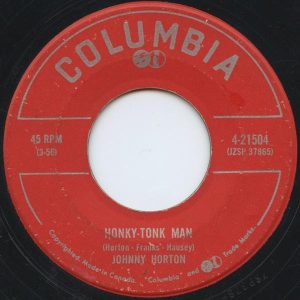 A honky-tonk is a bar that plays country music for entertainment for its customers. The term honky-tonk comes from the invention of the honky-tonk piano. It has a similar tone as a tack piano. However, the method of obtaining its sound is different, and simply involves one or more strings of each key being slightly detuned, without the use of tacks. The honky-tonk piano was often featured in recordings of country music. In 1929, the Los Angeles Times reported that "The honky tonk, as a matter of fact, was the predecessor of the present-day cabaret or night club, the principal differences being that the prices were lower and that the former establishment made no pretense of "class."
Honky-tonks were rough establishments, providing country music in the Deep South and Southwest and serving alcoholic beverages to a working-class clientele. Some honky-tonks offered dancing to music played by pianists or small bands, and some were centers of prostitution. In recollections long after the frontiers closed, writers such as Wyatt Earp and E.C. Abbott referred to honky-tonks in the cowtowns of Kansas, Nebraska, and Montana in the 1870s and 1880s. The sheet music industry began to refer to honky-tonk music played from Texas and Oklahoma to the Pacific Coast as hillbilly music.
Honky-tonk music also had its roots in blues music. Fats Domino who had a hit in 1956 with "Blueberry Hill" played a honky-tonk piano. And Bill Doggett had a big twelve-bar blues instrumental hit the same year called "Honky Tonk". By 1956 the newer rockabilly sound replaced honky-tonk as the dominant sound in country music. And the emerging Nashville Sound with "smooth strings and choruses," "sophisticated background vocals" and "smooth tempos," solidified the decline of honky-tonk. Examples of this emerging sound include "Gone" by Ferlin Husky, "My Special Angel" by Bobby Helms, and "Oh Lonesome Me" by Don Gibson. Iconic examples of the Nashville Sound include "I Fall To Pieces" by Patsy Cline, "My Heart Is An Open Book" by Carl Dobkins Jr., "I'm Sorry" by Brenda Lee, "He'll Have To Go" by Jim Reeves, and "Make The World Go Away" by Eddy Arnold.
The singer in "Honky Tonk Man" likes to "give the girls a whirl to the music of an old jukebox." In 1889 the first coin-operated music machine was introduced in San Francisco at the Royale Palais Saloon. Since there was no amplifier, those paying to hear a song had to use a listening tube, placing it against their ear. In 1906 at the Pan-Pacific Exposition, there was an Automatic Entertainer featuring a forty inch horn on top of the cabinet. The only problem was the amplifier had little volume. This prevented patrons in saloons from being able to hear the records once there were many people in the room. In 1918, Hobart C. Niblack invented a mechanism that allowed records to be changed in a music box. In 1925, the 78 RPM was introduced into the market and jukeboxes emerged that could play 78 RPM discs. In 1927, this became marketed as a jukebox by the Automated Musical Instrument Company. In 1928, Justus P. Seeburg marketed a music system that featured an electrostatic loudspeaker with a record player that was coin- operated. Patrons could select from a choice of eight discs. Often radio recorded live performances from upscale lounges and hotel ballrooms. Listening to a record on a jukebox was the only other way to hear the song before deciding to purchase a copy. During the Great Depression, record companies depended on sales of records to play on jukeboxes to salvage a shrinking market when individual record buyers opted to not shell out for personal record collecting.
In addition to Seeburg, there were jukeboxes marketed by the Rock-Ola Manufacturing Company, Wurlitzer and Automatic Musical Instruments Co. The golden era of jukebox music was in the 1940s to 1960s. The 45 RPM was introduced in 1950 and helped increase the number of discs that could be played in a jukebox. However, the invention of the portable radio in the 1950's, and the cassette player in the 1960's, contributed to the decline of usage of jukeboxes in cafes, soda shops and other gathering places.
Horton sings "it takes a purdy little gal and a jug of wine…to make a honky tonk mind." Mix together the music from the jukebox (or a live honky-tonk band), sexually attractive people in the honky-tonk and alcohol, and you've got a recipe for flirtation and much more.
Recorded in January 1956, "Honky Tonk Man" climbed to #9 on the Billboard Hot Country Songs chart. Locally, "Honky Tonk Man" climbed to #2 in Minneapolis/St. Paul, #3 in Vancouver in 1957 (and #4 in 1962). Elsewhere on the pop charts, "Honky Tonk Man" peaked at #3 in Toronto, Tulsa (OK), and La Crosse (WI), #4 in Fort William (ON) and Arveda (CO), #9 in Syracuse (NY), and #10 in Grand Rapids (MI).
Later in 1957, Horton's single "I'm A One-Woman-Man" climbed to #7 on the Hot Country Songs chart. While in 1957, Horton was back in the Top Ten nationally on the Billboard Hot Country Songs chart with "The Woman I Need". In 1958 Johnny Horton had a hit in Vancouver on CKWX with "Honky-Tonk Hardwood Floor".
In 1959, Johnny Horton had his first number-one hit on the Billboard Hot Country Songs chart titled "When It's Springtime in Alaska (It's Forty Below)". The song about a prospector visiting Fairbanks, Alaska, after two years in the wilderness, appealed to folks in the lower forty-eight the year Alaska became the 49th state in the USA.
His biggest success was in 1959 with a recording of "Battle of New Orleans." The song went number one on both the pop and country charts in the USA. It climbed to #16 on the UK charts despite the BBC banning the song because of the lyrics "the bloody British." Pop chart researcher Brian Tarling notes that Johnny Horton then made a special version of "The Battle Of New Orleans" for British radio listeners, which was what they bought in record stores. In Vancouver the original US version spent nine weeks at #1 on CKWX and seven more weeks in the Top Ten during an 18 week chart run. Horton followed that success with a string of 'saga' songs like "North To Alaska" and "Sink The Bismark".
In 1953, on his fourth single release the B-side was a song Johnny Horton wrote called "The Mansion You Stole". It became a hit in Vancouver in the winter of 1960.
Johnny Horton believed he had psychic abilities and believed someday he'd be killed by a drunk driver. On November 5, 1960, he died in an automobile accident at the Little River bridge on Highway 79 in Milano, Texas. James Evan Davis was driving a pick-up truck that smashed head-on into Horton's car. Horton was alive when ambulances arrived on the scene but died en route to hospital. Davis, the uninjured driver of the truck, was charged with intoxication manslaughter as he was drunk at the time of the accident. Horton had played earlier that night at the Skyline Club in Austin, Texas. This was the same club that Hank Williams had played at the night before he died on route to a concert in Canton, Ohio. Horton was driving from Austin to Shreveport, Louisiana, when he died. His two back-up bandmates in the car suffered injuries but lived.
Horton was 35 when he died. Johnny Cash read from the Gospel of John, Chapter 20, at Johnny Horton's funeral. John 20 tells of the empty tomb of Jesus of Nazareth, and several Biblical accounts of his subsequent appearances.
In 1961 several singles recorded by Johnny Horton were posthumously released. These included "Sleepy-Eyed John" and "Ole Slew Foot".
In February 1962, Johnny Horton's "Honky Tonk Man" returned to the Vancouver pop charts and climbed to #4 on the C-FUNTASTIC FIFTY.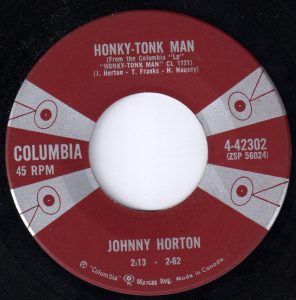 August 15, 2022
References:
J. L. Hererra, Johnny Horton was a Pioneer in Both Country Music and Rockabilly, axs.com, June 17, 2015
Clay Coppridge, The Eerie Demise of Johnny Horton, Texas Escapes.com, May 26, 2015
"The Johnny Horton Biography," Rockabilly Legends.com.
"Honky-tonk' Origin Told," Los Angeles Times, July 28, 1929, p. 16.
"Honky-tonk," Worldwidewords.org.
Lynden Orr, Abby Wills, and Madison Comstock, "The Nashville Sound," Country Music Project, University of Texas, February 25, 2015.
Mary Bellis, History of the Jukebox, Thoughtco.com.
Gert J. Almind, History of the Jukebox, Radio Museum.org.
"Top Fifty Songs for the Week," CKWX 1130 AM, Vancouver, BC, April 21, 1957.
"C-FUNTASTIC FIFTY," CFUN 1410 AM, Vancouver, BC, March 2, 1962.
For more song reviews visit the Countdown.