#115: Hot Rod Lincoln by Johnny Bond
Peak Month: August 1960
10 weeks on Vancouver's CKWX Chart
Peak Position #1
Peak Position on Billboard Hot 100 ~ #26
YouTube.com: "Hot Rod Lincoln"
Lyrics: "Hot Rod Lincoln"
Cyrus Whitfield Bond was born in 1915 in southern Oklahoma. Prior to 1907, Pickens County had been part of the Chickasaw Nation in the "Indian Territory." His parents were farmers. In school, Bond played in a brass band. While in high school "Johnny" bought a ukulele, and subsequently learned the guitar. Bond first performed on radio in Oklahoma City when he was 19 years old. In 1937, he began performing with Jimmy Wakely and Scotty Harrell in the Bell Boys trio, named after the Bell Clothing Company, which sponsored the group on radio station WKY in Oklahoma City. With Decca Records the trio recorded as the Jimmy Wakely Trio. And with Columbia Records they recorded under the name Johnny Bond & the Cimarron Boys. In 1940, Bond went on to join Gene Autry's Melody Ranch. He also performed with his own band the Red River Valley Boys.
In 1939, Johnny Bond appeared in his first of forty films. His debut was the Western, Saga of Death Valley. It starred Roy Rogers and Gabby Hayes, with Bond as a member of a band. Half of the films Johnny Bond appeared in he was cast in a role as a musician. In 1941, Bond was cast as musician in Six Lessons from Madame La Zonga. The plot unfolded on a luxury liner sailing for Cuba. On board are a band of struggling musicians, along with a number of swindlers, and another a pair of con artists passing themselves off as Señor and Rosita Alvarez, phony names. Another passenger is Madame La Zonga, whose nightclub in Havana has been closed. She is looking for money to put the club back in business, but must avoid being fleeced by her shipmates and also must avoid the police, who are waiting for the boat at the dock.
In 1943, Johnny Bond appeared in Cowboy Commandos, opposite Dennis Moore, Ray "Crash" Corrigan, and actress and stuntwoman Evelyn Finley. The plot concerned Range Busters investigating sabotage at a mining community and uncover a gang of Nazi spies. The same year, Johnny Bond appeared in Arizona Trail. In the film a singing cowboy (Tex Ritter) comes home to help his family fight a land-grabber who is trying to take over the family ranch. And in 1944, Bond appeared in the film Marshall of Gunsmoke. Citizens of Gunsmoke are being intimidated by Lon Curtis and his gang who are preventing an election to vote on a township charter.
In 1947, Johnny Bond starred in Gallant Bess, a story loosely based on the true account of U.S. Navy warrant officer Arthur Parker, who rescued an injured filly during World War II. At the age of 17, Parker lies about his age to enlist in the U.S. Navy. During World War II, he is stationed in the Solomon Islands and becomes friends with a local rancher. After a Japanese bombing raid, the rancher asks Parker for help in rescuing an injured 2-year-old horse. The horse is adopted by the Navy and is trained to be their mascot.
Meanwhile, Johnny Bond began recording in 1941. With these and many other Western films under his belt, in 1947 Johnny Bond had two #3 hits on the Billboard Country chart with "Divorce Me C.O.D.", and "You Brought Sorrow To My Heart". Two other singles made it to the Top 5 on the Country chart: "So Round, So Firm, So Fully Packed", and "The Daughter of Joel Blon". The former drew from advertising in a Lucky Strike cigarette commercial – "so round, so firm, so fully packed, so free and easy on the draw" – to describe a female partners' qualities.
Into the early 50s, Johnny Bond returned to the Top Ten on the Country chart with "Oklahoma Waltz", "Love Song in 32 Beers", and "Sick, Sober and Sorry". From 1947 to 1959, Johnny Bond released 45 singles including "Ten Trips to the Altar". "Tennessee Saturday Night" and "Ten Little Bottles". Bond remained a mainstay of the Gene Autry's Melody Ranch cast until the show's end in 1956.
In 1959, Bond left Columbia for Ditto Records. Soon after, he switched to Republic Records in 1960. His second release with Republic was "Hot Rod Lincoln".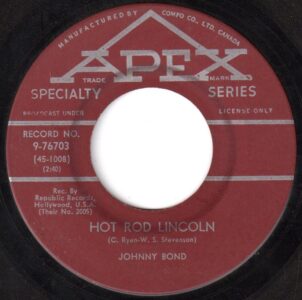 "Hot Rod Lincoln" was written and recorded by Charlie Ryan in 1955. The song was a spoken-word tune, and an "answer song" to the 1950 Top 30 Country hit "Hot Rod Race" by Arkie Shibley. The car race is described between two hot rod cars, a Ford Model A and a Cadillac. The song says the car "got 8 cylinders" overdrive, a four-barrel carburetor, 4.11:1 gear ratio, and safety tubes.
Ryan based the description of the Lincoln on his own hot rod, built from a 1948 12-cylinder Lincoln chassis shortened two feet, with a 1930 Ford Model A body fitted to it. Ryan raced his hot rod against a Cadillac sedan driven by a friend in Lewiston, Idaho, driving up the Spiral Highway (former U.S. Route 95 in Idaho) to the top of Lewiston Hill. He drew on his lived experience to write lyrics to "Hot Rod Lincoln". But he changed the setting from Idaho to the Grapevine Hill (a long, nearly straight grade up Grapevine Canyon to Tejon Pass, near the town of Gorman, California) to fit it within the narrative of "Hot Rod Race".
In the song, after the Hot Rod Lincoln surpasses the Cadillac at 110 MPH, the cops come from behind and arrest the narrator for speeding and illegal street racing, and is thrown into jail, where the narrator calls his father to bail him out, where the angry father tells his son: "Son, You're gonna drive me to drinkin', if you don't stop driving that Hot Rod Lincoln".
"Hot Rod Lincoln" peaked at #1 in Vancouver, #3 in San Bernardino (CA), and Seattle, #4 in Los Angeles, San Francisco, and Cleveland, #5 in Minneapolis/St. Paul, Port Arthur (TX), and San Diego, #6 in Denver, Spokane (WA), Toronto, and Akron (OH), #7 in Chicago and Fresno (CA), #8 in Modesto (CA), #9 in Philadelphia and Stockton (CA).
In 1972 Commander Cody & His Lost Planet Airmen had a #9 hit on the Billboard Hot 100 with their cover of "Hot Rod Lincoln".
"Hot Rod Lincoln" was one of a number of songs about cars in the 50s and 60s. Others include "Maybellene" and "No Particular Place To Go" by Chuck Berry, "Speedoo" by the Cadillacs, "Dead Man's Curve" and "Little Old Lady From Pasadena" by Jan & Dean, "G.T.O." by the Daytonas, "Little Deuce Coupe", "Fun, Fun, Fun" and "Don't Worry Baby" by the Beach Boys, "Drive My Car" by the Beatles, "Mustang Sally" by Wilson Pickett, "Rocket '88" by Jackie Brenston and his Delta Cats, "Born To Be Wild" by Steppenwolf, "On The Road Again" by Canned Heat, "Hey Little Cobra" by the Rip Chords, "Beep Beep" by the Playmates, "Seven Little Girls Sitting In the Back Seat" by Paul Evans, "Route 66 Theme" by Nelson Riddle, "Expressway To Your Heart" by the Soul Survivors, "Driving Wheel" by Little Junior Parker, "Car Trouble" by the Eligibles, and "Buick '59" by the Medallions.
After "Hot Rod Lincoln", Johnny Bond released a followup in 1960 called "X-15". The song was set in 1997, about an air race in an X-15 plane. It was a rockabilly-sci-fi tune with a solid country beat. The song spent two weeks on the CKWX chart in Vancouver into November '60.
In 1962, Bond left Republic Records for Gillette Records. He tried Smash, Sparton and then Starday Records. From 1963 to 1975, Bond released twenty singles with Starday Records. He also recorded briefly with MGM Records. In 1964 he tried to cash in on the surf music craze with "Hot Rod Surfin' Hootlebeatnanny", but with no commercial success. In 1965 he had a #2 hit on the Billboard Country chart with "10 Little Bottles". His last charting single on the Country chart was "Here Come the Elephants" in 1975.
He retired from performing in the 1970s to devote more time to publishing music. Johnny Bond died of a stroke in 1978, at the age of 63.
September 14, 2022
Ray McGinnis
References:
"Johnny Bond," Country Music Hall of Fame.
"Johnny Bond," Imdb.com.
Johnny Bond, "X-15", Republic Records, 1960.
"Fabulous Forty," CKWX 1130 AM, Vancouver, BC, September 5, 1960.
For more song reviews visit the Countdown.