#23: Hound Dog Man/Friendly World by Fabian
Peak Month: November 1959
A-side: "Hound Dog Man"
Peak Position #1
14 weeks on Vancouver's CFUN chart
Peak Position on Billboard Hot 100 ~ #9
Peak Position on Cashbox Singles Chart ~ #11
YouTube.com: "Hound Dog Man"
Lyrics: "Hound Dog Man"
Peak Month: January 1960
B-Side: "Friendly World"
Peak Position #2
15 weeks on Vancouver's CKWX chart
Peak Position on Billboard Hot 100 ~ #12
Peak Position on Cashbox Singles Chart ~ #16
YouTube.com: "Friendly World"
Lyrics: "Friendly World"
Fabian Forte was born in Philadelphia in 1943. His father was a police officer in the city. Forte was discovered in 1957 by Bob Marcucci and Peter DeAngelis, owners of Chancellor. At the time, record producers were looking to the South Philadelphia neighborhoods in search of teenage talents with good looks. Marcucci was a friend of Fabian's next-door neighbor. One day, Fabian's father had a heart attack, and, while he was being taken away in an ambulance, Marcucci spotted Fabian. Fabian later recalled, "He kept staring at me and looking at me. I had a crew cut, but this was the day of Rick Nelson and Elvis. He comes up and says to me, 'So if you're ever interested in the rock and roll business…' and hands me his card. I looked at the guy like he was out of his mind. I told him, 'Leave me alone. I'm worried about my dad.'" When Fabian's father returned from the hospital he was unable to work, so when Marcucci persisted, Fabian and his family were amenable, and he agreed to record a single. Frankie Avalon, also of South Philadelphia, suggested Forte as a possibility. Fabian later said, "They gave me a pompadour and some clothes and those goddamned white bucks and out I went. He was the right look and right for what we were going for", wrote Marcucci later.
Fabian was given an allowance of $30 a week allowance from Chancellor Records (about $313 in 2023 dollars). He also kept working part-time at a pharmacy as well as studying at South Philadelphia High School, while practicing his singing. Fabian later said "I didn't know what I was doing, but I knew my goal, to try to make extra money. That meant a lot to our family. I rehearsed and rehearsed, and I really felt like a fish out of water. And we made a record. And it was horrible. Yet it got on Georgie Woods. For some reason, Georgie Woods played it." Woods was a DJ on WDAS in Philadelphia. Fabians' release "I'm In Love" made the Top 40 in Winnipeg, Manitoba, in July 1958. A subsequent release in late '58 was "I'm A Man". The single written by Doc Pomus and Mort Shuman climbed into the Top 30 in Toronto, and the Top 40 in both Winnipeg and Vancouver (BC). Fabian sang to the would-be sweetheart "don't forget that I'm a man."
In March 1958, Elvis Presley was drafted into the United States Army and sent to West Germany. While it is true that Ricky Nelson was on TV and making records, and Pat Boone was still singing for the audience that hoped rock 'n roll would go away, there was a hunger to replace the raw rock 'n roll energy of Elvis. Enter Fabian. Though his singing abilities were mediocre, he had the "magnetism" that Chancellor Records were betting would make both Fabian and the record company rich.
In March 1959, Fabian began to chart "Turn Me Loose". Full of sexual energy and anticipation, "gonna holler, gonna shout, gonna knock myself right out… And when I see her home and we kiss goodnight turn me loose, turn me loose, turn me loose, turn me loose." The single climbed to #9 on the Billboard Hot 100. In Canada, it peaked at #1 in Ottawa, #4 in Montreal, #6 in Toronto, #9 in Calgary (AB), and #18 in Vancouver. "Turn Me Loose" ranked #55 on the Billboard Top 100 for the year-end chart. His next release, "Tiger", climbed to #3 on the Hot 100. In Canada, "Tiger" peaked at #2 in Ottawa, #4 in Calgary, #5 in Montreal, #7 in Toronto, #9 in Vancouver, and #10 in Edmonton (AB).
Although his next single, "Come On And Get Me", just cracked the Top 30, peaking at #29 on the Hot 100 in the USA, it was his best chart run in Vancouver. On the Pacific coast here in Canada, "Come On And Get Me" peaked at #3, while it got little attention elsewhere.
In 1959, Fabian earned $250,000 (U.S. dollars). Hollywood came calling and Fabian began appearing in movies.
In the fall of 1959, a film titled Hound Dog Man was released that starred Fabian. The film's poster promised viewers would get to see "The Fabulous Fabian and that Blue Denim Girl! in a motion picture aglow with first love and young adventure." 'Blue Denim' referred to Caroly Lynley's summer movie Blue Denim. That movie concerned teenage pregnancy and an abortion which was illegal at the time. The Blue Denim movie poster foreshadowed "The lost innocence…the rude awakening to what they had done…"
Now teen idol Fabian was teaming up with a young actress with a reputation (at least in her previous screen role). In 1960, Carol Lynley was nominated for the Golden Globe Award for Most Promising Newcomer – Female.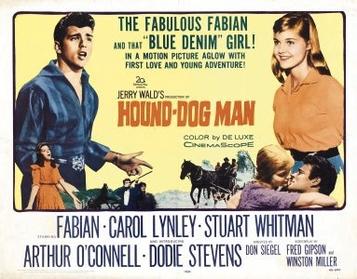 Hound Dog Man was based on a 1949 novel by Fred Gipson. Set in 1912, the plot concerns Clint McKinney (Fabian) and his younger brother Spud talk their father Aaron into letting them go on a hunting trip with their older friend, the womanizing Blackie Scantling. Aaron agrees despite the reluctance of his wife Cora. On the hunting journey, Spud finds a hound dog. Will they decide to adopt it?
Before Fabian got the lead role, Ricky Nelson had been offered the lead but turned it down. Another member of the cast was Dodie Stevens whose Top Ten hit "Pink Shoe Laces" got the attention of producer Jerry Wald's teenage sons. One review at the time said of Hound Dog Man, it was a "slice-of-life, coming-of-age piece – a little hunting, some singing, Claude Akins pops around periodically to snarl at Whitman, Lynley pants over Whitman as does Akins' wife. There's a comic doctor, a dog, a barn dance. It's actually a sweet film – well made, with great production values, and a very strong cast." However, in a 1971 interview Fabian recalled that the slow box office sales had more to do with the movie's title. "It was a good story with a great cast… but "Hound Dog Man"?"
In 2019, a reviewer looked back on Fabian's debut role in Hound Dog Man. They wrote "Fabian seems to consciously ape Elvis a lot in his debut, playing a yes ma'am type complete with Southern drawl. It's an ideal role for him – a bored young teen on a farm – occasionally sulky, but a decent kid underneath it all – and he is extremely well protected. Every time he sings, however, Don Siegel arranges it so the song is interrupted – a dog barks, or Fabian walks off in anger, or something. I'm not joking – this happens four times. Actually some of the tunes are good, notably the title track and 'This Friendly World'."
20th Century Fox wanted Fabian to sing and hoped it could catapult him to greater teen idol stardom. Fabian sang six songs in the movie, including the theme song and "This Friendly World". While Dodie Stevens sang one song in the movie.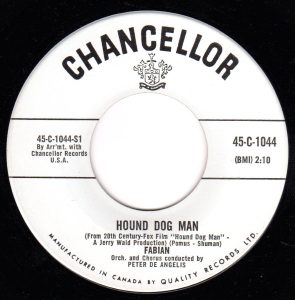 "Hound Dog Man" was written by Doc Pomus and Mort Shuman. Jerome Solon Felder was born in Brooklyn in 1925. He contracted polio and walked with crutches in his youth. He eventually spent much of his adult life in a wheelchair. Felder wanted to become a blues singer and billed himself as Doc Pomus because he liked it better than Jerome Felder. He wrote magazine articles for R&B recording stars. He began songwriting and wrote "Lonely Avenue" for Ray Charles in 1956. Pomus had a big break when he co-wrote "Young Blood" for the Coasters, together with Jerry Leiber and Mike Stoller. The single climbed to #8 on the Billboard pop chart in 1957. In addition to the songs mentioned above that Doc Pomus co-wrote with Mort Shuman, he also wrote "She's Not You" for Elvis Presley and "Don't Try To Change Me" for the Crickets.
With lag irons and a wheelchair, Doc Pomus gained a lot of weight. But he was the life of the party. He spent a quarter of a million dollars in earnings by 1963 and his wife left him for a career on the stage. In a review of Alex Halberstadt's Lonely Avenue: the Unlikely Life and Times of Doc Pomus, Christopher Hawtree writes that after his wife left, "Another young woman, Shirlee, came along, stayed – and shied as much from a gun-waving Phil Spector (who gave the grateful Pomus a blank cheque) as she did from the homespun gamblers with whom Pomus augmented funds. Such sessions ended when the Mob moved in, one participant ending up in the East River. Another friend's death inspired Looking for Mr Goodbar." Doc Pomus died of lung cancer at the age of 65 in 1991.
Mortimer Shuman was born in Brooklyn in 1938. Teaming up with Doc Pomus in 1957, they cowrote "Turn Me Loose" for Fabian; "A Teenager In Love" for Dion and the Belmonts, "Hushabye" for the Mystics, "Go, Jimmy, Go" for Jimmy Clanton; "This Magic Moment", "Sweets For My Sweet" and Save The Last Dance For Me" for the Drifters; "Surrender", "Little Sister", "(Marie's the Name) His Latest Flame", and "Suspicion" for Elvis Presley; and "Can't Get Used To Losing You" for Andy Williams. In the mid-60s Shuman wrote "She La La La Lee" for the Small Faces.
"Hound Dog Man" and the film, followed on the enthusiasm of the 1957 film Old Yeller. The lyrics told of one young man's purpose:
"I'm gonna get me an ol' hound dog, I'm gonna let 'em lead the way.
Then I'm gonna turn 'em loose, we'll go huntin' every day.
That's the kind of life for me, there's one thing I wanna be.
And that's a hound dog man…"
What else could a young man want: a) rising early each morning, b) heading out on the hunting trail with his hound dog, c) having a woman in his life.
"Hound Dog Man" peaked at #1 in Vancouver (BC), Buffalo, Toronto, San Francisco, #2 in Houston, and Denver, #3 in La Crosse (WI), Wilkes-Barre (PA), Waterloo (IA), New Orleans, Oklahoma City, and Calgary (AB), #4 in Utica (NY), Portland (OR), Albany (NY), Boston, Pensacola (FL), and Los Angeles, #5 in Phoenix, #6 in Milwaukee, Tulsa (OK), Columbus (OH), and El Cajon (CA), #7 in Kansas City (MO), and Tallahassee (FL), #8 in Montreal, and Battle Creek (MI), #9 in Ventura (CA), Redding (CA), Reno (NV), Davenport (IA), and Louisville (KY), and #10 in San Bernardino (CA) and Minneapolis/St. Paul.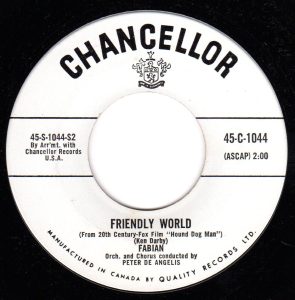 "Friendly World" was written by Ken Darby. He was born in 1909 in southeastern Nebraska. In 1939, he provided vocals for the Munchkinland mayor in The Wizard of Oz, who was portrayed in the film by Charlie Becker. Ken Darby's choral group, The Ken Darby Singers, sang backup for Bing Crosby on the original 1942 Decca Records studio recording of "White Christmas." Darby also performed as part of "The King's Men," a vocal quartet who recorded several songs with Paul Whiteman's orchestra in the mid 1930s and were the featured vocalists on the Fibber McGee and Molly radio program from 1940 through 1953. In the early 1940s, he performed with the King's Men a musical version of "A Visit from St. Nicholas" that he wrote called "T'was the Night Before Christmas" that was performed on the Christmas episodes of Fibber McGee and Molly. They also participated on the soundtracks of several MGM films, including The Wizard of Oz and occasional Tom and Jerry cartoons. Darby also provided the theme song and the soundtrack for 1955-61 TV series The Life and Legend of Wyatt Earp. Darby was a composer and production supervisor for Walt Disney Studios and was choral and vocal director on the 1946 Disney film classic Song of the South. He was also Marilyn Monroe's vocal coach for Gentlemen Prefer Blondes (1953) and There's No Business Like Show Business (1954).
As well, Ken Darby won three Academy Awards. Two were for Winner, Best Scoring of a Musical Picture, (The King and I in 1956, and Porgy and Bess in 1959), and one was for Best Score – Adaptation or Treatment (Camelot in 1967). Darby also received Academy Award nominations for Best Scoring of a Musical Picture (South Pacific in 1958 and Flower Drum Song in 1961) and for Best Original Music Score (How the West Was Won in 1963). Darby wrote songs recorded by Fred Waring and his Pennsylvanians, Nelson Eddy, Bing Crosby, Danny Kaye, Tennessee Ernie Ford, Gogi Grant, The Four Lads, Burl Ives, Elvis Presley ("Love Me Tender"), Andy Williams, Johnny Cash, Marilyn Monroe, Lorne Greene, and many others.
"Friendly World" is a song about innocence, idyllic creation and romance:
"The world is such a wonderful place to wander through,
when you've got someone you love to wander along with you.
With the skies so full of stars and the river so full of song,
every heart should be so thankful;
Thankful for this friendly, friendly world"
The song recalls a time in 1912 that must have seemed idyllic even to moviegoers in 1959. At the height of the Cold War and the threat of the hydrogen bomb, the world had lost its 'friendly' sheen a bit. Still, there was Leave It To Beaver, The Donna Reed Show, Bonanza, I Love Lucy, The Friendly Giant and many other TV shows to sit down and relax to in the late 50s. Compared to 2023, the world back then was friendly enough.
"Friendly World" peaked at #2 in Vancouver (BC), Denver, Syracuse (NY), and Chicago, #3 in Toronto, Oklahoma City, and Evanston (IL), #4 in Utica (NY) and San Francisco, #5 in Buffalo, London (ON), Lincoln (NE), and Phoenix, #6 in Cleveland, #7 in Troy (NY), Philadelphia, Winnipeg (MB), and Boston, and #8 in Pasadena (CA), Allentown (PA), and Pittsburgh, and #9 in Waterbury (CT).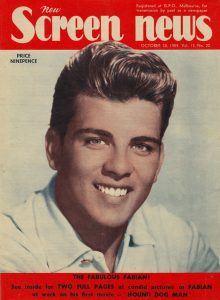 In 1960, Fabian's release "About This Thing Called Love" climbed to #12 in Vancouver, though it stalled at #31 on the Billboard Hot 100. Another release, "String Along", cracked the Top 40 on the Billboard Hot 100. One final release later in 1960, "Kissin' and Twistin', cracked the Top 100. But after 1960, Fabian was left behind as new teen idols like Bobby Vee and Del Shannon emerged (and Bobby Curtola in Canada). Frankie Avalon also struggled to keep on charting hits after 1960. Other late 50s teen idols like Bobby Darin, Bobby Rydell, Paul Anka and Connie Francis were more successful before the British Invasion.
During the payola scandal of the 1960s, Forte testified before Congress that his recordings had been doctored electronically to "significantly improve his voice." Anyway, teens weren't interested in releases in 1961 like "David and Goliath"
Fabian's career in music basically ended when he was 18 after he bought out of his contract with Marcucci for $65,000. In 1974, he said, "I felt controlled. I felt like a puppet. It was frightening, like a three-year nightmare." Marcucci later admitted to punching Fabian on one occasion when the singer sat in the aisle of a movie theatre, not in the middle of the row like Marcucci had asked; Fabian was spotted by a teenage fan who screamed. Marcucci was angry that he did not see the film and hit the singer. In 1962, he signed a contract with Dot Records and released "Break Down And Cry". The single was a commercial flop.
In 1960 Fabian starred in High Time with Bing Crosby and Tuesday Weld. It was a comedy about the emerging "generation gap," that was a topic of constant attention through the Sixties and Seventies. Fox had chosen shift Fabian to supporting actor roles, where he would be teamed with an older star of a different generation. This was a common device at the time (eg John Wayne and Ricky Nelson in Rio Bravo, 1959), the logic being the film would then appeal to two demographics. And so Bing Crosby and Fabian.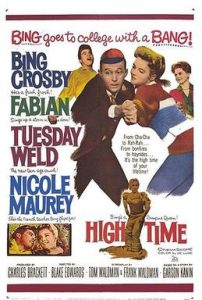 In 1960, Fabian also starred with the older John Wayne in a film about the Nome gold rush set in 1901 called North To Alaska. This was also a way to get both the teen audience and the older generation to pay at the box office. In 1959, Ricky Nelson had costarred in Rio Bravo with John Wayne. But Fabian was passed over in the vocal department, and it was Johnny Horton who was chosen to sing the theme song "North To Alaska".
The following year, Fabian and Tommy Sands starred in a college flick titled Love in a Goldfish Bowl. In 1962, Fabian co-starred with James Stewart in Mr. Hobbs Takes a Vacation, a story about an overworked banker who takes his family for a vacation. Seeing his daughter is unhappy, Roger Hobbs (James Stewart) pays the handsome Joe Carmody (Fabian) to take an interest in his daughter Katey. Joe genuinely falls for Katey and hands back the money. As well, Fabian headlined the bill with Red Buttons and Barbara Eden in the adventure Five Weeks in a Balloon set in 1862. Fabian also starred in the D-Day war film The Longest Day.
Fabian was drafted, but rejected, for military service during the Vietnam War. According to USMC Lt. Col. Arthur Eppley, Forte was declared 4F: unfit for service. In 1965 Fabian starred in the movie, Ten Little Indians, an adaptation of Agatha Christie's novel And Then There Were None.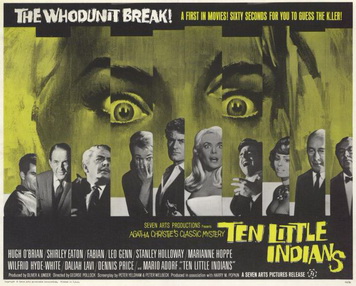 He also starred with James Stewart in the college-romance film Dear Brigitte. In 1966 Fabian costarred with Frankie Avalon and Annette Funicello in Fireball 500. That same year Fabian was cast as a hero who foils a mad scientist (Vincent Price) who plans to release exploding female robots on an unsuspecting N.A.T.O. alliance. The film was titled Dr. Goldfoot and the Girl Bombs.
In 1968, Fabian played a high school art teacher who is framed for drug possession in Maryjane. He also starred in several drag racing films including Thunder Alley, The Devil's 8 and The Wild Racers. In 1970, Fabian played a gangster in A Bullet for Pretty Boy. In 1973 he played a gang member in Little Laura and Big John. In 1976, Fabian played a preacher in Soul Hustler. The 1978 movie Disco Fever follows a plot about a late 50s teen idol trying to make a comeback. Fabian was also considered, but not cast in lead roles for The Roman Spring of Mrs. Stone (1961), West Side Story (1961) and Take Her, She's Mine (1963).
In addition to appearing in film, Fabian was featured in TV episodes of The Gertrude Berg Show, The Dick Powell Show, The Virginian, Wagon Train, Candid Camera, What's My Line?, This is Your Life, The Perry Como Show, The Red Skelton Show, twice on The Ed Sullivan Show, the medical drama The Eleventh Hour, the WWII show The Rat Patrol, The F.B.I., Laverne & Shirley, Fantasy Island, The Love Boat, Murphy Brown, and many others. Between 1958 and 1964 Fabian appeared on American Bandstand and/or The Dick Clark Saturday Night Beechnut Show. He also appeared on the game show Tattletales.
In 2015, Fabian Forte hosted and headlined in the hit show The Original Stars of Bandstand at The Dick Clark Theater in Branson, Missouri. The show starred Forte and Bobby Vee and featured The Chiffons, Bryan Hyland, Chris Montez and rare footage of the performers and Dick Clark.
May 17, 2023
Ray McGinnis
References:
Ronald Sklar, "About This Thing Called Luck," Pop Entertainment.com, September 19, 2007.
"Comeback by Fabian Forte," The Australian Women's Weekly, November 16, 1960.
Hedda Hopper, "Fabian Chucked His Singing Career To Follow a Dream," San Antonio Express, August 2, 1964.
"Hollywood – Hold That Tiger," Cashbox, December 18, 1971.
Steven Vagg, "Cinema of Fabian," Diabolique, August 26, 2019.
"Doc Pomus Biography," Felder Pomus.com.
"Mort Shuman Dies 52; Devotee of Jacques Brel," New York Times, November 4, 1991.
Christopher Hawtree, "The Last Dance of Doc Pomus," Telegraph, UK, August 16, 2007.
Alex Halberstadt, Lonely Avenue: The Unlikely Life & Times of Doc Pomus, De Capo Press, 2007.
"Ken Darby, 82, Writer of Famous Film Scores," New York Times, January 26, 1992.
"Mayor and coroner scene in Munchkinland," Wizard of Oz, 1939.
"Hi-Fi Forty," CFUN 1410 AM, Vancouver, BC, November 28, 1959.
"Sensational Sixty," CKWX 1130 AM, Vancouver, BC, January 11, 1960.
For more song reviews visit the Countdown.