#90: How Much Love by Leo Sayer
Peak Month: September 1977
12 weeks on Vancouver's CKLG chart
Peak Position #2
Peak Position on Billboard Hot 100 ~ #17
YouTube.com: "How Much Love"
Lyrics: "How Much Love"
Gerard Hugh "Leo" Sayer was born in 1948 in Sussex, England. He left school in 1964 and went to an art college. Sayer also learned to play the harmonica and joined several bands. He moved to London and worked as an illustrator for several magazines and designed record covers. In 1970, he was still known to his friends as Gerry. Sayer was brought to the attention of former English pop star Adam Faith, who by the 70's was a manager in the music business. He cowrote "Giving It All Away", which became at Top 5 UK hit for Roger Daltrey in 1973. The song was credited to Leo Sayer. In late 1973, Leo Sayer appeared on stage dressed in a Pierrot costume – recalling the sad clown of 17th century Comédie-Italienne. Such was the reaction to his performance, the entire UK music business noted that a new star was born. Leo went on a British and European tour supporting Roxy Music, now appearing on stage dressed as the Pierrot. The following year, his song "The Show Must Go On", climbed to #2 in the UK, #3 in Ireland, #10 in Australia and #11 in South Africa. "The Show Must Go On" was successfully covered by Three Dog Night, peaking in the Top Ten in Canada, the Netherlands, New Zealand and the USA. His second Top Ten hit in the UK and Ireland, "One Man Band", was also a Top 20 hit in South Africa and West Germany. A third international Top Ten hit for Sayer was "Long Tall Glasses (I Can Dance)". The song was covered by the Canadian band Shooter. And in 1975, Leo Sayer had another international hit with "Moonlighting" which peaked at #1 in Ireland, #2 in the UK, #3 in Rhodesia, #6 in Norway, #7 in Sweden, and Top 20 in Australia, New Zealand and South Africa. Leo Sayer toured across the USA as an opening act for Hall & Oates.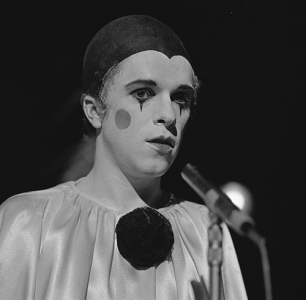 Leo Sayer on Dutch television in 1974
In 1976, Leo Sayer released his fourth studio album titled Endless Flight. The lead single, "You Make Me Feel Like Dancing", climbed to #1 on the Billboard Hot 100, in Canada and New Zealand. It was also a Top Ten hit in a half a dozen other countries. The single received a Grammy Award for Best R&B Single, beating out "Don't Leave Me This Way" by Thelma Houston, "Best Of My Love" by the Emotions, and "Easy" by the Commodores. The song was notable in featuring Sayer's falsetto vocals.
A second single release from Endless Flight was "When I Need You". The ballad topped the pop charts in Canada, Ireland, the UK and USA. It also peaked in the Top Ten in Australia, Belgium, the Netherlands, New Zealand, and South Africa. A line from "When I Need You" – "(When I) need you, I just close my eyes and I'm with you, and all that I so want to give you, is only a heart beat away" – was identical to a line from Leonard Cohen's "Famous Blue Raincoat". This is where Cohen sings "Jane came by with a lock of your hair, she said that you gave it to her that night, that you planned to go clear". A lawsuit ensued, but musicologists deemed the melody public domain dating back to Austrian composer Franz Schubert.
On July 8, 1977, Leo Sayer appeared in concert at the Queen Elizabeth Theatre in Vancouver.
A third single release from Endless Night was "How Much Love".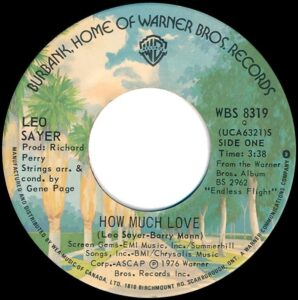 "How Much Love" was written by Leo Sayer and Barry Mann. Barry Imberman was born in Manhattan in 1939. Raised in a Jewish family, he began his professional career as a songwriter in 1958 at Aldon Music in the Brill Building. His first songs, all credited to Barry Mann, included recordings by Sal Mineo, the Kalin Twins, the Pony-Tails, "Don't Destroy Me" by Crash Craddock, and "She Say (Oom Dooby Doom)" by the Diamonds – a Top 20 hit on the Billboard Hot 100 in 1959. That year Mann also wrote the B-side to the Top 20 hit "Here Comes Summer" by Jerry Keller, and "Footsteps" and "Come Back Silly Girl" for Steve Lawrence. In 1961, Barry Mann also recorded a Top Ten hit he wrote in 1961 titled "Who Put The Bomp (In the Bomp, Bomp, Bomp)".
Mann met Cynthia Weil in the Brill Building on Broadway. Their professional relationship became personal and they married. Mann and Weil cowrote many songs including "Don't Know Much" for Aaron Neville and Linda Ronstadt, "Hungry" and "Kicks" for Paul Revere And The Raiders, "Somewhere Out There" for Linda Ronstadt and James Ingram, "(You're My) Soul And Inspiration" and "You've Lost That Lovin' Feeling" for the Righteous Brothers, "On Broadway" for The Drifters, "Walking In The Rain" for the Ronettes and Jay and The Americans, "I'm Gonna Be Strong" for Gene Pitney, "Blame It On The Bossa Nova" for Eydie Gorme, "Here You Come Again" for Dolly Parton, "Make Your Own Kinds Of Music" and "It's Getting Better" for Mama Cass, and "Rock 'N Roll Lullaby" for B.J. Thomas. In addition, Barry Mann wrote (or co-wrote) "I Love How You Love Me" for the Paris Sisters, "Patches" for Dickey Lee, and "Sometimes When We Touch" with Dan Hill.
"How Much Love" is a song about the balancing act of getting to know someone in a relationship. What is the right pace for the couple to move things forward, and toward one another? What expressions of intimacy will be perceived as premature? The lyrics ask "Do I rush right in or do I hesitate?….What can I do what can I say? The last thing I want is to drive you away." It seems that one person in the dating relationship is very eager, and worried about coming on too strong. They are being met with a lot of non-responsiveness, and wonder "Am I tryin' too hard? Give me some kind of clue." But the relationship will remain a dream unless the other person lets them in.
"How Much Love" peaked at #1 in San Bernardino (CA) #2 in Vancouver (BC), #3 in Easton (PA), Schenectady (NY), and Seattle, #4 in Augusta (GA), #5 in Sarasota (FL), Lansing (MI), Chicago, and Denver, #6 in Tampa (FL), #7 in Allentown (PA), Springfield (IL), and Madison (WI), #8 in Erie (PA), Sacramento (CA), Milwaukee (WI), Sioux Falls (SD), and Salt Lake City, and #9 in Oklahoma City, Davenport (IA), Moline (IL), Honolulu, Santa Barbara (CA), Portland (OR), and Minneapolis/St. Paul. "How Much Love" got little chart action in over fifteen states. Internationally, "How Much Love" peaked at #4 in Canada and Ireland, and #10 in New Zealand and the UK. It stalled at #17 on the Billboard Hot 100.
On June 18, 1978, Sayer returned to Vancouver to give his second concert on the West Coast at the Queen Elizabeth Theatre. He also wrote a song recorded by Cliff Richard titled "Dreamin'".
A followup to Endless Flight was Thunder In My Heart. The title track was a Top Ten hit in South Africa, and climbing to #11 in Australia, Belgium, and Ireland, and #12 in the Netherlands. In 1980, Leo Sayer had his last huge international hit with "More Than I Can Say". It peaked at #1 in Australia. It was a cover of a minor 1959 hit by Buddy Holly's backing band, The Crickets. On August 13, 1981, Leo Sayer returned to Vancouver for a third time and performed in concert at the Orpheum on August 13, 1981.
In 1982 Sayer's "Have You Ever Been In Love" was a Top Ten hit in the UK. It won the Ivor Novello Award for Best Song Musically and Lyrically. And his 1983 release of "Orchard Road" was a notable hit in over a half dozen countries, though not in North America.
In 1985, Sayer got divorced. In the midst of the divorce, Leo Sayer learned that his manager, Adam Faith, had badly mishandled his business affairs and that much of the millions of pounds he had earned over the previous decade had been lost through Faith's questionable investments and business expenses. Subsequently, Sayer sued Faith for mismanagement. The case was eventually settled out of court in 1992, with Sayer receiving a reported payout of £650,000.
Leo Sayer's final number-one hit was in the UK in 2006 with "Thunder In My Heart Again". This was a remix of his 1977 hit by British DJ Craig Meck.
In 2009, Leo Sayer became a citizen of Australia. In 2022 Leo Sayer released his sixteenth studio album titled Northern Songs.
November 25, 2022
Ray McGinnis
References:
"Leo Story So Far 1948-2010," Leo Sayer.com.
"Seventies singer Leo Sayer becomes an Australian citizen," Telegraph, January 26, 2009.
"Barry Mann bio," mann-weil.com.
"Leo Sayer concert dates – Canada," setlist.fm.
"CKLG Top 30," CKLG 730 AM, Vancouver, BC, September 14, 1977.
For more song reviews on this website visit the Countdown.