#1074: I Come Off by Young MC
Peak Month: May 1990
10 weeks on Vancouver's CKLG chart
Peak Position #14
Peak Position on Billboard Hot 100 ~ #75
YouTube: "I Come Off"
Lyrics: "I Come Off"
Marvin Young was born in 1967 in London, UK. His parents, both Jamaican immigrants, left England when he was three-years-old. They moved the family to Queens, New York, when Marvin was eight. While he was a student at the University of Southern California, he rapped over the phone to two owners of an independent record label in Hollywood named Matt Dike and Michael Ross. After he performed his rap on the phone, Young was given a record contract while he was still talking to Dike and Ross. In 1989 he cowrote with Dike, Ross and Tone Lōc on the songs "Wild Thing" and "Funky Cold Medina". These two rap rock singles crossed over from the Billboard Hot Rap Songs chart to the Billboard Hot 100, where they respectively peaked at #2 and #3.
In October 1989 Young MC released his debut album produced by Qunicy Jones titled Stone Cold Rhymin'. The release resulted in ecstatic reviews like this one from the Chicago Tribune's Greg Kot: "Rap`s hottest record is this offering from Marvin Young (a.k.a. Young M.C.), who graduated from USC in May with an economics degree, and also cowrote Tone Lōc`s monster hits, 'Funky Cold Medina' and 'Wild Thing.' Young`s "Bust a Move" is just as irresistible with its James Brown chicken- scratch guitar, huge funk groove and crisply-delivered rap. Elsewhere, the mix of serious messages ("Just Say No") and playful narratives. 'Principal`s Office' is consistently engaging."
The album contained Young MC's single released in 1988 "I Let 'Em Know" and "Know How". The second of these cracked the UK Singles chart in 1988. But it was the third single from the album, "Bust a Move" that changed everything. The song spent 17 weeks on the pop chart on CKLG in Vancouver (BC) peaking at #1. According to Brian Tarling's Vancouver's Charted Songs – '79 to '93, "Bust a Move" was ranked at #94 on his list of the Songs On The Chart The Longest from January 1979 to June 1993. The single also peaked at #1 in Australia. In 1990 Young MC won a Grammy Award for Best Rap Performance for "Bust a Move". He was up against some stiff competition, beating Public Enemy ("Fight The Power"), De La Soul ("Me Myself and I") and Tone Lōc ("Funky Cold Medina").
A fourth track from Stone Cold Rhymin' was "Principal's Office". Though it stalled at #33 on the Billboard Hot 100, it spent seven weeks in the Top Ten on CKLG in Vancouver (BC), where it peaked at #3. This single also made it to #5 in New Zealand and #8 in the Netherlands.
The fifth track to be released as a single from his debut album, Stone Cold Rhymin', was titled "I Come Off".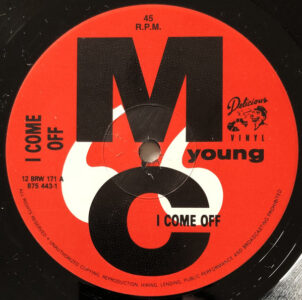 Young MC wrote "I Come Off". The song is autobiographical, as Young MC puts pen to paper to write his rap lyrics. He considers himself "rough like Eddie." Eddie Van Halen was born in Amsterdam, Netherlands, in 1955. He was known for his tapping technique when playing a guitar solo. Young MC adds that he gets "rough like Freddy Krueger," who is a fictional serial killer who first appeared in the 1984 slasher horror film A Nightmare on Elm Street. After conjuring this lethal likeness, Young MC raps that his lyrics are like that of Fats Domino when he sang "Blueberry Hill", not "run-of-the-mill" but sensational, phenomenal.
Fats Domino was born in 1928 and had his first single on a 78 RPM titled "The Fat Man". In 1950 it became a #2 hit on the R&B charts in America and sold over one million records. He became a R&B-pop crossover recording artist in 1955 with his hit "Ain't That A Shame". In June 1956, Domino had a #1 hit on the Billboard R&B chart and a #3 hit on the Billboard pop chart titled "I'm In Love Again". However, Fats Domino's biggest hit was with the pop standard "Blueberry Hill" which had been recorded earlier in the 1940s by Gene Autry, Glenn Miller and His Orchestra, Kay Kyser and His Orchestra, Louis Armstrong and others. However, it was Fats Domino's phrasing and piano playing that resulted in the song forever being associated with him.
Young MC references the Gettysburg Address by American President Abraham Lincoln as he launches into the second verse with "Four score and seven years ago…" In the case of Lincoln, the speech given on November 19, 1863, occurred four months after the Battle of Gettysburg of July 1-3. This was when the Union Army defeated Confederate troops and was considered the turning point in the American Civil War. "Four score and seven years ago" referred to what happened 87 years before 1863 when the nations' forefathers signed the Declaration of Independence. Lincoln described America as a nation "conceived in Liberty, and dedicated to the proposition that all men are created equal." And this meant for Lincoln that slavery must be abolished. The Gettysburg Address was short and consisted of only 271 words. Young MC comments that he has left the other rappers behind because he always wins a battle in a rap contest.
Young MC next refers to the other rappers as "eight track", while he is a "compact disc." In 1990 CDs were the current latest technology in audio equipment, while "eight track" was a physical recorded format that earned between 20% and 24% of total music format sales from 1970 to 1978. However, eight-tracks were soon surpassed by cassette tapes. Eight-track cassettes were phased out by 1982, earning only 2.4% of sales by volume of all recorded formats that year. In "I Come Off" Young MC is telling the other rappers that they are as obsolete as eight-track tapes.
To add to this, Young MC brags that he is like boxer Mike Tyson, defeating all the other rappers in the ring. And to add another comparison, Young MC is like the winning professional wrestler Jimmy Superfly Snuka. Young MC is to rapping what Dorothy Hamill is to Olympic figure skating, and Greg Louganis is to Olympic diving.
Dorothy Hamill was born in Chicago in 1956 and won gold in the Winter Olympics in Austria in 1976. She was known for developing a camel spin which wowed judges and audiences alike. Greg Louganis was born in El Cajon, California, in 1960. At the age of 16, he placed second to win a Silver medal at the 1976 summer Olympics in Montreal in the 10m Platform dive competition. He won Gold in the same event in both the 1984 summer Olympics in Los Angeles and the 1988 summer Olympics in Seoul, South Korea. As well, he won Gold in the 3m Springboard diving event in both the 1984 and 1988 games.
Jimmy Snuka was born in Fiji in 1943 and became a professional wrestler in 1970 and was a regular on World Wrestling Federation matches in the 1980s and 1990s. In his final year, he was to stand trial for third-degree murder of his 23-year-old mistress in 1983. But a judge determined Snuka was unfit to stand trial as he was dying of cancer and had dementia. (Snuka died two weeks later in early 2017). While Mike Tyson was born in 1966 in New York City. On November 22, 1986, Tyson became the boxing heavyweight champion at age 20 years, 4 months and 22 days. In 1992 Tyson was convicted of rape and sentenced to 6 years in jail. While Snuka and Tyson may have looked great at the time Young MC was comparing himself to them in his 1989 lyrics, the unfolding headlines of the wrestler and the boxer make these comparisons less savvy with time.
In verse 3 Young MC contends that he got the way he is from playing tag as a kid. "So when I start to say Olly Olly Oxen Free," he is letting the other rappers know he's going to be the first one out of the block with a new amazing rap rhyme.
Furthermore, in "I Come Off", Young MC lets his listeners know that he's been around: "New York, New Jersey, LA…Philadelphia." The output is so amazing that when he is done performing in a battle of the rappers, the others in the battle just say "God damn." It's as though there is no point in any of the other rappers even coming to the stage because, as Young MC tells it, "I Come Off."
Olly Olly Oxen Free is a "truce term" in children's games like hide-and-seek, capture the flag, and kick the can to let the players who are hiding know they can come out into the open without losing the game; that the position of the sides in a game has changed (as in which side is on the field or which side is at bat or "up" in baseball or kickball); or, alternatively, that the game is entirely over. Ollie Ollie Oxen Free basically is a call to everyone playing a game to know it is safe to come out. By rapping "Olly Olly Oxen Free" in "I Come Off", Young MC is calling a truce to let the other rappers know the game has changed since he arrived on the rap scene, and that the game is entirely over. After all, it's now inevitable that Young MC is going to win in any rap competition.
At one other point in the song, Young MC raps "Don't have to be Saturday night for Young MC to get live," a nod to the popular late night NBC comedy sketch and variety show Saturday Night Live, which has aired since 1975 until the present. Now in its 46th year, Saturday Night Live has won 67 Emmy Awards, the most for any TV show in history. As well, it holds the title for having been nominated the most often for an Emmy Award: as of March 2021, on 270 occasions.
"I Come Off" peaked at #13 in Buffalo (NY), and #14 in Vancouver (BC).
Young MC released seven more studio albums between 1991 and 2008. However, none of these came close to the initial buzz that earned him accolades with his debut album.
In December 2004, Young traveled to Vancouver to commence shooting for the film The Zero Sum. As an actor Young played Mr. Henderson, a publishing company executive. Film director Raphael Assaf and screenwriter Armen Evrensel asked Young to help create the film, for which he is a co-executive producer. Young also teamed up with Baltimore rapper KNOXX to create "Brotherly Love", the film's theme song. On January 25, 2006, Young MC appeared in concert at the Plaza Club in Vancouver.
In 2009 Young MC had a cameo appearance in the film Up in the Air. Young MC performed in concert in Vancouver at the PNE Amphitheatre on August 23, 2018.
Over the years Young MC has been involved in advertisements for Pepsi, Taco Bell and Burger King.
March 20, 2021
Ray McGinnis
References:
"Young MC: About," Youngmc.com.
Greg Kot, "Young M.C.Stone Cold Rhymin` (Delicious Vinyl) (STAR)(STAR)(STAR)Rap`s…," Chicago Tribune, October 19, 1989.
"Gettysburg Address," Library of Congress, November 19, 1863.
"Dorothy Hamill Biography," Academy of Achievement, February 18, 2021.
"Greg Louganis," Wikipedia.org.
Phil McCausland, "Controversial Wrestler Jimmy 'Superfly' Snuka Dead at 73: Professional Wrestler Jimmy "Superfly" Snuka Died Sunday, Only a Few Days after he was Acquitted for the 1983 Murder of his Mistress," NBC, January 15, 2017.
"Ollie Ollie Oxen Free: Is It Safe?," Word Detective, July 20, 2011.
"Saturday Night Live: About the Show," NBC.
Peter White, "Mike Tyson Biopic Series 'Iron Mike' Enters The Ring At Hulu From 'I, Tonya' Team & Karin Gist," Deadline.com, February 25, 2021.
"U.S. Recorded Music Revenues by Format," RIAA.com, 2020.
"CKLG Top 40," CKLG 730 AM, Vancouver, BC, May 7, 1990.
For more song reviews visit the Countdown.