#902: Margie by Fats Domino
Peak Month: June 1959
8 weeks on Vancouver's CKWX chart
Peak Position #8
Peak Position on Billboard Hot 100 ~ #51
YouTube.com: "Margie"
Lyrics: "Margie"
In 1928 Antoine "Fats" Domino was born in New Orleans. Both of his parents spoke Creole, a unique twist on the French language in Louisiana. Fats had seven siblings and he was the youngest of the bunch. Harrison Verrett, a brother-in-law, taught young Fats to play piano while he was a child. Domino took to the ivories with a passion and was playing to audiences in honky tonks by the age of ten. In his teens he worked at many jobs helping to cover the families household expenses. These ranged from a position with the Crescent City Bed Factory to delivering ice from an ice truck. While these day jobs helped him make a living, by the age of fourteen he quit public school and was practicing the keyboards to develop his own unique style. After getting married in 1947, he gained a reputation as a formidable talent with his live performances at the Hideaway Club in New Orleans. This got him on the radar of bandleader, Dave Bartholomew, who helped secure a deal with Imperial Records for Domino in 1949.

That year Fats Domino came out with his first single on a 78 RPM titled "The Fat Man". In 1950 it became a #2 hit on the R&B charts in America and sold over one million records. He kept churning out records and had a dozen make the Top Ten on the R&B charts. But it was in 1955, when he released "Ain't That A Shame," that he became a crossover pop recording artist as white teenagers snapped up his single release. His most successful streak continued with the release of "Blueberry Hill" in 1956. The song was originally a hit for Gene Autry in 1940 and a minor hit for Louis Armstrong in 1949. But after he took the song to #2 on the pop and R&B charts, it became Fats Domino's signature song, exceeding five million in sales. It was the #1 record on the Billboard R&B charts for eleven weeks. On the strength of his popularity, filmmakers got him featured in a number of rock 'n roll flicks: The Girl Can't Help It and Shake, Rattle and Rock.
The hits kept on coming including "Blue Monday", "I'm In Love Again", "I'm Walkin'" and "Whole Lotta Loving". In the midst of his string of hits from 1955 to 1962, Fats Domino recorded a cover of a song written in 1920 that was a #1 hit for Eddie Cantor in 1921 titled "Margie".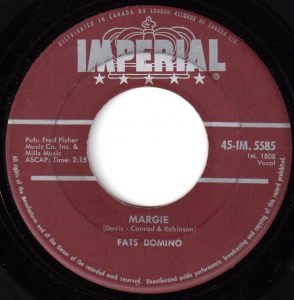 "Margie" was composed in 1920 and the first songwriting success for Benny Davis. He co-wrote the song with Con Conrad and J. Russell Robinson. In 1926 Benny Davis wrote the Roaring Twenties classic #1 hit in 1926, "Baby Face". A vaudeville performer and songwriter of over 1,400 songs, Davis was born in New York City in 1895. Among his other songs, two were covered by Connie Francis, "Carolina Moon" and "Don't Break The Heart That Loves You", the latter a #1 hit for her in 1962. Also born in New York City (1891), Con Conrad produced the Broadway show The Honeymoon Express, starring Al Jolson, in 1913. Conrad later wrote the music to the 192o's hit, "Ma, He's Making Eyes At Me". He also received the first Academy Award for Best Song for "The Continental" in the Fred Astaire and Ginger Rogers musical, The Gay Divorcee, in 1934. He also co-wrote two hits for Russ Columbo, "Prisoner Of Love" and "You Call It Madness (But I Call It Love)", the latter a hit for Nat "King" Cole. While "Prisoner Of Love" became a #1 hit for Perry Como in 1946. J. Russell Robinson, born in 1892 in Indianapolis, was a dixieland and ragtime musician and composer. Robinson wrote the scandalous "Reefer Guy" for Cab Calloway in 1932. His songs have been recorded by Nat "King" Cole, Louis Armstrong, Ray Charles, Benny Goodman, Jim Reeves, Al Jolson, Cab Calloway, Gene Krupa and others.
"Margie" was a #1 hit for Eddie Cantor in February 1921. In Cantor's version the song begins with this stanza:
You can talk about your love affairs,
here's one I must tell to you.
All night long they sit upon the stairs
he holds her close and starts to coo.
The song quickly became a jazz and pop standard. Over the years it has been recorded by Bix Beiderbecke, Cab Calloway, Bing Crosby, Duke Ellington, Louis Armstrong, Johnny Mercer, Dave Brubeck, Ray Charles, Erroll Garner, Al Hirt, Jimmie Lunceford, Shelly Manne, Oscar Peterson, Benny Goodman, Django Reinhardt and others.
"Margie" is a song about a guy who is engaged to a gal named Margie. This guy had got a promise from Margie that we can infer involves getting married. The ring is a symbol of their commitment to each other and he's got a house for them to live in together. He's counting on Margie to remain true to him and to her promise to him. From the opening verse in the original hit song by Eddie Cantor in 1921, what the suitor is saying is described as cooing. He's murmuring his words of love full of adoration for Margie. Being excited about someone is a good sign, especially in advance of walking down the aisle together. With any relationship there will come some working through differences of opinion and perspective. But "Margie" is a snapshot of young love when their whole lives open to promise and possibility.
Fats Domino's next two single releases in 1959, "I Want To Walk You Home" and "Be My Guest" both climb to #8 on the Billboard Hot 100. But in Vancouver they peaked at #15 and #21 respectively. Of Domino's releases in 1959 "Margie" was the top seller in Vancouver. In 1963 Imperial Records was sold and Domino left for ABC-Paramount. However, his earlier successes were not repeated. Domino and many other recording artists from the 1950's were swept aside by the British Invasion. His final single release to crack the Billboard Hot 100 was a cover of The Beatles hit, "Lady Madonna". But Domino's version stalled at #100.
Though his recording days were over, Domino toured extensively in the 1970's with rock 'n roll revival shows. But as the decade ended Fats Domino was tired of the touring and he went into semi-retirement where he performed almost exclusively in New Orleans. A notable exception was a tour to Europe in 1995.
President Bill Clinton honored Fats Domino with The National Medial of Arts in a gala event at The White House on November 5, 1998. In 2007 New Orleans Mayor, Ray Nagin, made January 12 "Fats Domino Day in New Orleans" and gave Domino the signed declaration.
Domino suffered a great loss in 2005 when Hurricane Katrina ploughed into New Orleans and the Ninth Ward where he lived. It was reported he had drowned, which later proved to be an erroneous news story. However, his possessions were lost or irreplaceably damaged. All 25 of his gold record plaques were gone. His treasured piano was destroyed by flooding from the hurricane. Despite his own personal losses, Fats Domino turned his attention to help rebuild the city he loved. This included a live album in 2006 titled Alive and Kickin'. A 2007 album by Elton John, Paul McCartney, Neil Young and others titled Goin' Home, was a collection of covers of songs by Domino, named after his first #1 hit on the Billboard R&B charts in 1952. And in 2009, a benefit concert titled The Domino Effect was a fundraising effort to repair damaged schools in the wake of the hurricane and slow government response to restore infrastructure. Fats was in his element again playing live for an appreciative audience.
In the 2010's Fats Domino was featured in two documentaries: Fats Domino: Walking Back to New Orleans and The Big Beat.
Over the course of his music career Domino charted more than one hundred songs onto the Billboard R&B charts, including 41 climb into the R&B Top Ten. He had 37 singles reach the Billboard Hot 100's Top 40. And he sold a lot of records: Sixty-Five Million!
In 1986 Billy Joel inducted Fats Domino into the Rock & Roll Hall of Fame. Domino died on October 25, 2017, at age 89.
January 26, 2018
Ray McGinnis
References:
Con Conrad: Pioneering Broadway Composer, Songwriters Hall of Fame, Songhall.org, 1970.
Benny Davis: Prolific Songwriter and Vaudeville Performer, Songwriters Hall of Fame, Songhall.org, 1975.
David Blatty, Rock 'n' Roll Legend Fats Domino Dies at 89, Biography.com, Portland, OR, October 25, 2017.
Fats Domino – Inductee, Rock&Roll Hall of Fame, Rock Hall.com, Cleveland, OH, 1986.
About Fats Domino, Fats Domino.com.
"Sensational Sixty," CKWX 1130 AM, Vancouver, BC, June 15, 1959.
For more song reviews visit the Countdown.