#263: I Still Believe In Tomorrow by John and Anne Ryder
Peak Month: December 1969
10 weeks on Vancouver's CKLG chart
Peak Position #3
1 week Hit Bound
Peak Position on Billboard Hot 100 ~ #70
YouTube.com: "I Still Believe In Tomorrow"
Lyrics: "I Still Believe In Tomorrow"
John & Anne Ryder were singers who grew up in Sheffield, England. While they both had separate careers, they dated, got married and became a husband-and-wife singing duo. There is almost nothing about them online. Searches for any interviews they may have given to the press, or bios are off the radar. However, more is known about the songwriters of their one notable hit. And thanks to some liner notes from their only album, there is something to report about this obscure singing duo from England.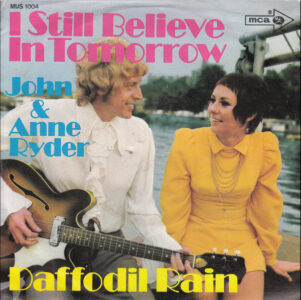 "I Still Believe In Tomorrow" was cowritten by Marty Wilde and Ronnie Scott. Born Reginald Leonard Smith in 1939 in South London, Marty Wilde was performing under the name Reg Patterson at London's Condor Club in 1957. He was given the stage name Marty Wilde by his manager Larry Parnes. 'Marty' was chosen from the 1955 Academy Award winning film Marty, starring Ernest Borgnine. Other stage names Parnes gave his young teen stars include Billy Fury for singer Ronald Wycherley. Marty Wilde began recording covers in 1957 of Jimmy Rodgers "Honeycomb" and then "Oh-Oh, I'm Falling In Love Again". His first charting record in the UK was his cover of Jody Reynolds "Endless Sleep" in 1958, which peaked at #4. In 1959 his cover of the Ritchie Valens song "Donna" was a #3 hit in the UK, as was his cover of the Phil Phillips tune "Sea Of Love" (#3 in the UK). And later that year his cover of Dion and the Belmonts "A Teenager In Love" was a #2 hit in the UK. In 1960 Marty Wilde had a #3 hit in Vancouver with "Bad Boy", which had earlier peaked at #7 in the UK. Wilde's last Top Ten hit in the UK was a cover of the Bobby Vee song "Rubber Ball" in 1961, which Wilde charted to #9.
In 1969 Marty Wilde, under the pseudonym of Shannon, recorded "Abergavenny". The single climbed to #6 in the Netherlands, #8 in Australia, and #9 in Vancouver. Over the years Marty Wilde has released ten studio albums, the most recent in 2020. Ronnie Scott co-wrote "Abergavenny" and later cowrote "It's A Heartache" for Bonnie Tyler.
On the liner notes for I Still Believe In Tomorrow, it was announced: "War has been declared. Five hundred years after the historic War of the Roses, they're at it again in the north of England. Yorkshire and Lancashire, friendly foes for centuries, are battling once more. But this time not for the Crown of England. Sights are set on the world, and a Pop Crown…. John and Anne Ryder are on the warpath, hot on the heels of their hit I Still Believe In Tomorrow. And there is still plenty of fight in reserve. Because the Ryders have committed themselves to putting Sheffield, their home town, on the Pop Map. The Ryders know the going might be hard. But they are used to ups and downs. For them the turning point came when they abandoned their solo careers and married. They haven't looked back. And when tomorrow comes, they'll be riding higher than ever."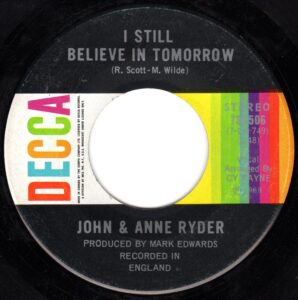 "I Still Believe In Tomorrow" is a song about a relationship that has dissolved. It contrasts the hopefulness of the one ex-lover that the pair can patch things up, with the state of sorrowfulness they feel after being left on their own. The song reveals an inner dialogue of the person who has been left behind: "And if I face the truth, I've really lost you, should I give up and say it's over? You know I never could. Our love was much too good. I can't sit back and watch it die." Though the narrator of the song still believes in tomorrow, there is no sign that their ex-lover is having second thoughts about ending the relationship.
"I Still Believe In Tomorrow" peaked at #1 in Ottawa (ON), #3 in Vancouver (BC), Victoria (BC), Fresno (CA), and Sioux Falls (SD), #4 in Louisville (KY), #5 in Memphis, #7 in Des Moines (IA), #8 in Winnipeg (MB), and #10 in Sacramento (CA).
On their 1969 album I Still Believe In Tomorrow, John & Anne Ryder also recorded "Seasons In the Sun (Le Moribond)" which was a number-one hit for Terry Jacks in 1974; "Let It Be Me" which was a hit for both the Everly Brothers and Betty Everett & Jerry Butler; a respectable cover of "Everybody's Talkin'" from Midnight Cowboy; and "It's Getting Better" which was a Top 40 hit for Mama Cass.
A followup single, "A Sign For Love", made the Top 40 in Montreal in December 1969 and the Top 30 in Wilkes-Barre (PA) in February 1970. The song was a track from their debut album. In the spring of 1970 John & Anne Ryder recorded a cover of the Simon & Garfunkel tune "Cecelia". It made the Top 30 on Radio Veronica At Sea, a pirate radio station in the Netherlands.
There is little about the husband-and-wife duo since they fell off the pop charts entirely in 1970. However on Answers.com, one person responded to the question "What Happened to John and Anne Ryder musicians?" The answer is copied below:
They decided to stop touring around, start a family and had their daughter Victoria in Feb. 1971. They then decided to restart the duo in June 1972 working the local clubland venues within a 50 mile radius from their home in Sheffield South Yorkshire England. This was so they could get back home to the babysitters and their beautiful little girl each night. It wasn't long before they were getting rave reviews wherever they appeared and voted by their audiences as the top clubland duo for three years in a row. They appeared with stars such as the Bee Gees and The Fortunes…
In Dec. 1980 their son Bennett was born, who is now a brilliant musician having attended Leeds University at the age of 18yrs and achieved his BA Honours degree in Jazz playing the piano, keyboard and guitar. Their daughter Victoria went onto college and became a beauty therapist for 14yrs and then decided to work for a bank in mortgages which she is still doing. Just 6mths.before their 25yrs of marriage in 1987 they decided once more to retire from performing as a duo.
Tonight, 6 September 2009, they were in St Ives, enjoying a beer and taking part in a pub quiz, while on holiday. They are both retired now and will be celebrating their Golden Wedding on June 9th 2012 at their daughter's home in Sheffield with their family and friends.
September 1, 2021
Ray McGinnis
References:
"What Happened to John and Anne Ryder Musicians?," answers.com, April 5, 2012.
"Marty Wilde," Wikipedia.org.
"Ronnie Scott," Wikipedia.org.
"Boss 30," CKLG 730 AM, Vancouver, BC, December 12, 1969.
For more song reviews visit the Countdown.