#1401: I Told You So by Jimmy Jones
Peak Month: April 1961
6 weeks on Vancouver's CKWX chart
Peak Position #13
Peak Position on Billboard Hot 100 ~ #85
YouTube.com: "I Told You So"
Lyrics: "I Told You So"
Jimmy Jones was born in Birmingham, Alabama, in 1937. He got a gig as a tap dancer in the early 50s. In 1954 Jones formed a doo-wop group named the Berliners. The group changed their name later in '54 to The Sparks of Rhythm. He moved to New York City in 1955 and formed another group called the Savoys, named after the label they recorded with. They left Savoy for Rama Records and became the Pretenders, and then the Jones Boys. When the group disbanded in 1959, Jimmy Jones embarked on a solo career. In December 1959 he released a song he'd written in the mid-50s with the Sparks of Rhythm titled "Handy Man". It was co-written with Otis Blackwell. In 1960 the single climbed to #2 on the Billboard Hot 100 and #1 on CFUN in Vancouver (BC).

Jones "Handy Man" entered the pop charts in Vancouver on January 11, 1960. It stayed on the charts until April 23, 1960. This overlapped with Jones followup hit,"Good Timin'", which entered the pop charts in Vancouver (BC) on April 9, 1960, and remained into June 27, 1960. It became Jones second number one hit in Vancouver. Then in the first week of July 1960, Jones entered both the CFUN and CKWX pop charts with "That's When I Cried". That song stayed on through the week of August 15th, where it peaked at #20. Jones next single release, "Ee-I-Ee-I-Oh! (Sue MacDonald)" didn't appear on the Vancouver (BC) pop charts, and missed the Billboard Hot 100. But Jones had managed to have a single on the Vancouver pop charts for 32 consecutive weeks in a row.
However, his next two single releases were flops. Then in 1961 Jimmy Jones released "I Told You So".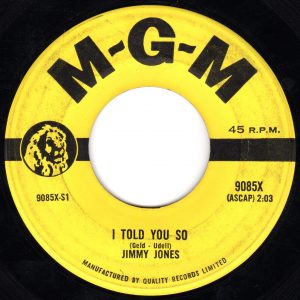 "I Told You So" is a song about a guy who has a broken heart after a relationship has ended. He tells a friend that his whole world is falling apart and he's "feeling low." However, the friend, who we may surmise saw doom in the dating relationship before it began just says "I told you so." And, it seems they take every opportunity when they subsequently get together to say "I told you so" repeatedly. The guy smarting from the break-up tells his friend to "quit rubbing it in."
In an article in SELF.com, Zahra Barnes and Meredith Clark write about various responses friends have given other friends who are going through a breakup. Among the best responses are "You're allowed to be sad," "You won't always feel this way," "It's okay to have a bad day," and "I promise, you're so much better off." Among the worst responses are "there are plenty of fish in the sea," "you'll find someone else," "they were an asshole anyway," "you're so much cuter then her/him," "everything happens for a reason" and "couldn't you have given them what they wanted?" Among the least helpful responses we can add "I told you so" to the list.
In 1913 Rex Stout had one of his characters in his first pulp fiction novel Her Forbidden Knight say to Lila Williams who is going through a breakup, "Now, there's no use talking about what's past. We don't care what you've done; we ain't even going to say, 'I told you so.' What we want is to help you now." In the story the friend says they aren't even going to say 'I told you so,' but in stating it this way, they make their point. In his article titled "7 Things You Should Never Say To Someone," Vihn Ly summarizes the message we give someone when we tell them "I told you so." Ly writes "What they hear: "You did not listen to me. That's all your fault. I'm so much better than you." This one is a common no-no. It's useless to shoot a dead horse, especially when other person needs your help more than ever. Don't keep tabs on who's right and who's wrong. If it were a competition, the one keeping tabs would be the one losing." Ly says what the other person needs is your help and not have you add insult to injury.
"I Told You So" was co-written by Gary Geld and Peter Udell. The songwriting duo went on to pen "Sealed With A Kiss" and "Ginny Come Lately" for Brian Hyland. They also wrote "Save Your Heart For Me" for Brian Hyland in 1963, and later a hit for Gary Lewis and the Playboys. They wrote "Hurting Each Other" for Ruby and the Romantics that was later a hit for the Carpenters in 1972. Geld and Udell also had songs they wrote recorded by Tommy Edwards, Connie Francis, Jackie Wilson, Clarence "Frogman" Henry, Skeeter Davis, Bobby Vinton, the Cowsills and others.
Peter Udell was born in Great Neck, New York, in 1929. Nearly died after being hit by a car at 16 in 1945. In 1975 Udell won the Tony Award as Best Book (Musical) with collaborators James Lee Barrett and Philip Rose for Shenandoah. He also had two other Tony nominations: in 1970, as co-author of book, with Ossie Davis and Philip Rose, for Best Musical nominee Purlie. In 1975, Udell was nominated for a Tony Award for Best Score, his lyrics with Gary Geld's music, Shenandoah.
Gary Geld was born in Paterson, New Jersey, in 1935. He was educated at New York University and Juilliard. In 1959 Geld and Peter Udell co-founded Geld-Udell Music Corporation in 1959, and Geld-Udell Productions in 1962.
"I Told You So" climbed to #11 in Springfield (MA), #13 in Vancouver (BC) and #17 in Youngstown (OH). Jones recorded three more singles on MGM's subsidiary for R&B releases, Cub Records. Of these "You're Much Too Young" spent five weeks on the CFUN chart in the summer of '62, peaking at #41.
Between 1963 and 1976 Jimmy Jones recorded singles for Vee-Jay, Roulette, Parkway, Bell, Deke, Conchillo and Jen-Jillus Records. None of these nine additional singles were commercially successful. However, Jones recorded a respectable cover of Buddy Holly's "True Love Ways" in 1967. And in 1976 he recorded "Handyman Is Back In Town".
Jones' "Handy Man" was covered by Conway Twitty in 1960, Del Shannon in 1964 and James Taylor in 1977. Jones is credited by Del Shannon was influential in developing his falsetto vocal style. Barry Gibbs of the Bee Gees subsequently credited Del Shannon for influencing his falsetto vocals on several hits including "Nights On Broadway", "Night Fever", "You Should Be Dancing" and others. Other recording artists, noting Jimmy Jones commercial successes with "Handy Man" and "Good Timin'", chose to feature falsetto vocals on their single releases. These include Lou Christie, Frankie Valli and the Four Seasons, The Tokens, The Happenings and others.
Jones enjoyed a revival of interest in Britain, owing to his popularity on the British Northern soul circuit. His wife Mattie Jones told the Telegraph, "Jimmy was a fabulous sensation over in Britain. They loved him in Britain. He was hot."
November 3, 2019
Ray McGinnis
References:
"Jimmy Jones Obituary," Telegraph, UK, August 7, 2012.
"Gary Geld Biography," IMDb.com.
"Peter Udell Biography," IMDb.com.
Zahra Barnes and Meredith Clark, "What To Say To A Friend Going Through A Breakup: Real Women Share the Best and Worst Responses to a Friend Going Through a Breakup," SELF.com, December 22, 2018.
Rex Stout, Her Forbidden Knight, The All-Story, New York, 1913.
Vihn Ly, "7 Things You Should Never Say to Someone," life hack.com.
"The Fabulous Forty," CKWX 1130 AM, Vancouver, BC, April 1, 1961.
For more song reviews visit the Countdown.