#3: If A Tree Falls by Bruce Cockburn
City: Burnaby, BC
Radio Station: CFML
Peak Month: February 1989
Peak Position in Burnaby ~ #16
Peak position in Vancouver ~ did not chart
Peak Position on Billboard Hot 100 ~ did not chart
YouTube: "If A Tree Falls"
Lyrics: "If A Tree Falls"
Bruce Cockburn was born in Ottawa in 1945. He has stated in interviews that his first guitar was one he found around 1959 in his grandmother's attic, which he adorned with golden stars and used to play along to radio hits. Some of these included songs by the Beau Marks from Montreal. Later he was taught piano and music theory by Peter Hall, the organist at Westboro United Church which Cockburn and his family attended. Cockburn had been listening to jazz and wanted to learn musical composition. Hall encouraged him and, along with his friend Bob Lamble, a lot of time was spent at Hall's house listening to and discussing jazz. After graduating, he took a boat to Europe and busked in Paris. Cockburn attended Berklee School of Music in Boston, where his studies included jazz composition, for three semesters between 1964 and 1966. That year he dropped out and joined an Ottawa band called The Children, which lasted for about a year.
In early 1967 he joined the final lineup of the Esquires. He moved to Toronto that summer to form The Flying Circus with Marty Fisher and Gordon MacBain, and Neil Lillie. The group changed its name to Olivius, and opened for the Jimi Hendrix Experience and Cream in April 1968. In the summer of 1968, Cockburn joined 3's a Crowd until he left to pursue a solo career in the spring of 1969. Cockburn's first solo appearance was at the Mariposa Folk Festival in the town of Caledon in 1967, which he headlined in 1969 when it moved to Centre Island in Toronto.
In 1970, Cockburn released a self-titled debut album, and the single "Going To The Country". He won the Juno for Canadian Folksinger of the Year, three years in a row, from 1971 to 1973. He was nominated for Canadian Folksinger of the Year and Male Vocalist of the Year at the 1974 Juno Awards. His first charting single on the RPM Canadian Singles chart was in 1971 with "One Day I Walk". By the mid-70s, Cockburn was penning songs with obvious political commentary. His 1975 single, "Burn", included these lines about American foreign policy: "Philippines was yesterday. Santiago and Greece today. How would they ever make the late news pay, if they didn't have the CIA?"
In 1979 he had a hit on both sides of the Canada-US border with "Wondering Where The Lions Are". It climbed to #21 on the Billboard Hot 100 and #39 on the RPM Canadian Singles chart. The single charted on the CKLG playlist in Vancouver for nine weeks.
In the early 1980s, Cockburn had more Top 40 hits in Canada, including "Rumours Of Glory" which stalled at #104 below the Billboard Hot 100, "Fascist Architecture" which topped the Canadian Adult Contemporary chart, and "Lovers In A Dangerous Time". Of the latter song released in 1984, Cockburn stated that the song was inspired by seeing teenagers expressing romantic love in a schoolyard. In the song, he contrasts the hopefulness and joy of new love with the despair of a wider Cold War world where notions of the future often carried a sense of foreboding and doom. Others have suggested the Guatemalan Refugee Crisis and the emerging HIV/AIDS crisis were also part of the 'dangerous time' lovers were facing into the 80s. In 1984, Cockburn's "If I Had A Rocket Launcher" commented in the brutal repression of Guatemalan dictator Rios Montt toward the Guatemalan peasants. The song climbed to #24 on the CHUM chart in Toronto, and #88 on the Billboard Hot 100.
In 1986, Bruce Cockburn had his third RPM Top 40 charting single with "People See Through You". In 1988, Cockburn released his sixteenth studio album, Big Circumstance. The lead single from the album was "If A Tree Falls".
"If A Tree Falls" is a protest song about destruction of rainforests in Sarawak on Borneo Island, Costa Rica, British Columbia, and the Amazon. In addition to the trees that are falling, the destruction of these ancient forests "Take(s) out wildlife at a rate of species every single day. Take out people who've lived with this for a hundred thousand years." The singer laments that the outcome of forest company greed is one "where wild things have to go to disappear forever."
Some efforts by environmentalists to preserve old growth forests and rainforests have led to the creation of the Great Bear Rainforest in British Columbia, Lambir Hills National Park and Gunung Mulu National Park in Sarawak. In 1975, the Corcovado National Park was established in Costa Rica and the nation has been successful in reversing deforestation in more recent decades. The Ballena Marine National Park was created in Costa Rica in 1992 to protect the humpback whale. The Tapantí National Park established in Costa Rica in 2000 provides a habitat to 45 mammals, 400 bird species and 28 species of reptiles and amphibians. There are numbers of other parks in Costa Rica that have also been created to protect the environment.
In 2000, the 6 million acre Central Amazon Conservation Complex was created in Brasil. The Central Amazon Conservation Complex makes up the largest protected area in the Amazon Basin and is one of the planet's richest regions in terms of biodiversity. It also includes an important sample of varzea ecosystems, igapó forests, lakes and channels which take the form of a constantly evolving aquatic mosaic that is home to the largest array of electric fish in the world. The site protects key threatened species, including giant arapaima fish, the Amazonian manatee, the black caiman and two species of river dolphin.
Cockburn also laments the cattle industry: "Inject a billion burgers worth of beef. Grain eaters – methane dispensers." In 2023, cattle farmers continue to dispute the allegation that raising cattle is causing climate change. One farmer on Twitter stated "Red meat is not causing climate change. Look at these cows. They're eating grass and regenerating the land. Yes, they burp out some methane. But the carbon in that methane was part of the carbohydrates in the grass. And how did it get there (in the grass)? It came from atmospheric carbon dioxide that is fixed into the grass as the plants do photosynthesis. That is the carbon cycle. Cows don't create new carbon. They are part of a natural cycle of ruminant animals: bison, buffalo, antelope, elk, that has been going on for millions and millions of years. Look at this graphic of Greenhouse Gas Emission Sources from 2016 from the EPA (Environmental Protection Agency in the USA). It shows that cows are far from the highest emitter of CO2. Beef cattle was responsible for only 1.9% of total Greenhouse Gas Emissions in 2016. What are the major culprits? Transportation (26.4%), electricity generation (30.3%), burning coal, and technology (21.3%) (also on the Greenhouse Gas Emissions EPA graph: commercial & residential buildings – 11.6%, agriculture – 5.2%, pigs – 3.7%). Those industries are trying to distract you by blaming cows. But these animals provide humans with some of the best food on the planet. If we truly want to take care of humans and the planet, we will have more regeneratively raised cattle like these (points behind him to cows grazing in a field), and we will discard the lies that these animals have any meaningful contribution to climate change at all."
Based on the Greenhouse Gas Emissions data, should we be more concerned about pigs, instead of cows? Never mind the big C02 generators: electricity, transportation, and industry? The US Fish & Wildlife Service estimated up to 60,000,000 (sixty million) bison lived in North America when Europeans began arriving on the north American continent.
(Note: buffalo and bison are often confused in articles. Bison have a large hump, and buffalo do not. Buffalo have large horns, while bison have shorter and sharper horns. Buffalo have no beards, while bison have beards).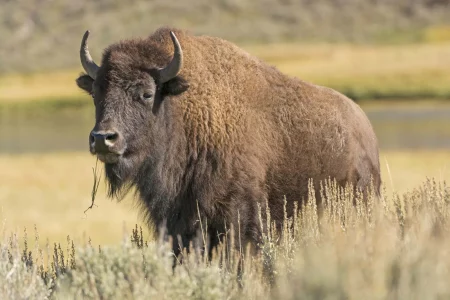 Bison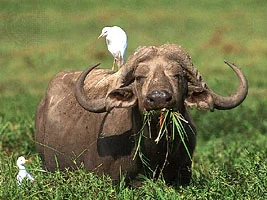 Buffalo
Despite lyrics in the song "Home On The Range" contending Buffalo roam in North America, this is not the case. Instead, buffalo are indigenous to South Asia (water buffalo) and Africa (Cape buffalo). While bison are found in North America and parts of Europe. But, thanks to the popularity of "Home On The Range", the confusion persists.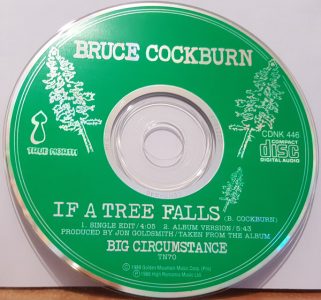 "If A Tree Falls" peaked at #16 in Burnaby (BC) and #18 in Montreal. On the Canadian RPM Singles chart, "If A Tree Falls" climbed to #8.
In the 1990s, Bruce Cockburn charted four more singles into the Canadian Top 40 with "A Dream Like Mine", "Great Big Love", "Listen For The Laugh" and "Night Train". Over the years, Cockburn's music drew in Latin, rock and reggae beats, layered over folk lyrics. In 2001 Cockburn performed as part of the Music Without Borders concert, a benefit for the United Nations Donor Alert Appeal, which raised funds for refugees from Afghanistan, at the Air Canada Centre in Toronto.
In 2014, Bruce Cockburn released his memoir, Rumours Of Glory. In 2018, Cockburn's album Bone on Bone, was named Contemporary Roots Album of the Year at the Juno Awards. Over the years, Bruce Cockburn has been an advocate raising awareness of the plight of child soldiers, expressing concern for the environment, banning land mines, and the welfare of indigenous peoples. The latter includes his concern for the land claims of the Haida Gwaii.
Bruce Cockburn released his 28th studio album, O Sun O Moon, in May 2023.
September 23, 2023
Ray McGinnis
References:
He's right. Cows are part of environmental sustainability. The methane from cows is part of the natural carbon cycle that after 12 years breaks down into natural CO2 and water. Grass absorbs the CO2 by photosynthesis and the cycle starts again.

— James Melville (@JamesMelville) September 1, 2023

"Bison," Wikipedia.org.
"Great Bear Rainforest," Wikipedia.org.
"Lambir Hills National Park," Wikipedia.org.
"Gunung Muli National Park," Wikipedia.org.
"Tapanti National Park," Wikipedia.org.
"Central Amazon Conservation Complex," UNESCO.
Bruce Cockburn, Rumours Of Glory, HarperOne, 2014.
"Yellowstone Buffalo Slaughter History," Buffalo Field Campaign.
"What's the Difference Between Bison and Buffalo?," Encyclopedia Britannica.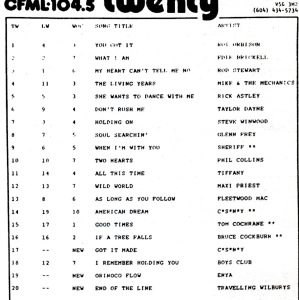 CFML, Burnaby, BC, Top 20 | February 27, 1989