#1078: (If'n You Don't) Somebody Else Will by Monica Lewis
Peak Month: May 1957
15 weeks on Vancouver's CKWX chart
Peak Position #16
Peak Position on Billboard Hot 100 ~ did not chart
YouTube.com: "(If'n You Don't) Somebody Else Will"
Lyrics: "(If'n You Don't) Somebody Else Will"
May Lewis was born in Chicago in 1922. Her father Leon, was a musical director for CBS and her mother, Jessica, sang with the Chicago Opera Company. Lewis began to take singing lessons in her childhood. She overcame early poverty and capitalized on lucky breaks. She was discovered by Benny Goodman. Miss Lewis was studying at Hunter College when she was hired as a $25-a-week vocalist on a radio wake-up program called Gloom Dodgers to help support the family. She soon had her own radio show, Monica Makes Music. Then she won the part of a singing cigarette girl in the short-lived Broadway show Johnny 2×4, starring alongside a very young Lauren Bacall.
That led to an engagement at the Stork Club, where she could perform but was not old enough to buy a drink. She left school and changed her name from May to Monica, which she considered sexier. In 1946 she told the newspaper, PM, "I feel much more like Monica and I look much more like Monica, too."
Lewis crooned "Put the Blame on Mame" and "Autumn Leaves". As 'America's Singing Sweetheart' she performed with Frank Sinatra, Dean Martin and Jerry Lewis. She was wooed by Ronald Reagan, but rejected his marriage proposal. Monica Lewis appeared in numerous films and on television.
In Dean Lamanna's 2011 autobiography about Monica Lewis titled Hollywood Through My Eyes: The Lives & Loves of a Golden Age Siren, Lewis recalled that in 1943 Leonard Feather, the jazz pianist and critic, tipped her off that Benny Goodman urgently needed a singer because Peggy Lee had eloped with the band's guitarist, Dave Barbour. She took the subway to the audition in Times Square. "There were 300 girls there…. My knees were shaking. He stopped most of them after four bars. He let me sing the whole song. He said, 'O.K., kid, come back at 7:30 tonight.' You couldn't get a better start." She sang with Goodman's orchestra on the Astor Hotel roof, but her parents balked at an out-of-town tour because they said she was too young.
She sang with band leaders Artie Shaw, Duke Ellingson and Ray Bloch in the mid-1940s. She pitched products ranging from Burlington Mills hosiery (as Miss Leg-O-Genic) to Camel cigarettes. In 1947 Monica Lewis became the rhapsodic voice behind the Chiquita brand's animated banana commercials. The advertisements were intended to educate consumers about how to ripen and serve what was then an exotic tropical fruit: "Bananas like the climate of the very, very tropical Equator — so you should never put bananas in the refrigerator." Her anthropomorphic banana commercial with the Latin beat was, as her website says, "oh-so-a-peelin' " that Chiquita broadcast it for 14 years.
In 1947 Monica Lewis introduced The Daily News columnist, Ed Sullivan, to her brother, Marlo Lewis. She proposed they produce a variety show on CBS to rival Milton Berle's on NBC. The show was initially named Toast of the Town. It premiered on June 20, 1948, and Miss Lewis was among the first guests, along with Martin and Mr. Lewis. The show would later be called The Ed Sullivan Show. During the Korean War, Monica Lewis entertained United States Army soldiers in Korea, along with Danny Kaye. She'd sing on a radio show for the soldiers that was broadcast to listeners back in America. She urged listeners to purchase Defense Bonds (U.S. Savings Bonds)
Monica Lewis released around a dozen singles between 1950 and 1958. Her songs were traditional pop in an era of pronounced change embracing rock 'n roll and rhythm and blues. She released songs like "Stay After School" in 1956 which were passed over by record buyers opting for hits by newer stars like Fats Domino, Elvis Presley and The Platters.
A story in the news gave Monica Lewis one more chance at a hit single and a role in a Hollywood movie. On the night of April 8, 1956, the Ribbon Creek incident occurred. Staff Sergeant Matthew McKeon, a junior drill instructor at the Marine Corps Recruit Depot Parris Island, South Carolina, marched his assigned platoon of 74 recruits into Ribbon Creek, a swampy tidal creek. The incident resulted in the deaths of six US Marine Corps recruits: Private Thomas Curtis Hardeman, Private First Class Donald Francis O'Shea,Private Charles Francis Reilly, Private Jerry Lamonte Thomas, Private Leroy Thompson and Private Norman Alfred Wood. McKeon, a World War II and Korean War veteran, was found guilty of possession and use of alcoholic beverage.
Following the Ribbon Creek incident at Parris Island, the Marine Corps was deluged for requests from various producers to make films exploiting the incident. However, the 1957 film The D.I., directed and starring Jack Webb as the title character, was made to represent the US Marine Corps's view on the need for high pressure basic training. The film premiered at Parris Island in May 1957 and was shown during the training of Marine Corps Drill Instructors. Webb's Drill Instructor, Technical Sergeant Jim Moore, neither used profanity or physically struck his recruits, unlike Staff Sergeant Matthew McKeon.
The film's plot set on Parris Island, concerned Drill Instructor, Jim Moore, who has a thorn in his side, Private Owens, who always caves in when the pressure is on. Convinced he can make Owens into a Marine, Moore pushes Owens to the point of desertion. Owens' mother makes a trip to the Marine Corps Recruit Depot to beg the Corps to keep her son in order to make a man out of him. In the film, a sign outside the Marine Corps office reads "Let's be damned sure that no man's ghost will ever say "If your training program had only done it's job." Singer Monica Lewis provided a musical interlude, performing the provocative song "(If'n You Don't) Somebody Else Will", backed by the Ray Conniff orchestra and chorus. As the screenplay made no mention of the incident of Ribbon Creek and gave a positive view of the Marine Corps, the Marines enthusiastically cooperated with Webb providing many technical advisers and actual Marines to appear in the film as Marines, who at one point whistle along as Monica Lewis sings her song. Her song takes place at a club on Parris Island where Drill Instructor Moore takes a break from the pressures of running his platoon.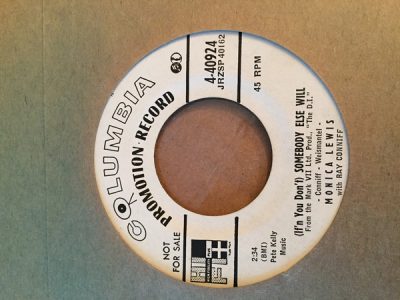 "(If'n You Don't) Somebody Else Will" was a song that mirrored part of the plot in the movie The D.I. The song concerns making it plain that unless a guy gets the nerve to start making out and being the real McCoy, the real thing will come along and she'll have moved on with a man who knows how to squeeze her real tight and give her a thrill. In the film, Private Owens crumbles in the face of various training exercises. The song Monica Lewis sang underscored the need for men to grow up to be a man and do what is required of them to show they have the right stuff.
The D.I. was the sixth film Monica Lewis starred in during the 50s. It would not be until 1973 that she again appeared in film, starring in a dozen movies between 1973 and 1988. Often they were disaster films like Earthquake, Airport '77 and Roller Coaster, as well as others like The Sting II and the comedy-horror movie Dead Heat. Lewis died in 2015 at the age of 93 in Los Angeles.
June 1, 2017
Ray McGinnis
References:
Monica Lewis bio, Monica Lewis.com
Lewis, Monica and Lamanna, Dean. Hollywood Through My Eyes: The Lives & Loves of a Golden Age Siren. Cable Car, 2011.
Monica Lewis (vocal), Chiquita Banana commercial, 1947
Monica Lewis, Camel cigarettes commercial, 1943
The D.I. 1957
Monica Lewis, Guest Star, United States Army, November 18, 1951
Stevens, John C. Court-Martial at Parris Island: The Ribbon Creek Incident. Columbia: University of South Carolina Press, 2007.
Alvarez, Eugene. Parris Island: Once a Recruit, Always a Marine. The History Press, Charleston, South Carolina, 2007.
"Top Fifty Songs of the Week," CKWX 1130 AM, Vancouver, BC, May 26, 1957.
For more song reviews visit the Countdown.