#1222: Igmoo by Stonewall Jackson
Peak Month: October 1959
5 weeks on Vancouver's CFUN chart
Peak Position #9
Peak Position on Billboard Hot 100 #95
YouTube.com: "Igmoo (The Pride of South Central High)"
Lyrics: "Igmoo (The Pride of South Central High)"
In 1959 country and western singer, Stonewall Jackson, had a Top Ten hit in the spring of that year called "Waterloo" that spent 13 weeks on the record survey on CKWX peaking at #4. Jackson was born in Tabor City, North Carolina, about 35 miles northwest of Myrtle Beach, South Carolina, on the border dividing the Carolinas. After serving for four years in the US Navy, Stonewall Jackson moved to Nashville and in time he got an audition with the Grand Ole Opry. He got a break when he recorded a song written by George Jones called "Life To Go". The song Stonewall Jackson sung was from the perspective of a murderer who has been in jail for eighteen years and will remain for life. It peaked in 1958 at #2 on the Billboard Country chart.

Stonewall was named after the Confederate General Thomas "Stonewall" Jackson. After the US Civil War of 1861-65, Stonewall Jackson became an iconic figure of the Lost Cause of the Confederate South and a romantic view of slavery most famously portrayed in the movie Gone With the Wind. This view held that with slavery, slaves were 'family' and slavery was just a way of bringing Christianity to illiterate negroes and providing them a better way of life prior to the Civil War than after African-Americans gained the right to be free from slavery. General Stonewall Jackson is remembered throughout the states of the Old South, including West Virginia's Stonewall Jackson State Park, and in Virginia's state holiday, Lee-Jackson Day. The towns of Stonewall in Virginia, North Carolina, Alabama, Mississippi, Louisiana, Oklahoma, Texas and Kentucky are named in his honor, as are Jackson County in Oklahoma and Stonewall County in Texas. Country singer Stonewall Jackson's being named after a Confederate general was all part of a way of honoring the "noble cause" of the South against the greedy North during the Civil War. Stonewall was not an uncommon name given to a male child in the Deep South after the Civil War and during the years of Jim Crow and racial segregation.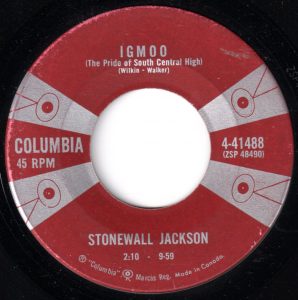 Who names a child Igmoo? Unlike Stonewall Jackson who was named after a Confederate general, his song about Igmoo is an enigma. A search for baby names on several sites results in a "no name found" outcome for Igmoo. Is Igmoo just an very rare name for someone who might live in the back country in the Deep South? Did Igmoo seem like a funny name to tell a story about someone who may have lived in an igloo? Is Igmoo meant to be a cartoonish character? All we can tell from the song is that he looks like the reddish-brown orangutan, an ape cousin of the gorilla. This might come in handy as he was formidable on the football field. Igmoo saves the day when he plays football for South Central High School. He athletic skills and more have all the girls in the school all doing backflips. At the very least, Igmoo was exotic and very kissable. The song peaked at #95 on the Billboard Hot 100, but it climbed into the Top Ten to #9 in Vancouver on the CFUN chart.
In 2017, "Igmoo" likely wouldn't fly as a single on the radio in our more politically correct era. Of course, Igmoo's name might just be a puzzle evoking vague discomfort for native people's from the Arctic region or some rural folks. Otherwise, the song is simply about a high school football hero who's got the opposite sex in a whirl. In a USA Today article, 20 Politically Incorrect Songs that'd be Wildly Controversial Today, the writers list other pop songs from the Rock 'n Roll era that are more problematic. These include "Under My Thumb" by the Rolling Stones. Maeve McDermott and Patrick Ryan point to the lyrics: "Under my thumb, the squirmin' dog who's just had her day / Under my thumb, a girl who has just changed her ways." In highlighting why the song wouldn't fly today, they complain: "Another disgusting entry in the Stones' songbook, the song about a woman who's been molded to "talk when she's spoken to" is an embarrassment for even existing." Among the other songs they review is "He Hit Me (It Felt Like a Kiss)" by The Crystals from 1962. The choice lyric they highlight is "He hit me and it felt like a kiss / he hit me and I knew he loved me" McDermott and Ryan explain the reason the song wouldn't fly today as follows: "Gerry Goffin and Carole King were inspired to write the doo-wop ballad by the tragic true-life story of singer Little Eva, who told them that her boyfriend's beatings were motivated by love. But without context, lyrics such as "he hit me and I was glad" are an off-putting endorsement of domestic abuse."
Stonewall Jackson pretty much disappeared from the pop charts after "Igmoo". However, between 1958 and 1971 he had 35 Top 40 hits on the Billboard Country charts. This included his teen tragedy tune "BJ the DJ" that went to #1 on the country charts in 1964. It was a song about a guy working at a radio station who worked too hard, was sleep deprived and drove too fast on the highway. When his wheels spin out of control, the fatal accident ends BJ's life and he never spins another record.
Stonewall Jackson has been a member of the Grande Ole Opry since 1956 and settled a lawsuit out-of-court against the Opry for age discrimination in 2008. He became a member of the North Carolina Music Hall of Fame in 2012. In a 2014 interview with the Memphis Daily News, Stonewall Jackson was pictured at the door of his home on a 29-acre ranch looking over Lake Waterloo. He has many fans who still drive up to his home for a photo op.
January 11, 2017
Ray McGinnis
References:
Tim Ghianni, Stonewall Jackson's Little Slice of Heaven in Brentwood, Memphis Daily News
Stonewall Jackson bio, Grand Ole Opry.com
Randy McDaniel, Stonewall Jackson is one of the Great Names and Artists in Country Music History, KXRB, Sioux Falls, South Dakota, November 14, 2015
Gerald Hodges, Legendary Singer Still Loves Hank, Hank Williams Festival.com, April 5, 2013
Stonewall Jackson, "BJ the DJ," 1964
Maeve McDermott and Patrick Ryan, 20 Politically Incorrect Songs that'd be Wildly Controversial Today, USA Today, April 12, 2018.
"Hi-Fi Forty," CFUN 1410 AM, Vancouver, BC, October 23, 1959
For more song reviews visit the Countdown.