#939: I'm A Boy by The Who
Peak Month: February 1967
8 weeks on Vancouver's CKLG chart
Peak Position #4
Peak Position on Billboard Hot 100 ~ did not chart
Peak Position on Record World ~ #149
YouTube.com: "I'm A Boy"
Lyrics: "I'm A Boy"
The Who are an English band who emerged in 1964 with singer Roger Daltry, guitarist Pete Townshend, bassist John Entwistle, and drummer Keith Moon. The band enjoyed popular singles, such as "I Can See For Miles," "Pinball Wizard" and "Won't Get Fooled Again". In Vancouver the band had eleven Top Ten hits, while in the UK they charted fourteen singles into the Top Ten, but in America they only charted one single, "I Can See For Miles", into the Billboard Hot 100. The band were innovators of new genres in rock n' roll with their rock operas Tommy and Quadrophenia. The Who early on were known for outlandish antics on stage. At the Railway Hotel in Wealdstone, England, in June, 1964, Peter Townshend destroyed his guitar on stage and smashed it into other instruments. The Who stand alongside The Beatles and The Rollings Stones as among the most influential rock bands from Britain. They had their first Top Ten single in the UK and in Vancouver in 1965 titled "I Can't Explain", which peaked at #8 in the UK and #2 in Vancouver.
Roger Daltry was born in East Acton, a suburb of London, in 1944. He learned how to play guitar and became the lead singer and lead guitarist for a skiffle band called The Detours, in 1959. He worked as a sheet metal worker by day and musician by night. After their first hit single Daltry's bandmates in The Who kicked him out of the band after he beat up Who drummer Keith Moon for providing drugs to Pete Townshend and John Entwistle. Daltry had to assess his strategy for dealing with conflict with others. Seven days later, Daltrey was allowed to return to the band, but he had to be put on probation. Daltry swore that he wouldn't be physically violent anymore. He later reflected, "I thought if I lost the band I was dead. If I didn't stick with The Who, I would be a sheet metal worker for the rest of my life."
Peter Townsend was born in West London in 1945. Born into a musical family, Townshend learned to play guitar at the age of eleven. He and a schoolmate, John Entwistle, formed a traditional jazz group called the Confederates where Townshend played banjo and Entwistle played horn. John Entwistle joined Roger Daltry's band, The Detours, in 1961. And soon after suggested Pete Townsend join the band. In 1964 there was another regional band named The Detours and so Daltry's band came up with a new name, The Who.
John Entwistle was born in Cheswick, a suburb of London. From the age of seven be began to learn piano and then went on to learn the trumpet, French horn and guitar. He played with Pete Townsend in the Confederates and later joined Roger Daltry's band, The Detours, in 1961.
Keith Moon was born in 1946 in Central Middlesex and grew up in the Greater London suburb of Wembley. He initially learned the bugle while in Sea Cadets at the age of twelve, but soon moved on to learn the drums. He was part of a band in the early 60s called The Escorts, but by the end of 1962 Moon had moved on to join the instrumental band, The Beachcombers. At age seventeen he auditioned for and got the position as drummer for The Who.
In early 1966 The Who charted "My Generation" to #2 in the UK, #18 in Vancouver, but only #74 on the Billboard Hot 100 in the USA. Several more singles that did well in the UK failed to make a dent on the Vancouver charts until the release of "I'm A Boy". The song had been released in the UK in July 1966 and climbed to #2 on the British charts. In Vancouver the song managed to peak at #4. This was unique in both Canada and the USA, as it failed to chart on the Billboard Hot 100 and its charting on the Canadian RPM singles chart to #23 was due largely to its performance on the Vancouver charts.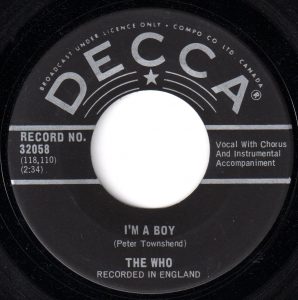 "I'm a Boy" was written in 1966 by band member Pete Townshend. Similar to other Who early recordings like "Happy Jack", the song's composition reflects an early example of the power pop genre. The song was originally intended to be a part of a rock opera called Quads which was to be set in the future where parents can choose the sex of their children. That idea for a rock opera was later scrapped, but "I'm A Boy" survived and was later released as a single. The song explains part of the plot in Quads about a family who "order" four girls, but a mistake is made and three girls and one boy are delivered instead. The boy dreams of partaking in sports and other boy-type activities, but his mother forces him to act like his sisters and refuses to believe the truth: "I'm a boy, I'm a boy, but my Ma won't admit it."
The idea for Quads bears no relation to The Who rock opera Quadrophenia, released in 1973. The plot for the latter concerned a young working-class mod named Jimmy. He likes drugs, beach fights and romance, and becomes a fan of the Who after a concert in Brighton, but becomes bitter due to his parents' regard for him, boring jobs and a disenchanting session with a psychiatrist. Jimmy argues with his parents over his drug habit. Jimmy has poor self-esteem and leaves a job as a dustman just two days after he's hired. Though Jimmy is happy to be a mod, he struggles to keep up with his peers. Sensing Jimmy's lack of self-worth, his girlfriend ditches him for his best friend.
In 2016 there was a custody ruling in England concerning a child named J. The mother had been dressing her son entirely in girl's clothing. On October 21, 2016, the Daily Mail reported on the Family Court case in their story, "Judge Orders Boy, Seven, to Live With Father After his Mother Raised Him as Her Daughter." Hailing from an ordinary suburb of a northern city, the child, known only as J, was forced to live to as a girl from infancy. Raised by an ostensibly loving but sometimes 'abusive and bombastic' mother, the child regularly appeared at school in a pretty dress, with a pink hairband and painted nails…. Yesterday the judge said J was now interested in more traditional boys' things. 'I have noted from reports that [the boy] has become interested in Power Rangers, SpongeBob, superheroes and is constantly finding new interests,' he said. 'It is striking that most of [the boy's] interests are male-oriented. I am entirely satisfied, both on the basis of the reports and [the father's] evidence, that he has brought no pressure on [the boy] to pursue masculine interests. [The boy's] interests and energy are entirely self-motivated.' The judge heard that when quizzed by concerned teachers, his mother told them her son was 'happy' to look like a girl. Yet the teachers noticed he didn't 'display any differences to the other boys' in class. When a visiting teacher confused him for a girl, J asserted in front of the entire class: 'No, I am a boy.'
Numbers of the hits by The Who in 1966-67 dealt with issues concerning the younger generation. In "My Generation", the singer laments "I hope I die before I get old." In "The Kids Are Alright" the lyrics concern the need for time apart in a relationship, "If I don't leave I'll go out of my mind." "Substitute" was about a young man who feels like a fraud, while "I'm A Boy", was about a boy dressed as a girl. "Happy Jack" was about a mentally disturbed young man and "Pictures of Lily" was about a young man fixated on a late 19th Century pin-up poster of a woman given to him by his father. The early singles, all written by Townshend, addressed the themes of sexual tension and teenage angst.
On July 17, 1967, The Who appeared in concert in Vancouver at the Agrodome. The band returned to Vancouver on March 1, 1968, at the Garden Auditorium at the PNE.
Other Top Ten hits in Vancouver by the Who include "Call Me Lightning", "Summertime Blues", "See Me, Feel Me", "Won't Get Fooled Again", "Squeeze Box" and "You Better You Bet". The Who returned to Vancouver after a 12-year absence on April 14, 1980, at the Pacific Coliseum.
Drummer, Keith Moon, died in 1978 and was replaced by Kenny Jones through to 1988. The band appeared in concert in Vancouver at the BC Place Stadium on August 19, 1989. The Who have released eleven studio albums, their last in 2006. They continue to perform in concert and came to the Rogers' Arena in Vancouver on October 17, 1996; October 8, 2006; May 13, 2016, and October 21, 2019.
December 5, 2017
Ray McGinnis
References:
The Story of The Who, The Who.com
Josh White and James Tozer, "High Court Sends Boy to Live With Father After his Mother Raised Him as Her Daughter," Daily Mail, UK, October 21, 2016.
Andy Greene, The Who Bio, Rolling Stone.com
Ritchie Unterberger, I'm A Boy – The Who, All Music.com.
"Boss 40," CKLG 730 AM, Vancouver, BC, February 11, 1967.
For more song reviews visit the Countdown.