#528: I'm A Man by the Yardbirds
Peak Month: November 1965
9 weeks on Vancouver's CFUN chart
Peak Position #2 on CFUN
CFUN Twin Pick Hit ~ October 16, 1965
Peak Position on Billboard Hot 100 ~ #17
YouTube.com: "I'm A Man"
Lyrics: "I'm A Man"
The Yardbirds are an English rock band that had a string of hits in the mid-1960s, including "For Your Love," "Shapes Of Things" and "Heart Full Of Soul." The group is notable for having started the careers of three of rock's most famous guitarists: Eric Clapton, Jeff Beck, and Jimmy Page. During their brief five years, from 1963 to 1968, they set the pace for a lot of the innovations to come in rock 'n roll into the 1970's. The Yardbirds experimental explorations also provided the crucial link between British R&B, Psychedelic Rock, and Heavy Metal, while pioneering the use of innovations like fuzz tone, feedback and distortion. With this fusion, and harmonica riffs, they inspired the musical styles of contemporary American bands like The Count Five who had a #1 hit in Vancouver in 1966 called "Psychotic Reaction." When Jimmy Page left The Yardbirds to form the New Yardbirds, that band was quickly renamed Led Zeppelin.
The Yardbirds were formed by drummer and backing vocalist, Jim McCarty (1963–1968, 1982–1983, 1992–present), lead vocalist, harmonica an rhythm guitar player Keith Relf (1963–1968), rhythm guitar and bass player Chris Dreja (1963–1966, 1982–1983, 1992–2013), bass player and backing vocalist Paul Samwell-Smith (1963–1966, 1983) and lead guitarist and backing vocalist Eric Clapton (1963–1965). Clapton had replaced the short-lived involvement of Anthony "Top" Topham back in 1963. In 1965 Jeff Beck was an addition playing lead guitar, rhythm guitar and backing vocals (1965–1966) after Eric Clapton left the band. While on an American tour in 1966, Beck was fired as he kept failing to appear in concert. Consequently, Jimmy Page, who had recommended Beck to replace Eric Clapton, ended up replacing Jeff Beck. Page contributed lead guitar and bass (1966–1968).
Jim McCarty was born in Liverpool in 1943 and moved to London with his family at the age of two. He met Paul Samwell-Smith at school. Samwell-Smith, born in Greater London in 1943, was part of a band called the Metropolitan Blues Quartet with Keith Relf. Also born in London in 1943, Keith Relf wrote numbers of the Yardbirds most successful hits including "Shapes Of Things" and "Over, Under, Sideways, Down." He also wrote "Dazed And Confused," a song that was later recorded by Led Zeppelin. Chris Dreja was born in Greater London in 1945. By the age of 17, he joined the Yardbirds playing rhythm guitar and bass guitar.
Eric Clapton was born in the village of Ripley in the county of Surrey in 1945. Clapton began to learn the guitar at the age of 13. Four years later he joined the Roosters, a British R&B group. While Clapton joined the Yardbirds, hoping they would be a serious blues band, when they released "For Your Love" as a pop single in 1965, he left the band.
Jeff Beck was born in Greater London in 1944. He sang in a church choir at the age of ten and began to play guitar when he was 13 years old. From the age of six he was influenced by Les Paul, the lead guitarist in Gene Vincent's band, Cliff Gallup, and the blues sensation B.B. King. Beck was part of two R&B British bands in '63-64 named Nightshift and The Tridents.
Jimmy Page was born in 1944 in the village of Huston, on the edge of Greater London. He was influenced by B.B. King, Elmore James and Otis Rush. At the age of 13 Page appeared in 1957 on a children's talent show called All Your Own. Page's first session work was as a rhythm guitarist on an instrumental single titled "Diamonds" by Jet Harris and Tony Meehan. The single climbed to #1 on the UK pop chart in January 1963 and spent three weeks in the top spot. Page continued to do session work as a guitarist on "I Can't Explain" for The Who, "Tobacco Road" for the Nashville Teens, "Here Comes The Night" for Van Morrison and Them, "Downtown" for Petula Clark, "Heart Of Stone" for the Rolling Stones and others.
In 1965 The Yardbirds had two Top Ten hits on the Billboard Hot 100, "For Your Love" and "Heart Full Of Soul". The former peaked at #3 in Vancouver, but the latter stalled at #17. Their next single release, "I'm A Man", reversed the chart success with the tune climbing to #2 in Vancouver, but stalling at #17 on the Hot 100.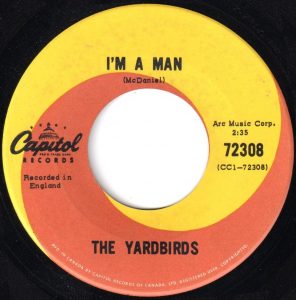 "I'm A Man" was written by Bo Diddley in 1955 and later became the B-side to his number one hit, "Bo Diddley", that year on the Billboard R&B chart. "I'm A Man" contains erotic lyrics about childhood curiosity and sexual discovery: "Now when I was a little boy/At the age of five/I had somethin' in my pocket/Kept a lot of folks alive." What's in his pocket are his male genitals. In the song, now that this little boy has grown up, he makes love to women "in an hour's time," while more of them "stand in line." The song was for some, an inference to male escorts, though preachers at the time pointed to the song as one example of the debauchery of R&B music, which, like rock 'n roll, led to sex. Other songs that were banned on some radio stations included "Sixty Minute Man" by Billy Ward and the Dominoes, "Honey Love" by Clyde McPhatter and the Drifters, "Work With Me Annie" by Hank Ballard and the Midnighters and "Great Balls Of Fire" by Jerry Lee Lewis.
Bo Diddley was born in 1928 with the birth name Ellas Otha Bates. His hometown of McComb, Mississippi, was a town of under 10,000, with two-thirds of the population African-American. Bates was adopted and raised by his mother's cousin, Gussie McDaniel, and was given their surname. In 1934, the McDaniel family moved to the South Side of Chicago. At the age of six, he dropped his middle name, Otha, and became Ellas McDaniel. During his childhood he began to play the trombone and violin. But it was at age 10 that he was taken with R&B music and was given his first guitar as a Christmas present.
In 1943 Elias McDaniel was working at the Maxwell Street Market in Chicago as a street performer, while he was still 14-years-old. He returned to perform at the market the following summer. In addition to school, Elias got odd jobs as a mechanic and a carpenter. His childhood friend, Earl Hooker, began to play in his own band called the Langley Avenue Jive Cats in 1942, when he was 12-years-old. Elias McDaniel joined the band in 1943.
In 1951, Elias McDaniel was given a regular gig at the 708 Club in Chicago. In early 1955, Phil and Leonard Chess offered Diddley a recording contract with Checker Records. This was the companion label to Chess Records, that Chuck Berry had recently been signed up with. Diddley had titled his debut single "Uncle John". However, Phil and Leonard Chess persuaded him to go back to the drawing board find a more unique title. He came up with "Bo Diddley". Diddley is a slang word from "diddly squat", which means "absolutely nothing." The Chess brothers liked the song title and also suggested that Elias McDaniell change his stage name to Bo Diddley. The single, "Bo Diddley" by Bo Diddley, was released on May 11, 1955. The B-side was "I'm A Man". "Bo Diddley" climbed to #1 on the Billboard Rhythm and Blues singles chart in June 1955. It had a chart run for 15 weeks and was one of the Top Ten singles on the chart for four months. It ranked at #17 for the year-end R&B singles chart for 1955. He performed "Bo Diddley" on the Ed Sullivan Show on November 17, 1955.
In a Rolling Stone magazine interview in 1987, Bo Diddley stated that "I'm A Man" took a long time to record because of confusion regarding the timing of the "M … A … N" vocal chorus." Bo Diddley's original "I'm a Man" is ranked number 378 on Rolling Stone magazine's list of "The 500 Greatest Songs of All Time" in 2011.
Bo Diddley went on to record over forty singles between 1955 and 1976. His biggest charting single on the Billboard Hot 100 was "Say Man" in 1959, which peaked at #20 and #27 in Vancouver (BC). In the early 70s Bo Diddley was one of the performers who appeared at a rock 'n roll revival show at the Pacific Coliseum in Vancouver (BC). Other performers on the bill included The Shirelles and the Dovells. Chuck Berry was supposed to perform, but a riot started before he went on stage, after a considerable break in on stage programming.
Bo Diddley has been inducted into the Rock and Roll Hall of Fame, Rockabilly Hall of Fame, Blues Hall of Fame and Rhythm and Blues Music Hall of Fame. In 1996, Diddley released A Man Amongst Men, his first major label album with guest artists like Keith Richards, Ron Wood and the Shirelles. The album earned a Grammy Award nomination in 1997 for the Best Contemporary Blues Album category. In 1998 he received a Grammy Lifetime Achievement Award. And in 1999 his recording of "Bo Diddley" was inducted into the Grammy Hall of Fame. He died in 2008.
Meanwhile, the Yardbirds version of "I'm A Man" peaked at #1 in Los Angeles and San Bernardino (CA), #2 in Vancouver (BC), San Antonio (TX) and Tucson (AZ), #3 in Sacramento (CA), #5 in San Diego and Lansing (MI), #6 in Boston, Syracuse (NY) and Austin (TX), Winnipeg (MB) and Newport News (VA), #7 in Louisville (KY) and #9 in Orlando (FL).
Their followup hit in early 1966 was "Paff…Bum", a #5 hit in Italy. Their subsequent release was "Shapes Of Things".
"Shapes Of Things" became the Yardbirds only #1 hit in Vancouver, peaking at #11 on the Billboard Hot 100 in March 1966. The band had another Top Ten hit in Vancouver with "Over Under Sideways Down" in July '66, while it missed the Top Ten on the Hot 100 in the USA. Jeff Beck was fired from the band after this single release and replaced by Jimmy Page.
"Happenings Ten Years Time Ago" was the first single by the British rock band The Yardbirds to feature Jimmy Page on guitar. "Happenings Ten Years Time Ago" was also the first of three recordings pairing Page with incumbent lead guitarist Jeff Beck, before the latter was fired for no-shows while on tour in the USA. In addition to Jeff Beck and Jimmy Page in the recording studio for the song, future Led Zeppelin bassist John Paul Jones played on bass for the recording instead of regular Yardbirds bandmate Chris Dreja. The song was recorded in July and completed in September 1966. It was a #6 hit in Vancouver in December 1966.
Beck and Page also were in the recording studio for "Stroll On." That tune was included in the film Blow Up and received a lot of air play on AM radio in Vancouver over the winter of 1966-67, though the non-single track from the film which wasn't released as a single didn't chart. The Yardbirds also appeared in the film Blow Up, which they shot between dates on their 1966 UK tour with the Rolling Stones, Ike & Tina Turner and Long John Baldry. In the fall of 1966 The Yardbirds flew to America to appear at the Filmore West in San Francisco, an episode of American Bandstand and go on tour with the Dick Clark's Caravan of Stars.
On July 31, 1967, the Yardbirds appeared in concert in Vancouver (BC) at the Kerrisdale Arena.
Harry Nilsson's "Ten Little Indians" was recorded by The Yardbirds. It only reached #96 on the Billboard Hot 100. It did not chart in the UK. But in November 1967 it peaked at #7 in Vancouver. Yardbirds band members Chris Dreja and Jim McCarty do not appear on this track. Yardbirds guitarist and producer Jimmy Page invented the audio effect known as reverse echo while recording "Ten Little Indians".
The Yardbirds performed on November 10th and 11th, 1967, at the PNE Garden Auditorium in Vancouver.
The band released one more single, "Goodnight Sweet Josephine" which stalled at #127 below the Billboard Hot 100 in the spring of 1968.
The Yardbirds had one final tour to the USA in the spring of 1968 ending on June 5th. Then they split up. Jimmy Page went on to form Led Zeppelin. Jim McCarty and Keith Relf formed an acoustic group that lasted through 'til 1976 when Relf died from an electrical accident in his home recording studio. Chris Dreja mostly pursued a career as a photographer over the next decade. After he left The Yardbirds, Eric Clapton formed the rock band Cream. From there he formed Blind Faith, and then joined Delaney, Bonnie and Friends. Clapton next formed Derek & The Dominos. From these successes, Clapton went on have a successful solo career including the release of 22 studio albums. Jeff Beck went solo after The Yardbirds and to date has released 17 studio albums.
In the 1980s McCarty, Dreja and Samwell-Smith formed a short-lived but fun Yardbirds semi-reunion that included guest appearances of both Beck and Page. In 1992 McCarty and Dreja reformed The Yardbirds with some new musicians. At times Jeff Beck and Anthony "Top" Topham have played with the reformed band.
On February 22, 2009, the Yardbirds featuring Chris Dreja performed at Richards On Richards in Vancouver.
In 2017, the Yardbirds played three concerts with Vanilla Fudge around Florida. In January 2019, the Yardbirds performed during the Concerts At The Sea eight-day cruise from Fort Lauderdale (FL) to the Bahamas, Virgin Islands and St. Maarten. And from April 2-5, 2019, the Yardbirds performed on the Flower Power Cruise. Other performers included the Beach Boys, Tommy James and the Shondells, Jefferson Starship, the Lovin' Spoonful, Gary Puckett & The Union Gap, Melanie, the Box Tops, the Ides of March, and Chuck Negron (of Three Dog Night).
November 27, 2019
Ray McGinnis
References:
Michelangelo Antonioni, Blow Up, MGM, 1966 ~ Trailer
The Yardbirds biography ~ rolling stone.com.
The Yardbirds biography ~ theyardbirds.com.
"Flower Power Cruise," March 30 to April 6, 2019.
Bo Diddley ~ History, Bo Diddley.com.
Kurt Loder, "Bo Diddley: The Rolling Stone Interview," Rolling Stone, February 12, 1987.
"Song #378: I'm A Man by Bo Diddley," 500 Greatest Songs of All Time, Rolling Stone, 2011.
Rick Simmons, "10 Often-Censored Songs From the Early '50s," Rebeat Magazine, 2019.
"C-FUNTASTIC FIFTY," November 27, 1965, CFUN 1410 AM, Vancouver (BC).
For more song reviews visit the Countdown.