#1178: I'm A Stranger Here by the Five Man Electrical Band
Peak Month: June 1973
7 weeks on Vancouver's CKLG chart
Peak Position #13
Peak Position on Billboard Hot 100 ~ #76
YouTube.com: "I'm A Stranger Here"
"I'm A Stranger Here" lyrics
The Five Man Electrical Band was a Canadian mainstream rock band from Ottawa. They had an international hit in 1970 called "Signs". Les Emmerson was born in 1944. In 1963 the Staccatos were formed in Ottawa. The group included lead singer and local disc jockey Dean Hagopian. After some local hits they got the attention of Capitol Records. Other Staccatos bandmates included Vern Craig on guitar, Brian Rading on bass guitar and Rick Bell on drums and vocals. Meanwhile, Hagopian left the band by the end of 1964, and was replaced on lead vocals by Les Emmerson.
One of their 1965 singles imitated the surfing sound with "Moved To California". In 1966 their Top 40 hit on the Canadian RPM singles chart, "Let's Run Away", won the group the two Juno awards that year for Best Produced Single and Vocal Instrumental Group Of The Year.
In 1967 they released "Half Past Midnight" and the song peaked on the Canadian RPM singles chart at #8 in May 1967. It won them a JUNO award for Best Produced Single and got them gigs in the trendy music scene in the downtown Toronto neighborhood of Yorkville. Coca-Cola lined them up for some jingles and they shared one of two sides of an album in 1968 with The Guess Who called A Wild Pair.
After failing to chart in the USA the group changed their sound and their name to the The Five Man Electrical Band. Brian Rading suggested the name change. Les Emmerson had written a song called "Five Man Electrical Band" and Rading exclaimed that was exactly what the band was: Five Men – Les Emmerson, Rick Bell, Mike Bell, Ted Gerow and Brian Rading.
In 1969, they released a single titled "Sunrise To Sunset" which made it to #12 on CKLG in Vancouver.
In 1970 the band released an album called Good-byes and Butterflies. The cover of the album prominently displayed a marijuana plant. The ensuing controversy led to the album being withdrawn and given a different cover with a butterfly composed of neon lights. One of the tracks on the album was "Signs". It was initially the b-side of "Hello Melinda, Goodbye". But by accident, the sides were reversed, making "Signs" the A-side, which radio listeners started began calling DJ's for requests to hear it again. In 1971 "Signs" peaked at #3 on the Billboard Hot 100 and in Vancouver (BC). This was followed by "Absolutely Right" which peaked at #4 in Vancouver and reached the Top 30 in the USA. In the midst of these single releases, Les Emmerson won an out-of-court lawsuit against 4-Star regarding distribution of his catalogue.
Several more singles were released including "Juliana" in 1972. one of their 1973 single "I'm A Stranger Here", an anthem to environmental awareness.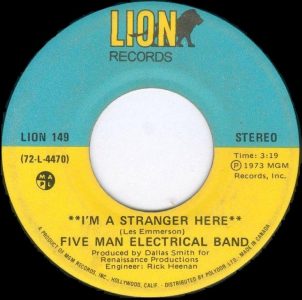 "I'm A Stranger Here" was the second single and only memorable hit from their fourth album, Sweet Paradise. The song has a stranger from outer space come to visit earth to find the planet in environmental danger. The lyrics reference the title of the album, when the stranger tells the earthlings they were living in paradise, warning that paradise won't come twice.
In Canada in the 1970s the environmental movement was on the rise. Greenpeace was founded in the city in 1971 and became a lightning rod for opposition to nuclear testing in the Pacific Ocean. A campaign to eliminate the use of chlorofluorocarbons, a key factor in the depletion of the ozone layer, in refrigerators. By the mid-80s the campaign had succeeded. In the 1970s there was a major concern for nature conservation centred on preserving wilderness and protecting unique areas or ecosystems as ecological reserves. Each Canadian province experienced a burst in the growth of local groups focusing on local conservation and environmental issues, and provincial naturalist and conservation federations became increasingly active and vocal. In a single decade, federal and provincial governments established ministries or departments of the environment, environmental protection Acts and environmental assessment legislation. In Canada, Acts passed provincially and federally to protect endangered species, were unique in the world. This was since they sought to protect rare or endangered species of all plants and animals, including insects such as the honey bee.
When the single was recorded, the band was made up of Les Emmerson (vocals, guitar), Rick Bell (vocals, drums), Ted Gerow (keyboards), Mike Bell (vocals, drums) and Brian Rading (bass guitar). At the end of the albums production, Mike Bell and Brian Rading left the band, actually making the remaining members a Three Man Electrical Band.
"I'm A Stranger Here" peaked at #5 in Toronto, #6 in Ottawa (ON), #8 in Hamilton (ON), #9 in Sault Ste. Marie (ON) and #13 in Vancouver (BC) on CKLG. In the USA it was a minor hit only climbing to #76 on the Billboard Hot 100. However, in regional markets in the USA it peaked at #4 in Cleveland (OH) and #8 in Sioux Falls (SD).
The band had one more notable hit called "Werewolf" in 1974. After that they disbanded while Les Emmerson pursued a solo career.
1986 was the year the Five Man Electrical Band got together to perform a benefit concert. However, the benefit concert led to yearly tours of Eastern Canada into the 2010s. In 2000, at the age of 56, Les Emmerson suffered a heart attack. Thankfully, a stent procedure was successful. In 2008, The Canadian Songwriters Hall of Fame inducted Les Emmerson, primarily for his composition of "Signs", a song he was first inspired to write while driving down Route 66.
In 2015 Emmerson gave a concert as a fundraiser for the Ottawa Aphasia Center and Manotick United Church's community outreach activities. Terry McGovern, organizer of the concert said of Les Emmerson: "He's backed up Chuck Berry and he's played around the pool at Linda Ronstadt's house. The guy lived in Los Angeles for 10 years and he and his band were top musicians, so he's seen everything twice. He has a genuine story to tell and a love of storytelling and is very great at telling stories."
On June 8, 2016, the Five Man Electrical Band lost bass player, Brian Rading, who died weeks short of his 70th birthday.
February 17, 2017
Ray McGinnis
Update: Les Emmerson died on December 2021 at the age of 77. See Ottawa Citizen article below for details.
References:
Emmerson Settles Suit, Billboard, November 11, 1972
The Staccatos, "Moved To California,"1965
The Staccatos, "Let's Run Away," 1966
The Staccatos, "Half Past Midnight," 1967
Les Emmerson inductee: "Signs," Canadian Songwriters Hall of Fame, 2008.
"Five Man Electrical Band: Rock Band Formed in Ottawa as The Staccatos," The Canadian Encyclopedia.ca, December 16, 2013.
"Proudly Canadian: The Five Man Electrical Band," Cashbox Canada, July 31, 2014.
Megan DeLaire, "Les Emmerson Returns to Manotick," Hamilton Spectator, November 5, 2015.
Kelly Egan, "Egan: Five Man Electrical Loses Original Bass Player, Local Rock Pillar," Ottawa Citizen, Ottawa, ON, June 16, 2016.
Leanne Cusack, "Ottawa rock and roll royalty, songwriter of 'Signs' Les Emmerson dead at 77," Ottawa Citizen, December 12, 2021.
"CKLG 'Thirty'," CKLG 730 AM, Vancouver, BC, June 1, 1973.
For more song reviews on this website visit the Countdown.