#146: I'm Gonna Knock On Your Door by Eddie Hodges
"I'm Gonna Knock On Your Door"
Peak Month: June 1961
10 weeks on Vancouver's CFUN chart
Peak Position ~ #1
Peak Position on Billboard Hot 100 ~ #12
YouTube: "I'm Gonna Knock On Your Door"
Lyrics: "I'm Gonna Knock On Your Door"
Samuel Hodges was born in 1947 in Hattiesburg, Mississippi. By the age of six he became a child actor billed as Eddie Hodges. He appeared on the Jackie Gleason Show and on Name That Tune in 1953. In 1957 he was cast in the role of ten-year-old Winthrope Paroo in the Broadway musical The Music Man. In the stage production he was one of those singing "The Wells Fargo Wagon" and "Gary, Indiana", along with Robert Preston. In the 1962 film The Music Man, Ron Howard would appear as Winthrope Paroo. Eddie Hodges first film was in 1959 with Frank Sinatra in A Hole in The Head. Hodges played opposite Frank Sinatra (Tommy Manetta) as his 11-year-old son. The film about a down-and-out widowed father featured the Oscar award winning song "High Hopes" (Best Original Song) and a Grammy Award nomination. In the film Frank Sinatra and Eddie Hodges sang a duet. In 1959 Eddie Hodges appeared on The Jimmy Durante Show where he sang with Durante, Ray Bolger and Jane Powell. In 1960 Eddie Hodges starred as Huckleberry Finn in The Adventures of Huckleberry Finn.
In December 1960 Eddie Hodges appeared in another Broadway play titled Critic's Choice, alongside Henry Fonda.
As a recording artist, Hodges released "Funny Little Dog Of Mine" on Festival Records in 1958. In 1959 a solo of "High Hopes" was released on Decca Records. As well, his duet of "High Hopes" with Frank Sinatra was released. In 1961 Eddie Hodges released his first single on Cadence Records titled "I'm Gonna Knock On Your Door".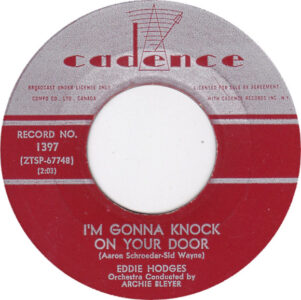 "I'm Gonna Knock On Your Door" was co-written by Aaron Schroeder and Sid Wayne. Schroeder was born in Brooklyn in 1926. He wrote "At a Sidewalk Penny Arcade" for Rosemary Clooney in 1948. Schroeder wrote 17 hit songs for Elvis Presley including five that topped the charts: "A Big Hunk o' Love", "Good Luck Charm", "I Got Stung", "It's Now Or Never" and "Stuck On You". He also wrote songs recorded by Chaka Khan, Roy Orbison, Frankie Lymon & The Teenagers, Nat "King" Cole, Perry Como, Guy Mitchell, The Playmates, Barry White, Tony Bennett, Dionne Warwick, Pat Boone, "Bandit Of My Dreams" for Eddie Hodges, "I'm Gonna Knock On Your Door" for the Isley Brothers in 1959 which was successfully covered by Eddie Hodges, "First Name Initial" for Annette, "Cincinnati Fireball" for Johnny Burnette, "Rubber Ball"" for Bobby Vee, "Because They're Young" for Duane Eddy, the Staple Singers and Paul McCartney. Schroeder also wrote "French Foreign Legion" for Frank Sinatra. Schroeder also produced numerous hits for Gene Pitney that included "I Wanna Love My Life Away", "Town Without Pity", "(The Man Who Shot) Liberty Valance", "Only Love Can Break A Heart" and "24 Hours From Tulsa". Aaron Schroeder later became an international music representative for Hanna-Barbera Productions and provided music, singers and songs for "The Banana Splits" and "Scooby Doo, Where Are You!" Aaron Schroeder had a cameo appearance as a songwriter in the 1957 rock 'n roll film Jamboree, and once appeared on the TV panel show To Tell The Truth.
Sidney Weinberg was born in New York City in 1922. He served in the United States Army in World War II. He published under the pen name Sid Wayne. In 1956 he wrote "Mangos", a song that became a #10 hit for Rosemary Clooney in 1957. In '56, Wayne also cowrote "Two Different Worlds", a #19 hit for Don Rondo. In 1959, Wayne co-wrote "See You In September" for the Tempos that climbed to #23 on the Billboard Hot 100. In 1966, the song was a #3 hit for the Happenings. In 1959, Wayne penned "I Need Your Love Tonight", a #4 hit that year for Elvis Presley. As well, starting with King Creole in 1958, Sid Wayne cowrote 28 songs included across 17 film soundtracks starring Elvis Presley until 1968. In 1970 he wrote English lyrics for the Spanish tune "Somos Novios" and titled it "It's Impossible". The song became a Top Ten hit for Perry Como.
In 1958, Sid Wayne and Aaron Schroeder's "I'm Gonna Knock On Your Door" was first recorded by the Isley Brothers. The Isley's had been recorded five singles in 1957-58 on four different labels. Their recording of "I'm Gonna Knock On Your Door" was their first with RCA. But they had to wait until their next single release, "Shout", before they had a hit on the pop charts. It was Eddie Hodges cover of the song that became the big seller, and his most successful release.
"I'm Gonna Knock On Your Door" by Eddie Hodges replaced the R&B sound the Isley Brothers had given with a 'gingerbread' pop sound. The song is about a guy who is a pesters his sweetheart to leave her home and "come out tonight while the moon is bright." He's insistent on smooching all night long. Given the level of his desire he warns her, "I'm gonna knock on your door, call out your name, wake up the town, you'll see. I'm gonna hoot and howl like a lovesick owl…"
"I'm Gonna Knock On Your Door" peaked at #1 in Vancouver, Seattle, Winnipeg (MB), Calgary (AB), Fort Dodge (IA), La Crosse (WI), Toronto, Fargo (ND), #2 in San Bernardino (CA), Manchester (NH), and Worcester (MA), #3 in San Francisco, Syracuse (NY), Tucson (AZ)< Springfield (MA), and Atlanta, #4 in Spokane (WA), Pittsburgh, Phoenix, and Kalamazoo (MI), #5 in York (PA), Ottawa (ON), Montreal, and Edmonton (AB), #6 in Wilkes-Barre (PA), Flint (MI), Cleveland, and Chicago, #7 in San Diego, Grand Rapids (MI), El Cajon (CA), and Norfolk (VA), #8 in Philadelphia, Columbus (OH), Colorado Springs (CO), #9 in Providence (RI), and Sacramento (CA), and #10 in San Antonio (TX) and Newport News (VA).
Hodges follow-up single was titled "Bandit Of My Dreams", which he performed on American Bandstand on February 7, 1962.
Hodges next single was written by Phil Everly titled "(Girls, Girls, Girls) Made To Love". The song climbed to #14 on the Billboard Hot 100 in the summer of 1962. In the winter of '62 Hodges single "Seeing Is Believing" was a commercial failure. And from 1963 into 1965, his single releases "Would You Come Back"/"Too Soon To Know", "Raining In My Heart"/"Halfway", "I'm Just A Kid In Love" and "Across The Street (Is A Million Miles Away)" all failed to crack the Billboard Hot 100.
Later in 1962 Eddie Hodges played the son of a United States Secretary of State embroiled in a perjury charge in the award winning film Advise & Consent. In 1963 Hodges appeared in the Disney feature film Summer Magic with Hayley Mills, Burl Ives and Dorothy McGuire. Mills and Hodges sang a duet titled "Flitterin'" which was released as a single.
While he was in Hollywood Eddie Hodges had guest appearances on What's My Line?, Bonanza, Gunsmoke, The Dick Van Dyke Show and others. He also appeared on Hollywood A Go-Go, American Bandstand and Shebang. Over the years as a recording star, Eddie Hodges appeared on stage with a diverse lineup of performers, including Chuck Berry, Bob Dylan and the Beach Boys.
Eddie Hodges made his final appearance on the Billboard Hot 100 in the spring of 1965 with a cover of the 1960 Gary U.S. Bonds hit "New Orleans". The single climbed to #12 in Vancouver.
In 1967 Hodges played Livingston, one of two sons of the eccentric millionaire Mr. Biddle, who in 1916 wants America to enter World War I. The film The Happiest Millionaire was the last film with the personal involvement of Walt Disney who died during the production of the film. That year he also starred in a teen flick called C'mon Let's Live A Little, alongside Jackie DeShannon and Bobby Vee. His final film role was in 1968 as a delivery boy in Live A Little, Love A Little, starring Elvis Presley, Rudy Vallee and Dick Sergeant who was a star in the TV sit-com Bewitched. Live A Little, Love A Little was released into theaters in October 1968.
Shortly after, Eddie Hodges was drafted into the United States Army during the Vietnam War. He was given a non-combat assignment within the United States. After he finished his Army duty, he went back to Hollywood but became disenchanted with show business.
Hodges left Hollywood and got a B.S. in Psychology and a Masters in Counseling. in Mississippi. He went on to become a mental health counselor. In the early 90s Eddie Hodges appeared on the Oldsberg Show in Sweden to sing "I'm Gonna Knock On Your Door", the first number one hit on Swedens pop chart. At the end of his practice Eddie Hodges was in the news again when he was out of contact for 19 days in 2005 after Hurricane Katrina struck in late August. Though he was without water, electricity or phone, he survived.
July 4, 2022
Ray McGinnis
References:
"The Many Lives Of Eddie Hodges," Geezer Music Club, October 30, 2013.
"Eddie Hodges," From the Vaults, March 5, 2015.
Frank Sinatra and Eddie Hodges, "High Hopes", A Hole In The Head, United Artists, 1959.
Eddie Hodges, "New Orleans", Hollywood A Go-Go, May 1965.
Eddie Hodges mystery guest, What's My Line?, CBS, August 2, 1959.
Dennis McLellan, "Aaron Schroeder Dies at 83; Prolific Songwriter for Elvis Presley and Others," Los Angeles Times, December 4, 2009.
"Sid Wayne," Wikipedia.
"C-FUN-Tastic 50," CFUN 1410 AM, Vancouver, BC, June 17, 1961.
For more song reviews visit the Countdown.