#281: I'm Stickin' With You by Jimmy Bowen
Peak Month: March 1957
8 weeks on Vancouver's Red Robinson Teen Canteen chart
Peak Position #2
Peak Position on Billboard Hot 100 ~ #14
YouTube: "I'm Stickin' With You"
Lyrics: "I'm Stickin' With You"
James Albert Bowen was born in the mining town of Santa Rita, New Mexico, in 1937. The town later became a ghost town after it was abandoned in 1967. Bowen's family moved to a small town in northern Texas in 1941. From early in his childhood, Bowen was very athletic. By the time he was in high school, he was a star athlete who received a scholarship to West Texas State University in Canyon, Texas. While Bowen grew to be an athlete, he also had a musical side to him that began in his teens when he was given a ukulele. He later acquired a guitar and eventually an electric guitar. At a high school assembly, Bowen and some of his classmates were asked to play a couple of songs. Bowen recalls, "the reaction from girls was the absolute proof that we should get in that [music] business." In 1955, while at university, Bowen formed the Serenaders with singer and guitar player Buddy Knox, and lead guitarist Don Lanier. Lanier and Bowen had grown up in the same town and knew each other before going to university. Bowen played bass guitar and took turns with Buddy Knox as lead vocalist on the tunes in their sets.
Bowen remembers that at West Texas State University Roy Orbison came and gave a concert. Bowen says "no one had heard of him. I went back stage and listened to him start to sing, and I couldn't believe how great he was. So I said to his guitar player, 'where did he record this "Ooby Dooby" song we're hearing? They said, 'Clovis, New Mexico,' which was about an hour and a half from where we lived.
The Serenaders changed their name to the Rhythm Orchids with the addition of drummer Don Mills. As the Rhythm Orchids, they became a rockabilly troupe. Based on the inspiration of Roy Orbison, The Rhythm Orchids decided to travel to New Mexico. They recorded a session at Norman Petty's studios in Clovis, with Dave 'Dicky Do' Alldred (then of the Norman Petty Trio and later of Dicky Do And The Don'ts) sitting in on drums.
At the recording session the Rhythm Orchids played the A-side called "Party Doll", sung by Buddy Knox. But, then they were told they had to have a B-side. So Jimmy Bowen sang a song he cowrote with Buddy Knox titled "I'm Stickin' With You".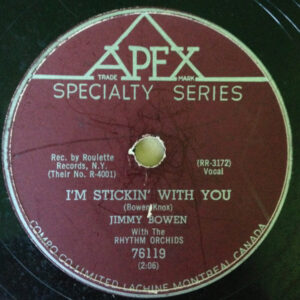 "I'm Stickin' With You"/"Party Doll" was shopped around to five record labels. But only Dot in the USA was interested in the disc. The single got a break in Dallas and made the local chart. One day Bowen was at his home in Dumas, Texas, and he got a phone call from Morris Levy, founder of Roulette Records, in New York City. Levy told him, "Hey kid. We like that record you did. We'd like you to come to New York. We want to buy it, we want to make a deal with you." Bowen recalls Levy said "I'll send you a thousand dollars. You come to New York and we'll make a deal." And so Bowen and the other Rhythm Orchids flew to New York City. Levy split the record and said we're going to make both "Party Doll" and "I'm Stickin' With You" hit records.
Bowen remembers, "our first concert as the Rhythm Orchids was in Times Square. Frankie Lymon and the Teenagers were also part of the bill. The Rhythm Orchids sang "I'm Stickin' With You" and it was a big hit with the audience. The lyrics began "Bebop, I love you, baby. Bebop, I don't mean maybe. Bebop, I love you, baby. I'm stickin' with you. I'm stickin' with you."
Bebop, or bop, is a style of jazz developed in the early to mid-1940s in America. It features compositions characterized by a fast tempo, complex chord progressions with rapid chord changes and numerous key changes, instrumental virtuosity, and improvisation. As a metaphor, "bebop" in a dating relationship indicates that there is a quickening pace of connection between pair. If you can "bebop" with each other, you are skilled at improvising and harmonizing with the melody of being in love with each other. In 1956 Top 40 radio had already had a big hit with "Be Bop A Lulu" by Gene Vincent. In the fall of 1957, Ricky Nelson had a Top Ten hit with "Be Bop Baby". The term "bebop" is derived from nonsense syllables used in scat singing. The first known example of "bebop" being used was in McKinney's Cotton Pickers' "Four or Five Times", recorded in 1928. Bebop became the emerging jazz sound in the 40s, eclipsing swing.
Otherwise, the lyrics of "I'm Stickin' With You" concerned a durable relationship that weathers other suitors that may come along.
"I'm Sticking With You" peaked at #1 in Boston, #2 in Vancouver (BC), Worcester (MA), and Chicago, #3 in Toronto and Orillia (ON), #4 in Detroit and Buffalo, #5 in Pittsburgh and Rochester (NY), #7 in Milwaukee and Baltimore, #8 in Lansing (MI), #9 in Kalamazoo (MI), Burlington (VT) and New York City, and #10 in Houston and Oshawa (ON).
Later in 1957 Jimmy Bowen had the following releases: "Ever Lovin' Fingers", climbing to #63 on the Billboard pop chart, and "Warm Up to Me Baby", which peaked at #57 on the Billboard pop chart and #4 in Toronto. On August 19, 1957, Jimmy Bowen appeared on American Bandstand to sing "Don't Tell Me Your Troubles". The song didn't catch on. Though the B-side, "Ever Since That Night", also missed the Billboard Hot 100, it peaked at #7 in Toronto in September '57. In the fall of 1957 the rock 'n roll film Jamboree! was released. It featured Jimmy Bowen singing "Cross Over", which subsequently peaked at #5 in Toronto and #6 in Ottawa that October.
Bowen returned to American Bandstand for an appearance on January 25, 1958. In early 1958 Bowen covered the 1909 song, "By the Light of the Silvery Moon". It was the B-side to "The Two Step", which failed to chart. Subsequently, Bowen's cover of "By The Light of the Silvery Moon climbed to #50 on the Billboard chart. In Canada, the single made the Top 30 in both Toronto and Ottawa (ON) that summer. In 1958 Bowen also did a respectable cover of the Rogers and Hart 1930s standard "Blue Moon". In the fall of 1958, it made the Top 30 in Boston and Top 40 in Toronto. In the winter of 1958-59, Jimmy Bowen's "Wish I Were Tied To You" offered up a bouncy tune. His being "tied" to someone recalled his "stickin'" with someone, as his 1957 hit had explained.
A summer release in 1959 titled "You're Just Waisting Your Time" resembled Elvis Presley vocals. Aside from Eau Claire, Wisconsin, the single got little airplay.
Buddy Knox and Jimmy Bowen stayed together as the Rhythm Orchids until part way through 1959. Then they split up. Bowen continued to perform, but his star as a musician was already fading. In early 1960 Roulette released another commercial flop, "Your Loving Arms".
Bowen was in Wyoming doing a concert in 1960, and afterward phoned a friend in Colorado. Bowen explained "there were more of us on the stage than there were in the audience." So Bowen got a shift from 10 p.m. to 1 a.m. at radio station KYSN in Colorado Springs. Bowen kept the shift for about eight months, but decided being a DJ wasn't his thing.
Next, Jimmy Bowen headed for California and got work with American Music Publishing in Los Angeles, making $75 a week as a songwriter, about two weeks before Glen Campbell joined the outfit. Bowen and Campbell started doing all the demo sessions for the songwriters. Across the hall from the recording studio where Bowen and Campbell were doing the demos was a guy named Phil Spector. When Jimmy Bowen discovered what Spector was doing in his recording studio, Bowen decided what he wanted to do was to become a producer.
On April 20, 1961, Jimmy Bowen appeared on American Bandstand and performed "Teenage Dreamworld". Aside from charting to #12 in Spokane, Washington, the song got little notice.
Bowen got a job to run Chancellor Records in Los Angeles. Chancellor had Frankie Avalon and Fabian. And Bowen had been on the same stage as both in the late 50s. While at Chancellor, Bowen was able to produce a number of singles in 1962. One night Bowen was invited to be a producer with Frank Sinatra's new Reprise Record label. He left Chancellor for Reprise in 1963.
In 1964 Bowen produced the number-one hit for Dean Martin titled "Everybody Loves Somebody", and Top Ten hit "The Door Is Still Open To My Heart". In 1966 he produced "Strangers In The Night", "Summer Wind" and "That's Life" for Frank Sinatra. In 1967 Bowen produced "Somethin' Stupid" for Nancy Sinatra and Frank Sinatra, as well as Frank Sinatra's Top 30 hit "The World We Knew (Over and Over)". Then, in 1968, Jimmy Bowen produced "But You Know I Love You" for the First Edition. He followed up in 1969 producing "Ruby, Don't Take Your Love To Town" and "Something's Burning" both for Kenny Rogers and the First Edition. The following year Bowen produced "Tell It All Brother" and "Heed The Call", again for Kenny Rogers and the First Edition. As well, Bowen produced "I've Gotta Be Me" for Sammy Davis Jr. in late 1968. The single topped the Billboard Easy Listening chart in 1969 for seven weeks. The single that knocked it out of the number-one spot was "You Gave Me A Mountain" by Frankie Laine, also produced by Jimmy Bowen.
In 1970 Bowen produced his first movie soundtrack for Vanishing Point. From the film a band called Mountain had a hit titled "Mississippi Queen" which peaked at #1 in Toronto.
In 1976 Bowen moved to Nashville and began producing hits for country stars Jimmy Buffett and Kim Carnes (who later recorded the rock 'n roll hit "Bette Davis Eyes" in 1981). Between 1979 and 1985, Bowen produced 16 Top Ten country hits for Hank Williams, Jr. including "Texas Women", "Dixie on My Mind" and "All My Rowdy Friends Have Settled Down". In 1980 Jimmy Bowen produced the soundtrack for the movie Smokey and the Bandit II. It included a song titled "Tulsa Time" which was later covered by Eric Clapton. In the 1980s Jimmy Bowen was producing hits for George Strait including "Does Fort Worth Ever Cross Your Mind", "The Chair", "Nobody in His Right Mind Would've Left Her", "It Ain't Cool to Be Crazy About You", "All My Ex's Live In Texas", "Ocean Front Property", "Am I Blue", If You Ain't Lovin' (You Ain't Livin')", "Baby's Gotten Good at Goodbye", "What's Going On in Your World", and "Ace in the Hole". Bowen's streak of producing number-one hits for George Strait continued into the 1990s with "Love Without End, Amen", "I've Come to Expect It from You", "If I Know Me", "You Know Me Better Than That"
For Reba McEntire, Bowen produced these number-one country hits in the 1980s: "Whoever's In New England", "Little Rock", "What Am I Gonna Do About You", "One Promise Too Late", "The Last To Know", "Love Will Find Its Way To You", "I Know How He Feels", and "New Fool at an Old Game". And in the late 80s for the Oak Ridge Boys, Jimmy Bowen produced the number-one country hits "It Takes a Little Rain (To Make Love Grow)", "Gonna Take a Lot of River", and "No Matter How High".
In the early 90s Jimmy Bowen got throat cancer. After recovering, on 1995 Bowen walked away from his string of successes as a producer and retired to Hawaii. An interview with the Country Music Hall of Fame in 2014 found that Jimmy Bowen had pretty much stuck to being retired.
July 19, 2021
Ray McGinnis
References:
"Record Producer Jimmy Bowen Interview on The Paul Leslie Hour," The Paul Leslie Hour, April 25, 2018.
"A Segregated Music: Minton's Playhouse and Charlie Christian," bryansmithmusic.com.
Jimmy Bowen, Rough Mix, (Simon & Schuster, 1997).
Beverly Keel, "Bowen Writes it Off," Nashville Scene, May 22, 1997.
Morgan Stennhauser, "What Happened to Reba McEntire – See What She's Doing Now," Gazette Review, North Carolina, January 2, 2017.
John Rumble, "Producer Playback: An Interview With Jimmy Bowen," Country Music Hall of Fame, April 12, 2014.
"Top Fifty Tunes for the Week," CKWX 1130 AM, Vancouver, BC, March 24, 1957.
For more song reviews visit the Countdown.