#1203: In the Mood by The Hawk
Peak Month: October 1960
7 weeks on Vancouver's CFUN chart
Peak Position #10
Peak Position on Billboard Hot 100 ~ did not chart
YouTube.com: "In The Mood"
In 1935 Jerry Lee Lewis was born in Ferriday, Louisiana. At the age of nine he started playing the piano. He imitated the styles of preachers and black musicians that passed through his community. His playing style was creative and outrageous. Jerry Lee Lewis rose to become one of rock 'n rolls' first showman in the mid-50s. He incorporated some of what he heard into his musical style from listening to radio shows like the Grand Ole Opry and Louisiana Hayride. Among his influences were Jimmie Rodgers, Hank Williams and Al Jolson. At the age of ten his dad decided to mortgage the family farm so he could purchase a piano for Jerry Lee to play. Lewis first performed in public when he was fourteen years old at the opening of a local car dealership. At age fourteen he quit school and honed his musical skills. But before he became a famous recording act, Lewis sold sewing machines to help make some money.
When Lewis moved to Memphis, Tennessee, at the age of 20 he landed some contracts to work as a studio musician for Sun Studios. In 1956, he covered Ray Price's country tune, "Crazy Arms", which did well locally, selling over 300,000 records. Lewis also worked on some recording sessions with Carl Perkins. While working at Sun, he and Perkins jammed with Elvis Presley and Johnny Cash. This session by the "Million Dollar Quartet" was recorded at the time, but it was not released until much later.
In 1957, Lewis became a star with his unique piano-driven sound. "Whole Lotta Shakin' Goin' On" peaked at #3 in Vancouver that July. By this time, Lewis had also developed some of his famous stage antics, such as playing standing up and even lighting the occasional piano on fire. He had such energy and enthusiasm in his performances that he earned the nickname "The Killer" for the way he knocked out his audiences. Lewis told the Pop Chronicles that kicking over the bench originally happened by accident, but when it got a favorable response, he kept it in the act. His first TV appearance, in which he demonstrated some of these moves, was on The Steve Allen Show on July 28, 1957, where he played "Whole Lotta Shakin' Goin On". In November '57 he took "Mean Woman Blues" to #4 in Vancouver. Lewis was on a roll with his next single, "Great Balls Of Fire", spending two months on the local charts and peaking at #2 in December 1957. In March '58, Lewis had another Top Ten hit with "Breathless", which also peaked at #2 in Vancouver. He also took two more singles to the Top Ten in Vancouver in '58: "High School Confidential" to #8 and "Lewis Boogie" to #6.
However, the later single spent only one week on the local charts in August 1958. This may be due to the growing furor over Lewis' third marriage to Myrna Gale Brown, a first cousin once removed. Lewis was 22 and she was 13 years old. During a tour in Britain his upcoming engagements were all cancelled. Back in the USA he was blacklisted from most radio stations except Alan Freed who continued to play Lewis until November 1959 when Freed was fired in the midst of the Payola scandal. Lewis was also banned from American Bandstand. Jerry Lee Lewis went from commanding $10,000 a night to $250 a night.
In Vancouver, Lewis wasn't heard on the local charts until a brief appearance with a tune called "Old Black Joe" which spent only two weeks on the CKWX chart in April 1960 peaking at #39. Nonetheless, later that year Jerry Lee Lewis had a Top Ten instrumental hit under a pseudonym, The Hawk. The tune was "In The Mood". The song went to #10 in Vancouver in July 1960, and elsewhere only had a significant chart run in on WITH in Baltimore, peaking at #11.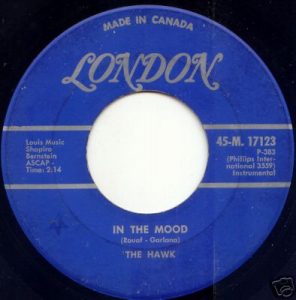 "In The Mood" is credited with being composed by African-American jazz saxophonist, Joe Garland. He drew his inspiration from a pre-existing melody titled "Tar Paper Stomp" by bandleader, Wingy Malone. Garland's "In The Mood" became a #1 hit for Glenn Miller in 1940, with lyrics added by Andy Razaf. The bands Joe Garland played for included Lucky Millender, Louis Armstrong and Earl Hines. Garland wrote a number of songs for Artie Shaw and for Les Brown. Garland went into semi-retirement in the 1950's.
After "In the Mood" enjoyed local success in Vancouver, Jerry Lee Lewis had a #10 hit in the UK with a cover of Ray Charles tune "What'd I Say" in the spring of 1961. That song went to #20 in Vancouver and #25 on the Billboard Hot 100. Between the summer of 1958 and 1979 Lewis would release 77 singles for commercial radio on the pop music stations in the USA. Only "Me and Bobby McGee" and"Drinking Wine Spo-Dee-O-Dee" and glanced the Top 40 on Billboard, charting to #40 and #41 respectively in 1971 and 1973. Lewis fared a little better in Vancouver peaking with these two tunes at #27 and #20.
But Jerry Lee Lewis' biggest hit in Vancouver was a tune that never charted in the USA. It debuted on CFUN at the end of 1961. It was called "Bonnie B" and was his only #1 hit in Vancouver, making it his longest and highest charting tune locally.
Between 1968 and 1981 Jerry Lee Lewis found a resurgence in the Country charts in both the USA and Canada. He charted over twenty Top Ten hits in both countries. His past scandal was forgiven and his musicianship welcomed. His personal life has been marked with temperamental episodes and two of his seven wives died under suspicious circumstances. Richard Ben Cramer, writing for Rolling Stone, raised questions in a 1984 article about the death of Lewis' fourth wife, Jaren Gunn, who drowned in a pool; And his fifth wife of 77 days, Shawn Stephens, of an overdose. Cramer comments regarding Stephens death: "the bed she was found in hadn't been slept in, she was bruised and bleeding, had taken 10 times the safe amount of his methadone, and that Lewis had paid for a private autopsy. A grand jury cleared Lewis of any crime." Lewis once shot his bass player, Butch Owens, in the chest. Owens won a lawsuit against Lewis and a settlement of $125,000. In 1989, a film starring Dennis Quaid (as Jerry Lee Lewis) explored the early rise and crash of the legendary rock 'n roll star.
In January 2017 Lewis' official website listed upcoming concerts for the 81 year old in Mississippi, Texas and California. He died in November 2022.
January 30, 2017
Ray McGinnis
References:
Bragg, Rick. Jerry Lee Lewis: His Own Story. Harpers, New York, 2014.
Toches, Nick. Hellfire. Grove Press, New York, 1982.
Simon Hattenstone, "Jerry Lee Lewis: 'I Worry About Whether I'm Going to Heaven or Hell'," Guardian, August 8, 2015
Richard Ben Cramer, "The Strange and Mysterious Death of Mrs. Jerry Lee Lewis:Was the Rock Legend's Fourth Wife Murdered, and Did the Man Known as "the Killer" Do It?," Rolling Stone, March 1, 1984
Jerry Lee Lewis (guest star)The Steve Allen Show, July 28, 1957
Jerry Lee Lewis, Bonnie B, 1961
"In The Mood," Wikipedia.org
Jim McBride, director, Great Balls Of Fire, Orion Pictures, 1989.
"C-FUN-Tastic 50," CFUN 1410 AM, Vancouver, BC, October 1960
For more song reviews visit the Countdown.