#236: In The Mood by the Wildroot Orchestra
Peak Month: August 1981
11 weeks on Vancouver's CKLG chart
Peak Position #6
Peak Position on Billboard Hot 100 ~ did not chart
YouTube: "In The Mood"
Lyrics: "In The Mood"
Around 1971 a band called Wildroot formed in Vancouver (BC). An article by Canadianbands.com identifies Howie Vickers was the lead vocalist, Frank Allison was on guitar, Ian Berry was on keyboards and saxophone, Charles Faulkner was on bass guitar and Jim McGillveray was on drums. who formed in the 70s. Charles Faulkner was previously a member of Mother Tucker's Yellow Duck, a psychedelic rock band from Vancouver (1967-71). Jim McGillveray is credited with being one of the last members of the Painted Ship, a Vancouver (BC) band that folded in 1968. McGillveray, Ian Berry and Frank Allison were all previously members of Vancouver's New Breed, a band that formed in 1966.
Howie Vickers led a band called The Classics who formed in 1964. Initially, they were called The C-FUN Classics. The Classics were part of the regular line-up on Let's Go, a show on CBC-TV. Though the Classics released several singles the group needed room to grow and reformed as The Collectors. They would become one of the most innovative of Vancouver's recording acts through the rest 60s. In the spring of 1967, Vickers was asked to put together a house band at the Torch Cabaret in Vancouver. Along with Claire Lawrence on horns, they recruited guitarist Terry Frewer, drummer Ross Turney and Brian Newcombe on bass. Within a couple of months, fellow Classics member Glenn Miller replaced Newcombe on bass and Bill Henderson, a student at UBC, replaced Frewer on guitars. With Vickers now handling vocals, their sound changed from doing covers of R&B tunes to psychedelic rock. From 1967 to 1969 the Collectors charted over a half a dozen songs onto the local pop charts in Vancouver.
Howie Vickers left the Collectors in 1969. He released several singles as a solo artist, including "Rum Diddy", a Top Ten hit in Medicine Hat (AB) in the August 1970. Vickers was also a member of the Eternal Triangle, who had a Top 30 hit in Vancouver in 1966 titled "It's True".
Wildroot began to play at the Landmark Hotel Jazz Bar at 12th and Cambie, as well as Fowler's Rest Home. The band released a cover of the old Louis Armstrong and Fats Domino classic "Blueberry Hill". The single climbed to #13 on the CKLG Top 30 in June 1972. The band also wrote and performed commercial jingles for the local radio market.
As the decade came to an end, Wildroot had morphed into an actual big band. They also renamed themselves the Wildroot Orchestra. They included Peter Padden on vocals, Jim McGillveray on vocals and drums, Charlie Faulkner on bass guitar and vocals, Ted Borowieki on piano, Doug Edwards on guitar, Herb Besson on trombone, Blaine Dunaway and Jaimie Croil on trumpet and Tom Keenlyside on saxophone and reeds, Ian Berry on saxophone and keyboards, Frank Allison on guitar and vocals, Miles Black on keyboards and Howie Vickers on vocals. While Peter Padden had previously been a member of a Victoria (BC) band called The Coachmen from 1964-67.
In the spring of 1981 they released a cover of the 1940s big band hit by Glenn Miller titled "In The Mood".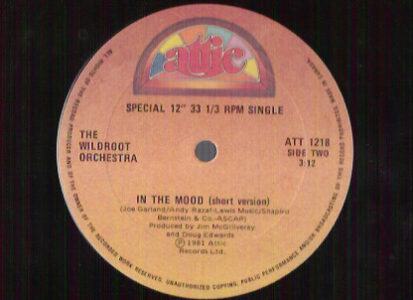 "In The Mood" was written by "Wingy" Manone, Andy Razaf and Joe Garland. The song was recorded by Glenn Miller in 1939 and soon became a big band standard. Joe Garland was born in 1903 in Norfolk, Virginia. He was a jazz saxophone player and composer. He joined Graham Jackson's Seminole Syncopators, in 1924. Garland was a sideman for numbers of band leaders, including Jelly Roll Morton, Louis Armstrong and Earl Hines. He went on tour to South America in the 1920s, and wrote songs recorded by Les Brown and Artie Shaw.
Joseph "Wingy" Manone was born in New Orleans in 1900. He lost his right arm in a streetcar accident when he was ten years old, which resulted in his nickname of "Wingy". He used a prosthesis so naturally and unnoticeably that his disability was not apparent to the public. Starting in 1924 he began playing trumpet and cornet professionally with various bands in New Orleans. Subsequently, Manone started to tour across United States and Canada. He did gigs in Chicago, New York City, Texas, Mobile (AL), California, St. Louis and other locations. He played in New Orleans with The Cellar Boys, and Barbecue Joe and His Hot Dogs, and Wingy Manone and his New Orleans Buzzards. Starting in 1929, Manone was in the recording studio with Benny Goodman. Wingy Manone's hit records included "Tar Paper Stomp", which was an original riff composition of 1929, later used as the basis for "In The Mood".
In 1935 Manone had a Top 30 hit on the pop charts in the USA titled "Rhythm Is Our Business". This was the first of seven Top 20 hits for Manone between 1935 and 1938. His biggest hit was "Please Believe Me" in 1936, which climbed to #5 on the national pop charts in the USA. His other hits at the time include "Nickel In The Slot" and "The Flat Foot Floogie". In 1940, Wingy Manone and his band appeared in the Bing Crosby film Rhythm on the River. In 1943 he appeared in the film Hi 'Ya Sailor, and in 1944 in Trocadero. Wingy Manone's notable hits in the 1940s include the anti-war song in 1941 titled "Stop the War (The Cats Are Killin' Themselves)" and "When My Sugar Walks Down The Street".
In 1948, Manone had his autobiography published titled Trumpet on the Wing. In 1957 he recorded a cover of the Buddy Knox song "Party Doll", which stalled at #56 on the Billboard pop chart. It was his last charting single. Wingy Manone died in 1982. His song "There'll Come a Time (Wait and See)" was used in the 2008 soundtrack to the Academy Award-nominated movie The Curious Case of Benjamin Button.
Andy Razaf (birth name Andriamanantena Paul Razafinkarefo) was born in 1895 in Washington D.C. After his father was killed in the French invasion of Madagascar earlier that year, his 15-year-old pregnant mother was forced to flee to the United States. Razaf was raised in Harlem. He dropped out of school when he was 16-years-old and got work as an elevator operator at an office building in Tin Pan Alley. In 1912 he wrote his first song and pursued a career as a lyricist. In 1929 Razaf cowrote "(What Did I Do to Be So) Black and Blue" and "Ain't Misbehavin'" for the Broadway musical Hot Chocolates. That year he also wrote "Honeysuckle Rose" for the Off-Broadway revue Load of Coal. Another song Razaf wrote in 1929 was "Gee, Baby, Ain't I Good to You", later popularized by the Nat King Cole Trio. In 1930 Razaf penned "A Porter's Love Song to a Chambermaid", which became an R&B hit for Roy Milton in 1947. And in 1933 Razaf wrote "Stompin' at the Savoy" which was a Top Ten hit in 1934 for Chick Webb and his Orchestra.
The FBI had a file on Andy Razaf for his involvement in early Civil Rights activities and the preservation of Black culture in America. While the 1949 file is mostly blacked out, is it possible Razaf was also suspected of being a communist. In 1972 Andy Razaf was inducted into the Songwriters Hall of Fame.
"In The Mood" is a song about a romantic moment between two lovers, and one is waiting for the other to get busy kissing while they're 'in the mood.' They've been dancing and notice it's "a quarter to three" A.M. As there's "a mess of moonlight," the one suggests to the other that they go outside and share a moment in the moonlight. The narrator asserts that it's "rude" to keep someone's "lips waiting" while they're in the mood.
Glenn Miller and his Orchestra had a number-one hit in the USA for 12 weeks in 1940 with "In The Mood". In December 1959, Ernie Fields and his Orchestra had a #2 hit in Vancouver with "In The Mood", which also climbed to #4 on the Billboard Hot 100.
The Wildroot Orchestra cover of "In The Mood" featured a cameo vocal by Tom Lavin of the Powder Blues Band. The single peaked at #6 on CKLG in Vancouver for four consecutive weeks, and also at #6 in Winnipeg (MB).
An executive with Attic Records heard the Wildroot Orchestra's "In The Mood", and they were signed up soon after. The Wildroot Orchestra made an album that included swing versions of pop songs. One of these was "Town Without Pity".
Though their debut album sold well, Attic Records dropped the Wildroot Orchestra in 1983. The band appeared in concert at the Orpheum, and managed to record a follow-up album despite having no major label. Wildroot Two included a swing version of "Hey Little One", a hit for Dorsey Burnette in 1960. Among the new musicians contributing on the album were Jane Mortifee on percussion and Kat Hendrikse on drums.
Canadianbands.com notes that after the band split up, Blaine "Dunaway moved to Kelowna and became a music teacher. [Peter] Padden formed Jupiter Productions. [Tom] Keenlyside hooked up with on-again off-again…over the years [with] Miles Black to form Altered States for one album. [Jim] McGillevary, Keenlyside, and [Kat] Hendrikse then formed Skywalk a few years later, also good for one jazz-oriented album. Faulkner left the business all together for nearly a decade, then returned with his new project, Dog Skin Suit. He passed away in the early '2000s. Ian Berry succumbed May 2, 2008 to lung cancer."
Sampling of Glenn Miller's "In The Mood" was prominently featured in the 1990 hit "Swing The Mood" by Jive Bunny and the Mixmasters. The novelty tune mixed in samples of "Let's Twist Again" by Chubby Checker, "Rock Around The Clock" and "Shake, Rattle And Roll" by Bill Haley and his Comets, "Wake Up Little Susie" by the Everly Brothers, "Tutti Frutti" by Little Richard, "C'mon Everybody" by Eddie Cochran, "Hound Dog", "All Shook Up" and "Jailhouse Rock" by Elvis Presley, and "At The Hop" by Danny and the Juniors. It concluded with samples of Glenn Miller's "Pennsylvania 6-500" and "Little Brown Jug". The tune was a number-one hit in 1990 in the Australia, Austria, Belgium, Denmark, Finland, France, Ireland, the Netherlands, New Zealand, Norway, Spain, UK and West Germany, #2 hit in Sweden and Switzerland, and #3 in Greece. It climbed to #2 in Hamilton (ON), #6 in Vancouver (BC), and #10 in Montreal.
November 15, 2021
Ray McGinnis
References:
Pattie Bessett, Wayne Hamilton, Shaun Mackey and Steve Newton, "Wildroot Orchestra," CanadianBands.com.
"Wildroot Orchestra," pnwbands.com.
"Wingy Manone," Wikipedia.org.
"Joseph "Wingy" Manone (1900-1982)," Red Hot Jazz Archive.
"Joe Garland," Wikipedia.org.
"Andy Razaf," Wikipedia.org.
Barry Singer, Black and Blue: The Life and Lyrics of Andy Razaf, (Schirmer Reference, 1993).
"The Number One Hits of 1940," Hotpopsongs.com.
"CKLG Top 30," CKLG 730 AM, Vancouver, BC, August 19, 1981.
For more song reviews visit the Countdown.