#1052: Isn't It Amazing by The Crests
Peak Month: November 1960
7 weeks on Vancouver's CKWX chart
Peak Position #9
Peak Position on Billboard Hot 100 ~ #100
Youtube.com: "Isn't It Amazing"
Lyrics: Isn't It Amazing"
The Crests were a doo-wop group formed by J.T. Carter with Talmadge Gough, Harold Torres and Patricia Van Dross. With a group in place Carter chose Johnny Mastrangelo to be the lead vocalist and had his name on the billing as Johnny Mastro (later changed to Johnny Maestro). Maestro's vocal style helped The Crests rack up five Top 40 hits on the national Billboard Hot 100 in the USA. Their first record was in 1957 with "Sweetest One". Their second single release, "16 Candles", climbed up to #2 on the Billboard Hot 100 in 1958. Van Dross left the group after their debut single release. In the late 1950's, The Crests performed on several national teen dance shows, including American Bandstand and The Dick Clark Show. The group was inter-racial: African-American, Puerto Rican and Italian-American.
From 1958 to 1960 The Crests released ten singles. Other Top 40 hits included "Six Nights A Week", "The Angels Listened In", and "Trouble In Paradise". At this time the band was almost permanently on the road. Johnny Maestro left the group in 1961 to pursue a solo career. But before he left the group, taking with him his signature voice that was identified so much with The Crests "sound," he gave contributed his vocals to "Isn't It Amazing". While the song only spent one week on the Billboard Hot 100 at position #100, the song climbed into the Top Ten in Vancouver, cresting to #9.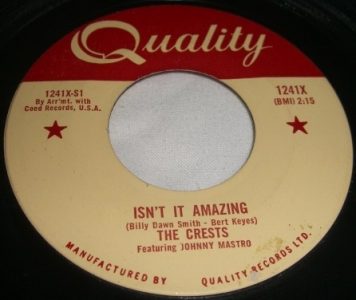 "Isn't It Amazing" is a song all about what physical chemistry and emotional affection can do to anchor and propel a relationship forward. In the song listeners are invited to consider feeling thrilled, having a racing heartbeat that goes hippity hop hop, being like turtle doves that kiss and hug constantly, and feeling like your love can conquer anything.
What the song is mostly describing is not so much a mature love between people who have chosen to settle down, but an important initial step to keep up interest between two people who discover a compelling attraction. The Scientific American, in an article titled "Do Phermones Play A Role In Our Sex Lives?" explored the question. "Love might be in the air on Valentine's Day, metaphorically speaking. But scientists have long debated whether love—or, at least, sexual attraction—is literally in the air, in the form of chemicals called pheromones. Creatures from mice to moths send out these chemical signals to entice mates. And if advertisements about pheromone-laden fragrances are to be believed, one might conclude that humans also exchange molecular come-hithers. Still, after decades of research, the story in humans is not quite so clear. Rather than positing that single, pheromone-esque compounds strike us like Cupid's arrow, investigators now suggest that a suite of chemicals emitted from our bodies subliminally sways potential partnerings. Smell, it seems, plays an underappreciated role in romance and other human affairs."
Following 'Trouble In Paradise' in 1960, the band's final two chart singles were credited to The Crests featuring Johnny Mastro. However, the group's record label, Coed, was not satisfied. Their priority now was to launch the Johnny Mastro as a solo artist. Mastro's decision to go solo in 1960 (subsequently calling himself Johnny Maestro) weakened the band, although they did replace him with James Ancrum. As a solo recording artist, Maestro got two Top 40 hits, "Model Girl" and "What A Surprise". The later was a birthday themed song, like The Crests, "16 Candles". The Crests never charted another single into the Billboard Hot 100 again.
After "Little Miracles" failed to break the Billboard Top 100, Talmadge Gough moved to Detroit and a job with General Motors. More strife followed as the Crests were became caught up in legal disputes with Coed Records over the ownership of their name. The Crests eventually moved to Selma Records. The songs Selma Records made available to the group were now significantly inferior in calibre and quality. These included "You Blew Out The Candles", a poorly conceived sequel to "16 Candles." The song tried to generate excitement about the moment people sing happy birthday the moment a birthday girl blows out the candles. And it anticipated wedding cake candles to blow out in the future. The band continued to tour throughout the 60s, though Harold Torres had left to become a jeweller, leaving a core of Carter and Ancrum. They were joined by a guy named Gary Lewis (not to be confused with Gary Lewis of The Playboys). They continued to perform as a trio until 1978 when J.T. Carter left to join the 50's doo-wop group, The Drifters, on oldies revival tours. In June 1987 the original line-up of The Crests, as they were when they recorded "16 Candles" in 1958, was re-formed for a show in Peepskill, New York, with J.T. Carter, Talmadge Gough, Harold Torres and Johnny Maestro back together again.
In 2004 The Crests were inducted into the Vocal Group Hall of Fame. The 1984 John Hughes teen movie, Sixteen Candles, was named after The Crests best-selling hit.
June 30, 2017
Ray McGinnis
References:
Spend time in the presence of a master: Johnny Maestro, Gold Mine Magazine, Iola, WI, April 19, 2011.
Dennis Hevesi, "Johnny Maestro, Brooklyn Bridge Singer, Dies at 70," New York Times, March 26, 2010.
Andrew Scott, "J.T. Carter, an Original Member of Doo-wop's The Crests, Still Living in Harmony," Pocono Record, Stroudsburg, PA, September 3, 2012.
John Hughes, Sixteen Candles, Universal Pictures, 1984.
Adam Hadhazy, "Do Phermones Play A Role In Our Sex Lives?," Scientific American, February 13, 2012.
"Sensational Sixty," CKWX 1130 AM, Vancouver, BC, November 7, 1960
For more song reviews visit the Countdown.