#1360: It's True by The Eternal Triangle
Peak Month: September 1966
9 weeks on Vancouver's CFUN chart
Peak Position #16
Peak Position on Billboard Hot 100 ~ did not chart
YouTube.com: "It's True"
Born in Vancouver in 1943, when he was in his teens Tom Northcott was gaining a reputation while making his rounds through the Vancouver coffeehouse circuit in the early '60s. In particular, he frequented the Kitsilano area, the focal point of the hippie counterculture north of San Francisco. In 1965, Northcott took over from Ronnie Jordan as the frontman for the Vancouver Playboys, already an established BC band that wore identical suits. They were considered one of BC's top emerging bands, mixing a Beatles look with music stylings of The Ventures. Northcott established one of Vancouver's first labels, Syndrome Records, which LA execs at Warner were impressed enough with to offer him distribution. While the Playboys toured the country that summer and fall, the label served home to their first single, "Cry Tomorrow".
But by the end of the year Northcott left and, on 12-string guitar, he formed The Tom Northcott Trio with drummer Chris Dixon and Rick Enns on bass. They were soon regulars on CBC TV's Let's Go program for the next couple of years. Meanwhile they were selling out the top clubs in the area, such as The Afterthought in Kitsilano. They headed to California and played throughout San Fransisco and Los Angeles. This exposure got them further gigs and they opened for The Who, The Doors and Jefferson Airplane. In December 1965 they released "Just Don't" to overall good reviews and it charted on both CKLG and CFUN peaking in January 1966. Their next single, "Goin' Down", followed and peaked in the Top 20 in May '66.
While the Tom Northcott Trio was enjoying it's second single, Northcott formed a different trio with former CFUN Classics frontman Howie Vickers, and 18 year-old Susan Pesklevits, both of whom he'd met on the set of the CBC pop music TV show Let's Go. They named themselves The Eternal Triangle, a term that referred to a relationship involving three persons, usually two men and one woman.
In a December 1966 issue of the Caribou newspaper, the Quesnel Observer noted that Pesklevits had auditioned for Music Hop in the summer of 1963 when she was only 15 years old. She had her first public performance at the Fall Fair in Haney when she was just 14 years old. It was noted she liked to ride horseback, ride motorcycles and attend the dramatic shows. Asked about what she could tell the folks in Quesnel about trends in Vancouver, Pesklevits had this to report, "the latest things in Vancouver are the hipster mini-skirts, bright colored suit slacks, and the tailored look. The newest sound is the "Acid Sound," derived from L.S.D…. it is "pshodelic" which means it has a lot of fuzz tones and feed back. As an example, she gave "Frustration" recorded by the Painted Ship" a local band from Vancouver. Pesklevits added that on the West Coast "the latest dance is the Philly Dog. It mainly consists of two rows, one of girls and one of boys. The idea is to take steps, move in unison, while doing jerking motions and using a lot of hand movement."
Northcott changed the name of his record label to New Syndrome Records. Pesklevits had her first recording with Northcott and Vickers as The Eternal Triangle with their single "It's True". The song charted on both CKLG and CFUN, with its best chart run on FUN where it peaked at #16. On subsequent printings of the single on New Syndrome Records the recording act was listed as The Eternal Triangle featuring Susan Jacks. This was since Pesklevits married singer Terry Jacks in 1967.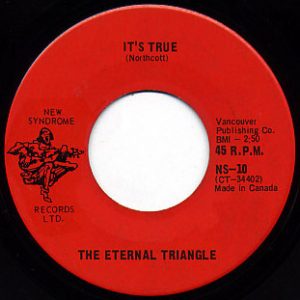 You say you'll go wherever I go,
on down the lonely road of life.
I say, love babe, is still too far away,
look in your heart, you know it's true.
It's true, it's true, I know it is, it's true.
Please say you'll stay well out of harms way,
I worry so that you will fall.
I can't show you, I can't go for you.
Only you can choose the life you lead.
It's true, it's true, I know it is, it's true.
Sometimes sadly and sometimes gladly,
you'll know the feeling love can bring.
Don't say, love babe, will never come your way,
you have loved and you will love again.
It's true, it's true, I know it is, it's true.
This psychedelic baroque pop tune, with its melancholic and dramatic gestures owed its roots to classical music and orchestral pop. The musical aesthetic of the song struck a chord in the restless, questioning mid-Sixties. One party in the song expresses eternal love, to follow the one they love down the road of life. But for the other party the mention of love seems premature and "far away." The one who professes love now laments that the day they are in love with someone who loves them back will never arrive. They're told not to say such a thing and be hopeful about the future. Anyone who has been in a situation where one person pops the question only to be met with a rejection of that offer might know what this song is about. And anyone who has had to break it to an eager suitor that feelings of love aren't mutual, or even grounded in reality, knows what it can be like to console someone and cheer them up before parting.
Tom Northcott went on to a successful solo career. Between 1967 and 1971 he charted seven singles on the Vancouver pop charts, including six in the Top Ten and "Sunny Goodge Street" at #1. Susan Pesklevits married Terry Jacks in 1967 and with Craig McCaw on guitar/sitar and Satwant Singh on tablas/drums, became the local folk-rock group The Poppy Family. In 1969 they scored an international Top Ten hit, "Which Way Is Goin Billy?" It was one of three #1 singles in Vancouver and eight Top Ten hits they charted locally between 1968 and 1973. In 1966 Howie Vickers, along with other CFUN Classics bandmates Bill Henderson, Claire Lawrence, Glenn Miller and Ross Turney, renamed themselves The Collectors. As such they charted six singles into the Top 20 in Vancouver between 1967 and 1969, beginning with "Looking At A Baby". In 1970 the band again changed their name with the departure of Howie Vickers and became Chilliwack. Between 1970 and 1984 they would chart another 15 singles onto the local pop charts, their biggest being "My Girl (Gone, Gone, Gone)" in 1981.
February 25, 2017
Ray McGinnis
References:
Mark Allan, Ron Grahame, Susan Jacks, Dennis McFadden, Fred Robinson, Tom Northcott, Canadianbands.com
Dennis MacFadden, Vancouver Playboys ~ Pacific Northwest Bands, October 2008
Bill Henderson, The Collectors, Canadian Bands.com.
susanjacks.com (bio).
"C-FUNTASTIC FIFTY," CFUN 1410 AM, Vancouver, BC, September 3, 1966.
For more song reviews on this website visit the Countdown.