#250: Jealous Of You by Connie Francis
Peak Month: June 1960
9 weeks on Vancouver's CKWX chart
Peak Position #2
Peak Position on Billboard Hot 100 ~ #19
YouTube: "Jealous Of You"
Lyrics: "Jealous Of You"
Concetta Rosa Maria Franconero was born on December 12, 1938. Francis was born in the Italian Down Neck neighborhood of Newark, New Jersey. She spent her firsts years as an infant and toddler in Brooklyn before the family moved back to New Jersey during her childhood. From the age of three, George Franconero recognized his daughter's promising talent and insisted she start taking accordion lessons. However, her musical ingenuity wasn't advanced by playing the accordion. An impoverished roofer, her father convinced Concetta to appear on stage at the age of four at the Olympic Amusement Park in Irvington, New Jersey. She played her accordion and then sang Anchors Aweigh in English and O Solo Mio in Italian. When she was ten years old she won third place The Ted Mack Amateur Hour radio for singing St. Louis Blues at the Mosque Theatre in Newark. Growing up in an Italian-Jewish neighborhood, Francis became fluent in Yiddish, which would lead her to later record songs in Yiddish and Hebrew.
By 1952, at the age of 14, Concetta found herself making demonstration records (demos) for publishers, who would then pitch these yet-to-be published songs to the most popular singers of the day. Before that first four-hour demo session was over, Concetta knew, for certain, that if she were ever to find her place in the sun, it would surely begin in a recording studio. That same year she won a spot on The Arthur Godfrey Talent Scout Show, on which, every Christmas, rather than featuring the usual adult singers, Godfrey would highlight child performers instead. It was at the rehearsal for that show that Godfrey, having a tough time pronouncing her Italian last name, summoned her over to his desk. "Whew! Your last name, Connie — it's givin' me a headache. Why don't we just give you a good ol' easy-to-pronounce Irish name like, lemme see. . . what about Francis? Hey, that sounds good to me. . . let's make it, 'Connie Francis', OK?" "Oh no, please, Mr. Godfrey," Franconero pleaded, "my father'll have kittens. Couldn't you please try to pronounce my last name just for tonight? And tomorrow, I'll talk to daddy, and maybe he'll let me be. . . what was that name again you just said. . . ? O.K., Connie Francis, it is."​
Amateur shows were the rage of 1950's TV, and the talented young Connie Francis soon found a home on a weekly kiddie variety show, NBC-TV's The Startime Kids. (In the YouTube.com link in the previous sentence, Connie Francis is the girl singing in the middle of the trio). Produced by a former hoofer named George Scheck, it was a program on which she would appear every single week for the next three-and-a-half years. When Startime had its run, Scheck became Connie's personal manager, and would continue as such for three decades.
In 1955 Francis got a recording contract with MGM. She recorded nine singles in a row that all failed to chart. One exception was "Eighteen" which made the Top 30 in Ottawa and Top 20 in Toronto in the summer of 1957. Meanwhile, Francis was hired to record the vocals for Tuesday Weld's "singing" scenes in the 1956 movie Rock, Rock, Rock, and for Freda Holloway in the 1957 rock and roll movie Jamboree.
In the fall of 1957, Francis enjoyed her first chart success with a duet single she had recorded with Marvin Rainwater called "The Majesty Of Love" which climbed to # 93 on the Billboard Hot 100. On October 2, 1957, MGM gave Connie Francis one last chance to make a hit record with a song called "Who's Sorry Now?" Francis agreed to record the song due to her dad's gut feeling the song could become a hit since adults knew the song as a Top Ten hit for Isham Jones in 1923. George Franconero was certain teens would respond to the song if it had a modern musical score. Francis, who did not like the song at all and had been arguing about it with her father heatedly, delayed the recording of the three other songs during the session so much, that in her opinion there was no time left on the continuously running recording tape. But her father insisted, and when the recording "Who's Sorry Now?" was finished, there were only a few seconds left on the tape. The single went unnoticed like her earlier releases – just as Francis had predicted. But on January 1, 1958, Dick Clark featured the song on American Bandstand. Dick Clark announced that day: "Here's a new girl singer, and she's headed straight for the #1 spot!" This was a very unusual thing to say as there were no female rock 'n roll singers who had a #1 hit record anywhere in North America. There were traditional pop singers in 1957 like Debbie Reynolds who had a #1 hit called "Tammy". But the newer crop of female singers, like Connie Francis, were struggling to chart singles into the Top 30, never mind the Top Ten or get a #1 record.
In 1957's year-end Top 100, Billboard listed sixty-nine songs by male solo recording artists, but only ten by female solo singers. Another seventeen singles in the Top 100 for '57 were by male vocal groups. However, by the summer of '58 "Who's Sorry Now?" was a million seller. Francis had become a household name. In April 1958, "Who's Sorry Now" reached # 1 on the UK Singles Chart and # 4 in the US.
Following the success of "Who's Sorry Now", Connie Francis embarked on a nonstop manic-paced schedule, filled with endless recording sessions, appearances on every TV variety show in existence, and record-breaking appearances at the nation's top nightclubs. At "The Greatest American Nightclub" of them all, New York City's, Copacabana, she became the biggest female draw for the next 11 years. Throughout the 60's, she continued to break all attendance records at Hollywood's famous Coconut Grove, the Lincoln Center, the Eden Roc Hotel in Miami Beach, Blinstrub's in Boston, The Elmwood Casino in Ontario, the Concord Hotel in the Jewish Castkills, The Latin Casino in Cherry Hill, and countless others. She was named "America's Sweetheart of Song,." Francis became the dream girl of every young man, the secret sister of every teenage girl and the ideal girl almost every parent in America wished their daughters to emulate.
"Who's Sorry Now?" would be the first of 15 Top Ten hits for Connie Francis in the USA. For the next four years, she was voted the "Best Female Vocalist" by American Bandstand viewers. It would not be until June 1960 that the first female rock 'n roll era singer to have a #1 hit in America would be Francis herself with "Everybody's Somebody's Fool". Among the string of hit records she charted into the Top Ten were "My Happiness", "Lipstick On Your Collar", "Frankie", "My Heart Has A Mind Of It's Own" and "Everybody's Somebody's Fool". The B-side of the last of these was "Jealous Of You".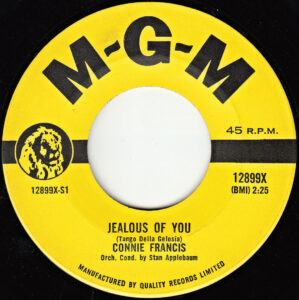 "Jealous Of You" was cowritten by Giuseppe Mendes and Gian Vittorio Mascheroni. "Peppino" Mendes was born in 1892 in Catania, Sicily, Italy. Mascheroni was born in 1895 in Milan, Italy. Between 1933 and 1962 Mascheroni scored the music for sixteen Italian films. He also wrote and recorded music between 1926 and 1962. Mascheroni died in Milan in 1972 at the age of 77.
Originally in Italian as "Tango Della Gelosia", the Italian song inspired the 1981 Italian film Il Tango Della Gelosia. The English translation was rendered "Jealous Of You". However, most of the song was sung in Italian.
The singer tells us it isn't jealousy, it's their passion. When others look at their lover they itch, shake, because they hunger to have their lover's beauty all for themselves. They aren't sure exactly what it is they are struggling with inside. Still, the singer proclaims: "Fear not! I am not jealous of you." However, when Connie Francis concludes the final verse in English, she finally admits that though "you say you'll be true. I want to believe that you're mine, but I'm jealous of you."
Romantic jealousy concerns feelings of insecurity, fear and concern about the permanence of ones' relationship. These are typically brought on by a sense of threat to the existence of the relationship due to perceptions of a potential attraction by one's partner and a rival suitor. The jealous feelings may arise even if the perceptions of a rival are completely imaginary and without any foundation.
"Jealous Of You" and "Everybody's Somebody's Fool" were both tracks on the Connie Francis album released in 1961.
"Jealous Of You" peaked at #1 in Philadelphia, Minneapolis/St. Paul, and Toronto, #2 in Vancouver (BC), Toledo (OH), and Rochester (NY), #3 in New York City and Providence (RI), #5 in Hartford (CT) and Boston, #7 in Washington DC, and #11 in Buffalo.
In 1961 Connie Francis had more Top Ten hits in Vancouver, including "Where The Boys Are" and "Too Many Rules". The latter was the B-side to one of a string of Top Ten hits she had called "Together". A minor hit in the USA, "Too Many Rules" peaked to #10 on the Vancouver charts.
The following year Connie Francis enjoyed another four Top Ten singles including her #1 hit "Don't Break The Heart That Loves You". But after 1962 her record sales slumped. After 1964 Connie Francis failed to chart any more singles into the Top 40. The British Invasion had knocked another early rock 'n roll era recording artist out of the spotlight, at least on AM radio.
Nonetheless, Connie Francis' total record sales of single and album releases between 1957 and 1969 had topped 100 million by 1997. Connie Francis released 72 singles in North America, 55 singles in the UK, 75 singles in Germany and 34 more singles internationally. In Vancouver, Connie Francis charted 37 songs into the Top 50 on either CFUN or CKWX. She topped the charts in 15 countries and around the world has charted singles in six different languages. In 1967 at a formal dinner presided over by Canada's Prime Minster, Lester Pearson, Miss Francis was distinguished with a Golden Heart statuette commemorating her selection as the Female Vocalist of the Century. In 2009, Francis received a star on the Italian Walk of Fame in Toronto, Ontario.
October 8, 2021
Ray McGinnis
References:
Will Price, Rock, Rock, Rock, Vanguard Productions, 1956.
Roy Lockwood, Jamboree, Warner Brothers, 1957.
Connie Francis, American Bandstand, ABC, 1958.
Francis, Connie. Who's Sorry Now? St. Martin's, New York, 1984.
McGinnis, Tom. A Girls Guide to Dating and Going Steady. Doubleday, New York, 1968.
Bailey, Beth. From the Front Porch to the Back Seat. John Hopkins, Baltimore, 1988.
Connie Francis, Among My Souvenirs (The Real Story), (Concetta, 2017).
"Sensational Sixty," CKWX 1130 AM, Vancouver, BC, June 6, 1960.
For more song reviews visit the Countdown.