#1248: Jimmy Love by Cathy Carroll
Peak Month: June 1961
5 weeks on Vancouver's CKWX chart
& DISCovery of the week
Peak Position ~ #8
Peak Position on Billboard Hot 100 ~ did not chart
Peak Position on Cashbox singles chart ~ #79
YouTube: "Jimmy Love"
Lyrics: "Jimmy Love"
Wikipedia says Cathy Carroll was born Carolyn Stern in 1939. However, both Billboard Magazine and Radio Television Daily wrote in 1963 that Carroll was 17 years old at the time. Doing the math, that puts Carolyn Stern's birth around 1946. Cathy Carroll seemed from the start to be aiming for an award for drama queen among girl singers in the early rock 'n roll era. In the previous decade Johnnie Ray would tear at his hair and fall on the floor sobbing before his fans as he sang his 1951 million selling hits "Cry"and "The Little White Cloud That Cried". From his histrionic performances Ray earned the nicknames the "Nabob of Sob" and "Mr. Emotion." Cathy Carroll would later record "Cry" as well, perhaps as a nod to her musical soulmate.
Country singer Ferlin Husky often gave very emotive performances in the recording studio and his producer, Ken Nelson, would try to make Husky dial it down. But when you listen to "Gone", it is debatable Husky's producer was successful. But Ferlin Husky is tame compared to Cathy Carroll and Johnnie Ray. And in the case of Cathy Carroll, it seems no one was in the recording studio asking her to tone it down. So she raised the drama in her lyrics to hit the heights. Her overblown renditions were often twinned with lyrics that were melodramatic in the extreme.
Her debut record was on Triodex Records owned by Bill Buchanan, who had a novelty hit in 1956 called "The Flying Saucer". That record involved sampling sound-bites of other Top 40 records at the time, long before current copyright laws were in place. The song chosen for Cathy Carroll was the teen tragedy song "Jimmy Love". Here is what was written on the sleeve of Carroll's Triodex Record #110 45 RPM:
Once in a very long while,
the tape machines capture an outstanding event
a vocal performance so thrilling,
and an arrangement so exciting,
that seasoned professionals in the studio applaud,
and listeners are moved to tears.
We proudly invite you to hear such a recording ….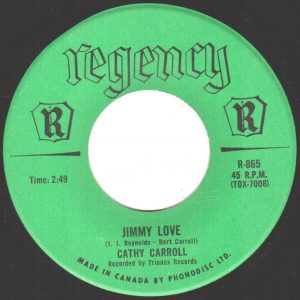 In a review as a Billboard Pick, Billboard Magazine wrote: "A new thrush and a new tune combine for a strong side. The song is packed with emotion and tragedy as the gal relates the story of her wedding that never came off. Big performance and it builds. Watch it." The song was co-written by Bert Carroll, Cathy's father, in which her fiancé gets fatally demolished by a tree from a lightning strike.
Given the over the top scenario the song offers us, it seems the tree must have been a snag, a dead or dying tree with few or no branches. She was walking home with Jim, presumably arm and arm, and somehow got out of the way. But Jim didn't see (or hear) the tree falling, or had slower reflexes than she did. Had the tree contained a typical amount of branches, the arm and arm couple would both have been smashed by the trees trunk or its massive branches. But if it was a snag, its plausible Jim may have had a neurological condition creating a movement disorder lending itself to awkward or reduced motion. This would have prevented him from getting out of the way of the crashing tree. Yet, he was able to dance with her, walk with her, and was presumably in his late teens. At the very least Jim may have been fated to be accident-prone.
The song is sung by a newly widowed bride at the funeral chapel, not the wedding chapel as the song sets up the listener to expect. Yet she still vows after the death of her fiancé to "soon be by your side." It may have been important for close friends and family to recommend a therapist or put her on a suicide watch. But no additional verses were ever written. I offer this additional verse, in similar melodramatic fashion, 55 years since "Jimmy Love" was released:
A year has gone
since electroshock treatment,
I still look back on
everything Jim meant,
I've got to stay on top,
not just counting the hours,
I've opened up a shop
where I'm selling flowers.

"Jimmy Love" was was one of countless teenage tragedy songs. This was a style of ballad in pop music that was at its peak in the late 50s and early 60s. Examples of the style were introduced as "tear jerkers," "death discs" or "splatter platters" by rock 'n roll DJs. Songwriters calculated they could get radio listeners attention on first hearing a song if it involved the death of a young person. A life cut short is a tragedy. Often lamenting teenage death scenarios in melodramatic fashion, these songs were often sung from the viewpoint of the deceased sweetheart. An example of this is J. Frank Wilson & The Cavalier's #1 hit in 1964, "Last Kiss". Other examples include a #1 hit in 1959, "Teen Angel" by Mark Dinning, the 1960 hit "Tell Laura I Love Her" by Ray Peterson, "Ebony Eyes" by the Everly Brothers and "A Thousand Feet Below" by Terry Tyler. While "Dead Man's Curve" by Jan and Dean and "Leader Of The Pack" by the Shangri-Las showcased the genre in the twilight of its popularity in 1964. Teen interest in the British Invasion and folk-rock, with its social commentary, were on the ascent. Interest in teen tragedy songs fell out of favor.
Cathy Carroll traveled to a roster of cities to appear on DJ shows in Chicago, Detroit, New York and elsewhere to promote the single. Despite Cathy Carroll's guest appearance on American Bandstand on July 27, 1961, "Jimmy Love" missed the Billboard Hot 100. It did climb to #79 on the Cashbox singles chart in the USA thanks to its chart runs in San Diego (#8), Tampa Bay, FL, (#6), Boston (#10), Worcester, MA, (#5), Manchester, NH, (#8) and Providence, RI, (#11). In Vancouver the tune peaked at #8. Country singer Jeanne Black did a cover version of "Jimmy Love" in 1961.
Cathy Carroll's follow-up single, "Every Leaf that Falls", continued on her tree-inspired heartache trajectory. She turned from falling trees to falling leaves. She learns from the start that the boy she is beginning to date already has a girlfriend who is away for the summer. However, she feels he is heartless and cruel to leave her at summer's end for the girl he has a deeper commitment to. Consequently, she is inconsolable. This song had modest success in Massachusetts and in San Francisco. Her third single, "The Young Ones," was a cover of Cliff Richard's UK hit. But her version got only some attention in Massachusetts. Then her fourth hit, "Poor Little Puppet", became her biggest seller reaching #91 on the Billboard Hot 100 and #8 in Vancouver. Her fifth single, "But You Lied", was a hit in Vancouver, Toronto and Philadelphia. In 1963 Cathy Carroll signed a contract with Philips Records. At the same time she got a contract with Coty, a Paris, France, based cosmetics company. She promoted their lipstick, perfumes and other fragrances as Cotys' "Miss Teen-Age America" in a 100-city tour.
Cathy Carrolls' last single release was in 1966 called "I Wish You Were a Girl". It was a song that would make most men happy they were not a girl, unless they wanted to be tormented, constantly in pain and feel like dying. According to the song, that's what being a girl is like, especially when they are dating a guy. Cathy Carroll married Bob Halley. She gave birth to two children. Bob was a producer, arranger, and songwriter. Halley wrote a hit for Nat "King" Cole in 1962 called "Dear Lonely Hearts". He also wrote "I Wish You Were A Girl".
December 20, 2016
Ray McGinnis
References:
Cathy Carroll, Wikipedia.org.
Jeanne Black, Jimmy Love, Capitol Records, 1961.
Cathy Carroll "Jimmy Love," Record sleeve, Triodex Record, #110, New York, NY, 1961.
Alison Nastasi, The Most Ridiculous Teen Tragedy Songs, Flavor Wire.com, New York, NY, November 28, 2015.
Katie Rife, Screeching Tires and Busting Glass: Defining the Teen-Tragedy Song in 60 Minutes, AV Club.com, Chicago, IL, September 14, 2016.
Snag – definition, Wikipedia.org.
George Brandon, "Dickie Goodman and the Art of the "Break-In" Record," Rebeat Magazine, Tennessee, April 14, 2015.
Bill Buchanan – Bio, Rockabilly.nl.
Bob Halley – profile, Discogs.com.
"Fabulous Forty," CKWX 1130 AM, Vancouver, BC, June 10, 1961.
For more song reviews visit the Countdown.