#1189: Jingle Bell Rock by Chubby Checker and Bobby Rydell
Peak Month: December 1961
5 weeks on Vancouver's CFUN Chart
Peak Position #3
Peak Position on Billboard Hot 100 ~ #21
YouTube.com: "Jingle Bell Rock"
Lyrics: "Jingle Bell Rock"
Ernest Evans was born in 1941 in Spring Gulley, South Carolina. He grew up in South Philadelphia. As a child, his mother took him to a show performed by child piano prodigy Sugar Child Robinson. Also at the performance was the country singer Ernest Tubb. Ernest was so inspired, that he decided to become an entertainer when he grew up. At the age of eleven he formed a street corner doo-wop group. He took up piano and while attending South Philadelphia High School, one of his friends was Fabian Forte. After school he worked at Fresh Farm Poultry on 9th Street at the Produce Market. His boss decided to give a nickname to his portly employee and called him "Chubby."
Chubby got a reputation as someone who told jokes and sang at the store. Fresh Farm Poultry's owner, Henry Colt, was proud of Chubby. One thing led to another and Colt arranged for Chubby to make a recording with Dick Clark of American Bandstand. The recording was a novelty version of "Jingle Bells", which Dick Clark sent to his colleagues in the music industry. At the recording session Ernest Evans got his stage name from Dick Clark's wife, Barbara Mallory. She asked him what his name was. "Well, my friends call me 'Chubby'," he replied. Since he'd just done a Fats Domino impression, she smiled and said, "As in Checker?" By the end of the recording session he became known as Chubby Checker. Cameo-Parkway Records took notice and signed Chubby Checker to a record deal. His first release was a song he co-wrote called "The Class", which became a minor hit in 1959. It climbed to #38 on the Billboard Hot 100 and #34 on CKWX in Vancouver (BC).
Later that year he recorded "Whole Lotta Laughin'" and early in 1960 "Dancing Dinosaur". Neither song caught on. But another song he recorded in June 1959 was one Chubby Checker wanted Cameo-Parkway to get behind. It was called "The Twist". Though the record company president, Bernie Lowe, was skeptical of the song's potential, Chubby Checker proceeded to appear on TV and in live performances and featured "The Twist" at every opportunity.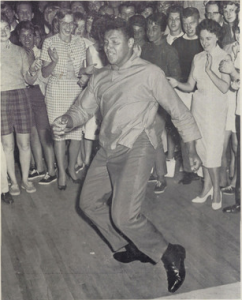 In June 1960 Checker appeared on The Buddy Deane Show in Baltimore. Next, he performed the song at the Rainbow Club in Wildwood, New Jersey, in July 1960. The response was electric. "The Twist" debuted at #49 on the July 30, 1960, on the Billboard Hot 100 chart. Subsequently, 18-year-old Chubby Checker appeared on American Bandstand on August 6, 1960. On August 8, "The Twist" jumped from #49 to #11 on the Hot 100. It spent the next six weeks in the Top Ten until it topped the Hot 100 chart on September 19, 1960. And later it returned to the number one spot on the Billboard Hot 100 in January 1962 for two more weeks. In Vancouver, "The Twist" climbed to #2 on CFUN and spent 11 weeks on the chart. While in the winter of 1961-62, "The Twist" peaked at #1 for two weeks on CKWX, spending twelve more weeks on the Vancouver pop charts on both 'WX and CFUN.
Chubby Checker was prominent in launching new dance crazes with "The Fly", "The Hucklebuck", "Pony Time" and "Let's Twist Again".
Robert Louis Ridarelli was born in 1942 in Philadelphia. He displayed a musical aptitude as a young child. At the age of eight, his reputation led to an appearance on a talent show on the national television series, TV Teen Club. He won the contest, and the show's presenter, Paul "The King of Jazz" Whiteman, recruited him into the cast, where he remained for several years. It was here that his name was Anglicised to Bobby Rydell. When he was 15 in 1957, he played drums for Rocco and the Saints, across from trumpet player Frankie Avalon. In 1958 he released "Dream Age" on the small Veko Record label. Two followup releases on Cameo, "Please Don't Be Mad" and "All I Want Is You" also failed to make a breakthrough. But his third release on Cameo Records, "Kissin' Time", got him national exposure. The single climbed to #11 on the Billboard Hot 100 and #14 in Vancouver's Sensational Sixty on CKWX in September 1959. A followup, "We Got Love" broke into the Top Ten to peak at #6 on CFUN in Vancouver in late October '59, matching its peak on the Billboard Hot 100. In all, Bobby Rydell had a hit record on the Vancouver pop charts in 1959 for a total of 21 weeks.
With several hits across America and Canada, Bobby Rydell was invited to join Dick Clark's Caravan of Stars. In addition to Rydell, the 1959 tour was comprised of Jimmy Clanton, Lloyd Price, Paul Anka, Annette, Duane Eddy and LaVern Baker.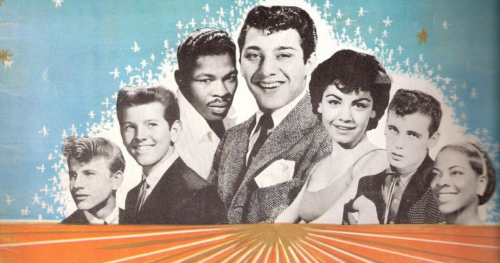 Dick Clark Caravan of Stars 1959 poster – Bobby Rydell (above) on the far left
In early 1960, Rydell released "Wild One" with the B-side "Little Bitty Girl". The single became a double-sided number-one hit in Vancouver. Rydell had a followup with "Swinging School" which peaked at #5 in the USA and #3 in Vancouver. While in the summer of 1960, Bobby Rydell released an English version of the 1958 Domenico Modugno number-one hit "Volare", which peaked at #4 in the USA and #19 in Vancouver. One last Top 20 hit for Rydell in 1960 was "Sway". Across the year, Bobby Rydell appeared on the Vancouver pop chart with one of his hits in 44 of 52 weeks.
In 1961 Bobby Rydell was back in the Top Ten in Vancouver with "Good Time Baby", which climbed to #7 in February. In the spring of '61, Rydell charted a cover of the number-one 1943 hit by Glenn Miller (most recently covered in 1958 by Louis Prima and Keely Smith) titled "That Old Black Magic". The single was from his album Bobby Rydell Salutes the Great Ones. Other tracks from the album included three Al Jolson hits, "Rainbow 'Round My Shoulder", "Mammy" and "April Showers". Rydell also saluted Artie Shaw's number-one hit from 1940 titled "Frenesi"; The 1957 Jimmy Dorsey hit "So Rare"; the 1931 Bing Crosby Top 5 hit "Wrap Your Troubles In Dreams"; And a tune from the 1959 Broadway musical Gypsy titled "Everything's Coming Up Roses".
But in the midst of the dance craze most record buyers gave Rydell's "That Old Black Magic" cover a pass, as the song stalled in the Top 30 in Vancouver. So Rydell released "The Fish" explaining to listeners "I'm gonna teach it to you right." However, during the song, aside from learning that when you do The Fish you "move" and "sway," there were no other instructions. One promotional photo showed Bobby Rydell with his arms outstretched, as if he was holding a fishing line (and so the other dancer would be dancing as if they were a fish that was being caught). The song spent five weeks in the Top 50 on CKWX in July '61. In October '61, it was a B-side "The Doorway To Paradise" that spent six weeks on the pop charts in Vancouver, peaking in the Top 30.
In 1961, Bobby Rydell performed at the Copacabana in New York City, where he was the youngest performer to headline at the nightclub. The New York World Telegram and Sun wrote:
A powder keg of talent exploded into stadium last night at Jules Podell's Copacabana. The name is Bobby Rydell and the 19-year-old singer, a sometime rock 'n roller, blasted off on a two-week stand with a sizzling performance that enraptured patrons from 7 to 70…. Poised and personable, the Philadelphia-born youngster elicited raves for his bouncy presentations of "That Old Black Magic", "Old Man River"…and superb mimicry. Bobby has been pointed for stardom since he was signed for the Paul Whiteman TV show at the age of 9…."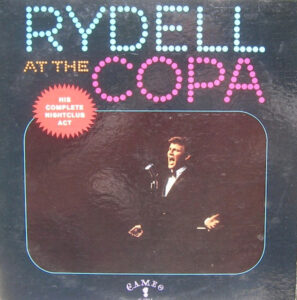 In February 1961, he appeared at the Festival du Rock at the Palais des Sports de Paris in Paris, France. At the end of '61, Chubby Checker and Bobby Rydell released an album titled Chubby Checker Bobby Rydell. One of the tracks on the album was a medley over seven minutes long titled "Your Hits And Mine". During the medley Chubby Checker sang these hits by Bobby Rydell: "Kissin' Time", "We Got Love", "Volare" and "Wild One". For his part, Bobby Rydell sang Chubby Checkers' hits "The Twist", "Pony Time", "Hucklebuck" and "Let's Twist Again". They recorded duets of pop standards like Maurice Chevalier's 1931 hit "Walking My Baby Back Home", Kay Starrs' "Side By Side", and Margaret Whiting's 1947 Top Ten Christmas tune "What Are You Doing New Year's Eve". As well, Checker and Rydell recorded a cover of "Jingle Bell Rock".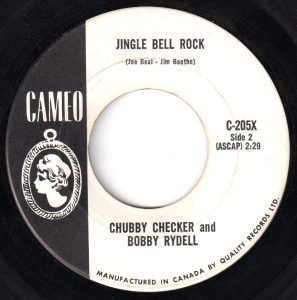 On the Chubby Checker Bobby Rydell album liner notes Cameo Records' Frankie Day effused "To my knowledge, never in the history of our business have two such close buddies as Bobby and Chubby traveled individually to such great fame and still remained close friends. From the beginning they helped one another by appearing on each others records, if only to do some hand-clapping. The clowning around that they were doing one day in the recording studio was the first idea for this album. They have for a long time wanted to do a record together and from their clowning has come an album that is to make recording history. As far as we know this is the first time in recording history that two current recording artists of such individual giant stature have been combined on one album for all to enjoy. The recording studio with its harsh lighting and cold recording equipment came alive when these two boys faced the mike for the first time. Without knowing what caused it, the infectious fun that these boys were having spread and engulfed musicians and engineers alike. What resulted was probably one of the "Most Fun" sessions ever recorded. The session itself has almost a live performance quality to it, due to the uninhibited and great individual performances given by both Chubby and Bobby. It is a great credit to both these fine boys that in spite of the great success that these boys have enjoyed, they remain two normal very nice, well adjusted teenagers that in this album get a chance to together entertain you."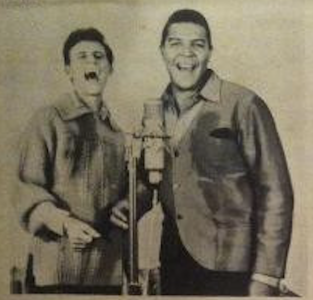 "Checker and Rydell covered the Bobby Helms Christmas tune "Jingle Bell Rock". The song is credited by Decca Records to Joe Beale and Jim Boothe. Boothe was born in Sweetwater, Texas, in 1917. He died in 1976. Not much is known about Joe Beale, but as with Jim Boothe, "Jingle Bell Rock" was his only notable songwriting credit.
Bobby Helms, as well as session guitarist on the song Hank Garland, both claimed until their deaths, that it was they, not Beal and Boothe, who wrote the song. They claimed that the original song by Beal and Boothe was called "Jingle Bell Hop", and that it was given to Helms by a Decca executive producer Owen Bradley to record. Garland recalls it was around midnight that Owen Bradley came into the studio and presented both he and Helms with "Jingle Bell Hop". "Jingle Bell Hop", according to Helms and Garland, had little to no resemblance to "Jingle Bell Rock". Helms did not like "Jingle Bell Hop", and as a result, he and Garland proceeded to work on it, changing the music, lyrics, and tempo, and also giving it a previously-missing bridge. This new song, they claimed, was the one that is known today as "Jingle Bell Rock".
However, neither Helms or Garland received writing credit or subsequent writing royalties. In 1992, Bobby Helms said in an interview: "'I really didn't want to cut it because it was such a bad song. So me and one of the musicians [, Hank Garland], worked on it for about an hour putting a melody to it and we put a bridge to it,'." For his part, in 2001 Hank Garland recalled, "'I let it hop back to where it came from. It wasn't any good. [Bobby and I] came up with the "Jingle Bell Rock" America hears every holiday season,'." Billy Garland, brother of Hank Garland, maintains his deceased brother's story, and has long been involved with and vocal about the issue.
Hank Garland was a session musician on many songs including "I'm In The Jailhouse Now" by Webb Pierce, "Such A Night", "(You're So Square) Baby I Don't Care", "Don't", "Paralyzed", "(Let Me Be Your) Teddy Bear", "Jailhouse Rock", "It's Now Or Never", "I Got Stung", "A Fool Such As I", "Stuck On You", "Wear Your Ring Around My Neck", "Little Sister", "(Marie's The Name) His Latest Flame" and many more for Elvis Presley; "Wake Up Little Susie", "Bye Bye Love", "Muskrat" and other with the Everly Brothers, "Walking After Midnight", "She's Got You", "Crazy", "I Fall To Pieces", and "Sweet Dreams Of You" and many more for Patsy Cline; and Brenda Lee's "Rocking Around The Christmas Tree", "Only The Lonely", Oh Pretty Woman" and many more for Roy Orbison, "Great Balls Of Fire" and "Whole Lotta Shakin' Going On" for Jerry Lee Lewis, and many more. Garland was born in 1930 in Cowpens, South Carolina. He began playing guitar at the age of six. At age 15 he played at the Grand Ole Opry. Garland died in 2004 from a staph infection.
Hank Garland's attorney, Bill Whitacre says "What I believe happened is that they [Decca] treated this as a session where they owned it and controlled it. If you judge it as a derivative of the original work, then Hank's claim may not be as strong. If, as I believe, he and Bobby Helms created a new work, then he has a copyright interest and he has an entitlement to publishing royalties." At the very least, Helms and Garland should have been granted co-writer credit, given the new melody, verses, bridge, and lyrics.
The first verse of "Jingle Bell Rock" includes the line "now the jingle hop has begun," likely one of the few retained from "Jingle Bell Hop" in Helms and Garlands' reworking of the Beale and Boothe tune. In the Chubby Checker & Bobby Rydell version, the pair sing "jingle bell, jingle bell, jingle bell twist" as the first line of the second verse. This is a nod to the Twist craze that Checker was famous for. Other lyrics – "dancin' and prancin'" – conjure the names of two of the tiny reindeer who pull Old Saint Nick – Dancer and Prancer. And "gliding in a one-horse sleigh" evoke the carol "Jingle Bells". Another phrase from the song, "jingle around the clock," was a nod to the 1955 Bill Haley and his Comets number-one hit "Rock Around The Clock".
In the Bobby Helms version, Helms sings "Giddy up jingle horse, pick up your feet." Checker and Rydell sing "Giddy up Pony time, kick up your feet," with a nod to the number-one '61 hit "Pony Time" by Chubby Checker.
Checker and Rydell's cover of "Jingle Bell Rock" peaked at #1 in Syracuse (NY), #3 in both Vancouver and Toronto, #5 in Akron (OH), #7 in Seattle, #8 in Buffalo, #9 in Pittsburgh, and #11 in Hartford (CT).
Bobby Helms original "Jingle Bell Rock" peaked in Vancouver at #5 in 1957, and #3 in 1961, #1 in Toronto, and #2 in Ottawa. It was a #6 hit on the Billboard pop chart in 1957, and #3 in 2019. Helms recording had climbed into the Top Ten in Austria, Canada, Denmark, Hungary, Ireland, Italy, Latvia, Lithuania, Slovakia, Sweden and Switzerland.
In 1962, Bobby Rydell was on the pop charts in Vancouver for 28 weeks with "I've Got Bonnie", "Gee, It's Wonderful", "I'll Never Dance Again", and "The Cha-Cha-Cha". The last of these peaked at #5 in Vancouver in November '62. As 1963 began, Rydell was back in the Top 20 in Vancouver with "Butterfly Baby". And in the Top 40 with "Will You Be My Baby", "Wildwood Days" and "The Woodpecker Song". He wrapped up the year with a #3 hit in Vancouver titled "Forget Him", and appeared on the CFUN pop charts in Vancouver in 1963 for a total of 37 weeks.
In 1963, Rydell appeared in the role of Hugo Peabody in the film Bye Bye Birdie.
Once the British Invasion began, Bobby Rydell was one of the late 50's-early 60's teen idols that was swept away. In 2000, Paul McCartney stated in The Beatles Anthology that "She Loves You" was initially envisioned as an 'answer song' to Bobby Rydell's "Swinging School".
Bobby Rydell's 13 single releases between 1964 and 1968 failed to appear on the pop charts in Vancouver. Most of these failed to crack the Billboard Hot 100. Bobby Rydell turned to television and was a regular on The Red Skelton Show playing Zeke Kadiddlehopper, the cousin of Skelton's Clem Kadiddlehopper. Rydell was a recurring guest on The Milton Berle Show, and a panelist in 1964 on To Tell The Truth. He also was a featured guest on The Jack Benny Show, Joey Bishop, The Danny Thomas Show, and George Burns.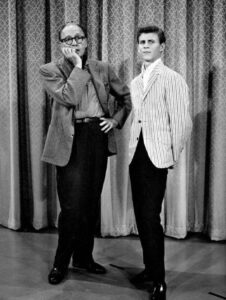 Bobby Rydell with Jack Benny (1964)
In 1976, Bobby Rydell had his last hit on the pop chart with a disco version of his 1960 hit "Sway". The 1978 musical Grease and the 1982 musical film Grease 2 has much of the plot unfold at Rydell High. In 1986 Bobby Rydell made his only appearance in Vancouver at the Expo Theatre on June 15th. He was honored by the City of Philadelphia when the 2400 block of South 11th St. was named Bobby Rydell Boulevard. The event was celebrated with a parade, a string band and Bobby arriving in a 1950 pink Cadillac. The mayor attended along with thousands of people. A huge block party followed dedication ceremonies.
Between 1959 and 1965, Bobby Rydell released 13 studio albums. He charted 29 singles onto the Billboard Hot 100, including six into the Top Ten in the USA and eight Top Ten hits in Vancouver.
In 2016, Rydell cowrote his memoir with Alan Slutsky titled Teen Idol on the Rocks: A Tale of Second Chances. Looking back, Rydell disclosed his decades long battle with alcoholism that ravaged his liver and kidneys. Bobby Rydell died in 2022 at the age of 79 from pneumonia.
In 1962 Checker won a Grammy Award for Best Rock Performance for "Let's Twist Again". In 1963 he had more hits on the pop charts including "Birdland", "Twist It Up" and "Loddy Lo". While hits kept coming, the highlight of 1964 was Chubby's marriage to Catharina Lodders, Miss World 1962. In 1965 he added another song to the dance scene called "Do The Freddie". This was a dance inspired by the lead singer of the British Invasion band Freddie & The Dreamers, and the comic antics of the 5-foot-3-inch-tall lead singer, Freddie Garrity.
In 2000 Chubby Checker got a chocolate bar named after him for his business that created the Chocolate Checker Bar. And in 2008 he had a #1 dance chart hit titled "Knock Down The Walls". That same year he was awarded by the Rock and Roll Hall of Fame a Rock and Roll Hall of Fame Singles Award for "The Twist" in recognition of singles that had shaped rock and roll.
In the past decade Chubby Checker has toured in Germany, appeared in Disneyland and performed on a Chubby Checker cruise in May, 2011. In 2013 and 2015 Billboard magazine named "The Twist" as the Billboard Hot 100s all-time top song.
References:
"Bobby Rydell Setlist," Setlist.fm, June 15, 1986.
A.D. Amorosi, Chris Willman, "Bobby Rydell, 1960s Pop Idol and Star of 'Bye Bye Birdie,' Dies at 79," Variety, April 5, 2022.
"Bobby Rydell," Imdb.com.
"Grease," Wikipedia.org.
One to One with Steve Adubato, "60's Teen Idol Bobby Rydell on Overcoming Alcoholism," PBS, Montclair, New Jersey, August 18, 2016.
Bobby Rydell and Alan Slutsky, Teen Idol on the Rocks: A Tale of Second Chances, Doctor Licks Publishing, 2016.
"Chubby Checker Biography," Chubby Checker.com.
Tom Wright, "Rock and Roll Hall of Fame Induction Ceremony "The Twist" Changed Everything. Thank You, Chubby," Perfect Music Today.com, May 8, 2018.
Devan Stuart, "No Jingle in His Pockets: Orange Park guitarist sings blues about lost royalties," Jacksonville Business Journal, August 27, 2001.
David Lindquist, "'Jingle Bell Rock' cemented legacy for Hoosier Bobby Helms," Indy Star, Bloomington, IN, December 5, 2012.
"Jingle Bell Robbery?," Businesslessonsfromrock.com, December 18, 2013.
"C-FUN-Tastic 50," CFUN 1410 AM, Vancouver, BC, December 16, 1961.
For more song reviews visit the Countdown.