#342: Jodie by Joey Gregorash
Peak Month: May 1971
10 weeks on Vancouver's CKLG chart
Peak Position #3
Peak Position on Billboard Hot 100 ~ did not chart
YouTube: "Jodie"
Lyrics: "Jodie"
Joey Gregorash was born in Winnipeg, Manitoba. His dad played the violin and young Joey took an interest in learning the instrument. In February 1964 Gregorash saw the Beatles perform on the The Ed Sullivan Show and was turned onto rock 'n roll. He learned how to play the drums and formed a band called The Mongrels in 1965 with childhood friend John Nykon. Later Gregorash went solo and won a 1972 Juno Award in 1972 for Outstanding Performance-Male for his hit single "Down By the River". For over a decade Gregorash pursued other interests until in 1987 his single, "Together (The New Wedding Song)," became a hit in Canada.
The Mongrels were a huge hit in the Winnipeg music scene from the mid to late 60s. In addition to Gregorash and Nykon, the groups' other members were Duncan Wilson, Larry Rasmussen and Garth Nosworthy. They performed onstage with headliners visiting "The Peg" like Paul Revere and the Raiders, Neil Diamond, the Boxtops, the Kingsmen and Tommy James & the Shondells. After several singles they released their first album. This was followed in 1969 with several singles including a song written by Randy Bachman called "Funny Day". The song was mentioned by Dick Clark on American Bandstand.
Meanwhile, in 1968 Joey Gregorash became host to a local Winnipeg TV show called Young As You Are. This was the first of three TV shows he hosted, the other two were Teen Dance Party and Joey and the Hits. After leaving the Mongrels in 1969, Gregorash got a record deal and in 1971 recorded his first album called North Country Funk. The album featured his first solo single, "Jodie" that became a Top Ten hit in Canada as well as having solid chart runs in Australia, Germany and Japan.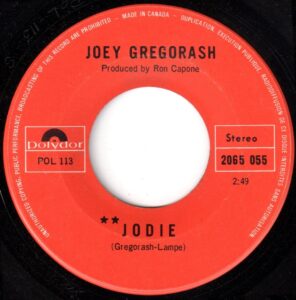 "Jodie" was written by Joey Gregorash with his sometime co-writer, Norm Lampe. In the song "Jodie is just people, people everywhere." Jodie is just the name given in the song for people, regardless of the length of their hair, or the color of their skin. When people are free, and freedom is in the air, distinctions like the color of ones skin or the length of someones' hair are not important.
From the mid-60s into the early 70s the length of someone's hair was a cultural boundary. This was especially the case for males. If a young man wore their hair very short, they were viewed by the establishment culture as fitting into society. But if a young man wore long hair, they were viewed as counter-cultural, anti-war, "free love" and probably doing illegal drugs. In 2021, with people dying their hair all kinds of colors, the length of hair is not an issue.
However, in 2021 the color of someone's skin is still a problem. The Black Lives Matter movement arose due to the publicized shootings by American police officers of mostly young African-American boys and men. Some of the high-profile cases include:
Sean Reed, a 21-year-old United States military veteran who was unarmed was shot and killed by Indianpolis police on May 6, 2020.
Joshua Feat, a 22-year-old was shot in the back on December 9, 2020, in La Marque, Texas, though he had not disobeyed any lawful command.
George Floyd was killed on May 25, 2020, after Minneapolis police officer Derek Chauvin kept his knee on 46-year-old Floyd's neck, losing consciousness and suffering heart attack after being unable to breathe.
12-year-old Tamir Rice was shot and killed in Cleveland, Ohio, on November 22, 2014, while holding a toy gun in a children's playground. The police cruiser had not come to a full stop before officers began firing. It was revealed in the aftermath of the shooting, that officer Timothy Loehmann was unable to follow "basic functions as instructed" and specifically cited a "dangerous loss of composure" that occurred in a weapons training exercise prior to the incident with Tamir Rice.
Trayvon Martin, an unarmed 17-year-old was shot and killed on February 26, 2012, by 28-year-old George Zimmerman, a neighborhood watch captain. The incident resulted in increased scrutiny regarding Florida's 'stand your ground' gun laws.
Michael Brown, an unarmed 18-year-old was shot with his hands up by Ferguson, Missouri, police officer Darren Wilson on August 9, 2014. Brown had six bullets all in the front of his body. The slogan "Hands Up, Don't Shoot" originated from the incident.
African-Americans, and many supporters across the ethnic divide, have raised concerns about 'racial profiling' and the assumption by some police officers that African-American boys and men are violent criminals. Based on the lyrics in "Jodie", in 2021 freedom isn't quite yet happening, since having
different colored skin" still means something that poses a problem for some people.
"Jodie" peaked at #2 in Medicine Hat (AB), #3 in Vancouver (BC) and Salem (OR), #6 in Winnipeg (MB), #9 in Toronto and at least #10 in Hamilton (ON).
Several singles later his cover version of a Neil Young song, "Down By The River", became his first hit to get some record sales in the USA. Both hits were from Gregorash's album North Country Funk.
In 1972 Joey Gregorash received a Juno Award for Outstanding Male Vocal Performance. Gregorash's second album was Tell the People and featured the single "My Love Sings" which was a Top 10 hit in Canada in 1972. Gregorash also had a Top 20 hit in Vancouver later that year with "Take The Blindness". Both singles were from his album Tell The People.
A cross-Canada tour ensued for the next year and he also included several bookings in the USA. Near the end of the 1970s Gregorash turned his talents to becoming a writer of radio commercials. In the late 1970s and into the 1980s he won a string of fourteen national and international awards for radio jingles and advertising campaigns. In the 1980s Joey Gregorash hosted several morning radio shows in Winnipeg. Than in 1986 he was picked to host S'Kiddle Bits, a children's noon hour variety TV show. This resulted in the release of a children's album called S'Kiddle Bits Bop N' Rock. The show continued into the early 90s.
While hosting S'Kiddle Bits Joey Gregorash returned to the recording studio to make his first album for the adult market since 1972. The single from Together was the title track "Together (The New Wedding Song)". The song was another Gregorash wrote with Norm Lampe. It became a big seller in Canada and has since been a staple among songs that couples include at weddings and wedding receptions.
After the success of the Together album, and the S'Kiddle Bits TV show, Joey Gregorash added another thread to his tapestry of talents. He became host of a TV show called Hi Noon HI NOON. The show was all about the country fad, living in the country, country dance steps and country music. While the show was on the air Gregorash hosted many guests including Jann Arden and Garth Brooks.
March 1, 2021
Ray McGinnis
References:
Joey Gregorash, Joey Gregorash bio, Canadian Bands.com.
Joey Gregorash bio, Joey Gregorash.com.
The Mongrels 1968, Manitoba Museum.com.
Bruce C.T. Wright, "Cop Isn't Fired For Joking About Sean Reed's 'Closed Casket' After Killing Him," NewsOne.com, Silver Springs, MD, May 15, 2020.
Charise Frazier, "Joshua Feast's Family To Hold 'Justice For Joshua' March In His Honor," January 8, NewsOne.com, Silver Springs, MD, 2021.
"George Floyd's Death was 'Murder' and the Accused Officer 'Knew what he was Doing,' Minneapolis Police Chief Says," CNN, June 24, 2020.
Brad Bennett, "Remembering Tamir Rice: Police Shooting of 12-year-old Playing with Toy Gun Energized Criminal Justice Reform Efforts," Southern Poverty Law Center, November 20, 2020.
"101 Black Men And Boys Killed By Police," NewsOne.com, January 13, 2021.
Karen Grigsby Bates, "A Look Back At Trayvon Martin's Death, And The Movement It Inspired," NPR, July 31, 2018.
Ed Pilkington and Richard Luscombe, "Trayvon Martin: How a Teenager's Death Sparked a National Debate," Guardian, July 14, 2013.
Colleen Curry and Sabina Ghebremedhin, "Michael Brown Could Have Survived First 5 Shots, Last Shot Killed Him, Autopsy Says," ABC, August 18, 2014.
"Boss 30," CKLG 730 AM, Vancouver, BC, May 21, 1971.
For more song reviews visit the Countdown.