#241: Johnny And Mary by Robert Palmer
Peak Month: December 1980
13 weeks on Vancouver's CFUN chart
Peak Position #4
Peak Position on Billboard Hot 100 ~ did not chart
YouTube: "Johnny And Mary"
Lyrics: "Johnny And Mary"
Robert Allen Palmer was born in the market town of Batley, in West Yorkshire, about 9 miles southwest of Leeds, England. Palmer's father was a British naval intelligence officer stationed in Malta. Growing up Palmer heard jazz, blues and soul music on American Forces Radio. At the age of 15, Robert Palmer joined a band called the Mandrakes. At the age of 20 he was invited to be a backing vocalist for a single by The Alan Bown Set in 1969 titled "Gypsy Girl". In 1970 he joined a 12-piece-jazz fusion group named Dada that included Elkie Brooks. In 1971 Palmer, Brooks and her husband guitarist Peter Gage, formed a band called Vinegar Joe. Dada once opened for Jimi Hendrix, and Vinegar Joe once opened a concert for The Who. After they disbanded in 1974, Brooks went on to have a number of Top Ten hits on the UK singles chart including "Pearl's a Singer", "Sunshine After the Rain", and "No More the Fool".
Robert Palmer released his first album in 1974 titled Sneakin' Sally Through the Alley. A track from the album, "Get Outside" stalled at #105, just below the Billboard Hot 100. In 1976, Palmer's album Pressure Drop featured the single "Give Me An Inch", which stalled at #106 on the Hot 100. A second album in '76, Some People Can Do What They Like, featured a cover of the calypso song by Harry Belafonte from 1957 titled "Man Smart, Woman Smarter". It climbed to #63 on the Billboard Hot 100. His fourth studio album, Double Fun, contained his best single effort to date with "Every Kinda People". The single peaked at #16 on the Billboard Hot 100, and #6 in France. Another track from the album, "Best Of Both Worlds", climbed to #4 in Belgium.
In 1979 the album Secrets earned Robert Palmer a second Top Ten hit in France with "What's It Take". A second track from the album, "Bad Case Of Loving You", went to #1 in Canada, #9 in France and #14 on the Billboard Hot 100.
At the end of September 1980, Palmer released his sixth studio album Clues. The debut single from the album was "Johnny And Mary".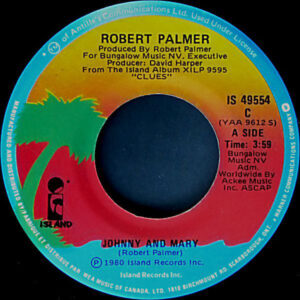 "Johnny And Mary" was written by Robert Palmer. The song paints a portrait of two people: Johnny and Mary.
Johnny is "trying to find certainty" and spends a lot of time being

exceptionally

busy

doing

many

different

tasks

or

activities. He'd like to be filled with an unerring sense of being unmistakably right on about things.

Johnny is needing "the world to confirm" he isn't "lonely." Johnny does not possess enough inner direction in his life to answer the question if he feels lonely. He follows advice and instructions from outside sources, to get feedback from them to know how he is doing emotionally.
Johnny thinks that "the world would be right if it could buy truth from him." Perhaps Johnny would like to have a booth where people could pay to have him impart some truth he has to share for a fee.
Johnny has no interest in learning anything from anyone else, but would be "willing to learn when he decides he's a fool."
Johnny thinks he's "wasting his breath trying to talk sense" to Mary, that it's useless to try to

assist

or

persuade

her to

start

thinking

sensibly

about

something (a given matter at hand).

In addition, Mary thinks that Johnny a) tires easily, b) "changes his mind more than a woman," c) and acts like he's being discovered.
Mary says that Johnny lacks a real sense of proportion. In other words, she thinks Johnny lacks the ability to judge the relative importance or seriousness of things.
While most of the song is about either the narrator's, or Mary's conclusions about Johnny, there are a few things we learn from "Johnny And Mary" about Mary, that she combs her hair and counts the walls. Though one can get tangles out of ones hair, after awhile, combing one's hair becomes either a meditation or a preoccupation. As for counting the walls, assuming Mary is in a living room, den, or bedroom, there are likely only four walls to count, perhaps more if the room is angled in several ways. In any case, she likely tires of counting the walls, and the activity is a sign of boredom.
The lyrics tell us that Mary made her bed with Johnny. To make one's bed is to create a difficult situation whose unpleasant consequences one must now endure.
Mary says she "hedges her bets" and "doesn't know what to think." The verb 'to hedge' derives from the noun hedge, that is, a fence made from a row of bushes or trees. These hedges were normally made from the spiny Hawthorn, which makes an impenetrable hedge when laid. To hedge a piece of land was to limit it in terms of size and that this gave rise to the 'secure, limited risk' meaning. Hedge funds, much in the news nowadays, take their name from their method of limiting, that is, hedging, their risk. The origin of "hedging one's bets" goes back to at least the 16th century, with the meaning of 'equivocate; avoid commitment'. An example of this comes in Shakespeare's Merry Wives of Windsor, 1600:
I, I, I myself sometimes, leaving the fear of God on the left hand and hiding mine honour in my necessity, am fain to shuffle, to hedge and to lurch.

'Hedging one's bets' was coined later in that century. It referred to the laying off of a bet by taking out smaller bets with other lenders. The purpose of this was to avoid being unable to pay out on the original larger bet.
"Johnny And Mary" peaked at #4 in Vancouver (BC), and #6 in Toronto. Internationally, the single climbed to #1 in Spain, #5 in South Africa and Switzerland, #7 in West Germany, #8 in Belgium, #10 in Austria, #11 in Sweden, and #12 in New Zealand.
A second release from Clues was "Looking For Clues", which climbed to #3 in Vancouver (BC) in February 1981. Internationally, the single peaked at #3 in West Germany, #6 in France and Switzerland, #7 in Canada, #9 in Belgium, #14 in Sweden and #17 in the Netherlands.
In 1982 Palmer released a live album titled Maybe It's Live. The following year his seventh studio album, Pride, and was a minor sales success. A subsequent album released in 1985, The Power Station, included Palmer's first two Top Ten singles on the Billboard Hot 100: "Some Like It Hot" and a cover of the T. Rex song "Get It On (Bang A Gong)". The first of these singles also charted into the Top Ten in Australia, Canada, France, and New Zealand.
In 1986 Robert Palmer released Riptide, with his huge hit singles "Addicted To Love" and "I Didn't Mean to Turn You On". The first was a number-one hit in Australia and the USA, and a Top Ten hit in Canada, Ireland, New Zealand, South Africa and the UK. In 1987, the single won Palmer a Grammy Award for Best Male Rock Vocal Performance. The latter was a Top Ten hit in both the USA and the UK, though it didn't chart in Vancouver.
His 1988 Palmer's release of the studio album, Heavy Nova, contained the hit single "Simply Irresistible". It was a number-one hit in Vancouver, the USA, Australia, and a Top Ten hit in France and New Zealand. However, it stalled on the UK singles chart at #44. The single earned Palmer his second Grammy Award for Best Male Rock Vocal Performance. It ended up in the Broadway musical Contact (1999-2002). On November 20, 1988, Robert Palmer appeared in concert in Vancouver (BC) at the Orpheum.
In 1990 Robert Palmer teamed up with UB40 to record "I'll Be Your Baby Tonight". Though the single was not a hit in North America, it charted to #1 in New Zealand, #4 in Australia and the Netherlands, #5 in Austria and Switzerland, #6 in Ireland and the UK, #11 in Sweden and #12 in Belgium. The single was on Palmer's studio album Don't Explain. A second single "You're Amazing" climbed to #17 in Vancouver, while Palmer's cover of the Marvin Gaye songs "Mercy, Mercy Me (The Ecology)"/"I Want You" was a Top Ten hit in France, Ireland, Canada and the UK, and a Top 20 hit in the USA.
Through the 1990s Robert Palmer released more studio albums: Ridin' High, Honey, Living in Fear, and Rhythm and Blues. Ridin' High was a tribute album to the music of the classic pop era of the 1930s to 1950s. The album tracks included Palmer's cover of "Goody Goody". These albums were minor achievements compared to his pinnacle of success in the 1980.
On September 26, 2003, Robert Palmer died of a sudden heart attack while he was in Paris, France. He had just completed recording a TV appearance in London for Yorkshire TV, a retrospective titled My Kinda People. His 14th studio album, Drive, had been released in May 2003.
November 1, 2021
Ray McGinnis
References:
"Robert Palmer dies aged 54," Guardian, September 26, 2003.
Georgia Dehn, "Elkie Brooks Remembers Singing With Robert Palmer," Telegraph Magazine, 2010.
Glyn Brown, "Music: Some Guys Have all the Luck," Independent, March 19, 1999.
"Robert Palmer – Concerts – Canada," setlist.fm.
"C-FUN Top Thirty," CFUN 1410 AM, Vancouver, BC, December 20, 1980.
For more song reviews visit the Countdown.