#706: Johnny Willow by Fred Darian
Peak Month: August 1961
8 weeks on CKWX chart
Peak Position #5
Peak Position on Billboard Hot 100 ~ #96
YouTube.com: "Johnny Willow"
"Johnny Willow" lyrics
Fred Darian was born in Detroit in June 1927. After college he began to sing in nightclubs and on TV starting in 1951. "The corner of Sunset Boulevard and Vine Street was the hub of the music industry, a gathering place where hopeful songwriters, music publishers, producers, musicians, singers, disc jockeys and show business executives gathered and congregated daily. Fred Darian entered onto the scene as an ambitious singer, working the graveyard shift, as a fry cook at Coffee Dan's restaurant. He made the rounds during the days, by performing songs as demonstrations for songwriters to present to record companies and music publishers. His ability to quickly read and perform the songs, without mistakes, made him even more in demand. This was a time when records were cut directly onto acetate, before the advent of tape. More than one take on a song would prove costly to the songwriter. Fred earned a reputation for his ability to interpret a song accurately, with one take.
Fred's first lucky break came when a late night customer at Coffee Dan's came in for a cup of coffee. He was a songwriter, with whom Fred ultimately collaborated to develop, arrange, sing and produce the original song "Jezebel". In 1951, Mitch Miller copied this arrangement for Frankie Laine to sing. ""Jezebel" became an immediate international hit record for Laine. Fred continues to participate in royalty earnings from the song." ~ Fred Darian.com bio
In the October 20, 1951, issue of Billboard, there was a review of "Always Always" by the Victor Young Orchestra. The reviewer for Billboard wrote, "a schmaltz waltz with an infectious tilt introduces a new singer, Fred Darian. The lad has a sound that sells strong."
In March 1954, Billboard referred to Fred Darian as a new singer who was signed to the Allied record label. They reported that Darian "will be featured on the "Colgate Comedy Hour" over NBC-TV Sunday," April 25. He appeared alongside Bud Abbott, Lou Costello, Dean Martin, Jerry Lewis and Mary Ford.
Fred Darian also appeared in a few Hollywood films. In 1956 he was cast as one of a number of old gypsies in the Columbia Pictures comedy-dram Hot Blood. The films' plot concerned a gypsy community living in Los Angeles and who will be named the gypsy king when the current one learns he is terminally ill. Also in 1956, Fred Darian appeared as a nightclub singer in the film, Walk The Dark Street, starring Chuck Connors. The plot concerned a big-game hunter who seeks revenge on the Army officer whom he believes caused the death of his brother.
In 1957, Fred Darian wrote the song"Calypso Joe", which was included in the film Calypso Heat Wave. The film was one of many B-movies about rock 'n roll.
In the late 1950s, Fred Darian, Joseph VanWinkle and Al DeLory performed as a singing trio called The Balladeers. Together, they formed Jatco Productions, a record production company, to promote the music they wrote. In 1960, the Jatco trio wrote, produced, sang background and released Larry Verne's hit record, "Mr Custer", to Era Records which earned them a gold Record.
Fred Darian later released two Billboard chart hits of his own, on Cordak Records, "Johnny Willow" and "The Battle of Gettysburg".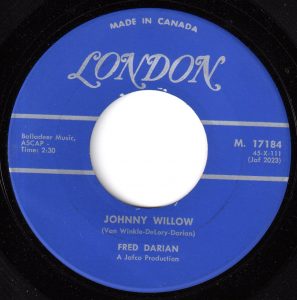 "Johnny Willow" was an infantry soldier who is sent off to battle with the United States Army in 1943. With marching drums in the background, the songs style was strongly patterned on the Johnny Horton song from 1959, "Battle of New Orleans". Johnny has a girlfriend named Jenny May who he promises to write each day while he is serving overseas. He has a letter that he has to mail by four (p.m.) but the enemy is coming by the thousands. So Johnny has a pen in one hand and a carbine (rifle) in his other hand. Johnny becomes a hero 'cause he led his regiment to victory. There are durmmers drumming and a bugler a-blowing and he is "mowing down the enemy…like a river over rapids…"
In the song, Johnny Willow uses a carbine rifle. The US M1 carbine was a traditional carbine, shorter and lighter than the M1 Garand rifle, with an 18.00 inch barrel. The M1 carbine was given to rear-area troops who couldn't afford to carry cumbersome full-sized rifles, but needed a rifle more powerful and precise than a Model 1911 pistol. As far as United States Army campaigns in 1943, the U.S. Seventh Army landed on several beaches in southern Sicily on July 10, 1943. They captured the Sicilian capital of Palermo on July 22nd. In coordination with the British Eighth Army, they captured the eastern Sicilian city of Messina on August 16th. During the fighting, the elements of the Seventh Army killed or captured thousands of enemy soldiers, mostly Italians. Those familiar with United States Army history in World War II might have thought the hero in the song, "Johnny Willow," could have been a member of the U.S. Seventh Army fighting in Sicily. Otherwise, Johnny Willow might have been a member of the United States Fifth Army who saw action in the Allied landing on the Italian mainland at Salerno on September 9, 1943. Despite determined German resistance and counterattacks, the Fifth Army and British 46th and 56th Infantry Divisions, secured Salerno by September 16th. The Fifth Army headed on to Naples on September 19th. By early October 1943, the Allies had retaken all of southern Italy. The Fifth Army took possession of Rome on June 4, 1944.
In 1961, the events of United States Seventh Army landing in Sicily and the Allied landing in Salerno, Italy, were only eighteen years old. Stories of World War II battles, the sacrifices of the military and the enduring costs born by society were well known. In 1961, almost everyone had some relative who had either fought in World War II or who had aided the war effort by working in factories to build munitions. As well, Americans participated in rationing to conserve materials and resources. A national speed limit of 35 miles per hour (56 km/h) was imposed to save fuel and rubber for tires. Driving to go sightseeing was banned. Households were given rationing books and many items were rationed. These included sugar, coffee, typewriters, gasoline, bicycles, footwear, silk, nylon, fuel oil, stoves, meat, lard, shortening and food oils, cheese, butter, margarine, processed foods (canned, bottled, and frozen), dried fruits, canned milk, firewood and coal, jams, jellies and fruit butter.
In a PBS story titled "The War At Home: Communication, Letters and Diaries, it was noted that letters to and from the front lines were a lifeline for those fighting in World War II. Letters received back home also helped ease worries about the wellbeing of family and loved ones on the battle front. United States infantryman, Paul Fussell, recalled, "Letters were a great comfort. And the mail was indispensable. We couldn't have won the war without it. It was terribly important as a motivator for the troops. Mail call whenever it happened was a delight."
In a Globe and Mail article on December 19, 2017, titled "The Things You Do For Family," Connie Gibbs wrote about her parents daily correspondence for over a year during World War II. Decades later, Gibbs receives an email from her niece, Gina, asking "Whatever happened to those wartime letters between Grandpa Ron and Grandma Lil? I'd love to read them!" Connie Gibbs goes into the basement to retrieve the letters. They are stored in a small suitcase that belonged to her father. She writes, "Inside are the letters they wrote to each other from 1940 to 1941, when the war kept them apart after only one year of marriage. I'm overwhelmed by the number of letters and stop counting after 100. They wrote every day, sometimes twice. I start reading their letters. Before long I'm weeping uncontrollably, flooded by love for them. My parents come alive again in these letters. They are so young and idealistic. So much in love. Their letters sing with praises for each other. He is the greatest husband in the world and she is the greatest wife. She wants to have his baby before he goes overseas; he thinks it will be too hard on her, but in the end she prevails. Their letters pulsate with excitement as they anticipate their reunion before he goes overseas. In November, 1940, she boards a train in Penticton, B.C., to join him at his training depot in Brandon, Man. Later that month, Gina's father – my older brother – is conceived."
Connie Gibbs personal story about her parents brings home the poignancy of daily letter writing between soldiers and their girlfriends, or wives, back home. It sets the context more personally for anyone in 2018 trying to get inside the lyrics of "Johnny Willow," and appreciate the dedication of his commitment to write daily to sweetheart Jenny May.
"Johnny Willow" caught on in Vancouver where it reached #5 on CKWX. It climbed to #3 in Cleveland (OH), to #1 in Boston and Toronto, to #4 in Oklahoma City and to #6 in Winnipeg. However, in America it only climbed to #96 on the Billboard Hot 100.
In 1963, Fred Darian appeared as a minstrel in the opening scene of a film titled The Sword In The Stone. The plot concerned young boy named Arthur who aspires to be a knight's squire. While hunting, he encounters Merlin the magician who has bigger plans for Arthur. The story follows the legend of Arthur and The Knights of the Round Table. Later, Fred Darian produced Dobie Grey's 1965 hit, "The In Crowd."
In 1966, Darian co-wrote the score for the rock 'n roll musical comedy Out Of Sight. The plot concerned teenagers, a secret agent and a guy named Big Daddy who's been "driven mad by rock 'n' roll," so he plans to sabotage a music fair with a bomb. Secret agent Homer comes to the rescue aided by his girlfriend Sandra along with Marvin. The sinister villains belong to the crime syndicate F.L.U.S.H. Featuring the musical groups The Turtles, Gary Lewis and the Playboys, The Astronauts, The Knickerbockers and Freddy and the Dreamers.
In 1950, the great cartoonist/humorist James Thurber published his fantasy story, The 13 Clocks, a tale about a prince who must perform a seemingly impossible task, to rescue a maiden from an evil duke. In 1968, Warner Bros. hired producer Mervyn LeRoy to make a film of it, and the Sherman Brothers were to write the score, having just come off their first film away from Disney, Chitty, Chitty, Bang, Bang. They wrote a delightful score, but then Warners was purchased by the Kinney conglomerate and the project was cancelled. Happily, they'd made a demo of their song score, orchestrated by Don Ralke, sung by the Don Ralke singers and guest singer Fred Darian. The score they wrote is classic Sherman Brothers, filled with their trademark hummable tunes and wordplay. However, the film project was cancelled part way through its production.
In May 2007, Steve Hoffman wrote on his music forum website, "My good friend Fred Darian, one of the original VINE STREET IRREGULARS and a talented singer, producer and composer is 80 years old next month. To celebrate, I've finally got him to release some of his great recordings from the 1950's and '60's on compact disc."
October 17, 2018
Ray McGinnis
References:
"Fred Darian Biography," Fred Darian.com
Mike Ragogna, "My Fifth HuffPost Anniversary, Drifting Away with Dobie Gray, and Dump the Filibuster or Dump Harry Reid," Huffington Post, December 6, 2017
"The Billboard Music Popularity Charts: Record Reviews," Billboard, October 20, 1951
"Union Activity Keys S. Calif. Music Ops Meet," Billboard, April 25, 1953
Alan Gevinson, Editor, Within Our Gates: Ethnicity in American Feature Films 1911-1960, (University of California Press, Berkeley, 1997)
"Unsung Sherman Brothers: Song Scores From Three That Got Away," Kritzerland.com
"Music As Written," Billboard, March 27, 1954, pp. 13, 16.
Walk The Dark Street caste, imdb.com
Lennie Weinrib – Director. Out Of Sight. Universal Pictures, 1966.
"SH Forums Giveaway, New CD: Fred Darian's American Songbook Featuring Johnny Willow," Steve Hoffman Music Forums, May 16, 2007
Italian Campaign (World War II), Wikipedia.org
Ken Burns and Lynn Novick, The War: Communication, Letters and Diaries, PBS, September 2007
Connie Gibbs, "The Things You Do For Family," Globe and Mail, Toronto, December 19, 2017.
"The Fabulous Forty," CKWX 1130 AM, Vancouver, BC, August 12, 1961.
For more song reviews visit the Countdown.