#1319: Julie by Jan and Dean
Peak Month: September 1961
6 weeks on Vancouver's CFUN chart
Peak Position #10
Peak Position on Billboard Hot 100 ~ did not chart
YouTube.com link: "Julie"
"Oh Julie" (The Crescendos original lyrics)
Jan and Dean were a pop duo who formed in 1958. They met in 1957 while they were students at Emerson Junior High School in Los Angeles. A year later they were on the football team of University High School. They had adjoining lockers and began singing and harmonizing in the showers with a number of other football players. Dean Torrence was drafted into the US Army Reserve in 1958. Jan Berry went on to record his first single with Arnold P. "Arnie" Ginsburg under the name Jan & Arnie. (Ginsburg happened to have a namesake, Arnie "woo woo" Ginsburg, who was a career DJ in Boston including on WMEX). The hit, "Jennie Lee", was penned by Ginsburg and inspired by a poster of a local Hollywood burlesque performer. Jan and Arnie performed on American Bandstand in May and the tune went to #8 on the Billboard charts. When Dean Torrence returned Jan & Dean recorded their first Top Ten hit, "Baby Talk", peaking at #10 in 1959 (#20 on CKWX in Vancouver).

Jan & Dean cut a striking figure on television. Tall, blonde, and physically handsome, the duo typically sported loafers, casual slacks, and ultra-hip matching sweaters or jackets. By all accounts, the finger-snapping, shuffle-stepping Jan & Dean stood out in sharp contrast compared to the dark-haired, suit-and-tie crooners who were cranking out hits on the East Coast. In Jan & Dean, Lou Adler had found a definite "West Coast" marketability — and the ride was just beginning.
His growing musical talents had taken Jan beyond the realm of "Jan & Dean." In May 1961, with a deal secured by manager and producer Lou Adler, Liberty Records released a single by The Gents called "Jump In The Line". The song was written primarily by Tony Minichiello and Manuel Sanchez — both of whom, like Berry, were alumni of University High School. It was produced by Jan Berry, with assistance from Don Altfeld — and both tunes were quite a departure from the established Jan & Dean sound. "Jump in the Line" was a Chubby Checker-like rocker (with perhaps a hint of Harry Belafonte) with tight, three-part backing harmonies. Lou Adler was given official credit for producing The Gents' single. While it didn't burn up the charts, it showcased Jan's burgeoning talents in the studio. He was twenty years old.
But other important things were also occupying Jan's time during this period. Music was merely a part-time endeavor for Jan Berry, and it had been that way from day one. He had the kind of Type-A personality that, together with his high intellect, thrived on managing a lot of different things at once. It seemed the more his mind had to chew on, the better he fared. Both Jan and songwriting partner Don Altfeld had enrolled at the University of California at Los Angeles (UCLA). Music aside, they were both full-time college students.
As a kid who demonstrated a penchant for minor delinquency as an adolescent, Jan Berry had an extremely high intellect, with a genius-level IQ. Grades were never a problem in high school. "And I'm a witness to that," marvels schoolmate John Seligman, "because, I mean, we had a physics class together. And I was struggling. And we used to sit next to each other. And I would cheat off his [paper]. He would let me cheat. He would show me the answers to the test, and I would still not do well on it. But he would get straight A's. And I swear to god, he never cracked a book! He just kind of knew it. I couldn't believe it. I said, 'Jan, how do you know all this stuff?' And he said, 'I don't know. It just comes naturally to me.'"
After their hit single "Baby Talk", Jan and Dean recorded a number of songs that mostly met with limited or modest success. These included a recording of the folk standard "Clementine", a cover of the 1953 R&B classic by The Crows called "Gee". They had their first Top Ten hit in Vancouver with "Heart and Soul", a pop standard from 1938 with music by Hoagy Carmichael and lyrics by Frank Loesser. The song did less well in the USA peaking on the Billboard Hot 100 at #25.
Coming off their seventh charting song on the local pop charts in Vancouver, the next song to appear on the Vancouver pop charts by Jan and Dean was "Julie". This was a cover version of a song by a quintet called The Crescendos who had the original hit in 1958. The Crescendos were an early American rock and roll group from Nashville, Tennessee. Formed in 1957 by five men who attended Cumberland High School in Nashville, George Lanius and his cousin James Lanius, Ken Brigham, Tom Fortner and Jim Hall. The Crescendos succeeded with the song "Oh Julie" in 1958, which rose to #4 on the U.S. Black Singles chart and #5 on the Billboard Hot 100. George Lanius, who was lead singer for the quintet, told Wayne Jancik in The Billboard Book of One-Hit Wonders that a Nashville DJ named Noel Ball discovered the group playing talent shows. "He took us to Nasco [Records]. And he gave us 'Oh, Julie' to record. The label says (Noel) Ball and Ken Moffit wrote it, but if the truth were to be known, it was Moffit's song." Noel Ball co-wrote a few other tunes including a B-side "All Alone" to his 1952 hit "I Tell Myself a Lie" for Canadian country music singer and yodeler Donn Reynolds.
"Oh Julie" sold over one million copies, earning The Crescendos a gold disc. The song featured backing vocals by Janice Green, who happened to be auditioning at the recording studio where the single was recorded. They recorded two more singles for Nasco which flopped, then disbanded by 1959. Reportedly all members of the Crescendos lived within 15 miles of each other at least 30 years after "Oh Julie" was a hit, but they avoided performing together in favor of working on individual careers outside of the music industry.
Having been on a roll with half of their singles being covers of earlier original songs, Jan and Dean chose to see if they could repeat the success of The Crescendos by recording the song with the shortened title "Julie".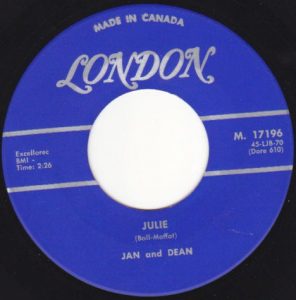 The song concerns a teenage boy whose heart burns for an older woman named Julie. He realizes that his love for her can't come true. He feels jealousy, suggesting she is dating someone else (perhaps closer in age to her). He isn't going to let her know presently how he feels about her, but plans to make her his own when he gets to be as old as her. Then he'll be the apple of her eye.
Julie could be an older girl, or a young woman, in the neighborhood. The song was a familiar theme in pop songs of the time. After The Crescendos "Oh Julie" peak at #5 on the Billboard charts in March 1958, The Poni-tails had a #7 hit that entered the Top Ten in August and re-entered the Top Ten two weeks later in September 1958. Their song, "Born Too Late", lamented falling for a guy whose already in a relationship with someone his age, some years older than the girl who is heartbroken.
Jan and Dean's "Julie" was the B-side of "Don't Fly Away". The A-side was a Top Ten hit on WHIL radio in Boston, but hardly anywhere else. "Julie" got some airplay in San Antonio, Texas, and in Los Angeles.
However, it was only in Vancouver that listeners were interested in Jan and Dean's remake of a three year old record. "Julie" climbed to #10 on CFUN.
Just before they turned to the surfing sound with their summer #1 hit in 1963 called "Surf City", the duo dusted off an oldie from the late 40s called "Linda". Buddy Clark wouldn't have recognized his original hit from 1947 which was the #4 song of the year. Jan and Dean's "Linda" peaked at #21 on CFUN and #28 on the Billboard Hot 100. As for "Surf City", it was actually the first surfing' song to reach #1, even before the Beach Boys had a #1 hit.
Jan and Dean would go on to have a series of hits identifying them with the Surfing Sound. Of their Top 30 hits, they had three prior to "Surf City" in the USA. But in Vancouver they had nine Top 30 singles. Prior to their surfing craze, Jan and Dean already were a hit in Vancouver. From "Surf City" onward they charted ten singles into the Top 30 on the Billboard Hot 100 and twelve singles into the Top 30 in Vancouver. Their other Top Ten hits included "Little Old Lady From Pasadena" and "Dead Man's Curve".
October 18, 2016
Ray McGinnis
References:
Moore, Mark A. The Jan & Dean Record: A Chronology of Studio Sessions, Live Performances and Chart Positions. McFarland & Company, Jefferson, North Carolina, 2016.
Dave Laing, "Jan Berry: Teen Dream and Surf Pop Star," Guardian, London, UK, April 2, 2004.
Tour Dates, Surf City All Stars.com
"Deadman's Curve: The Jan And Dean Story," CBS, February 3, 1978.
"The Crescendos with Janice Green," White Doowop Collector, March 2009.
"C-FUN-Tastic 50," CFUN 1410 AM, Vancouver, BC, September 9, 1961.
For more song reviews visit the Countdown.