#364: Jump Over by Freddy Cannon
Peak Month: June 1960
7 weeks on Vancouver's CFUN Chart
Peak Position ~ #3
Peak Position on Billboard Hot 100 ~ #28
YouTube: "Jump Over"
Lyrics: "Jump Over"
Frederick Anthony Picariello, Jr. was born in 1940 in the Boston suburb of Revere. His dad was a truck driver and also played trumpet and sang several bands. Young Picariello Jr. began to play guitar in his teens. On guitar at the age of 15 he accompanied the nearby Roxbury, Massachusetts, R&B doo-wop group the G-Clefs on their hit single "Ka-Ding-Dong". The song climbed to #17 on the Cashbox Top 100 Pop Singles chart in September '56. After he graduated from Lynn Vocational High School, Freddy was a member of a doo-wop group called the Sandrifts. They had a local hit titled "Cha Cha Doo". Next Picariello Jr. formed a group called Freddy Karmon & The Hurricanes.
During the weekdays, Freddy was driving a truck, just like his dad. He also became a regular performer on a local TV dance show called Boston Ballroom. One day when he returned home from work, his mother asked him to sit down and listen to a poem she had written. She asked her son to try to set it to music. In 1958 a local Boston DJ, Jack McDermott, gave the song that Freddy and his mom wrote titled "Rock And Roll Baby" to the writing team of Bob Crewe and Frank Slay Jr. The songwriting team rearranged "Rock And Roll Baby" and gave it the new title "Tallahassee Lassie". Frederick gave the demo to Dick Clark who suggested they add hand clapping to the song. In addition, it was suggested that Frederick repeatedly cry "whoo" during the song, to add excitement.
As a result Picariello Jr. got a contract with Swan Records. It was the company president of Swan Records, Bernie Binnick, who suggested Frederick Picariello Jr. go by the stage name and label credits at Freddy Cannon. He appeared on The Dick Clark Show on March 12, 1959, to sing "Talahassee Lassie".
Freddy Cannon's debut single, at the age of 18, was "Talahassee Lassie". In June 1959 it peaked at #5 in Vancouver (BC) – spending eight weeks in the Top Ten. It climbed to #6 on the Billboard Hot 100. The single sold over a million copies and was certified as a gold record by the end of the year.
His followup single "Okefenokee" languished in the bottom of the C-FUN Hi-FI Club Top 40. He rebounded to #3 with a rock 'n roll version of a 1922 pop standard called "Way Down Yonder In New Orleans" in January 1960. The single became his second gold record, selling over a million copies. Next, Freddy Cannon covered the 1950 signature song by country star Red Foley titled "Chattanooga Shoe Shine Boy". It cracked the Top 30 in Vancouver (BC) in February 1960. All of these first four single releases were tracks from Cannon's debut album The Explosive Freddy Cannon.
On April 15, 1960, Freddy Cannon appeared on American Bandstand and April 30, 1960, on The Dick Clark Show. Freddy Cannon's next hit single here on the West Coast was "Jump Over".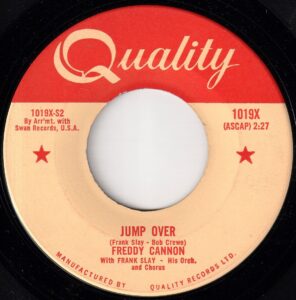 "Jump Over" was written by Bob Crewe and Frank Slay Jr. Robert Stanley Crewe was born in 1930 in Newark, New Jersey. He had a musical aptitude from a young age and in 1953 met pianist Frank Slay Jr. They started writing songs recorded by R&B singer Faye Adams and others. In 1957 Bob Crewe and Slay cowrote the Rays number one hit "Silhouettes". The B-side "Daddy Cool", which the songwriting duo also wrote, was covered by the Diamonds and peaked at #10 on the Billboard pop chart. In 1958 the pair wrote "La Dee Dah", a Top Ten hit for Billy and Lillie, and others including Sal Mineo.
Then in 1959, Crewe and Slay wrote "Talahassee Lassie" for Freddy Cannon. In the early 60s Crewe wrote songs for rockabilly singer Dale Hawkins, Ben E. King, Dee Dee Sharp, Tracey Dey, Barbara Lewis' "Puppy Love", Eddie Rambeau, the Orlons and others. The pair also produced "Way Down Yonder In New Orleans" for Freddie Cannon. The duo also wrote for Danny & The Juniors, Chubby Checker and Marcy Jo.
In 1962 it was Bob Crewe who suggested to Vee-Jay Records that the Four Seasons record "Sherry". In the mid-60s Bob Crewe co-wrote "Navy Blue" for Diane Renay, "Big Girls Don't Cry", "Silence Is Golden", "Rag Doll", "Ronnie", "Save It For Me", "Let's Hang On" and "Bye Bye Baby (Baby Goodbye)" all for the Four Seasons. Bob Crewe also co-wrote "The Sun Ain't Gonna Shine Anymore" – a hit for the Walker Brothers, and "Jenny Take A Ride" by Mitch Ryder & The Detroit Wheels – the latter with Little Richard.
Crewe produced "Dawn (Go Away)", and "Opus 17 (Don't You Worry 'Bout Me)" both for the Four Seasons; "Devil With A Blue Dress" for Mitch Ryder & The Detroit Wheels, "Music To Watch Girls By" for The Bob Crewe Generation, and "Jean" for Oliver. Crewe also co-wrote several songs for Frankie Valli in solo efforts: "Can't Take My Eyes Off You", "Swearin' To God" and "My Eyes Adored You". Other songs Bob Crewe wrote that were hits in the 1970s include "Lady Marmalade" for Labelle and "Get Dancing'" for Disco Tex and the Sex-O-Lettes. Crewe died at the age of 83 in Maine.
Frank Conley Slay Jr. was born in Dallas in 1930. In addition to his collaboration with Bob Crewe, Slay produced "Incense And Peppermints" for the Strawberry Alarm Clock. It became a number-one hit on the Billboard Hot 100 on November 25, 1967. Slay also founded Claridge Records, an independent label that had a Top Ten hit in 1975 with "Don't Call Us, We'll Call You" by Sugarloaf. Frank Slay died at the age of 87 in San Diego in 2017.
On July 13, 1960, Cannon returned to American Bandstand to perform "Jump Over". In the song a young couple ask a wise man how they can know if they're in love. He tells them there are these physical cues: "The light in your eyes, the beating of your heart; And the rhythm it puts in your feet."
"Jump Over" peaked at #2 in Buffalo and Honolulu, #3 in Vancouver (BC), #4 in Providence (RI), #5 in Denver, #6 in Syracuse (NY), #7 in Philadelphia and Worcester (MA), #8 in Baltimore and Kansas City (MO), #9 in Milwaukee (WI), and #10 in Spokane (WA).
Freddy Cannon continued to chart on CFUN and CKWX in Vancouver between July 1960 and February 1962 with a series of relatively minor hits. Of the eight single releases on the Billboard Hot 100, six of these charted in Vancouver. They were "Happy Shades Of Blue", "Humdinger" (#19), "Muskrat Ramble", "Buzz-Buzz A-Diddle-It" (#13), "Transistor Sister" (#14), and "Teen Queen Of The Week". But his next release in the spring of 1962, "Pallisades Park", became his biggest hit. It topped the record survey on C-FUN for four weeks in May-June, spending eleven weeks in the Top Ten on the C-FUNTASTIC FIFTY. The single became his third million seller.
In 1962 Freddy Cannon appeared in a British teen film titled Just For Fun, along with Bobby Vee and Johnny Tillotson.
Between May 1959 and August 1962, Freddy Cannon had a single charting on a record survey in Vancouver (BC) for 103 weeks. Cannon kept charting more minor hits on the CFUN charts in Vancouver between August 1962 and December 1963 for 24 weeks in total. These briefly charting singles were "What's Gonna Happen When Summer's Done", "If You Were A Rock And Roll Record", "Four Letter Man", "Patty Baby", "Everybody Monkey" and "That's The Way Girls Are".
Freddy "Boom Boom" Cannon returned to American Bandstand on September 12, 1962; October 26, 1963; January 11, 1964, singing "Abigail Beecher"; May 2, 1964; December 12, 1964; July 31, 1965, singing "Action"; August 21, 1965; March 5, 1966; and four more times in the late 60s. Freddy Cannon also appeared on the Dick Clark hosted Where The Action Is on eleven occasions between 1965 and 1966. In these telecasts, Cannon had session musicians Glen Campbell, Leon Russell and David Gates (later of Bread) backing him up. And in 1965-66 on Hollywood A-Go-Go Freddy Cannon appeared on six occasions.
On film, Freddy Cannon appeared alongside the Beau Brummels in Village of the Giants where the movie poster informed "Teenagers Zoom to Supersize and Terrorize a Town."
After "Palisades Park" Freddy Cannon released 34 more singles between the summer of 1962 and 1976. Of these only "Abigail Beecher", "Action" and "The Dedication Song" charted in Vancouver – with these first two climbing into the Top Ten and the final one making the Top 20 in March 1966. From the late 60s Cannon bounced around from record contract to record contract with ten or more labels. He got a job with Buddah Records as head of record promotions.
On July 6, 1986, Freddy Cannon appeared in concert at the Expo '86 fair in Vancouver (BC). He has continued to tour with oldies revival shows over the past few decades.
January 11, 2020
Ray McGinnis
References:
Craig Morrison, "Freddy "Boom Boom" Cannon – interview," Craig Morrison.com, April 13, 2013.
Keith Spera, "Freddy Cannon's 'Way Down Yonder in New Orleans' is Your Midday Music Break," The Times-Picayune, New Orleans, December 5, 2013.
Mark Voger, "Freddy 'Boom Boom' Cannon Interview," NJ.com, March 9, 2012.
"Bob Crewe Biography," Bob Crewe.com.
"Frank Slay," Wikipedia.org.
"C-FUN HI-FI FORTY," CFUN 1410 AM, Vancouver, BC, June 4, 1960.
For more song reviews visit the Countdown.