#1333: Just One Look by Anne Murray
Peak Month: November 1974
7 weeks on Vancouver's CKLG chart
Peak Position ~ #17
Peak Position on Billboard Hot 100 ~ #86
YouTube.com: "Just One Look" ~ Anne Murray
YouTube.com: "Just One Look" ~ Doris Troy
"Just One Look"
In 1945 Morna Anne Murray was born in Springhill, Nova Scotia, a coal-mining town. Her father was a doctor and her mother was a registered nurse. Growing up she took piano lessons for six years and began taking vocal lessons at age fifteen in 1960. In 1962 she gave one of her first public performances singing "Ave Maria" at her high school graduation. She went on to be part of the CBC variety show Singalong Jubilee in 1967. Her first album, What About Me, was released in 1968. Her signature song, "Snowbird" went to #6 in Vancouver and #8 on the Billboard Hot 100 in 1970. It established a following and 76 singles, 32 studio albums and 55 million record sales later, Anne Murray is one of the most awarded and honored recording artists in the Canadian music industry.

In the 1970's Anne Murray was a frequent guest on The Glen Campbell Goodtime Hour between 1970 and 1972, when the TV show was cancelled. In 1971, Murray and Campbell's duet of "By The Time I Get To Phoenix"/"I Say A Little Prayer", became a #1 hit on the Billboard Country singles chart. In addition to "Snowbird," Anne Murray had international success with "Danny's Song" in early 1973.
Eight years before Anne Murray was born a baby girl named Doris Elaine Higginsen was born in 1937 in the Bronx. Doris' father was a Pentecostal minister. She later took her grandmother's name, Doris Payne. Though she liked R&B music, her parents viewed R&B music as "subversive." So young Doris developed her vocal talents in her father's church choir. She took her stage name from Helen of Troy. Doris Troy wrote a song for Dee Clark called "How About That" which spent 12 weeks on the Billboard charts in the winter of 1959-60, and six weeks in Vancouver, in both cases climbing to #33. In the early 60s Troy worked with Solomon Burke, the Drifters and Dionne Warwick. Then she co-wrote and recorded a studio demo of "Just One Look" in a ten minute studio session in October 1962. The songwriting credits used her proper name, Doris Payne. She took the demo to Sue Records who were not interested. Next she approached Atlantic, where the label released the demo unchanged. In 1963 while working as an usherette at the Apollo Theatre in Harlem, Doris Troy was discovered by James Brown. He was a catalyst for promoting her song. "Just One Look" climbed to #10 in the Billboard Hot 100 in August 1963 and #24 in Vancouver. "Just One Look" was the only charting US hit for Troy. She went on to do session work as a back-up singer with The Rolling Stones, George Harrison, Pink Floyd, Carly Simon and others.
"Just One Look" was a #2 hit for The Hollies in the UK in 1964, peaking at #23 in Vancouver and #98 on the Billboard Hot 100. Linda Ronstadt recorded the song in 1978 and her single climbed to #44 on the Billboard Hot 100. Martha and the Vandellas and Lulu are among the other recording artists who included the song on one of their albums. Florida based disco group, Faith, Hope And Charity, had a Top 40 hit with the song in the UK in 1975. Among the recording artists that chose to cover the song was Anne Murray. The song would become her eighth Top 20 hit in Vancouver, peaking at #17, while the song only spent a few weeks on the Billboard Hot 100 peaking at #86.
"Just One Look" was Anne Murray's fourth single from her seventh studio album, Love Song. At the time many Canadian recording artists were benefiting from exposure on the radio due to the Canadian content rules dictating a ratio of songs classified as "Canadian." Content required a certain percentage of Canadian contributions to either the music being composed by a Canadian, the artist performing the song being a Canadian, the performance being recorded in Canada and the lyrics being written by a Canadian. Often Anne Murray's singles fit enough of the categories to be a shoo-in for a playlist. But on her album, Love Song, the first two singles released from the album, "Send a Little Love My Way" and "Love Song" did not appear on the CKLG charts in 1973-74. The latter is especially surprising given "Love Song" was a #1 hit on the Canadian RPM singles chart and climbed to #12 on the Billboard Hot 100. The third single, "You Won't See Me" did chart in Vancouver for just five weeks peaking at #15, but did better in the USA with a #8 peak on the Billboard charts.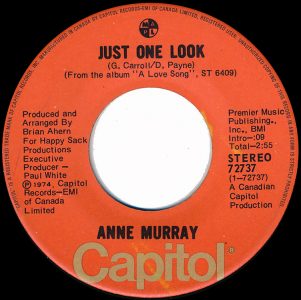 "Just One Look" is a song, as the title suggests, about an instant attraction. The singer has fallen hard for the object of their desire: their "only one." As the song unfolds, the singer hasn't made the love of their life their own yet. And so they're "gonna keep on scheming" 'til the love of their life says "yes." Clearly, they sense they can switch up their life with this person whose walked into their life. The prospect of not having their love "forever and always" is unthinkable, as she sings "without you I'm nothing."
After "Just One Look", on the pop charts Anne Murray was in for a downturn in popularity. She released ten singles between 1974 and 1978 that all failed to crack the Top 50 on the Billboard Hot 100. Five of these didn't make the Hot 100 or the Canadian RPM singles chart. And of these ten releases, only one made the Top 30 in Canada. Only one, "Walk Right Back," made the Top Ten on the Billboard Country chart. But that turned around when Anne Murray had her biggest international hit called "You Needed Me." The songwriter of "You Needed Me," was Randy Goodrum who lived in Nashville. His agent had, he thinks, sent a demo tape of the song to Anne Murray's home address. Goodrum told Nashville daily paper, The Tennessean, what happened next. He recalls he was playing a gig at the Knights of Columbus and his wife, Gail, got a phone call from Jim Ed Norman in Toronto:
Randy Goodrum: Well, he calls up and my wife answers the phone and says (to her) "… I'm in the studio here in Toronto with an artist named Anne Murray and you may've heard of her. She did a song called 'Snowbird,' " and Gail says, "Yes, I know who that is." And he says, "Well, we have this song that we want to record. We're in the studio with the musicians, we're ready to go, and we haven't had clearance yet. We haven't been able to find anybody associated with this song, and so we looked at the name Randy Goodrum and we figured well, maybe he lives in Nashville," so they called information and of course I've always had a listed number…. He's talking to Gail on the phone and says, "So, we're in the studio and Randy is the writer of this song, right?" And she says, "That's correct," and he says, "Well, we want to know if it's OK for us to record this song," and she says, "Well, I think that'd be just fine."
And so Anne Murray recorded "You Needed Me" and the song took the #1 spot in Canada in the fall of 1978 for four weeks in a row, and one week in the USA. Four of her next five releases made the Top 30 on the Billboard Hot 100, three of these peaking at #12. But after 1980, she fell out of favor on the pop charts. However, she racked up twenty Top Ten hits on the Billboard Country charts between 1978 and 1990. In Canada, she had 28 singles reach the Top Ten on this nations Country charts. Over her career, Anne Murray had 22 #1 hits on the Canadian country charts. In 2009 she published her autobiography, All of Me, and went on a fifteen city book signing tour.
February 4, 2017
Ray McGinnis
References:
Anne Murray Bio, Anne Murray.com
Anne Murray Centre, Springhill, Nova Scotia
"Anne Murray Talks Drugs, Divorce in 'Painful' Memoir," CTV News, October 30, 2009.
Murray, Anne and Posner, Michael, All of Me, (Vintage Books, 2009).
Canada's Song Bird Sings a Happy Tune, Globe And Mail, August 3, 2017
Andrea Warner, "Anne Murray: 40 Years of Hustle and the Making of a Canadian Icon," CBC, June 20, 2017
Dave Paulson, "He wasn't trying to write a hit, but it became a No. 1 for Anne Murray," The Tennessean, Nashville, TN, November 24, 2017
"Anne Murray on the kindness and talent of Glen Campbell: 'He nurtured me'," CBC, August 9, 2017.
"CKLG 'Thirty'," CKLG 730 AM, Vancouver, BC, November 15, 1974
For more song reviews visit the Countdown.