#916: Kathaleen by Sonny James
Peak Month: March 1958
4 weeks on Vancouver's Red Robinson's Teen Canteen chart
Peak Position #5
Peak Position on Billboard Hot 100 ~ did not chart
YouTube.com: "Kathaleen"
James Hugh Loden was born on a farm outside of Hackleburg, Alabama, in 1928. Sonny remembers from the age of three how people would gather in each others' homes to play music amid the bronze glow of Aladdin and coal-oil lamps. He recalls "That's when Pop decided, 'Well, I'll give him something that he can at least play around on.' That's when he cut the molasses bucket in half and used the bottom of it and put a neck on it and then reversed it. It became the top of a little banjo, but it was tuned like a mandolin- So then I graduated to a mandolin and long about that time -I must have been about three or something – I began singing." Now that he could play the mandolin and sing James was given the nickname "Sonny boy". In 1933, with his parents and a sister, Sonny began to appear regularly on Saturday nights on a WMSD radio in Muscle Shoals in northwestern Alabama. Soon the family was billed as Sonny Loden and the Southerners. An adopted daughter also joined the family to make them a singing group of five. In 1946 the family moved to anchor a program with radio station WPTF in Raleigh, North Carolina. James, now 18, roomed with two musicians who were in a band called Johnny and Jack's Tennessee Mountain Boys, Chet Atkins and fiddler Paul Warren. "We'd just pick up a storm" James recalled.
By 1949 both Loden daughters got married and soon thereafter the ride as a family singing group was over. In the summer of 1950 Sonny joined the National Guard and in September 1950, his unit was shipped off to Korea. He remained in Korea, during the Korean War, until June 1952. He recorded his first singles and appeared on the Louisiana Hayride and The Saturday Night Shindig. His second single, "That's Me Without You", climbed to #9 on the Billboard Country chart in the winter of 1952. James would have four more hit singles on the Country charts into 1956, including "For Rent", but no crossover success on the pop charts. Then he recorded "Young Love".
"Young Love" appeared on the Billboard Country chart and the Billboard Pop chart the first week of January, 1957. It quickly climbed to the top of both charts, becoming a unique crossover hit at the time. It wound up being the #8 song of the year on the Pop charts and the #1 country song of the year. This put Sonny James on the radar of most radio listeners across North America. James follow-up single was "First Date, First Kiss, First Love" which climbed to #14 in Vancouver and #25 in the USA.
His next single in Vancouver was "Kathaleen".
Kathaleen,
oh my baby's name is Kathaleen.
All the others think she's quite the thing,
lovin' darlin' Kathaleen uh huh.
A lovely dream,
yes my baby is a lovely dream.
When you see her you'll know what I mean,
lovin' darlin' Kathaleen uh huh,
lovin' darlin' Kathaleen.
Jukebox playing baby,
bobbysox or maybe,
all these things and than some more
but, she's the one that I adore.
Magazines,
Cokes and candy make the perfect queen,
even in a pair of old blue jeans,
lovin' darlin' Kathaleen uh huh,
lovin' darlin' Kathaleen.
(Kathaleen, Kathaleen, Kathaleen)
Some may find her tragic,
strangely though by magic,
other loves have died and gone,
but mine for her still lingers on.
Kathaleen,
I can never make her mine it seems,
her ambition is the movie screen,
lovin' darlin' Kathaleen uh huh,
lovin' darlin' Kathaleen.
(Kathaleen, Kathaleen, Kathaleen, Kathaleen)
Lovin' darlin' Kathaleen.
"Kathaleen" was written by an obscure singer-songwriter named Wally Lewis. In the late 50s Lewis had a few of his songs end up as B-sides on 45s recorded by Bobby Darin and also Merle Haggard. Lewis recorded the record as well, and appeared on Dick Clark's Saturday Night Beechnut Show on May 3, 1958. The song concerns a female named Kathaleen who the singer adores. He makes a list of all the things that endear her to him. These include her attractiveness to other guys, playing records on the jukebox, wearing bobby sox (when she wants to), reading magazines, having a Coke, eating candy and wearing blue jeans. Later in the song we learn that numbers of other guys have tried to woo her and have moved on once she rejected them. However, the singer of the song still carries a torch for her. This, despite his being aware he can't make her his. A major reason is she is focusing on becoming a film star. Kathaleen is too busy working on a career in Hollywood to be bothered with any of her suitors. The singer in the song isn't putting two and two together: while he may believe Kathaleen is his "baby" and a "lovely dream," she has decided that he is not as lovely a dream as her ambition of becoming a movie star. And that is why they aren't together.
One of Kathaleen's fashion choices is to wear bobby socks, which are a style of women's sock, white, ankle length or collected at the ankle, instead of at full extension up the leg. Bobby soxers became a phenomenon describing the young female fans who first heard Frank Sinatra in concert in the early to mid-40's. Bobby sox were popular into the late 50's.
In the song, Kathaleen plays records on the jukebox, confident to make her own music choices for her enjoyment. The term, "jukebox," was a new word entering common usage in North America in 1940. The word derived from the phrase "juke joint," which came from the Gullah word "juke" or "joog" meaning disorderly, rowdy, or wicked. Gullah is a region of African-American culture in southern South Carolina and along the Atlantic coast of Georgia. In the 40's people who used a jukebox were considered to be juking, or were jukers. The first jukeboxes were invented in the late 1920's. At first, shellac 78 rpm record was the medium used to play single records on a jukebox. However, this changed in 1950 when the Seeburg Corporation began to sell an all 45 rpm vinyl record jukebox. For awhile jukeboxes with 78 rpm records continued to be a feature of soda shops. But by the mid-50's the 45 rpm became dominant. Jukeboxes were most popular from the 1940s through the mid-1960s, particularly during the 1950s. By the middle of the 1940s, three-quarters of the records produced in America went into jukeboxes.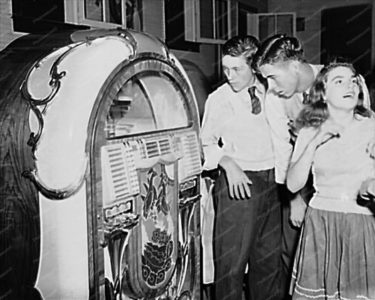 And Kathaleen likes candy. In the 1950's she might have been a fan of Smarties which were first introduced to confectionaries in North America in 1949. The Rocky Road candy bar was new on the shelves in 1950 and the year "Kathaleen" was on the pop charts candy necklaces were introduced. She may have bought an El Bubble Bubble Gum Cigar for one of her aspiring suitors.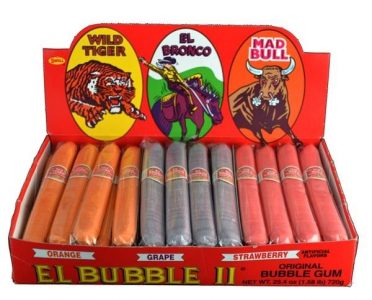 A candy cousin of the bubble gum cigar was the candy cigarette, first introduced into the market in the 1930's. Parents worried that the candies, convincing replicas of what are now known to be dangerous carcinogens, desensitized children to smoking and made them more likely to use real cigarettes as adults. From 1953 to 1967 the state of North Dakota banned the sale of candy cigarettes.
Kathaleen likes to wear dungarees or blue jeans. In the 1950's Hollywood actors James Dean, Marlon Brando, and Elvis Presley popularized denim in their films. Denim pants and overalls were originally designed for protective wear by farmers, laborers and slaves. But by the 1950's denim dungarees were beginning to be worn not only to the factory or the farm, but on social outings. Eddie Fisher had a Top Ten hit in 1955 titled "Dungaree Doll". Women who were opting to not wear dresses or skirts all the time were wearing 'capris,' not pants, not trousers, just capris. In the 1950s, capris were usually black. Capri pants fit like cigarette pants except they ended at mid calf with a slit on each side.
Sonny James version of "Kathaleen" made only a few radio markets. He made the Top Ten with the recording in Phoenix (#3), Vancouver (#5), Ottawa (#8) and Toronto (#10).
On the Billboard Hot 100 Sonny James only charted "Young Love" into the Top 20. In Vancouver, "Kathaleen" was one of three singles James charted into the Top Ten. His #1 hit in January 1957, "Young Love", returned to the Top 20 on CKWX in December 1961. (It also made the Top Ten in '61 in Tucson, Arizona, and Bozeman, Montana). The other single that uniquely made it onto the Vancouver pop charts was the B-side to the non-hit, "Are You Mine", called "Let's Play Love".
But Sonny James was pretty much a one-hit wonder for most pop radio listeners across North America. And his chart success on the country charts was dismal, with only one charting single on the country charts between 1958 and 1962. Then in 1963 James recorded a single titled "The Minute You're Gone" which made the Billboard Country Top Ten in the USA. It was covered by Cliff Richard. Once back on the radar of country music listeners, Sonny James was on the charts constantly until 1983. Over the course of his recording career Sonny James charted 42 songs into the Top Ten of the Billboard Country chart, including 23 songs that made it to #1.
Sonny James died in 2016 at the age of 87 in Nashville.
January 9, 2018
Ray McGinnis
References:
Stephen L. Betts, "'Young Love' Singer Sonny James Dead at 87," Rolling Stone, February 22, 2016.
Sonny James official website ~ bio
Wally Lewis, "Kathaleen" ~ YouTube.com
Retro Candy Timeline, candyfavorites.com
Kerry Seagrave, Jukeboxes: An American Social History, (McFarland, Jefferson, NC, 2002).
Jane and Michael Stern, Jane & Michael Stern's Encyclopedia of Pop Culture: An A to Z Guide of Who's who and What's What, from Aerobics and Bubble Gum to Valley of the Dolls and Moon Unit Zappa, (HarperPerennial, 1992).
"Women's 1950s Pants: Cigarette, Capri, Jeans Fashion History," vintagedancer.com.
"Red Robinson's Teen Canteen Survey," CKWX 1130 AM, Vancouver, BC, March 22, 1958.
For more song reviews visit the Countdown.