#108: Kid Is Hot Tonight by Loverboy
Peak Month: November 1980
16 weeks on Vancouver's CFUN chart
Peak Position #2
Peak Position on Billboard Hot 100 ~ #55
YouTube.com: "Kid Is Hot Tonite"
Lyrics: "Kid Is Hot Tonite"
Loverboy is a band formed in 1979. It has been stated by Mike Reno that their name was chosen due to a dream by Paul Dean. He had come up with the name after spending the previous night with some of the bandmates, including Reno and their girlfriends, before going to the movies. The girlfriends were browsing through fashion magazines, where the guys in the band saw a Cover Girl advertisement. Cover Girl became Cover Boy, and then became Loverboy in Dean's dream later that night. After being told by Dean about the dream the next morning, Reno agreed to try it out and it stuck. The group made its live debut opening for Kiss at the Pacific Coliseum in Vancouver on November 19, 1979.
Joseph Michael Rynoski was born in New Westminster, British Columbia, in 1955. Wikipedia reports "While still in school in the early 1970s, Rynoski joined a cover band called Morning Glory, in which he played the drums and eventually found his way to the cover band Synergy. Later, he moved on to a band called Spunk with guitarist Jack Stoltz. After graduating from Penticton Secondary School, he briefly joined the heavy metal band Moxy for a single album, Under the Lights, released in 1978." While with Moxy, the band was nominated for a Juno Award in 1977 in the Most Promising Group category. Moxy lost out to the THP Orchestra. When he formed Loverboy in 1979, Rynoski changed his stage name to Mike Reno.
Paul Dean was born in Vancouver in 1946. Dean first started out playing washtub bass at the age of 12, followed by a plastic wind-up ukulele, which he received for Christmas at 13. He received his first guitar 2 months later, an acoustic, which he commenced to smash using it as a badminton racket. He next saved to buy his first electric guitar later that summer. From 1964, Paul Dean was guitarist with local Vancouver R&B band Kentish Steele and the Shantelles. In 1969 he moved on to join The Fox, which was renamed Canada. When Dean moved to Calgary in the early 70s, he was part of a band called Cannonball that became Scrubbaloe Caine. In 1974 Scrubbaloe Caine was nominated for a Juno Award in the Most Promising Group category.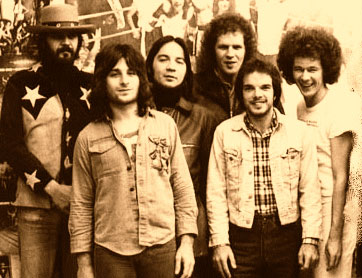 Scrubbaloe Caine (Paul Dean 3rd from right)
Scrubbaloe Caine lost out to Bachman-Turner Overdrive. In 1975 Dean formed the Great Canadian River Race with Mike Frenette. In 1977 Paul Dean joined the Regina-based rock band Streetheart. When he met Mike Rynoski in 1979 at The Refinery, they decided to form Loverboy.
Matt Frenette was born in 1954 and by the age of five began to play the bongo drums. At age ten Frenette was in a marching and concert band in school. Frenette met Paul Dean and in 1975 they formed the Great Canadian River Race. By the end of 1976 they agreed to form Streetheart.
Doug Johnson was born in 1957. He learned to play keyboards, saxophone and harmonica in his youth. He joined Loverboy in 1977. As well Scott Smith, born in Winnipeg, Manitoba, in 1955, When he was twelve he learned guitar and later switched to bass. Smith became a bass guitarist for the band.
On November 19, 1979, Loverboy opened for KISS at the Pacific Coliseum. The following summer, the band opened in the same venue for Cheap Trick on August 3, 1980, in Vancouver.
In the fall of 1980, Loverboy released their debut single "Kid Is Hot Tonite".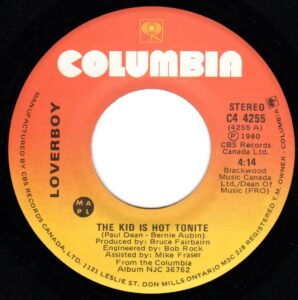 "Kid Is Hot Tonite" is a song about a musician in a band. He is really "hot," meaning on fire with the way he performs on stage at night. There is talk about the "new wave" of music already headed for "an early grave." In the late 70s into the early 80s one of the new fads in pop music was "New Wave." It caught on after the zenith of punk rock, and was commercially successful.
New Wave drew from punk, post-punk, glam rock, electronic music, reggae, progressive rock and R&B. New Wave music encompassed a wide range of sounds from the Talking Heads, Blondie, Devo, ABC, Duran Duran, Depeche Mode, Human League, Spandau Ballet, The Police, Soft Cell, Buggles, The Cars, B-52s, Culture Club, Psychedelic Furs, Orchestral Man0euvers in the Dark, Simple Minds, The Specials, The Beat, Madness, Malcolm McLaren and others. New Wave contributed to emergence of synth-pop (Gary Numan, Erasure, Pet Shop Boys, Berlin, Art of Noise, Bronski Beat, Eurythmics, Men Without Hats, Real Life…), New Romantic (A Flock of Seagulls, Ultravox, Adam & The Ants…) and alternative rock (The Smiths, Siouxsie and the Banshees, R.E.M…) which superseded it in popularity into the mid-80s. With all of the above recording acts, some crossed several genres of music. So one band could be identified as both New Wave and Synth-pop, for example.
Of course, the new sound reflected in "Kid Is Hot Tonite" is not new wave music, but rock and roll. After seeing the kid perform, people are asking one another "How do you like his show? …the way he rocks, the way he rolls? How do you like his image? How do you like his style?" The buzz among concert goers, record buyers and importantly the music critics, all contributes to the kid's staying power in the spotlight. "Where will he be tomorrow?" Loverboy asks. The kid is making music that has a fresh new sound, so look out.
"Kid Is Hot Tonite" peaked at #2 in Vancouver, #5 in Ottawa (ON), #10 in Regina (SK), and St. Cloud (MN), #12 in Saskatoon (SK), and San Francisco, and #13 in Toronto, and Dallas.
On December 27, 1980, Loverboy gave a concert in Vancouver at the PNE Garden Auditorium.
Next, Loverboy released "Turn Me Loose". The single was a massive hit in both Vancouver and Regina (SK), spending ten weeks in the Top Ten in both cities Regina and peaking at #1. "Turn Me Loose" spent nine weeks in the Top Ten in Ottawa where it also peaked at #1. It was also a Top Ten hit in Toronto, Winnipeg (MB), Hamilton (ON), and Halifax (NS).
In the spring and summer of 1981, "Lady of the 80s" was a Top Ten hit in Regina (SK), Saskatoon (SK), and Winnipeg (MB). On July 2, 1981, Loverboy appeared in concert at the Empire Stadium in Vancouver. Also on the bill were Blue Oyster Cult, Heart, The Rockets, and Ted Nugent.
In 1982 Dean and Reno won Composer of the Year at the Juno Awards for "Turn Me Loose".
In 1982 Loverboy released the album Get Lucky. On May 21, 1982, Loverboy gave a concert in Vancouver at the Pacific Coliseum as part of their Get Lucky Tour. From the album came "Working For The Weekend". In the fall and winter of 1981-82, "Working For The Weekend" peaked at #13 in Vancouver and #29 on the Billboard Hot 100. It was a Top Ten hit in Kitchener (ON), Ottawa, Toronto, Regina (SK), Winnipeg (MB), and Montreal. Another single from the album, "When It's Over", climbed to #6 on CFMI in Vancouver and #26 on the Billboard Hot 100 – their best US chart run to date. A third single, "Lucky Ones", was a Top Ten regional hit in the fall of '82 in Ottawa. A fourth single release, "Jump", was a breakout Top Ten hit in Winnipeg (MB) in early 1982.
In 1983 Loverboy's "Hot Girls In Love" climbed to #11 on the Billboard Hot 100. It also peaked at #1 in Saskatoon (SK), and the Top Ten in Montreal, Sherbrooke (PQ), Regina (SK), Ottawa, Toronto, Halifax (NS), Vancouver, Kingston (ON), Sydney (NS), Winnipeg (MB) and Kitchener (ON). In the fall of 1983, "Queen of the Broken Hearts" was a Top Ten hit in Saskatoon (SK). On May 21, 1983, Loverboy returned to the Pacific Coliseum in Vancouver on their Keep It Up Tour.
In 1984 Loverboy recorded the theme for the 1984 Summer Olympics for the United States Olympic Team. The song was "Nothing's Gonna Stop You Now". That same year, Loverboy recorded a song titled "Destruction" for the film Metropolis.
In 1985 Paul Dean, Mike Reno and Doug Johnson were part of the vocal ensemble Northern Lights who recorded the famine relief benefit single "Tears Are Not Enough". As well, in 1985 Loverboy had their biggest hit single in the USA with "Lovin' Every Minute Of It". The song climbed to #9 on the Billboard Hot 100, Calgary (AB), Regina (SK) and Vancouver, and #10 in Montreal. In 1986, "This Could Be The Night" was a Top Ten hit in Edmonton (AB), Regina (SK) and Saskatoon (SK).
In 1986 Loverboy appeared in concert on four occasions at the Expo Theatre in Vancouver: May 3, June 30, July 1st and 2nd. In 1986, the band had a minor hit with "Heaven In Your Eyes", from the soundtrack of the movie Top Gun. While the single release from the their fifth studio album Wildside, titled "Notorious", made it to #15 on the pop chart in Vancouver in 1987.
In 1988 Loverboy broke up. In 1989 Paul Dean released his debut solo album Hard Core. He released more solo albums in the 90s with Machine (1994) and Blackstone (1997). On October 6, 1991, Loverboy reunited for a concert at the 86th Street Music Hall in Vancouver. After that concert, the bandmates decided to tour again and in 1992 began extensively touring. In 1997 they released their sixth studio album titled Six.
Scott Smith was pronounced "missing, presumed dead, lost at sea," in 2000 in a boating accident after disappearing off the coast of San Francisco on November 30, 2000. He had been sailing with two friends near the Golden Gate Bridge in his 36 foot Sea Major boat. He was 45 years old. Smith's official status is still "missing." Smith was replaced in 2001 by Ken "Spider" Sinneave, formerly of Streetheart and Strange Advance.
On August 10, 2005, the band gave a concert at the PNE Aquastage in Vancouver. In 2007 they released the album Just Getting Started. In 2009 Loverboy was inducted into the Canadian Music Hall of Fame.
On February 21, 2010, Loverboy performed at the 2010 Winter Olympics in Vancouver. On August 24, 2010, Loverboy appeared in concert at the PNE Exhibition Bowl in Vancouver. In 2012 the band released Rock 'n Roll Revival. On December 3, 2012, Loverboy performed at the Rogers Arena in Vancouver.
On September 2, 2013, and September 7, 2015, Loverboy appeared in concert at the PNE Amphitheatre in Vancouver. On December 31, 2014 and o the same date in 2016, Loverboy gave concerts in the Vancouver suburb of Coquitlam at the Hard Rock Casino. Loverboy performed in concert outdoor in Ambleside Park in West Vancouver on August 17, 2018. A ninth studio album, Unfinished Business, was released in 2014.
Over the decades, Loverboy has shared the stage with many other recording acts. These include Bob Dylan, Al Green, Steve Miller Band, Grand Funk Railroad, Kool & the Gang, Alice Cooper, Eddie Money, Kansas, Quiet Riot, Gregg Allman, Def Leoppard, Men At Work, Meat Loaf, Little River Band, Triumph, Nena, Joan Jett & the Blackhearts, Foreigner, Santana, Ozzy Osbourne, Huey Lewis & The News, Iron Maiden, REO Speedwagon, Styx, Boston, Steve Perry, Journey, Bryan Adams, Gary Moore, Chicago, A Flock of Seagulls, John Mellencamp, Deep Purple, Toto, The Who, Fleetwood Mac, Starship, Average White Band, Bachman-Turner Overdrive, Blondie, Bon Jovi, April Wine, Harlequin and more.
October 7, 2022
Ray McGinnis
References:
"Matt Frenette bio," Loverboyband.com.
"Paul Dean Interview," Guitarhoo!, December 21, 2012.
"Kentish Steele and the Shantelles," pnwbands.com.
"The Fox," pnwbands.com.
"Scott Smith (Musician)," Wikipedia.org.
"Featured Artist Interview: Doug Johnson of Loverboy," Cherry Audio, April 21, 2022.
"Loverboy – Concert Dates – Canada," setlist.fm.
"Loverboy," Concertarchives.org.
"C-FUN Top 30," CFUN 1410 AM, Vancouver, BC, November 1, 1980.
For more song reviews visit the Countdown.