#43: Last Kiss by Wednesday
Peak Month: November 1973
14 weeks on Vancouver's CKLG chart
Peak Position #1
Peak Position on Billboard Hot 100 ~ #34
YouTube.com: "Last Kiss"
Lyrics: "Last Kiss"
In the early 70s a group from Oshawa, Ontario, were formed who named themselves Wednesday. The band formed when high school friends Mike O'Neil and Paul Andrew Smith decided to start a band. O'Neil played guitar and banjo, while Smith played guitar and keyboards. Both were singers. They were getting a good reputation as they played covers of contemporary hit songs at gigs across Ontario. They auditioned for a drummer and got Randy Begg, and they soon got bass player John Dufek to round out the band. In 1973 they showed up at Toronto's Manta Studios in Toronto and made some demos.
These included a cover of "Last Kiss" originally recorded by J. Frank Wilson & The Cavaliers.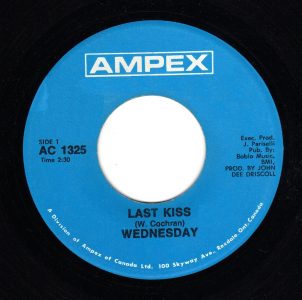 "Last Kiss" was written by Wayne Cochran. Born in 1939 in western Georgia in the small town of Thomaston, Talvin Wayne Cochran was the son of a cotton mill worker, and mother who came from a farming family. In his teens, Cochran fronted his first band called the Rockin' Capris. He left high school in Grade Nine to pursue music as a full-time career. Initially, he was a garbage collector, roofer, furniture salesman and construction worker. He moved to Macon, Georgia, where he befriended Otis Redding while playing bass guitar on Redding's early recording of "Shout Bamalama" and its B-side "Fat Girl". In 1959, Cochran recorded his first single, "The Coo", attracting the attention of King Records. Cochran became close friends with King labelmate, James Brown, whose stage show and road band influenced Cochran's performing style and inspired him to assemble his own soul revue, the C.C. Riders, which occasionally featured as many as 14 musicians plus two female backing vocalists, the Sheer Delights. A white singer, he mostly performed in black clubs.
Whenever he was onstage, Mr. Cochran was unmistakably the center of attention. His platinum blond pompadour towered six inches or more above his head, like a centurion's helmet constructed of cotton candy. He modeled his look after Marilyn Monroe and wrestler Gorgeous George. Cochran wrote "Last Kiss" in 1961, but his single release got little attention. Wayne Cochran actually co-wrote "Last Kiss" with his friends Joe Carpenter, Randall Hoyal, and Bobby McGlon. But, when the single was recorded at the University of Georgia in Athens (GA), only Cochran's name was credited with writing the song. The omission was never corrected on subsequent covers of the song.
Cochran's single recordings for King, including his signature song "Goin' Back to Miami", were not commercially successful beyond local markets in the south. However, Cochran's energetic performances, rigorous touring schedule and appearances on television talk shows, as well as The Jackie Gleason Show helped to make the C.C. Riders a popular attraction. By the mid-sixties, Cochran was earning $14,000 a week on stage in Las Vegas. In November 1967, his cover of the Temptations "Get Ready" was on the CKLG playlist in Vancouver for a few weeks.
Cochran largely abandoned his music career at 40 and turned to preaching. He was the born-again pastor of the Voice of Jesus ministry near Miami, which featured Bible readings, shouts of hallelujah and a state-of-the-art sound system, for whenever Mr. Cochran felt the urge to sing.
In 1964, "Last Kiss" was successfully covered by J. Frank Wilson and the Cavaliers. During the chart run to #2 on the Billboard Hot 100 in the fall, the band had a car accident. Manager Sonley Roush fell asleep at the wheel while driving during a tour in Ohio. Roush collided head-on with another vehicle. Roush was killed and J. Frank Wilson was injured. The coincidence of the band singing about a car accident and actually having a car accident spurred sales. "Last Kiss" climbed to #2 on November 7, 1964, on the Billboard Hot 100, and number-one for two weeks on CKLG in Vancouver.
The song tells the story of a couple in the boyfriend's "daddy's car." Shortly into their drive while on a date, "there on the road, straight ahead," they come upon a car that is stalled. Unable to stop, the teen swerves to the right in order not to hit the stalled car head on. The outcome: "crying tires…busting glass, the painful scream that I heard last." The boyfriend is unconscious for awhile. But, when he awakens, the rain is pouring down. With people standing around the single vehicle car crash, he finds his girlfriend (who may have been thrown from the car when it possibly flipped). She says "hold me darling for a little while." They have one last kiss and she dies in his arms.
Wednesday did a commendable cover of "Last Kiss", and it peaked at #1 in Vancouver (BC), Buffalo, Chicago, Tulsa (OK), Worcester (MA), Oshkosh (WI), and Saint John (NB), #2 in Milwaukee (WI), #3 in Hamilton (ON), La Crosse (WI), Winnipeg (MB), and Ottawa (ON), #4 in Pittsburgh, #6 in Killen (TX), #7 in San Francisco, and Pueblo (CO), #9 in Fargo (ND), and #10 in Windsor (ON).
Wednesday's debut album, Last Kiss, soon followed with five cover versions of hit songs from the past. These included "Gloria" (Them), "Tell Laura I Love Her" (Ray Peterson) and "Teen Angel" (Mark Dinning). "Teen Angel" became their follow up single to their Top Ten cover hit "Last Kiss". Wednesday chose to alter the songs lyrics than being a remake of the original, the storyline of the 1974 version provided a sequel narrative for what happened to the boy after Mark Dinning's telling of the story. After losing his girlfriend some time before, the 16-year-old boy loses his life in the same manner as the girl in the 1960 song. In Wednesday's version, the song is narrated by a group of the boy's friends.
Their debut album and follow up album both became gold records. Wednesday followed up with more single releases in 1977 that were covers of songs from the early rock 'n roll era, with Bobby Vinton's "Roses Are Red" and Dion's "Ruby Baby". However, their was little interest among record buyers in covers of old pop tunes during the height of the disco craze. Financial woes were plaguing Skyline Records and they became insolvent. Wednesday had changed its name to Wenzday, but it was no use. Within a few years the band broke up.
March 31, 2023
Ray McGinnis
References:
Wednesday bio, Wednesday Rocks.com
The Murf, Wenzday, Canadian Bands.com
Wednesday, "Last Kiss," 1973.
Matt Schudel, "Wayne Cochran, extraordinary showman of '60s rhythm-and-blues, dies at 78," Washington Post, November 25, 2017.
"J. Frank Wilson", Musicianbio.org.
"CKLG Thirty," CKLG 730 AM, Vancouver, BC, November 23, 1973.
"CKLG Boss 30" CKLG 730 AM, Vancouver, BC, November 25, 1967.
For more song reviews visit the Countdown.