#1306: Latromotion by Fred Latremouille
Peak Month: March 1965
7 weeks on Vancouver's CFUN chart
Peak Position #13
Peak Position on Billboard Hot 100 ~ did not chart
YouTube.com: "Latromotion"
Fred Latremouille was born on October 21, 1945, in Nanaimo on Vancouver Island. His father was a World War II officer with the Royal Canadian Air Force who trained new pilots on Tiger Moths. But Bruce and Margaret Latremouille were not getting along and they divorced when Fred was two years old. Margaret Latremouille next married Robert Harlow. He was the director of CBC Radio in British Columbia. Fred then was raised in West Vancouver. A household name in sportscasting, Bill Good, lived on their block. Bill Good Jr. and Fred cycled around the neighborhood. They became lifelong friends and both became familiar names to Vancouver radio listeners and then on TV. "We didn't so much go to school together," Bill Good Jr. said recently, "as skip school together."
When he was 16 Fred worked at the Gleneagles Golf Course in West Vancouver to make some money and learn more about golf. Then he read an ad in a local paper about a job available for an announcer at radio station CKYL in Peace River, Alberta. Fred jumped at the chance to get work in radio. He made an audition tape in his basement and sent it to CKYL. In his application he stated he was 20 years old. Fred was hired by John Skelly (uncle of Vancouver music critic, Richard Skelly) and traveled up north to Peace River. But when he walked into the radio station it was clear he was a rosy-cheeked teenager. Though this didn't get Latremouille off on the right foot, since he had spent money on a flight from Vancouver to Peace River, CKYL decided to give him the position. Latremouille dropped out of Grade 11 and was now a morning news announcer and hosting a morning show.
Latremouille stayed with CKYL for a year and then came back to Vancouver to finish high school. Simultaneously, he started showing up in the waiting room of CJOR AM 600 to get someone on staff to hear his audition tape. Finally, after months of nagging station manager, Vic Waters, Latremouille was given a position to host an afternoon country-and-western music show. On the sly Fred Latremouille sneaked in some pop and rock 'n roll tunes into the mix of his C&W playlist. He recalled he was the first DJ in Vancouver to play a Beatles recording. While CJOR was hiring Pat Burns and his controversial new talk show, Latremouille began to make new plans for his radio career.
In 1964, he got a job with CFUN as one of the Good Guys. CFUN promoted itself as the "tops on the teen scene." Their weekly charts were known as the CFUNtastic Fifty. Latremouille wanted the position so badly he took a cut in pay cut in order to work for a station whose purpose was to bring pop music to Vancouver listeners. At the time CFUN had been the only pop music station since CKWX gave up programming pop music in March 1962 and before CKLG became a rival of CFUN in the fall of 1964.
In 1965 the highly popular Fred Latremouille played drums with CFUN's house band, the CFUN Classics, on a Surfaris' sound-a-like instrumental called "Latromotion". It debuted on the CFUNtastic Fifty at No. 45 on Feb. 13, 1965. The tune spent seven weeks on the station's charts, peaking at #13. (CFUN's house band, The Classics, later formed the nucleus of the pop group The Collectors, who went on to become a band called Chilliwack.)
"Latromotion" was only a local hit on the CFUN charts in 1965.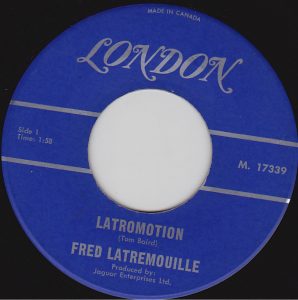 Latremouille was in high demand and the CBC hired him to host several shows including Let's Go, Where It's At and New Sounds.
For a brief time he moved to Victoria to work at CFAX. Then he got hired by CFUN rival, CKLG, where he was known as Fred Latrimo. A December 10, 1966, CKLG Boss 40 Record Survey had this notice at the bottom of the weekly survey: FRED LATRIMO 4 – 8 Plays much more music every hour – 95% of it by request.
He stayed with CKLG for two years. Together with fellow DJ "Real" Roy Hennessey, under the name Froyed, the two recorded a parody of the Rolling Stones' hit "Ruby Tuesday". Their parody was called "Grubby Thursday." The parody lyrics joked about unclean hippies and rhymed DDT with LSD.
In the late 60s Latremouille grew his blond hair into a mod, mop-top bowl with long sideburns. He typically wore either a velvet-trimmed Edwardian morning coat or a red serge military tunic in the Sgt. Pepper style. He shared the stage as a musician with Paul Revere and the Raiders at a local Vancouver concert. He chugged Southern Comfort with Janis Joplin. At public events in Vancouver Latremouille was mobbed by squealing fans of his radio show. It was one thing to speak to Fred Latremouille on the radio when making a request. But to meet the man in person was a dream, especially for many a teenage girl.
In addition to being a DJ on CKLG, Fred Latremouille became a co-editor of the Georgia Straight newspaper in 1967. The new paper had only seven issues at the time and it was vilified by Mayor Tom Campbell as a subversive underground paper. There were also police threats to shut it down. "Sometimes we had to step over the dopers on the floor to get work done," Latremouille said, "and the Marxists were always coming in to tell us we were too soft." Fred personally sold the paper on street corners at 10 cents per copy. A highlight in his career at the time was conducting a phone interview with John Lennon during his honeymoon bed-in for peace with Yoko Ono in the Hilton Hotel in Amsterdam in March 25-31, 1969. (John Lennon and Yoko Ono subsequently held another "bed-in" starting on May 26, 1969, at the Queen Elizabeth Hotel in Montreal).
Latremouille went on to host a number of shows for CBC TV in the 70s including Fred and Friends and Hourglass. He tried his hand as an actor and was part of the cast in A Man, a Woman and a Bank (1979), The Changeling (1980), The Plutonium Incident (1981) and Jane Doe (1983). In the following decades until he took early retirement in 1999, he worked as an on-air host at the CBC, CFUN, KISS FM and Clear-FM.
Latremouille was inducted into the B.C. Entertainment Hall of Fame in 2006 and was named to the Canadian Association of Broadcasters' Hall of Fame the following year. He died in 2015 after a battle with liver cancer at the age of 69.
October 25, 2016
Ray McGinnis
References:
Tom Hawthorn, "Broadcaster Fred Latremouille was a Staple of Vancouver Airwaves," Globe and Mail, March 20, 2015.
Fred Latremouille and Randi Conlin, Let's Go, CBC, July 1964.
Sabrina Marandola, On This Day in Montreal: John Lennon and Yoko Ono's bed-in, CBC, Toronto, Ontario, May 26, 2016
Brian Morton, Longtime Vancouver Radio Host Fred Latremouille Dies at Age 69, Vancouver Sun, March 5, 2015.
Richard Skelly, letter to Ray McGinnis, January 2018.
Pip Wedge, Fred Latremouille, History of Canadian Broadcasting, March 2015
CKLG Boss 40 Survey, December 10, 1966
"C-FUNTASTIC FIFTY," CFUN 1410 AM, Vancouver BC, March 13, 1965.
For more song reviews visit the Countdown.