#424: Letting Go by Straight Lines
Peak Month: January 1982
12 weeks on CKLG's Vancouver Chart
Peak Position ~ #6
Peak Position on Billboard Hot 100 ~ did not chart
YouTube.com: "Letting Go"
Lyrics: "Letting Go"
David Walter Sinclair grew up in Vancouver's Kitsilano neighborhood. From the age of twelve he became a guitar player in a series of high school bands. While still in high school in 1965 he was part of a band called Little Judas and the Sinners. Sinclair recalls that the school principal refused to allow the band to continue with that name as it was considered sacrilegious. So, they shortened their name to the Sinners. The Sinners were winners in a "Battle of the Bands" contest in Vancouver that year. In 1966, Sinclair was part of a band called the Blue Knights, who also went on to win a "Battle of the Bands" contest. The Blue Knights performed at venues like Afterthought on 4th Avenue. Years later, Sinclair's wife Christine said "He started playing in clubs when he was really, really young, like when he shouldn't have been there — the old strip clubs and stuff in the Downtown Eastside." In addition, Sinclair was a backing vocalist on both the CBC variety shows Let's Go and Where It's At. In 1968-69 he toured as an opening act for the Poppy Family. From 1970 to 1976 David Sinclair was a member of the Vancouver rock/jazz/r&b band Sunshyne. In 1973 he released his first solo album, Take My Hand. Later in 1976, when Sunshyne morphed into Prism, David Sinclair played as a session musician on their first three albums. But he didn't join Prism.
Robert "Bob" Buckley was born in Brighton, England. He moved to Vancouver with his family in his teens. He learned piano and a variety of horns. He studied at UBC and the University of Washington. Then he got work with the CBC TV show Let's Go. He met David Sinclair there and they formed a friendship. Starting in the late 60s he arranged three singles for Tom Northcott, including "Suzanne" and "Spaceship Races". Buckley did some session work with Howie Vickers of the Collectors. He also founded a local Vancouver band called Spring. They had a number of hits on the West Coast including "A Country Boy Named Willie", "I Turn To You" and "As Feelings Go". After Spring split up in 1975, Buckley conducted and arranged for major recording artists.
By 1980 Buckley and Sinclair co-founded a new band at first named Dogstar, that was renamed Straight Lines. The other Straight Lines bandmates were Vancouver born drummer Darryl Burgess, percussionist Peter Padden and bass guitarist Peter Clarke.
In 1980, Straight Lines released their self-titled debut album. From the album came the single "Roanne" which peaked at #8 in Regina (SK) in the summer of 1980. Prior to heading back to the recording studio both Padden and Burgess left Straight Lines. They were replaced by drummer Geoff Eyre. Previously Eyre had been in the mid-70s Vancouver bands the Hans Staymer Band and the Hometown Band, and been a studio musician for recording artists the Claire Lawrence Band, Valdy and Shari Ulrich. Eyre was also the uncredited drummer in the recording studio for the Terry Jacks 1973 album Seasons In The Sun.
In the summer of 1981 Straight Lines released a single titled "Letting Go".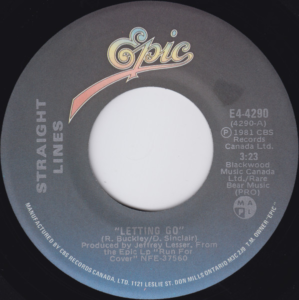 "Letting Go" is a song co-written by David Sinclair and Bob Buckley. Peter Clarke was on lead vocals. The song is about the tension between the ease two people have in a relationship and the urge to grow beyond what the relationship offers. The lyrics recognize that in the case of this couple "we both need room to grow." It seems that the needed growth requires letting go of the relationship. The singer states candidly, "I don't want to tie you down." The couple in the relationship have gotten very cozy with one another. They've grown accustomed to being able to depend on each other. But there is a recognition that to really love somebody "you gotta set them free." The trajectory they are on, given their need to grow, is to let go of their relationship. And this is "the hardest part of love."
"Letting Go" peaked at #1 in Ottawa (ON), #3 in Regina (SK), #4 in Montreal and Winnipeg (MB), #5 in Halifax (NS), #6 in Vancouver (BC), #7 in Toronto and #12 in Kitchener (ON).
Straight Lines was an opening act in concert for Burton Cummings, Prism, Loverboy and Klaatu. In 1982 the band released a single titled "There Are No Secrets" which made the Top Ten in Moose Jaw (SK).
After Straight Lines broke up, David Sinclair became part of k.d. Lang's band for the tours in 1992 and 1995 for her albums Ingenue and All You Can Eat. Sinclair was also part of Sarah McLachlans' band with tours supporting her albums Fumbling Towards Ecstasy (1993) and Surfacing (1997). During this time when he was with McLachlan's band for a decade, he was also with her at the Lilith Fair tours. This included 37 concerts in 1997, 57 concerts in 1998 and 40 concerts in 1999. Sinclair's association with both k.d. lang and Sarah McLachlan resulted in his appearing in these bands on Jay Leno, David Letterman, Conan O'Brien, Arsenio Hall, Saturday Night Live, Larry Sanders, Good Morning America, Rosie O'Donnell and other TV shows. He also performed with the Vancouver Symphony Orchestra and at jazz festivals. Over his career David Sinclair was a studio musician for Bachman-Turner Overdrive, Rita MacNeil, Barry Greenfield, Bryan Adams and many more. In 2010 David Sinclair teamed up with harmonica player Keith Bennett. They played small venues and house concerts. David Sinclair died in December 2018 at age 69 from cancer.
Over the years Buckley has produced Susan Jacks, Nightrider, The Cult, Motley Crue, Celine Dion, Michael Buble, Bryan Adams, Our Lady Peace, Terry Jacks and The Tragically Hip. Buckley has made a name for himself in the world of TV and film. He was scored numbers of award-winning shows for Disney, Alliance, ABC, FOX, CBS, PBS, CBC and the Cartoon Network. Among Buckley's other accomplishments are large-scale contemporary dance and musical events for the Calgary Olympics, the Victoria Commonwealth Games, the Vancouver Olympics and the FIFA World Cup Opening Ceremony with Cirque Du Soleil.
Darryl Burgess went on to be a drummer on John Denver's 1988 album Higher Ground. Burgess co-wrote with recording artist Colin James the 1990 hit "Just Came Back". His songs have been recorded by Tim McGraw, Faith Hill, Reba McEntire and others. For a number of years Darryl Burgess toured in Mark Selby's band before the country recording star died of cancer in 2017. Burgess also was in the recording studio with Selby for several of his albums between 2009 and 2013.
Geoff Eyre went on to be a studio and touring drummer with Powder Blues. In 2017, Eyre joined the Chilliwack band the Lounge Hounds, a vintage 50s and 60s rock 'n roll band with a rockabilly edge.
Starting in the early 80s, Peter Clarke was with the band Wall Street. They are still going strong, Clarke wrote in an email. On the website pnwbands.com, Clarke is referred to as "a top session bassist and vocalist in Vancouver." Clarke was a studio musician on The Rovers self-titled 1980 album. It featured the hit single "Wasn't That A Party". Other highlights as a studio musician include the 1985 single "I Go To Pieces", by Paul Janz, and "Love And Affection" by Joan Armatrading.
In a November 2021 email, Peter Clarke details how "after the band (Straight Lines) broke up Marc LaFrance (the SL drummer at the time) and I teamed up with Doug Edwards (Skylark, Hometown Band) and Peter Padden to form a band called The Rocks. Guitar, bass and TWO DRUMMERS!! We rocked." As well, Clarke adds, "I'm also playing in a band right now called the Sixties —all tunes from the 60's."
August 28, 2020
Ray McGinnis
References:
Julie MacLellan, "Burnaby Guitarist Granville StarWalk," Burnaby Now, August 27, 2018.
David Sinclair and Jamie Anstey, "Little Judas and the Sinners," pnwbands.com, February 2010.
Tom Keenlyside and Ralph Epel, "Sunshyne," pnwbands.com, February 2014.
"David Sinclair bio," davidsinclairmusic.com.
John Mackie, "Obituary: David Sinclair, a Musician's Musician," Vancouver Sun, January 3, 2019. "Darryl Burgess bio," artandrep.com.
Jenna Hauck, "Chilliwack Band The Lounge Hounds Ready to Release Rockabilly Album," The Chilliwack Progress, February 25, 2020.
"Peter Clarke bio," Discogs.com.
"CKLG Top 20," CKLG 730 AM, Vancouver, BC, January 6, 1982
For more song reviews visit the Countdown.