#150: Lido Shuffle by Boz Scaggs
Peak Month: May 1977
12 weeks on Vancouver's CKLG chart
Peak Position ~ #2
Peak Position on Billboard Hot 100 ~ #11
YouTube: "Lido Shuffle"
Lyrics: "Lido Shuffle"
William Royce "Boz" Scaggs was born in 1944 in Canton, Ohio, 60 miles south of Cleveland. His father was a traveling salesman, and the family moved to Oklahoma and next to Texas. While attending a private school in Dallas, Scaggs met Steve Miller while he was 12-years-old. Scaggs was learning to play guitar and was invited to join Miller's band the Marksmen. In 1961-62 Boz Scaggs joined Steve Miller's band the Ardells while the pair were studying university in Madison, Wisconsin. Scaggs followed Miller to Chicago in '62-'63. Then he went to London and Sweden to perform as a solo artist in concert. While in Sweden, Boz Scaggs released his debut album, Boz, in 1965. The album only sold in Sweden and soon went out of print.
Scaggs moved to San Francisco and joined the Steve Miller Band in 1967. As a bandmate, he was at the recording sessions for the Steve Miller Band's first two albums in 1968. That year Scaggs released his second solo album, Boz Scaggs. It included session musicians Duane Allman; tenor saxophonist on Aretha Franklin's "Respect", "I Never Loved A Man (The Way I Love You)" and "I Say A Little Prayer", among others – Charles Chalmers; trumpeter with the Bar-Kays on "Soul Finger" Ben Cauley – and later on "Respect Yourself" for the Staple Singers, among others. However, Boz Scaggs did not sell well. Yet, in 2012 Rolling Stone listed the album at #496 on its ranking of 500 Greatest Albums of All Time.
Between 1971 and 1976 Boz Scaggs went to the recording studios with Columbia Records. He released four albums in four years. There was no hit single from any of these albums. But in 1976 Boz Scaggs released Silk Degrees. The album soared to #2 on the Billboard 200 Album chart. A track from the album, "Lowdown", won a Grammy Award in 1977 for Best R&B Song. It was a #3 hit in the USA. Another track from the album was "Lido Shuffle".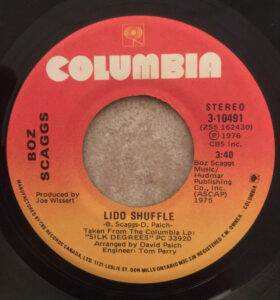 "Lido Shuffle" was cowritten by Boz Scaggs and David Paich. Born in 1954 in Los Angeles, David Paich is the co-founder, principal songwriter, keyboardist, and singer of the band Toto. He co-wrote "Lowdown" with Boz Scaggs, numbers of hits for Toto including "Hold The Line", "99", "Rosanna" and "Africa", and 1978 disco hit "Got To Be Real" for Cheryl Lynn. In 1977, Paich produced the No. 1 R&B hit "Break It to Me Gently" for Aretha Franklin. In 1982, Paich was a session musician on four tracks from Michael Jackson's Thriller album, including "The Girl Is Mine" and "Human Nature". In 1985, Paich was a session musician on "We Are The World" by USA for Africa. In 1987, Paich was a session musician on the #1 hit duet with Michael Jackson and Siedah Garrett titled "I Just Can't Stop Loving You". In 1989, Paich produced and arranged the Oscar-nominated song "The Girl Who Used to Be Me" for the film Shirley Valentine.
Over his career, David Paich has won six Grammy Awards. The first was in 1977 with Boz Scaggs for "Lowdown" (Best R&B Song). His other five Grammy Awards all came in 1982 with Toto, including three for "Rosanna" (Best Vocal Arrangement, Best Instrumental Arrangement, and Record of the Year); And for Toto IV (Producer of the Year, Record of the Year).
Boz Scaggs recalled: ""Lido Shuffle" was a song that I'd been banging around. I…took the idea of the shuffle [from] a song that Fats Domino did called "The Fat Man" that had a kind of driving shuffle beat that I used to play on the piano, and I just started kind of singing along with it. Then I showed it to Paich and he helped me fill it out. It ended up being "Lido Shuffle"."
The song is about a drifter looking for a big score. Is Lido a drifter because he has lived a life of crime and can't get a steady legal job? Lido missed the boat that day he left the shack. The "shack" could be slang for prison. And it could be that upon release from prison he has to take a ferry to move on as a free man (like once upon a time in Alcatraz). Lido doesn't want to return to prison. However, he steals a car from a juke joint and heads to a tombstone bar for a hold up (which could be a dead end bar, or a bar in Tombstone, Arizona). He enters the Tombstone Bar "just long enough to grab a handle off the top." In one chat about "Lido Shuffle" it is claimed that the "handle off the top" is a reference "to the old style cash registers which used large manual handles for opening/closing the til. Lido grabbed the handle, opened the til, and stole the cash, while probably pointing a gun at the bartender." From there, he heads to "Chi Town" (Chicago) to do some gambling. Lido always wants to get just a bit more money until he leaves his life of crime. However, he keeps losing whenever he gambles, and this sends him back to his old ways. However, Lido gets a letter from his woman telling him to "toe the line," basically go straight and don't get in trouble with the law. However, Lido plans one last robbery: "one more for the road." And after that's done, he'll head for the border with his winnings and live somewhere as an ex-pat.
"Lido Shuffle" peaked at #1 in Denver and Buffalo, #2 in Vancouver (BC), Sioux Falls (SD), Minneapolis/St. Paul, Tampa (FL), Seattle, San Diego, Chicago, and Oklahoma City, #3 in Easton (PA), Ottawa (ON), Sarasota (FL), Allentown (PA), Altoona (PA), Portland (OR), San Bernardino (CA), Mason City (IA), and San Francisco, #4 in Dayton (OH), Youngstown (OH), Davenport (IA), Houston, Montreal, Cleveland, Fresno (CA), Sally Lake City, Norfolk (VA), Baltimore, La Crosse (WI), and Kansas City (MO), #5 in Pittsburgh, Washington D.C., Palm Springs, Kalamazoo (MI), Springfield (IL), Grand Rapids (MI), and Regina (SK), #6 in Philadelphia, Waterbury (CT), San Antonio (TX), and Tucson (AZ), #7 in Bangor (ME), #8 in Santa Barbara (CA), and Sydney (NS), and #9 in Orlando, Columbus (OH), Los Angeles, Lansing (MI), Vancouver (WA), Phoenix, and Windsor (ON).
Many of the session musicians on Silk Degrees ended up forming a new band named Toto. They who went on to have million-sellers including "Africa" and "Rosanna".
Late in 1977 Boz Scaggs released his eighth studio album, Down Two Then Left. Neither of the two singles from the album cracked the Top 40. While the album eventually sold platinum in the USA, it stalled at #11 on the Billboard 200 Album chart.
Scaggs was back in the recording studio to work on Middle Man. The album produced two Top 20 hit singles: "Breakdown Dead Ahead" and "Jojo".
Next, Boz Scaggs' single from the film Urban Cowboy titled "Look What You've Done To Me" climbed to #5 in Vancouver on CFMI. It peaked at #14 on the Billboard Hot 100. In early 1981 "Miss Sun" climbed to #4 in Vancouver, and stalled at #14 on the Hot 100. The single was from a compilation titled Hits.
Boz Scaggs took an eight year break from recording and returned to the studio to release Other Roads late in the summer of '88. Also in 1988, Scaggs opened the San Francisco nightclub, Slim's. He continued to be an owner of the club until it closed during the pandemic in 2020. Since 1988, Boz Scaggs has released nine more studio albums.
In the summer of 1998, Boz Scaggs went on tour as the opening act for Stevie Nicks. Early on the morning of December 31, 1998, tragedy struck the Scaggs family when Boz Scaggs 21-year-old son, Oscar, died of a heroin overdose. Oscar Scaggs had been in rehab treatment through most of 1998, and had been reeling since the death of his friend – 19-year-old Nick Traina (the son of novelist Danielle Steel) in 1997. In 2001 Scaggs was all ready for the release of his new album, Dig, on September 11. But then the attacks happened and the record company shelved its promotional plans. "The record label had an extensive publicity campaign set up and the budget was all paid for, the ads were paid for. Then came 9/11 and everything went out the window, of course. That's the breaks. I was pretty disappointed. … I'm sorry it didn't see the light of day."
In 2003 his album But Beautiful topped the Billboard Top Jazz Albums chart. His 2013 album, Memphis, has been his most commercially successful album since Middle Man in 1980. In 2015, Scaggs album, A Fool To Care, climbed to #1 on the Billboard Top Blues Albums chart. In October 2017, Boz Scaggs home in the Napa Valley burned to the ground in the wildfires. And in 2018 Boz Scaggs most recent album, Out Of The Blues, also climbed to the top of the Billboard Top Blues Albums chart. Given his personal experiences of the loss including in the 1998 death of his 21-year-old son to heroin overdose – and his home lost to fire in the Napa Valley in 2017 – Boz Scaggs knows the blues firsthand.
June 17, 2022
Ray McGinnis
References:
Laura Hamburg, "Boz Scaggs' Son Dies On New Year's Eve / Heroin overdose kills 21-year-old," San Francisco Chronicle, January 4, 1999.
Mark Hinson, "Boz Scaggs Talks About his Lost Album," Tallahassee Democrat, Tallahassee, FL, April 21, 2016.
David Browne, "'Boz Scaggs' at 50: Inside the Making of a White-Soul Classic," Rolling Stone, August 27, 2019.
Aidin Vaziri, "Pop Quiz: Boz Scaggs Lost Almost Everything in the North Bay Fires, but he Still has the Blues," San Francisco Chronicle, September 5, 2018.
Paul Cashmere, "Boz Scaggs Explains How He Became The Father Of Toto," Noise11, Melbourne, Australia, April 14, 2014.
Greg Prato, "David Paich of Toto," Songfacts.com, March 18, 2015.
"Top Thirty," CKLG 730 AM, Vancouver, BC, May 10, 1977.
For more song reviews visit the Countdown.