#1215: I Like Your Kind Of Love by Bob Luman and Sue Thompson
Peak Month: October 1963
8 weeks on CFUN chart
Peak Position #15
Peak Position on Billboard Hot 100 ~ did not chart
Peak Position on Music Vendor ~ #113
YouTube.com: "I Like Your Kind Of Love"
Lyrics: "I Like Your Kind Of Love"
Bob Luman was born in Blackjack, Texas, in 1937. Before 1955 the only hits Bob Luman had were on the baseball field. He was an outstanding baseball player for his school team in Kilgore, Texas. He also fronted a band that performed the country hits. But after seeing Elvis Presley perform in Kilgore in May 1955, Luman was resolved that his hits going forward would be "Rockabilly hits."
In 1956 Luman won a talent contest in Tyler, Texas, after performing "Blue Suede Shoes" at the suggestion of Johnny Horton. Winning the contest led to a contract to replace Johnny Cash on the Louisiana Hayride. With that invitation, Luman turned down an offer from the Pittsburgh Pirates to join spring training. Bob Luman signed with Imperial Records in 1957, and his first session was at Sellars Studio in Dallas, where he recorded the Rockabilly classic, "Red Cadillac and a Black Mustache". That year Bob Luman appeared on the country TV show in LA called Town Hall Party. He also appeared in a rock 'n roll movie called Carnival Rock. He released a number of singles in the late 50s, including "Dreamy Doll" that climbed to #8 in Ottawa, Canada, in 1959.
In 1959 Ricky Nelson met Bob Luman and his band who were rehearsing down the hall in a studio at Imperial Records in Hollywood. So impressed was Nelson with the band that he gave them an offer they couldn't refuse and Nelson hired them away from Luman. So frustrated was Bob Luman with this turn of events that he announced at a concert that he was going to pursue a baseball career. Don and Phil Everly were in the audience and afterward convinced Luman to record "Let's Think About Living". The tune became a Top Ten hit for Luman in 1960.
Bob Luman was anticipating a break-through with a Top Ten hit. But then he was drafted into the United States Army just prior to the single's released. While he was in the army, Warner Brothers kept releasing singles. A number of these were hits in Vancouver, though not in the USA. These include "The Great Snowman", a #4 hit in April 1961, and "Private Eye," which climbed to #3 on the pop charts on CKWX that August. Luman charted a few more songs on the Vancouver pop charts the following years. "You're Everything", which peaked at #20 in December 1962, was his most successful. But as Luman was in the army he was not able to support his single releases with any concert tours. So in the USA "Let's Think About Living" was his only hit. But in Vancouver, coming off of the chart success of "You're Everything" in December '62, Bob Luman and Sue Thompson (her recent Top Ten hit in Vancouver in October '62 was "James Hold The Ladder Steady") were a combination with a receptive Vancouver audience for any duet Hickory Records could send over to CFUN.
Eva Sue McKee was born in Nevada, Missouri on July 19, 1925. By 1932, at the age of seven, she was playing guitar and singing on stage. She got married at the age of 17 in 1942. But by 1945 was divorced and a single mother. Sue's first successful fling in show business was with the "Dude Martin Show" on KYA Radio in San Francisco, and KGO TV in 1950. The Dude Martin Show moved to TV station KTTV in Los Angeles in 1951. She performed with Dude at the Palamino Club in Los Angeles. Between 1950 and 1954 she recorded thirteen 78 RPMs as the featured vocalist with Dude Martin and His Roundup Gang. "If You Want Some Lovin" from 1950 is an example of the country records she was releasing under the stage name, Sue Thompson. She was nominated for an Emmy award in 1954 for her work on The Dude Martin Show, but lost out to Lucille Ball. She recorded nearly eighty singles, including "I Like Your Kind Of Love" with Bob Luman.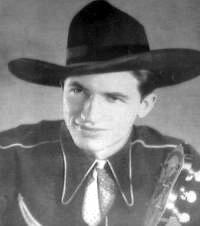 Dude Martin ~ 1950
Thompson's first recording to make the country charts in the USA was the first recording of "You Belong To Me", most successfully covered by Jo Stafford, and also a hit for Patti Page and Dean Martin in 1952. In 1953 Sue Thompson married western swing banjo player, Hank Penny, who she got to know from The Hank Penny Show in Los Angeles in 1952.. When Penny got a contract to work at the Golden Nugget Casino in Las Vegas in 1954-1960 to front a band, Sue moved with him. She and Penny had a minor country Christmas single hit in 1954 called "Walking In The Snow." Thompson's first major record was a tear jerker titled, "Sad Movies Always Make Me Cry" in October, 1961, (#3 Vancouver) on Hickory Records. Her follow-up song "Norman" became her biggest record ever. On CFUN it jumped from #26 to #1 and was at the #1 spot on either CFUN or CKWX for four consecutive weeks in a row between December 23, 1961, and January 13, 1962. Her biggest hits were written by John D. Loudermilk.
Her third single, "Two Of A Kind" made the Top 30 on CFUN, but that was all. Her fourth single was "Have A Good Time". It made the Top Ten in Calgary. But in Vancouver it was the B-side, "If The Boy Only Knew", that made it on the CFUN charts in June of 1962, peaking at #18. Another gold record was soon to follow in 1962 with, "James, Hold The Ladder Steady", a #7 hit on CFUN. Her next release, "Willie Can", peaked at #5 in Calgary, Alberta, but was not successful in many radio markets.
The year she recorded "I Like Your Kind Of Love" with Bob Luman, Sue Thompson and Hank Penny filed for divorce.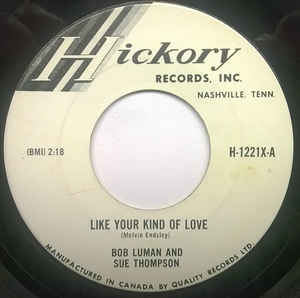 In 1963, fresh from her divorce, Sue Thompson had moved from Las Vegas to Nashville where Bob Luman and other country and rockabilly stars were recording. The song they recorded was a cover of the pop song by Andy Williams, a Top Ten hit for him in 1957.
Bob Luman and Sue Thompson's remake of Andy Williams 1957 hit peaked at #15 on CFUN. The song made it to #5 in Winnipeg and #14 in Saskatoon. But in most other radio markets in North American it failed to chart. The song is a catalogue of qualities someone loves about their sweetheart they are madly in love with. These include: they way they walk, make eye contact, beg for more, thrill them, wear their clothes, hold their hand. The singer concludes this person is their "dream come true."
Making a list of the qualities you adore about the one you love predates the release of "I Like Your Kind Of Love". American poet, Elizabeth Barrett Browning wrote her classic Sonnet 43 (How Do I Love Thee?) in 1845:
How do I love thee? Let me count the ways.
I love thee to the depth and breadth and height
My soul can reach, when feeling out of sight
For the ends of Being and ideal Grace.
I love thee to the level of everyday's
Most quiet need, by sun and candle-light.
I love thee freely, as men strive for Right;
I love thee purely, as they turn from Praise.
I love thee with the passion put to use
In my old griefs, and with my childhood's faith.
I love thee with a love I seemed to lose
With my lost saints,—I love thee with the breath,
Smiles, tears, of all my life!—and, if God choose,
I shall but love thee better after death.
Making lists of what we cherish about our valentine, our dear heart, has been going on between couples in love for centuries.
Bob Luman was invited to become a member of the legendary Grand Ole Opry in 1964. It was an uneasy relationship at times because Luman's turbo-charged, Rockabilly performances didn't always meet with the approval of the more traditional, mainstay Opry artists. Bob Luman's successful career included thirty-eight recordings on the national charts, including the memorable classic, "Lonely Women Make Good Lovers", that climbed to #4 on the Canadian and US country charts in 1971. Bob Luman released over sixty singles from the late 50s until 1978 when he died at the age of 41 of pneumonia.
Sue Thompson's last major hit in the pop field was in 1965 with "Paper Tiger" (#20 CFUN). All four of Sue's major pop hits were written by John D. Loudermilk. Sue was elected to the West Coast Western Swing Hall of Fame in 1991. Sue also had some success in the Country field with a Gold record, "Big Mable Murphy". Sue also recorded three LP's with Don Gibson in the early 70's. Sue and her husband Ted live in Las Vegas. She continued to perform at clubs in Las Vegas. By the time she turned 90, in 2015, she was living in a retirement facility in Pahrump, Nevada, an hour west of Las Vegas.
April 9, 2017
Ray McGinnis
References:
Shaun Mather and Phil Davies, Let's Think About Luman, Rockabilly Hall of Fame, February 1999.
Randy McDaniel, What Ever Happened to Bob Luman?, Sioux Falls, South Dakota, October 22, 2015.
Dik, Bob Luman, Black Cat Rockabilly, September 2012.
Roger Corman, Carnival Rock, 1957
Elizabeth Barrett Browning, Sonnet 43 (How Do I Love Thee?), 1845.
Sue Thompson bio, Sue Thompson website
Eric Brightwell, Sue Thompson bio, Amoeba Music.com
Sue Thompson 90th Birthday Party, Bob Rudd Community Center, Pahrump, Nevada, Youtube.com, June 30, 2015 (early birthday, as Sue Thompson's birthday is July 19).
"C-FUNTASTIC FIFTY," CFUN 1410 AM, Vancouver, BC, October 12, 1963.
For more song reviews visit the Countdown.