#1025: Lil' Ole Me by Cornbread And Jerry
Peak Month: June 1961
8 weeks on Vancouver's CKWX chart
Peak Position #9
Peak Position on Billboard Hot 100 ~ did not chart
Peak Position on Cashbox ~ #138
YouTube.com: "Lil' Ole Me"
William Everett "Bill" Justis Jr. (pictured in photo to the left) was born in Birmingham, Alabama in 1926. He was a pioneer rock n' roll musician, composer, and musical arranger, best known for his 1957 Grammy Hall of Fame song, "Raunchy". Justis grew up in Memphis, Tennessee, and studied music at Tulane University in New Orleans. Fine-tuning his trumpet and saxophone skills, he was featured in concert with local jazz and dance bands. In 1954, Justis went back to Memphis and hired by Sam Philips at Sun Records. While in the employ of Sun Records, Bill Justis made his own recordings. In addition he was a musical arranger Sun recordings by Jerry Lee Lewis, Roy Orbison and Johnny Cash.
When Bill Justis released "Raunchy" in November 1957, it became the first rock 'n roll instrumental to top the pop charts. In this case #1 on the Cashbox Magazine survey and #1 on the Australian pop charts. "Raunchy" was kept out of the #1 spot on the Billboard pop charts variously by "April Love" by Pat Boone and "At The Hop" by Danny & The Juniors. Selling a million copies, the instrumental established Bill Justis as a household name.
In 1961, Justis moved from Memphis to Nashville and had a successful career arranging both pop and country music tunes for recording artists on labels like Monument and Mercury. Cornbread and Jerry were Bill Justis and Jerry Smith. Justis was under contract at another record company at the time, and so went by an alias to be featured on this record.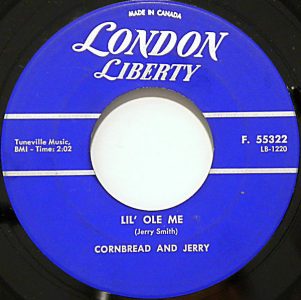 "Lil' Ole Me" is taken from the idiom lil' ole (or old) me. The phase is usually said by someone who is asserting they are ordinary or harmless. For example, Blair might ask Chris, "Chris, did you eat the whole pie I had baked for the dinner party tonight?" And Chris could reply "lil' ole me?" The phrase can be genuine or feigning innocence when one knows they are guilty of another persons suspicions. The phrase can be a way to dodge a question in the face of another person's scrutiny. In other occasions, a person may have a genuine sense of being inconsequential and think of themselves as "lil' ole me" as they roll through live.
"Lil' Ole Me" was a ragtime influenced composition by Jerry Smith. Ragtime originated in the African-American community and was most popular from the mid-1890's to the end of World War One. A prime example of this music was Scott Joplin's "Maple Leaf Rag". The defining characteristic of ragtime music is a its use of syncopation in which melodic accents occur between metrical beats. This created a melody that seemed to be avoiding some metrical beats of the accompaniment by emphasizing notes that either anticipate or follow the beat. The intended effect on the listener was actually to accentuate the beat, luring them to move or dance to the music, as in James Scott's 1904 tune "On The Pike". Ragtime had an influence on classical composers in Europe. An example of this is Claude Debussey's "Golliwog's Cakewalk" from Children's Corner, written in 1908. "Lil' Ole Me" also resembled some of the pieces written by Floyd Cramer, like "On The Rebound", which also featured a syncopated melody.
"Lil' Ole Me" made the Top 20 in Los Angeles, Toronto and Columbus (Ohio) #8 in Minneapolis/St. Paul and #9 in Vancouver. Elsewhere the instrumental hardly got any chart action. After "Lil' Ole Me" Bill Justis continued to work in Nashville as an arranger. In 1963 Justis had a number one hit in Australia called "Tamoure", which climbed to #4 on the CFUN charts in Vancouver in May of that year. "Tamoure" did not chart in the USA. In 1964 Justis was contracted to play saxophone throughout the soundtrack for Kissin' Cousins, the latest Elvis Presley film. In addition, Bill Justis became the manager of the Nashville based surf rock group, Ronny & The Daytonas, who had a Top Five hit that year titled "G.T.O."
In 1969 singer Ray Stevens had a million selling single called "Gitarzan". Some years later Stevens gave Bill Justis credit with giving him the phrase which became the songs' title and inspiration for the song. Justis also wrote the scores for several films including Dear Dead Delilah (1972), Smokey and the Bandit (1977), Hooper (1978) The Villain (1979) and others. In 1982 Bill Justis died of cancer at the age of 55.
Jerry Smith played the piano for a hit in 1963 by the Dixiebelles called "Down At Papa Joe's". He also wrote the lyrics for the 1963 hit, "Killer Joe", for The Rocky Fellers. Smith later had a minor hit called "Truck Stop" in 1969. Jerry Smith was a session musician contributing piano or compositions on numerous recordings for hit makers like Floyd Cramer, Loretta Lynn, Porter Wagoner, Red Sovine, Jerry Reed, Charlie Pride, Willie Nelson, Skeeter Davis, Jeanne Pruett, Ferlin Husky, Wanda Jackson and Chet Atkins.
August 24, 2017
Ray McGinnis
References:
Bill Justis – bio, Sun Records.com
Bill Justis – bio, Rockabilly.nl
Lil ole me – Idioms, The Free Dictionary.com
Michael Verity, What is Ragtime?, Thought Co.com, New York, NY, July 4, 2017.
Golliwog's Cakewalk, Aussie Musician Blogspot.co, June 26, 2009.
"Fabulous Forty," CKWX 1130 AM, Vancouver, BC, June 17, 1961.
For more song reviews visit the Countdown.