#95: Little Bitty Girl by Bobby Rydell
Peak Month: January 1960
13 weeks on Vancouver's CFUN chart
Peak Position #1
Peak Position on Billboard Hot 100 ~ #19
YouTube.com: "Little Bitty Girl"
Lyrics: "Little Bitty Girl"
Robert Louis Ridarelli was born in 1942 in Philadelphia. He displayed a musical aptitude as a young child. At the age of eight, his reputation led to an appearance on a talent show on the national television series, TV Teen Club. He won the contest, and the show's presenter, Paul "The King of Jazz" Whiteman, recruited him into the cast, where he remained for several years. It was here that his name was Anglicised to Bobby Rydell. When he was 15 in 1957, he played drums for Rocco and the Saints, across from trumpet player Frankie Avalon. In 1958 he released "Dream Age" on the small Veko Record label. Two followup releases on Cameo, "Please Don't Be Mad" and "All I Want Is You" also failed to make a breakthrough. But his third release on Cameo Records, "Kissin' Time", got him national exposure. The single climbed to #11 on the Billboard Hot 100 and #14 in Vancouver's Sensational Sixty on CKWX in September 1959. A followup, "We Got Love" broke into the Top Ten to peak at #6 on CFUN in Vancouver in late October '59, matching its peak on the Billboard Hot 100. In all, Bobby Rydell had a hit record on the Vancouver pop charts in 1959 for a total of 21 weeks.
With several hits across America and Canada, Bobby Rydell was invited to join Dick Clark's Caravan of Stars. In addition to Rydell, the 1959 tour was comprised of Jimmy Clanton, Lloyd Price, Paul Anka, Annette, Duane Eddy and LaVern Baker.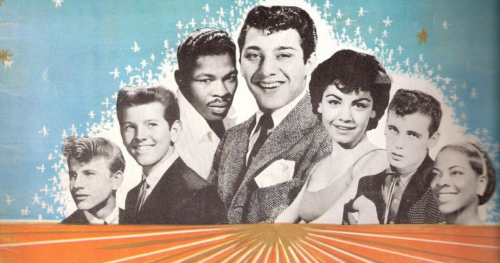 Dick Clark Caravan of Stars 1959 poster – Bobby Rydell (above) on the far left
In early 1960, Rydell released "Wild One" with the B-side "Little Bitty Girl".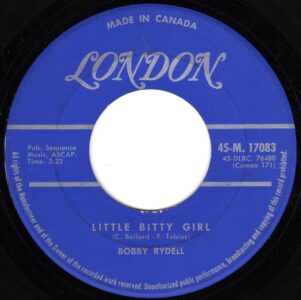 In Vancouver it was the B-side "Little Bitty Girl" that first made the record charts on January 23, 1960. While "Wild One" first appeared on the C-FUN chart on February 13, 1960. "Little Bitty Girl" is a song cowritten by Clint Ballard Jr. and Fred Tobias. Clinton Conger Ballard Jr. was born in 1931 in El Paso, Texas. When he was three years old, Clint played the piano at local El Paso radio station KTSM. At age eleven he entered a music program for gifted students. His song, "Hey, Little Baby", was recorded by band leader Mitch Miller and became the theme of the 1958 World's Fair in Belgium. In June 1958, a song he cowrote titled "Gingerbread" was recorded by Frankie Avalon. It climbed to #9 on the Billboard Hot 100 and #3 in Vancouver. In 1960, Ballard Jr. cowrote "Good Timin'", a Top Ten hit for Jimmy Jones in the USA and #1 in the UK and Vancouver. Ballard Jr. later wrote "I'm Alive" (#1 for the Hollies in the UK and Ireland in 1965), "You're No Good" (#3 for the Swinging Blue Jeans in the UK in 1964, and #1 for Linda Rondstadt in 1974), and "Game Of Love" (#1 for Wayne Fontana and the Mindbenders in 1965). He died at the age of 77 in 2009.
Fred Tobias was born in 1928 in New York City. His father wrote "Don't Sit Under The Apple Tree", "Lazy, Hazy, Crazy Days of Summer" and "Merrily We Roll Along". He wrote "Born Too Late" for the Poni-Tails in 1958, which climbed to #7 on the Billboard Hot 100. In addition to collaborating with Clint Ballard Jr. on "Good Timin'" for Jimmy Jones, he cowrote several songs with Paul Evans. One of these, "Johnny Will", was a minor hit for Pat Boone in 1961. Tobias also wrote parodies performed on television by entertainers Ginger Rogers, Ray Bolger, Donald O'Connor and Phyllis Diller. He died in 2021 at the age of 93.
"Little Bitty Girl" peaked at #1 in Vancouver, Newark (NY), Oxnard (CA), and Philadelphia, #2 in Troy (NY), Phoenix, Manchester (NH), Mount Vernon (WA), Toronto, Minneapolis/St. Paul, and San Francisco, #3 in McAllen (TX), and Oceanside (CA), #4 in Cleveland, Syracuse (NY), Ventura (CA), and Davenport (IA), #5 in Allentown (PA), Miami, and San Bernardino (CA), #6 in Dubuque (IA), Jacksonville (FL), and Los Angeles, and #7 in Albany (NY).
Rydell had a followup with "Swinging School" which peaked at #5 in the USA and #3 in Vancouver. While in the summer of 1960, Bobby Rydell released an English version of the 1958 Domenico Modugno number-one hit "Volare", which peaked at #4 in the USA and #19 in Vancouver. One last Top 20 hit for Rydell in 1960 was "Sway". Across the year, Bobby Rydell appeared on the Vancouver pop chart with one of his hits in 44 of 52 weeks.
In 1961 Bobby Rydell was back in the Top Ten in Vancouver with "Good Time Baby", which climbed to #7 in February. In the spring of '61, Rydell charted a cover of the number-one 1943 hit by Glenn Miller (most recently covered in 1958 by Louis Prima and Keely Smith) titled "That Old Black Magic". The single was from his album Bobby Rydell Salutes the Great Ones. Other tracks from the album included three Al Jolson hits, "Rainbow 'Round My Shoulder", "Mammy" and "April Showers". Rydell also saluted Artie Shaw's number-one hit from 1940 titled "Frenesi"; The 1957 Jimmy Dorsey hit "So Rare"; the 1931 Bing Crosby Top 5 hit "Wrap Your Troubles In Dreams"; And a tune from the 1959 Broadway musical Gypsy titled "Everything's Coming Up Roses".
But in the midst of the dance craze most record buyers gave Rydell's "That Old Black Magic" cover a pass, as the song stalled in the Top 30 in Vancouver. So Rydell released "The Fish" explaining to listeners "I'm gonna teach it to you right." However, during the song, aside from learning that when you do The Fish you "move" and "sway," there were no other instructions. One promotional photo showed Bobby Rydell with his arms outstretched, as if he was holding a fishing line (and so the other dancer would be dancing as if they were a fish that was being caught). The song spent five weeks in the Top 50 on CKWX in July '61. In October '61, it was a B-side "The Doorway To Paradise" that spent six weeks on the pop charts in Vancouver, peaking in the Top 30.
In 1961, Bobby Rydell performed at the Copacabana in New York City, where he was the youngest performer to headline at the nightclub. The New York World Telegram and Sun wrote:
A powder keg of talent exploded into stadium last night at Jules Podell's Copacabana. The name is Bobby Rydell and the 19-year-old singer, a sometime rock 'n roller, blasted off on a two-week stand with a sizzling performance that enraptured patrons from 7 to 70…. Poised and personable, the Philadelphia-born youngster elicited raves for his bouncy presentations of "That Old Black Magic", "Old Man River"…and superb mimicry. Bobby has been pointed for stardom since he was signed for the Paul Whiteman TV show at the age of 9…."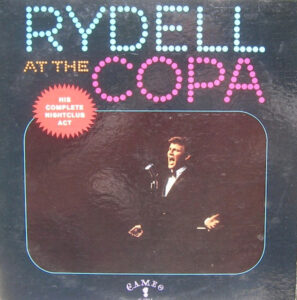 In February 1961, he appeared at the Festival du Rock at the Palais des Sports de Paris in Paris, France. Bobby Rydell ended the year with a #3 hit in Vancouver in a duet of "Jingle Bell Rock" with Chubby Checker. In total, Bobby Rydell appeared for a total of 25 weeks on the Vancouver pop charts in 1961.
In 1962, Bobby Rydell was on the pop charts in Vancouver for 28 weeks with "I've Got Bonnie", "Gee, It's Wonderful", "I'll Never Dance Again", and "The Cha-Cha-Cha". The last of these peaked at #5 in Vancouver in November '62. As 1963 began, Rydell was back in the Top 20 in Vancouver with "Butterfly Baby". And in the Top 40 with "Will You Be My Baby", "Wildwood Days" and "The Woodpecker Song". He wrapped up the year with a #3 hit in Vancouver titled "Forget Him", and appeared on the CFUN pop charts in Vancouver in 1963 for a total of 37 weeks.
In 1963, Rydell appeared in the role of Hugo Peabody in the film Bye Bye Birdie.
Once the British Invasion began, Bobby Rydell was one of the late 50's-early 60's teen idols that was swept away. In 2000, Paul McCartney stated in The Beatles Anthology that "She Loves You" was initially envisioned as an 'answer song' to Bobby Rydell's "Swinging School".
Bobby Rydell's 13 single releases between 1964 and 1968 failed to appear on the pop charts in Vancouver. Most of these failed to crack the Billboard Hot 100. Bobby Rydell turned to television and was a regular on The Red Skelton Show playing Zeke Kadiddlehopper, the cousin of Skelton's Clem Kadiddlehopper. Rydell was a recurring guest on The Milton Berle Show, and a panelist in 1964 on To Tell The Truth. He also was a featured guest on The Jack Benny Show, Joey Bishop, The Danny Thomas Show, and George Burns.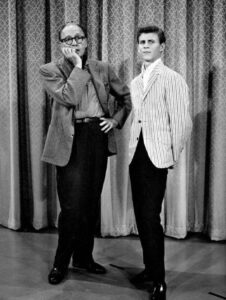 Bobby Rydell with Jack Benny (1964)
In 1976, Bobby Rydell had his last hit on the pop chart with a disco version of his 1960 hit "Sway". The 1978 musical Grease and the 1982 musical film Grease 2 has much of the plot unfold at Rydell High. In 1986 Bobby Rydell made his only appearance in Vancouver at the Expo Theatre on June 15th. He was honored by the City of Philadelphia when the 2400 block of South 11th St. was named Bobby Rydell Boulevard. The event was celebrated with a parade, a string band and Bobby arriving in a 1950 pink Cadillac. The mayor attended along with thousands of people. A huge block party followed dedication ceremonies.
Between 1959 and 1965, Bobby Rydell released 13 studio albums. He charted 29 singles onto the Billboard Hot 100, including six into the Top Ten in the USA and eight Top Ten hits in Vancouver.
In 2016, Rydell cowrote his memoir with Alan Slutsky titled Teen Idol on the Rocks: A Tale of Second Chances. Looking back, Rydell disclosed his decades long battle with alcoholism that ravaged his liver and kidneys. Bobby Rydell died in 2022 at the age of 79 from pneumonia.
November 11, 2022
Ray McGinnis
References:
Valerie J. Nelson, "Clint Ballard Jr, Dies at 77, Pop Songwriter had No. 1 Hits," Los Angeles Times, January 21, 2009.
"Bobby Rydell Setlist," Setlist.fm, June 15, 1986.
A.D. Amorosi, Chris Willman, "Bobby Rydell, 1960s Pop Idol and Star of 'Bye Bye Birdie,' Dies at 79," Variety, April 5, 2022.
"Bobby Rydell," Imdb.com.
"Grease," Wikipedia.org.
One to One with Steve Adubato, "60's Teen Idol Bobby Rydell on Overcoming Alcoholism," PBS, Montclair, New Jersey, August 18, 2016.
Bobby Rydell and Alan Slutsky, Teen Idol on the Rocks: A Tale of Second Chances, Doctor Licks Publishing, 2016.
"Frederick 'Fred' Tobias – obituary," tribute archive.com, May 2021.
Nat Chrzan, "Bobby Rydell Sings at Copa," New York World Telegram and Sun, 1961.
"Hi-Fi 40," CFUN 1410 AM, Vancouver, BC, January 23, 1960.
"Sensational Sixty," CKWX 1130 AM, Vancouver, BC, March 28, 1960.
For more song reviews visit the Countdown.