#682: Little Liar by Terry Black
Peak Month: July 1965
8 weeks on CFUN's Vancouver Charts
Peak Position ~ #4
Peak Position on Billboard Hot 100 ~ did not chart
YouTube.com: "Little Liar"
Terrance Black was born in Vancouver in 1949. Local DJ, Red Robinson, has said about Terry Black: "Back in the British Invasion days, a young Vancouver singer took the city by storm. He was discovered by Buddy Clyde on Dance Party, a teen show on CHAN TV (now Global). Buddy was able to get the attention of the owner of Dunhill records, the same label that the Mamas and Papas recorded for as well as P.F. Sloan (Eve of Destruction) and others of the day." Terry Black's first single, "Sinner Man," was a minor hit in Canada in 1964. He was nicknamed "the Canadian Fabian" for his good looks.
But his vocal style mimicked the sound of many male vocalists who were part of the British Invasion, and Black was a much better singer than Fabian.
While he was fifteen years old, Black had a #2 hit in Vancouver with "Unless You Care". His single was kept out of the #1 spot in September '64 by Roy Orbison's "Oh, Pretty Woman". "Unless You Care" was written and produced by P.F. Sloan and Steve Barri. Two of the studio musicians on the single were Glen Campbell and Leon Russell, who both went on to have recording careers. The song was a major hit in Canada and also cracked the Billboard Hot 100 at #99. In Canada, Black was awarded the Male Vocalist of the Year award at the Maple Music Awards in 1964.
On the strength of his big his single, Terry Black became an opening act for a number of American and British recording artists on tour in the fall and winter of 1964-65. These included Lonnie Mack, Billy J. Kramer & The Dakotas and Gerry & The Pacemakers on the Canadian leg of their respective tours. Black also got noticed by Dick Clark and ended up appearing on American Bandstand. Black recorded "Little Liar" which peaked at #4 in Vancouver and made the Top 20 in Halifax.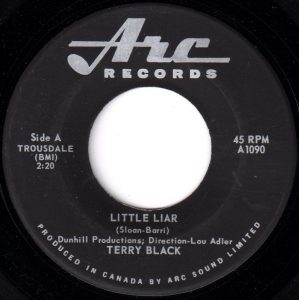 "Little Liar" is a song about someone who conceals important information and who tells lies in a dating relationship. In a Psychology Today article, Robert Taibbi writes about lying in relationships. He cites a an example: Since they became exclusive, Jack has consistently told Kara that his long-term relationship with his ex-girlfriend is over, and that he never talks to her. But one Saturday, when Jack's phone is laying on the coffee table, Kara spies a text message on the screen. She sees it is from his ex and then opens his messages to find a long trail of texts between them. She is furious, and when Jack walks back into the room, she begins interrogating him about what she's discovered.
Taibbi examines the impact that lying has on the relationship. Sometimes a partner lies to fabricate something just to be manipulative. But often the lie is situational. Anxiety and fear are two common motivations for telling one's partner a lie. The partner worries if they tell the truth their partner will be angry or disappointed with them and the relationship will suffer. The person telling the lie fools themselves in thinking that the lie will throw their partner off the scent and the lie will never be found out. Of course, once a lie is told, the one partner needs to keep their story straight. And this can be difficult if there is another romantic involvement, financial or other matter that is being concealed. After all, it takes most of us a lot of energy to conceal a lie and keep it from being discovered. When the other person finds out they've been lied to, predictably they are upset. And this can only reinforce the view of the person who told the lie that telling the truth isn't a safe bet either. The bottom line is to find out if the couple can name that trust has been a casualty of the lie. Trust is often the number one casualty when a lie is discovered in the life of a relationship. Consequently, each couple needs to strategize how they will renegotiate their way back to relationship health and how they want to build trust, if they are willing to try.
Black's next single "Only Sixteen" was also a remake, this time one of the hits by R&B singer Sam Cooke. Cooke had charted "Only Sixteen" to #28 on the Billboard Hot 100 in 1959. The song stalled at #31 in Vancouver on CKWX. Black told Dick Clark on a repeat American Bandstand appearance that he chose to record "Only Sixteen", since it hadn't been taken. Sam Cooke had died tragically in December 1964 from a gunshot. A posthumous double-sided single release, "A Change Is Gonna Come"/"Shake," was climbing the Vancouver pop charts in January 1965 and would peak at #5 in February. As a tribute to Sam Cooke, Black thought of recording "Wonderful World." But Herman's Hermits had recorded it before Black made it to the recording studio. And so he opted for "Only Sixteen". Black's cover climbed to #2 in Vancouver and Toronto, #3 in Thunder Bay (ON), #6 in Edmonton (AB), #7 in Hamilton (ON) and the Top 20 in Toledo (OH).
Late in the year, Terry Black had a Top 30 hit in Toronto and Vancouver with a cover of the 1958 number-one hit by Ricky Nelson titled "Poor Little Fool". In early 1966, another cover – this one the Top Ten Russ Hamilton hit from 1957 titled "Rainbow" – became a Top 30 hit for Terry Black in Vancouver and Toronto. And in the fall of '66, Terry Black was back in the Top 30 in Vancouver and Toronto with "Baby's Gone". The single also peaked in Hamilton (ON) at #18 and made the playlist in Palm Springs (CA).
In 1966 Black then moved to the U.S., and his remaining unreleased tracks were released in another Sloan-Barri produced album titled The Black Plague, in 1966. Meanwhile, he had a minor Top 30 hit in 1967 in Calgary (AB) titled "Wishing Star". Under the name "Terence" he released the album An Eye for An Ear on Decca Records in the in America in 1969. The album was not released in Canada. Terry Black explored the possibility of being a film star. But efforts at becoming a Hollywood movie star never worked out and Black went back to Canada.
At the height of his popularity, Terry Black had a fan club. On some of his record sleeves it read:
For Fan Club Information Write:
ARC Sound Limited. 20 Cranfield Rd.,
Toronto 16, Ont.
Attn: Terry Black Fan Club
In 1969, Black was hired to join the cast for a Toronto production of Hair. In 1970, Black married Laurel Ward, who was part of the cast. From 1972 to 1982 Black and Ward released several singles. Their best result was the country-pop tune"Goin' Down (On the Road to L.A.)" which peaked at #57 on the Billboard Hot 100. In 1971 Black and Ward joined the Canadian band, Dr. Music, and provided vocals on the band's hits "One More Mountain To Climb" and "Sun Goes By." Black & Ward had a Top 40 hit in Canada in 1975 titled "Back Up (Against Your Persuasion)".
In 1979, Black performed the song "Moondust" on the soundtrack for the movie Meatballs. Throughout the 1980's Terry Black sang jingles for commercials and sang country music duets with his wife.
In the 2000's, Black hosted an oldies radio show in British Columbia called The Sixties at Six. He died in 2009, in Kamloops, British Columbia. An obituary included these words about Terry Black in his final decades of life. "…wherever he lived he translated the beauty around him into sculpture, paintings and song. In recent years he struggled with the effects of Multiple Sclerosis but he never lost his sense of humour, his fascination with nature, his creativity and his compassion for those whom he loved."
November 9, 2018
Ray McGinnis
References:
Gord Lansell, Peter LoPresti and Jaimie Vernon, "Terry Black," canadianbands.com
Terry Black, inmemoriam.ca, June 30, 2009.
"Vancouver Rock Idol Terry Black Dies at 60," Vancouver Sun, June 29, 2009.
"Famed Singer Terry Black Dies at 60," Kamloops Daily News, June 30, 2009. American Bandstand ~ Dick Clark interview with Terry Black.
"C-FUNTASTIC FIFTY," CFUN 1410 AM, Vancouver BC, July 3, 1965.
For more song reviews visit the Countdown.