#267: Live by the Merry-Go-Round
Peak Month: May 1967
8 weeks on Vancouver's CKLG chart
Peak Position #1
1 week Hit Bound
Peak Position on Billboard Hot 100 ~ #63
YouTube: "Live"
Lyrics: "Live"
Joel Larson was born in San Francisco in 1947 and learned to play drums at the age of 12. During high school he played in a number of bands who performed in clubs. When he was 18 years old, Larson joined a San Mateo band called The Bedouins who won a 1965 Battle of the Bands event in that city. The Bedouins were invited to audition at the San Francisco Whisky A Go Go. The nightclub owner, Elmer Valentine, had asked Dunhill Record owner, Lou Adler, to attend the audition. Adler was impressed and soon The Bedouins were renamed The Grass Roots and given a new folk rock sound. While with The Grass Roots, Larson's band were the studio musicians playing back-up to Barry McGuire's #1 hit "Eve Of Destruction". In 1966 The Grass Roots had a Top 30 hit in the USA called "Where Were You When I Needed You", which only got play listed below the Top 40 in Vancouver for the last week of May 1966.
Emitt Rhodes was born in Decatur, Illinois, in 1950. At age fifteen he was the drummer for Los Angeles based-garage rock band, The Palace Guard. They had several hits in Southern California, including a Top 20 hit in LA in the summer of '66 called "Falling Sugar". Gary Kato was a friend of friends of Emitt Rhodes and Gary began to jam with Emitt in the beginning of 1967.
Bill Rinehart had been a member of garage rock band, The Leaves, from Los Angeles. The Leaves had two Top 20 local hits in Los Angeles in 1965-66. One was "Hey Joe". Their follow-up hit, "Gonna Fight The War" was about being drafted to become a soldier and sent off to war. It was, perhaps, too ironic for pop radio. It didn't take off. Rhinehart briefly joined forces with ex-Byrds musician Gene Clark. It was Clark who had penned "I Feel A Lot Better", "Set You Free This Time" and "Eight Miles High".
In early 1967 a pop band called The Merry-Go-Round were formed in Los Angeles. It featured singer-songwriter Emitt Rhodes, drummer Joel Larson, lead guitarist Gary Kato and Bill Rinehart on bass. The band released just one album in the spring of '67 called The Merry-Go-Round. Their debut release was a single called "Live".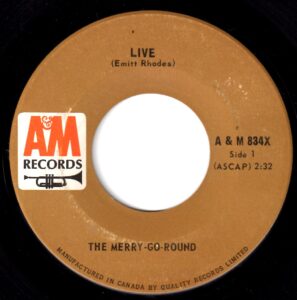 "Live" was written by Emitt Rhodes. The song gives advice to a "girl" who has been figuratively "locked up in [her] room." Voluntarily, she's been choosing to stay inside and not venture out and have a "chance to roam away from home." The advice in "Live" is: "you better live your life before you pass away. Don't waste a day." Furthermore, "Now. Do what you want. Go where you want. It's all up to you. For in life the rule is just to do
what you want to do." The song presumes a social and societal environment where there is freedom of movement and no restrictions. The same year the Fifth Dimension sang "Go Where You Wanna Go", where a couple continues to stay in touch when one pursues opportunities three thousand miles away.
Back in 1967, over five decades before the COVID-19 pandemic, people thought nothing of getting a ticket to fly across the continental USA. And in the case of "Live", the song made sense in a context of personal freedom and endless possibilities: attend a concert, play, see a film, dine in at a restaurant, board a train, a plane, an ocean liner and take a voyage across the Atlantic…or take your backpack and hitch-hike across a country, or travel around the world inexpensively. Arthur Frommer's book Europe on 5 Dollars a Day was all the rage in 1967.
"Live" peaked at #1 in Vancouver (BC), Lansing (MI), Fargo (ND), Manchester (NH), and Lowell (MA), #2 in Oxnard (CA), Boston, Monterey (CA), and Redding (CA), #3 in San Bernardino (CA), Fresno (CA), Modesto (CA), and Indio (CA), #4 in San Jose (CA), Las Vegas, and Sioux Falls (SD), #5 in Los Angeles, San Diego, Sacramento (CA), and Phoenix, #6 in San Francisco, #7 in Cleveland, Little Rock (AR), and Akron (OH), #9 in Saginaw (MI) and Salt Lake City, and #10 in Tucson (AZ) and Jackson (MI).
"Live" was covered by The Bangles in 1984.
The Merry-Go-Round performed at the Fantasy Fair and Magic Mountain Music Festival in 1967 on both days of the music festival. They closed the show on Saturday June 10 and were the second to the show closer on Sunday June 11. This music festival was a template for another festival later that month, the Monterey Pop Festival.
Their third single release was "You're a Very Lovely Woman". It got on the charts of numerous radio markets in California where The Merry-Go-Round had a following. It climbed to #11 in Yakima, Washington, and #7 here in Vancouver, Canada. It peaked at #94 on the Billboard Hot 100. The song was covered by Linda Ronstadt in 1971.
In the fall of 1967 the band released "She Laughed Loud" to dismal sales. In 1968 the band released "Come Ride, Come Ride", a psychedelic pop tune about riding a merry-go-round. With its flute solo-effects, it only got traction in Sarasota, Florida, where it climbed to #4. In 1968 Bill Rinehart was fired from the group after punching the band's notorious manager, Eddie Shaw. He was replaced by Rick Dey from the Vejtables.
They had a minor hit with "Listen Listen" that made the Top 20 in Vancouver, though it spent only a month on the local charts. I remember it well since my younger brother bought the 45 and played it often for awhile in the spring of '68. A final hurrah was "'Til The day After", a song about never learning about the mistakes we collectively make as a society. Not a cheery song to phone a radio station for a listener request, as it contained lines like "no one is crying 'til someone's dying…" With a thud the group disbanded.
After the Merry-Go-Round dissolved Joel Larson joined The Turtles, playing drums on their Top Ten hits "Eleanore" and "You Showed Me". The former was written by Howard Kaylan who commented after it became a big hit, "Elenore was a parody of "Happy Together." It was never intended to be a straight-forward song. It was meant as an anti-love letter to White Whale [Records], who were constantly on our backs to bring them another "Happy Together." So I gave them a very skewed version. Not only with the chords changed, but with all these bizarre words. It was my feeling that they would listen to how strange and stupid the song was and leave us alone. But they didn't get the joke. They thought it sounded good." The song contained lines like "Elenore, gee I think you're swell/And you really do me well/You're my pride and joy et cetera," as well as the memorable ear worm "I think you're really groovy/Let's go out to a movie." Joel Larsen went on from The Turtles in 1970 to play with Lee Michaels and was the drummer on the summer 1971 hit song "Do You Know What I Mean" and Top 40 follow-up hit "Can I Get A Witness".
From 1976 to the early 80s Joel Larson toured with The Grass Roots in support of a greatest hits album, and a nostalgia for a pre-disco era pop sound. Into the mid-80s Larson he worked as a dance night promoter in Los Angeles with live broadcasts through radio. He then entered into property management and real estate investment while continuing as a musician in Los Angeles playing with members of the Buckinghams and Paul Revere & The Raiders.
In 2000, Larson started working behind the scenes in the movie and TV entertainment industry as a driver and transportation coordinator. He has built a long list of credits which include major motion pictures such as Mission: Impossible III (2006), The Bucket List with Jack Nicholson and Morgan Freeman (2007), Iron Man starring Robert Downey Jr., Gwyneth Paltrow and Jeff Bridges (2008), I Love You, Man (2009), Iron Man 2 (2010), Thor with Chris Helmsworth, Natalie Portman and Anthony Hopkins (2011) and The Avengers starring Chris Helmsworth, Scarlet Johansson, Mark Ruffalo and Robert Downey Jr. (2012). In television, Joel Larson has worked for multiple years on the TV shows Two and a Half Men starring Charlie Sheen, Big Bang Theory starring Jim Parsons, Mike & Molly and Mom.
Emitt Rhodes went on to have a solo career. His first album was self-titled and Billboard Magazine called Rhodes "one of the finest artists on the music scene today" and later called his first album one of the "best albums of the decade." Emitt Rhodes reached #29 on the Billboard 200 Album charts. A single called "Fresh as a Daisy" climbed to #54 on the Billboard Hot 100. After several more album releases, Rhodes went on to become a recording engineer and record producer for Electra Records. Emitt Rhodes died in his sleep at the age of 70 in Hawthorne, California, in July 2020.
Bill Rhinehart left to produce the Aquarians album Jungle Grass, and a Los Angeles area band named The Fields. In 1973 he was working on an album on the Mums label (a subsidiary of Columbia Records). But it was never released, as the label shelved it. Rhinehart was very hopeful that his cover of Del Shanon's "Runaway" might be a hit. Bill Rhinehart had composing credits in the 1972 film The Hot Rock (starring Robert Redford). In 1976, Rhinehart was part of a loose studio aggregation called Smoghorn that contributed to a surfsploitation flick called Go For It with the song "Transparent Dream". In 1984 Rhinehart contributed "Nights On Fire" for the film soundtrack for Falling in Love, with Meryl Streep and Robert De Niro. William Barbour Rhinehart died in April 2017, at the age of 71.
Gary Kato moved to Las Vegas to join a band in the 70s called Skurow. Little is known what else he has done over the past four decades.
August 20, 2021
Ray McGinnis
References:
Steve Hoffman, "William Barbour Rinehart: February 14, 1946—April 18, 2017," December 1, 2018.
Eric Brightwell, One Album Wonders The Merry-Go-Round, June 7, 2015.
Frank, "Emitt Rhodes – The American Dream (A&M) 1971," What is Frank Listening To.com.
"Joel Larson Biography," Joel-larson.com.
Steve Marinucci, "Singer-songwriter Emitt Rhodes dies at 70," New York Post, July 20, 2020.
Charles J. Adams III, "Making Some Adjustments to the Formula in Frommer's 1967 Book," ReadingEagle.com, January 26, 2020.
"Boss 30," CKLG 730 AM, Vancouver, BC, May 13, 1967.
For more song reviews visit the Countdown.